Abstract
The fetal-to-adult switch in hemoglobin production is a model of developmental gene control with relevance to the treatment of hemoglobinopathies. The expression of transcription factor BCL11A, which represses fetal β-type globin (HBG) genes in adult erythroid cells, is predominantly controlled at the transcriptional level but the underlying mechanism is unclear. We identify HIC2 as a repressor of BCL11A transcription. HIC2 and BCL11A are reciprocally expressed during development. Forced expression of HIC2 in adult erythroid cells inhibits BCL11A transcription and induces HBG expression. HIC2 binds to erythroid BCL11A enhancers to reduce chromatin accessibility and binding of transcription factor GATA1, diminishing enhancer activity and enhancer–promoter contacts. DNA-binding and crystallography studies reveal direct steric hindrance as one mechanism by which HIC2 inhibits GATA1 binding at a critical BCL11A enhancer. Conversely, loss of HIC2 in fetal erythroblasts increases enhancer accessibility, GATA1 binding and BCL11A transcription. HIC2 emerges as an evolutionarily conserved regulator of hemoglobin switching via developmental control of BCL11A.
Access options
Subscribe to Nature+
Get immediate online access to the entire Nature family of 50+ journals
Subscribe to Journal
Get full journal access for 1 year
$99.00
only $8.25 per issue
All prices are NET prices.
VAT will be added later in the checkout.
Tax calculation will be finalised during checkout.
Buy article
Get time limited or full article access on ReadCube.
$32.00
All prices are NET prices.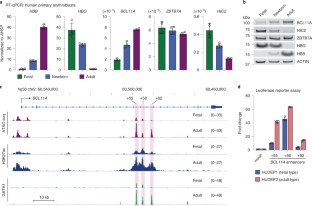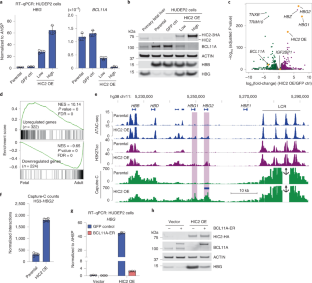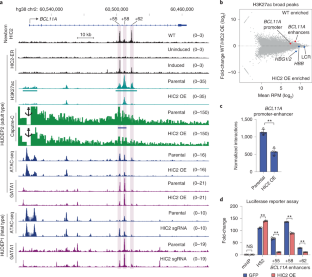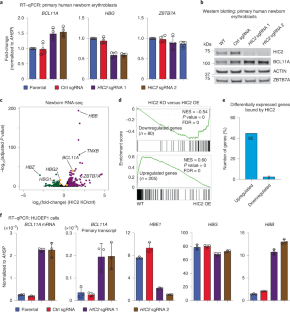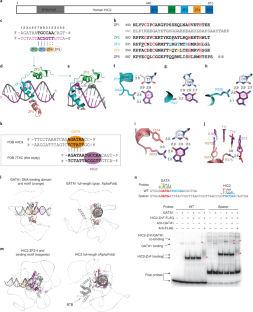 Data availability
The ChIP–seq, RNA-seq, ATAC-seq, CUT&RUN and Capture-C data have been deposited into the Gene Expression Omnibus database (accession no. GSE173587). The X-ray structures of the HIC2 ZF2–5 domain with bound DNA have been submitted to PDB (accession no. 7TXC). Publicly available datasets used in this manuscript: structure of DNA binding by GATA3: PDB, accession no. 4HC9; Pol II ChIP–seq, accession no. GSE36994; RNA-seq of fetal and adult erythroblasts, accession nos. GSE102201 and GSE90878; RNA-seq of erythroid differentiation, accession no. GSE53983; G1E-ER4 GATA1 ChIP–seq, accession no. GSE36029. Source data are provided with this paper.
Code availability
Codes used in the present study were obtained from published pipelines and packages.
References
Orkin, S. H. Globin gene regulation and switching: circa 1990. Cell 63, 665–672 (1990).

Sankaran, V. G. & Orkin, S. H. The switch from fetal to adult hemoglobin. Cold Spring Harb. Perspect. Med. 3, a011643 (2013).

Huang, P. et al. Comparative analysis of three-dimensional chromosomal architecture identifies a novel fetal hemoglobin regulatory element. Genes Dev. 31, 1704–1713 (2017).

Liu, N. et al. Transcription factor competition at the γ-globin promoters controls hemoglobin switching. Nat. Genet. 53, 511–520 (2021).

Xu, J. et al. Combinatorial assembly of developmental stage-specific enhancers controls gene expression programs during human erythropoiesis. Dev. Cell 23, 796–811 (2012).

Doerfler, P. A. et al. Activation of γ-globin gene expression by GATA1 and NF-Y in hereditary persistence of fetal hemoglobin. Nat. Genet. 53, 1177–1186 (2021).

Forget, B. G. Molecular basis of hereditary persistence of fetal hemoglobin. Ann. N.Y. Acad. Sci. 850, 38–44 (1998).

Driscoll, M. C., Dobkin, C. S. & Alter, B. P. Gamma delta beta-thalassemia due to a de novo mutation deleting the 5' beta-globin gene activation-region hypersensitive sites. Proc. Natl Acad. Sci. USA 86, 7470–7474 (1989).

Kioussis, D., Vanin, E., deLange, T., Flavell, R. A. & Grosveld, F. G. β-Globin gene inactivation by DNA translocation in γβ-thalassaemi. Nature 306, 662–666 (1983).

Topfer, S. K. et al. Disrupting the adult globin promoter alleviates promoter competition and reactivates fetal globin gene expression. Blood 139, 2107–2118 (2022).

Menzel, S. et al. A QTL influencing F cell production maps to a gene encoding a zinc-finger protein on chromosome 2p15. Nat. Genet. 39, 1197–1199 (2007).

Lettre, G. et al. DNA polymorphisms at the BCL11A, HBS1L-MYB, and beta-globin loci associate with fetal hemoglobin levels and pain crises in sickle cell disease. Proc. Natl Acad. Sci. USA 105, 11869–11874 (2008).

Martyn, G. E. et al. Natural regulatory mutations elevate the fetal globin gene via disruption of BCL11A or ZBTB7A binding. Nat. Genet. 50, 498–503 (2018).

Liu, N. et al. Direct promoter repression by BCL11A controls the fetal to adult hemoglobin switch. Cell 173, 430–442.e17 (2018).

Lee, Y. T. et al. LIN28B-mediated expression of fetal hemoglobin and production of fetal-like erythrocytes from adult human erythroblasts ex vivo. Blood 122, 1034–1041 (2013).

Basak, A. et al. Control of human hemoglobin switching by LIN28B-mediated regulation of BCL11A translation. Nat. Genet. 52, 138–145 (2020).

de Vasconcellos, J. F. et al. IGF2BP1 overexpression causes fetal-like hemoglobin expression patterns in cultured human adult erythroblasts. Proc. Natl Acad. Sci. USA 114, E5664–E5672 (2017).

Sankaran, V. G. et al. Human fetal hemoglobin expression is regulated by the developmental stage-specific repressor BCL11A. Science 322, 1839–1842 (2008).

Lessard, S., Beaudoin, M., Orkin, S. H., Bauer, D. E. & Lettre, G. 14q32 and let-7 microRNAs regulate transcriptional networks in fetal and adult human erythroblasts. Hum. Mol. Genet. 27, 1411–1420 (2018).

Khandros, E. et al. Understanding heterogeneity of fetal hemoglobin induction through comparative analysis of F and A erythroblasts. Blood 135, 1957–1968 (2020).

Zhou, D., Liu, K., Sun, C.-W., Pawlik, K. M. & Townes, T. M. KLF1 regulates BCL11A expression and γ- to β-globin gene switching. Nat. Genet. 42, 742–744 (2010).

Canver, M. C. et al. BCL11A enhancer dissection by Cas9-mediated in situ saturating mutagenesis. Nature 527, 192–197 (2015).

Grevet, J. D. et al. Domain-focused CRISPR screen identifies HRI as a fetal hemoglobin regulator in human erythroid cells. Science 361, 285–290 (2018).

Huang, P. et al. The HRI-regulated transcription factor ATF4 activates BCL11A transcription to silence fetal hemoglobin expression. Blood 135, 2121–2132 (2020).

Qin, K. et al. Dual function NFI factors control fetal hemoglobin silencing in adult erythroid cells. Nat. Genet. 54, 874–884 (2022).

Corces, M. R. et al. An improved ATAC-seq protocol reduces background and enables interrogation of frozen tissues. Nat. Methods 14, 959–962 (2017).

Skene, P. J. & Henikoff, S. An efficient targeted nuclease strategy for high-resolution mapping of DNA binding sites. eLife 6, e21856 (2017).

Kurita, R. et al. Establishment of immortalized human erythroid progenitor cell lines able to produce enucleated red blood cells. PLoS ONE 8, e59890 (2013).

Lan, X. et al. ZNF410 uniquely activates the NuRD component CHD4 to silence fetal hemoglobin expression. Mol. Cell 81, 239–254.e8 (2021).

Dykes, I. M. et al. HIC2 Is a novel dosage-dependent regulator of cardiac development located within the distal 22q11 deletion syndrome region. Circ. Res. 115, 23–31 (2014).

Vinjamur, D. S. et al. ZNF410 represses fetal globin by singular control of CHD4. Nat. Genet. 53, 719–728 (2021).

An, X. et al. Global transcriptome analyses of human and murine terminal erythroid differentiation. Blood 123, 3466–3477 (2014).

Davies, J. O. et al. Multiplexed analysis of chromosome conformation at vastly improved sensitivity. Nat. Methods 13, 74–80 (2016).

Peslak, S. A. et al. HRI depletion cooperates with pharmacologic inducers to elevate fetal hemoglobin and reduce sickle cell formation. Blood Adv. 4, 4560–4572 (2020).

Jolma, A. et al. DNA-binding specificities of human transcription factors. Cell 152, 327–339 (2013).

Blobel, G. A., Nakajima, T., Eckner, R., Montminy, M. & Orkin, S. H. CREB-binding protein cooperates with transcription factor GATA-1 and is required for erythroid differentiation. Proc. Natl Acad. Sci. USA 95, 2061–2066 (1998).

Letting, D. L., Rakowski, C., Weiss, M. J. & Blobel, G. A. Formation of a tissue-specific histone acetylation pattern by the hematopoietic transcription factor GATA-1. Mol. Cell. Biol. 23, 1334–1340 (2003).

Vakoc, C. R. et al. Proximity among distant regulatory elements at the beta-globin locus requires GATA-1 and FOG-1. Mol. Cell 17, 453–462 (2005).

Welch, J. J. et al. Global regulation of erythroid gene expression by transcription factor GATA-1. Blood 104, 3136–3147 (2004).

Wu, W. et al. Dynamic shifts in occupancy by TAL1 are guided by GATA factors and drive large-scale reprogramming of gene expression during hematopoiesis. Genome Res. 24, 1945–1962 (2014).

Patel, A., Hashimoto, H., Zhang, X. & Cheng, X. Characterization of how DNA modifications affect DNA binding by C2H2 zinc finger proteins. Methods Enzymol. 573, 387–401 (2016).

Patel, A. et al. DNA conformation induces adaptable binding by tandem zinc finger proteins. Cell 173, 221–233.e12 (2018).

Luscombe, N. M., Laskowski, R. A. & Thornton, J. M. Amino acid-base interactions: a three-dimensional analysis of protein-DNA interactions at an atomic level. Nucleic Acids Res. 29, 2860–2874 (2001).

Chen, Y. et al. DNA binding by GATA transcription factor suggests mechanisms of DNA looping and long-range gene regulation. Cell Rep. 2, 1197–1206 (2012).

Tunyasuvunakool, K. et al. Highly accurate protein structure prediction for the human proteome. Nature 596, 590–596 (2021).

Shin, H. Y. et al. Hierarchy within the mammary STAT5-driven Wap super-enhancer. Nat. Genet. 48, 904–911 (2016).

Dykes, I. M., van Bueren, K. L. & Scambler, P. J. HIC2 regulates isoform switching during maturation of the cardiovascular system. J. Mol. Cell. Cardiol. 114, 29–37 (2018).

Crossley, M. & Orkin, S. H. Phosphorylation of the erythroid transcription factor GATA-1. J. Biol. Chem. 269, 16589–16596 (1994).

Andrews, N. C. & Faller, D. V. A rapid micropreparation technique for extraction of DNA-binding proteins from limiting numbers of mammalian cells. Nucleic Acids Res. 19, 2499 (1991).

Stirling, D. R. et al. CellProfiler 4: improvements in speed, utility and usability. BMC Bioinf. 22, 433 (2021).

Yang, Y. et al. Structural basis for human ZBTB7A action at the fetal globin promoter. Cell Rep. 36, 109759 (2021).

Otwinowski, Z., Borek, D., Majewski, W. & Minor, W. Multiparametric scaling of diffraction intensities. Acta Crystallogr. A 59, 228–234 (2003).

Adams, P. D. et al. PHENIX: building new software for automated crystallographic structure determination. Acta Crystallogr. D Biol. Crystallogr. 58, 1948–1954 (2002).

Emsley, P. & Cowtan, K. Coot: model-building tools for molecular graphics. Acta Crystallogr. D Biol. Crystallogr. 60, 2126–2132 (2004).
Acknowledgements
We thank the CHOP flow cytometry core for assistance with cell sorting and members of the Blobel laboratory for helpful comments and discussions. We thank R. Kurita and Y. Nakamura for sharing HUDEP1 and HUDEP2 cells. This work was supported by National Institutes of Health (NIH) grants from the National Heart, Lung, and Blood Institute (grant no. HL119479) and research funding from Pfizer (to G.A.B.); the National Institute of Diabetes and Digestive and Kidney Diseases (NIDDK; grant no. R24DK106766 to G.A.B. and R.C.H.); NIH/NIDDK Mentored Clinical Scientist Research Career Development Award (no. K08 DK129716), the Doris Duke Charitable Foundation Physician Scientist Fellowship grant (no. 2020062), and American Society of Hematology Scholar Award (to S.A.P.); a fellowship by the Cooley's Anemia Foundation (to X.L.); T32 training grant (no. HL007150-42) and an American Society of Hematology Research Training Award for Fellows (to E.K.); a National Health and Medical Research Council Australia grant (to M.C.); an Australian government Research Training Program Scholarship (toH.W.B.); the St. Jude Children's Research Hospital Collaborative Research Consortium on Novel Gene Therapies for Sickle Cell Disease; and the National Institute of General Medical Sciences grant (no. R35GM134744) and the Cancer Prevention & Research Institute of Texas grant (no. RR160029) (to X.C.). Cooperative Centers of Excellence in Hematology at Fred Hutchinson Cancer Research Center was supported by NIDDK (DK106829). We thank the DiGaetano family for their generous support.
Ethics declarations
Competing interests
The authors declare no competing interests.
Peer review
Peer review information
Nature Genetics thanks Swee Lay Thein, Sjaak Philipsen and the other, anonymous, reviewer(s) for their contribution to the peer review of this work.
Additional information
Publisher's note Springer Nature remains neutral with regard to jurisdictional claims in published maps and institutional affiliations.
Supplementary information
Supplementary Tables 1–9.
Rights and permissions
Springer Nature or its licensor holds exclusive rights to this article under a publishing agreement with the author(s) or other rightsholder(s); author self-archiving of the accepted manuscript version of this article is solely governed by the terms of such publishing agreement and applicable law.
About this article
Cite this article
Huang, P., Peslak, S.A., Ren, R. et al. HIC2 controls developmental hemoglobin switching by repressing BCL11A transcription. Nat Genet 54, 1417–1426 (2022). https://doi.org/10.1038/s41588-022-01152-6
Received:

Accepted:

Published:

Issue Date:

DOI: https://doi.org/10.1038/s41588-022-01152-6