Abstract
Insomnia is a heritable, highly prevalent sleep disorder for which no sufficient treatment currently exists. Previous genome-wide association studies with up to 1.3 million subjects identified over 200 associated loci. This extreme polygenicity suggested that many more loci remain to be discovered. The current study almost doubled the sample size to 593,724 cases and 1,771,286 controls, thereby increasing statistical power, and identified 554 risk loci (including 364 novel loci). To capitalize on this large number of loci, we propose a novel strategy to prioritize genes using external biological resources and functional interactions between genes across risk loci. Of all 3,898 genes naively implicated from the risk loci, we prioritize 289 and find brain-tissue expression specificity and enrichment in specific gene sets of synaptic signaling functions and neuronal differentiation. We show that this novel gene prioritization strategy yields specific hypotheses on underlying mechanisms of insomnia that would have been missed by traditional approaches.
Access options
Subscribe to Nature+
Get immediate online access to the entire Nature family of 50+ journals
Subscribe to Journal
Get full journal access for 1 year
$99.00
only $8.25 per issue
All prices are NET prices.
VAT will be added later in the checkout.
Tax calculation will be finalised during checkout.
Buy article
Get time limited or full article access on ReadCube.
$32.00
All prices are NET prices.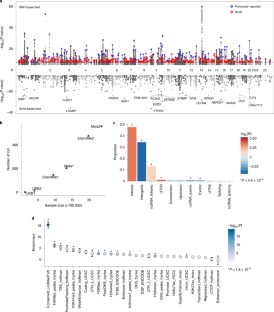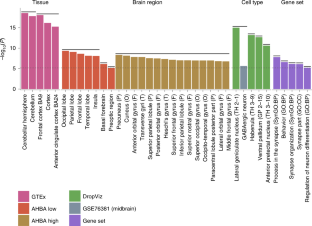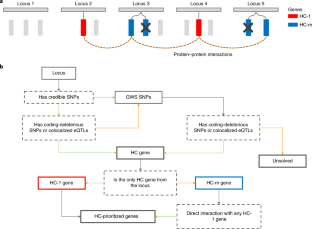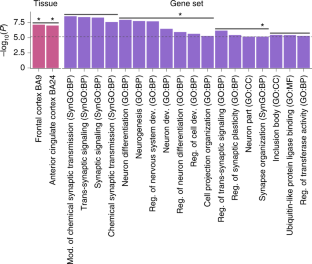 Data availability
The full GWAS summary statistics for UKB and the top 10,000 SNPs for 23andMe are available at https://ctg.cncr.nl/software/summary_statistics/. The full GWAS summary statistics for the 23andMe dataset will be made available through 23andMe to qualified researchers under an agreement with 23andMe that protects the privacy of 23andMe participants. Please visit https://research.23andme.com/collaborate/#publication for more information and to apply to access the data. The following publicly available datasets were used in this manuscript: GTEx v.8 (https://gtexportal.org/home/datasets), Allen Human Brain Atlas (http://human.brain-map.org/static/download), scRNA-seq from Linnerson's laboratory (http://linnarssonlab.org/data/; GSE60361, GSE74672, GSE75330, GSE76381, GSE97478), DropViz (http://dropviz.org/), MsigDB v.6.2 (http://software.broadinstitute.org/gsea/msigdb/index.jsp), InWeb protein–protein interaction (https://inbio-discover.com/download), eQTLGen (https://www.eqtlgen.org/) and PsychEncode (http://resource.psychencode.org/).
Code availability
The R script used to perform gene prioritization approach proposed in this manuscript is available at https://doi.org/10.5281/zenodo.6598552 (ref. 77). The following software and packages were used for data analysis: PLINK 2.0 (https://www.cog-genomics.org/plink/2.0/), METAL (http://csg.sph.umich.edu/abecasis/Metal/download/), MAGMA v.1.07 (https://ctg.cncr.nl/software/magma), FUMA (https://fuma.ctglab.nl/), LDscore (https://github.com/bulik/ldsc), LDstore v.1.1 (http://www.christianbenner.com/#), FINEMAP v.1.3.1 (http://www.christianbenner.com/#), PRSice v.2.2.1 (https://www.prsice.info/), Eagle2 (https://alkesgroup.broadinstitute.org/Eagle/downloads/), Minimac3 (https://genome.sph.umich.edu/wiki/Minimac3), REGENIE v.2.0.1 (https://rgcgithub.github.io/regenie/), MiXeR (https://github.com/precimed/mixer), BUHMBOX (https://software.broadinstitute.org/mpg/buhmbox/) and R v.3.6.0 (https://www.r-project.org/) with packages data.table v.1.12.2, GenomicRegion v.1.36.0, stats v.3.6.3, fpc v.2.2-3, coloc v.3.2-1, Rtsne v.0.15 and ggplot2 v.3.2.0.
References
Roth, T. Insomnia: definition, prevalence, etiology, and consquences. J. Clin. Sleep Med. 3, S7–S10 (2007).

Kripke, D. F., Garfinkel, L., Wingard, D. L., Klauber, M. R. & Marler, M. R. Mortality associated with sleep duration and insomnia. Arch. Gen. Psychiatry 59, 131–136 (2002).

Daley, M., Morin, C. M., Leblanc, M., Grégoire, J. & Savard, J. The economic burden of insomnia: direct and indirect costs for individuals with insomnia. Sleep 32, 55–64 (2009).

Lind, M. J., Aggen, S. H., Kirkpatrick, R. M., Kendler, K. S. & Amstadter, A. B. A longitudinal twin study of insomnia symptoms in adults. Sleep 38, 1423–1430 (2015).

Jansen, P. R. et al. Genome-wide analysis of insomnia in 1,331,010 individuals identifies new risk loci and functional pathways. Nat. Genet. 51, 394–403 (2019).

Lane, J. M. et al. Genome-wide association analyses of sleep disturbance traits identify new loci and highlight shared genetics with neuropsychiatric and metabolic traits. Nat. Genet. 49, 274–281 (2017).

Lane, J. M. et al. Biological and clinical insights from genetics of insomnia symptoms. Nat. Genet. 51, 387–393 (2019).

Watanabe, K. et al. A global overview of pleiotropy and genetic architecture in complex traits. Nat. Genet. 51, 1339–1348 (2019).

Zaitlen, N., Paşaniuc, B., Gur, T., Ziv, E. & Halperin, E. Leveraging genetic variability across populations for the identification of causal variants. Am. J. Hum. Genet. 86, 23–33 (2010).

Findlay, G. M. et al. Accurate classification of BRCA1 variants with saturation genome editing. Nature 562, 217–222 (2018).

Hammerschlag, A. R. et al. Genome-wide association analysis of insomnia complaints identifies risk genes and genetic overlap with psychiatric and metabolic traits. Nat. Genet. 49, 1584–1592 (2017).

Willer, C. J., Li, Y. & Abecasis, G. R. METAL: fast and efficient meta-analysis of genomewide association scans. Bioinformatics 26, 2190–2191 (2010).

Bulik-sullivan, B. K. et al. LD score regression distinguishes confounding from polygenicity in genome-wide association studies. Nat. Genet. 47, 291–295 (2015).

Finucane, H. K. et al. Partitioning heritability by functional annotation using genome-wide association summary statistics. Nat. Genet. 47, 1228–1235 (2015).

Schormair, B. et al. Identification of novel risk loci for restless legs syndrome in genome-wide association studies in individuals of European ancestry: a meta-analysis. Lancet Neurol. 16, 898–907 (2017).

Tsai, F. J. et al. A genome-wide association study identifies susceptibility variants for type 2 diabetes in Han Chinese. PLoS Genet. 6, e1000847 (2010).

Schunkert, H. et al. Large-scale association analysis identifies 13 new susceptibility loci for coronary artery disease. Nat. Genet. 43, 333–340 (2011).

Koido, K. et al. Associations between LSAMP gene polymorphisms and major depressive disorder and panic disorder. Transl. Psychiatry 2, e152 (2012).

Must, A. et al. Association of limbic system-associated membrane protein (LSAMP) to male completed suicide. BMC Med. Genet. 9, 34 (2008).

Watanabe, K., Taskesen, E., van Bochoven, A. & Posthuma, D. Functional mapping and annotation of genetic associations with FUMA. Nat. Commun. 8, 1826 (2017).

de Leeuw, C. A., Mooij, J. M., Heskes, T. & Posthuma, D. MAGMA: generalized gene-set analysis of GWAS data. PLoS Comput. Biol. 11, e1004219 (2015).

Kichaev, G. et al. Integrating functional data to prioritize causal variants in statistical fine-mapping studies. PLoS Genet. 10, 2–3 (2014).

Benner, C. et al. FINEMAP: efficient variable selection using summary data from genome-wide association studies. Bioinformatics 32, 1493–1501 (2016).

Schaid, D. J., Chen, W. & Larson, N. B. From genome-wide associations to candidate causal variants by statistical fine-mapping. Nat. Rev. Genet. 19, 491–504 (2018).

Weissbrod, O. et al. Functionally informed fine-mapping and polygenic localization of complex trait heritability. Nat. Genet. 52, 1355–1363 (2020).

The GTEx Consortium. The GTEx Consortium atlas of genetic regulatory effects across human tissues. Science 369, 1318–1330 (2020).

Wang, D. et al. Comprehensive functional genomic resource and integrative model for the human brain. Science 362, eaat8464 (2018).

Võsa, U. et al. Large-scale cis- and trans-eQTL analyses identify thousands of genetic loci and polygenic scores that regulate blood gene expression. Nat. Genet. 53, 1300–1310 (2021).

Li, T. et al. A scored human protein-protein interaction network to catalyze genomic interpretation. Nat. Methods 14, 61–64 (2016).

Sinnott-Armstrong, N., Naqvi, S., Rivas, M. & Pritchard, J. K. GWAS of three molecular traits highlights core genes and pathways alongside a highly polygenic background. eLife 10, e58615 (2021).

Locke, A. E. et al. Genetic studies of body mass index yield new insights for obesity biology. Nature 518, 197–206 (2015).

Wray, N. R. et al. Genome-wide association analyses identify 44 risk variants and refine the genetic architecture of major depression. Nat. Genet. 50, 668–681 (2018).

Savage, J. E. et al. GWAS meta-analysis (N=279,930) identifies new genes and functional links to intelligence. Nat. Genet. 50, 912–919 (2018).

Lee, J. J. et al. Gene discovery and polygenic prediction from a genome-wide association study of educational attainment in 1.1 million individuals. Nat. Genet. 50, 1112–1121 (2018).

Singh, K. et al. Neuronal growth and behavioral alterations in mice deficient for the psychiatric disease-associated negr1 gene. Front. Mol. Neurosci. 11, 30 (2018).

Singh, K. et al. Neural cell adhesion molecule Negr1 deficiency in mouse results in structural brain endophenotypes and behavioral deviations related to psychiatric disorders. Sci. Rep. 9, 5457 (2019).

Koike, N. et al. Transcriptional architecture and chromatin landscape of the core circadian clock in mammals. Science 338, 349–354 (2012).

Bonnet, M. H. & Arand, D. L. Hyperarousal and insomnia: state of the science. Sleep Med. Rev. 14, 9–15 (2010).

Hikosaka, O. The habenula: from stress evasion to value-based decision-making. Nat. Rev. Neurosci. 11, 503–513 (2010).

Benarroch, E. E. Habenula: recently recognized functions and potential clinical relevance. Neurology 58, 992–1000 (2015).

Zhao, H. & Rusak, B. Circadian firing-rate rhythms and light responses of rat habenular nucleus neurons in vivo and in vitro. Neuroscience 132, 519–528 (2005).

Haun, F., Eckenrode, T. C. & Murray, M. Habenula and thalamus cell transplants restore normal sleep behaviors disrupted by denervation of the interpeduncular nucleus. J. Neurosci. 12, 3282–3290 (1992).

Bianco, I. H. & Wilson, S. W. The habenular nuclei: a conserved asymmetric relay station in the vertebrate brain. Philos. Trans. R. Soc. B Biol. Sci. 364, 1005–1020 (2009).

Chrobok, L. et al. Intrinsic circadian timekeeping properties of the thalamic lateral geniculate nucleus. J. Neurosci. Res. 99, 3306–3324 (2021).

Harrington, M. E. The ventral lateral geniculate nucleus and the intergeniculate leaflet: interrelated structures in the visual and circadian systems. Neurosci. Biobehav. Rev. 21, 705–727 (1997).

Johnson, R. F., Moore, R. Y. & Morin, L. P. Lateral geniculate lesions alter circadian activity rhythms in the hamster. Brain Res. Bull. 22, 411–422 (1989).

Moore, R. Y. & Speh, J. C. GABA is the principal neurotransmitter of the circadian system. Neurosci. Lett. 150, 112–116 (1993).

Melzer, S. & Monyer, H. Diversity and function of corticopetal and corticofugal GABAergic projection neurons. Nat. Rev. Neurosci. 21, 499–515 (2020).

España, R. A. & Scammell, T. E. Sleep neurobiology from a clinical perspective. Sleep 34, 845–858 (2011).

Gottesmann, C. GABA mechanisms and sleep. Neuroscience 111, 231–239 (2002).

Kostin, A., Alam, M. A., McGinty, D. & Alam, M. N. Adult hypothalamic neurogenesis and sleep-wake dysfunction in aging. Sleep 44, zsaa173 (2021).

Levenson, J. C., Kay, D. B. & Buysse, D. J. The pathophysiology of insomnia. Chest 147, 1179–1192 (2015).

Spiegelhalder, K. et al. Neuroimaging insights into insomnia. Curr. Neurol. Neurosci. Rep. 15, 9 (2015).

Kay, D. B. & Buysse, D. J. Hyperarousal and beyond: new insights to the pathophysiology of insomnia disorder through functional neuroimaging studies. Brain Sci. 7, brainsci7030023 (2017).

Purcell, S. et al. PLINK: a tool set for whole-genome association and population-based linkage analyses. Am. J. Hum. Genet. 81, 559–575 (2007).

Abraham, G., Qiu, Y. & Inouye, M. FlashPCA2: principal component analysis of Biobank-scale genotype datasets. Bioinformatics 33, 2776–2778 (2017).

Zhu, Z. et al. Integration of summary data from GWAS and eQTL studies predicts complex trait gene targets. Nat. Genet. 48, 481–487 (2016).

Euesden, J., Lewis, C. M. & Reilly, P. F. O. PRSice: Polygenic Risk Score software. Bioinformatics 31, 1466–1468 (2015).

Hawrylycz, M. J. et al. An anatomically comprehensive atlas of the adult human brain transcriptome. Nature 489, 391–399 (2012).

Zeisel, A. et al. Cell types in the mouse cortex and hippocampus revealed by single-cell RNA-seq. Science 348, 1138–1142 (2015).

Romanov, R. A. et al. Molecular interrogation of hypothalamic organization reveals distinct dopamine neuronal subtypes. Nat. Neurosci. 20, 176–188 (2017).

Marques, S. et al. Oligodendrocyte heterogneity in the mouse juvenile and adult central nervous system. Science 352, 1326–1329 (2016).

La Manno, G. et al. Molecular diversity of midbrain development in mouse, human, and stem cells. Cell 167, 566–580 (2016).

Muñoz-Manchado, A. B. et al. Diversity of interneurons in the dorsal atriatum revealed by single-cell RNA sequencing and PatchSeq. Cell Rep. 24, 2179–2190 (2018).

Saunders, A. et al. Molecular diversity and specializations among the cells of the adult mouse brain. Cell 174, 1015–1030 (2018).

Watanabe, K., Umićević Mirkov, M., de Leeuw, C. A., van den Heuvel, M. P. & Posthuma, D. Genetic mapping of cell type specificity for complex traits. Nat. Commun. 10, 3222 (2019).

Liberzon, A. et al. Molecular signatures database (MSigDB) 3.0. Bioinformatics 27, 1739–1740 (2011).

Benner, C. et al. Prospects of fine-mapping trait-associated genomic regions by using summary statistics from genome-wide association studies. Am. J. Hum. Genet. 101, 539–551 (2017).

Wang, K., Li, M. & Hakonarson, H. ANNOVAR: functional annotation of genetic variants from high-throughput sequencing data. Nucleic Acids Res. 38, e164 (2010).

Kircher, M. et al. A general framework for estimating the relative pathogenicity of human genetic variants. Nat. Genet. 46, 310–315 (2014).

Boyle, A. P. et al. Annotation of functional variation in personal genomes using RegulomeDB. Genome Res. 22, 1790–1797 (2012).

Roadmap Epigenomics Consortium. Integrative analysis of 111 reference human epigenomes. Nature 518, 317–330 (2015).

Ernst, J. & Kellis, M. ChromHMM: automating chromatin-state discovery and characterization. Nat. Methods 9, 215–216 (2012).

Giambartolomei, C. et al. Bayesian test for colocalisation between pairs of genetic association studies using summary statistics. PLoS Genet. 10, e1004383 (2014).

Schmitt, A. D. et al. A Compendium of chromatin contact maps reveals spatially active regions in the human genome. Cell Rep. 17, 2042–2059 (2016).

Maaten, L. VanDer & Hinton, G. Visualizing high dimensional data using t-SNE. J. Mach. Learn. Res. 9, 2579–2605 (2008).

Watanabe, K. Gene prioritization using multi-loci information for insomnia meta analysis. https://doi.org/10.5281/zenodo.6598552
Acknowledgements
We thank both UKB and 23andMe participants who consented to participate in research, and researchers who collected and contributed the data. D.P. was funded by The Netherlands Organization for Scientific Research (no. NWO VICI 453-14-005), NWO Gravitation: BRAINSCAPES: A Roadmap from Neurogenetics to Neurobiology (grant no. 024.004.012) and a European Research Council advanced grant (no. ERC-2018-AdG GWAS2FUNC 834057). E.J.W.V.S. was funded by the European Research Council (no. ERC-ADG-2014-671084 INSOMNIA) and P.R.J. was funded by the Netherlands Organization for Scientific Research (no. ZonMW VENI-09150162010138). The research was conducted using the UK Biobank Resource (application no. 16406). Analyses were carried out on the Genetic Cluster Computer hosted by the Dutch National Computing and Networking Services, SurfSARA. We additionally thank the GTEx Portal for providing RNA-seq data. The research was based in part on data from the Million Veteran Program – Office of Research and Development, Veterans Health Administration, supported by award nos. CSP 575B and Merit 1I01CX001849.e.
Ethics declarations
Competing interests
P.N., X.W., D.A.H. and members of the 23andMe research team are employees of 23andMe, Inc. and hold stock or stock options in 23andMe, Inc. K.W. is a current employee of Regeneron Pharmaceuticals and holds stock and stock options in Regeneron Pharmaceuticals. The remaining authors declare no competing interests.
Peer review
Peer review information
Nature Genetics thanks the anonymous reviewers for their contribution to the peer review of this work. Peer reviewer reports are available.
Additional information
Publisher's note Springer Nature remains neutral with regard to jurisdictional claims in published maps and institutional affiliations.
Supplementary information
About this article
Cite this article
Watanabe, K., Jansen, P.R., Savage, J.E. et al. Genome-wide meta-analysis of insomnia prioritizes genes associated with metabolic and psychiatric pathways. Nat Genet 54, 1125–1132 (2022). https://doi.org/10.1038/s41588-022-01124-w
Received:

Accepted:

Published:

Issue Date:

DOI: https://doi.org/10.1038/s41588-022-01124-w