Abstract
Posttranslational modifications of histones (PTMs) are associated with specific chromatin and gene expression states1,2. Although studies in Drosophila melanogaster have revealed phenotypic associations between chromatin-modifying enzymes and their histone substrates, comparable studies in mammalian models do not exist3,4,5. Here, we use CRISPR base editing in mouse embryonic stem cells (mESCs) to address the regulatory role of lysine 27 of histone H3 (H3K27), a substrate for Polycomb repressive complex 2 (PRC2)-mediated methylation and CBP/EP300-mediated acetylation6,7. By generating pan-H3K27R (pK27R) mutant mESCs, where all 28 alleles of H3.1, H3.2 and H3.3 have been mutated, we demonstrate similarity in transcription patterns of genes and differentiation to PRC2-null mutants. Moreover, H3K27 acetylation is not essential for gene derepression linked to loss of H3K27 methylation, or de novo activation of genes during cell-fate transition to epiblast-like cells (EpiLCs). In conclusion, our results show that H3K27 is an essential substrate for PRC2 in mESCs, whereas other PTMs in addition to H3K27 acetylation are likely involved in mediating CBP/EP300 function. Our work demonstrates the feasibility of large-scale multicopy gene editing to interrogate histone PTM function in mammalian cells.
This is a preview of subscription content
Access options
Subscribe to Nature+
Get immediate online access to the entire Nature family of 50+ journals
Subscribe to Journal
Get full journal access for 1 year
$59.00
only $4.92 per issue
All prices are NET prices.
VAT will be added later in the checkout.
Tax calculation will be finalised during checkout.
Buy article
Get time limited or full article access on ReadCube.
$32.00
All prices are NET prices.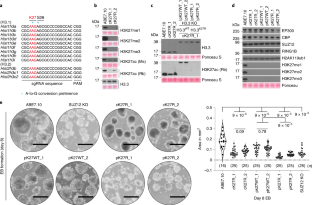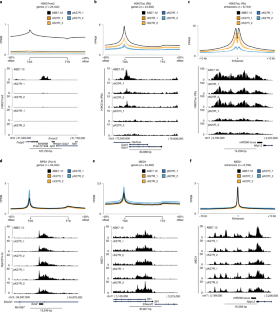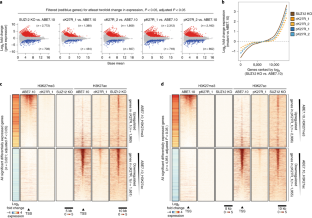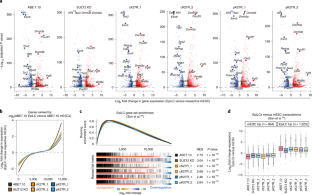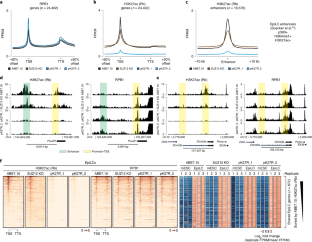 Data availability
All related raw sequencing and related processed data are deposited in and publicly available from the GEO under the accession numbers GSE160974 and GSE160975. These data include processed data such as genome region sets for genes and cell-type-specific enhancers, H3.3 peak sets, ChIP signal and RNA-seq quantification data that serve as source data for Figs. 2–5 and Extended Data Figs. 2, 3 and 5–8. Numerical source data not covered in the GEO processed data deposition are provided separately along with source data for immunoblots in Fig. 1 and Extended Data Fig. 2. Source data are provided with this paper.
Code availability
Only publicly available tools were used in data analysis as described wherever relevant in Methods and Reporting Summary.
References
Lawrence, M., Daujat, S. & Schneider, R. Lateral thinking: how histone modifications regulate gene expression. Trends Genet. 32, 42–56 (2016).

Zhao, Y. & Garcia, B. A. Comprehensive catalog of currently documented histone modifications. Cold Spring Harb. Perspect. Biol. 7, a025064 (2015).

Pengelly, A. R., Copur, O., Jackle, H., Herzig, A. & Muller, J. A histone mutant reproduces the phenotype caused by loss of histone-modifying factor Polycomb. Science 339, 698–699 (2013).

Pengelly, A. R., Kalb, R., Finkl, K. & Muller, J. Transcriptional repression by PRC1 in the absence of H2A monoubiquitylation. Genes Dev. 29, 1487–1492 (2015).

McKay, D. J. et al. Interrogating the function of metazoan histones using engineered gene clusters. Dev. Cell 32, 373–386 (2015).

Ogryzko, V. V., Schiltz, R. L., Russanova, V., Howard, B. H. & Nakatani, Y. The transcriptional coactivators p300 and CBP are histone acetyltransferases. Cell 87, 953–959 (1996).

Laugesen, A., Hojfeldt, J. W. & Helin, K. Molecular mechanisms directing PRC2 recruitment and H3K27 methylation. Mol. Cell 74, 8–18 (2019).

Allis, C. D. & Jenuwein, T. The molecular hallmarks of epigenetic control. Nat. Rev. Genet. 17, 487–500 (2016).

Husmann, D. & Gozani, O. Histone lysine methyltransferases in biology and disease. Nat. Struct. Mol. Biol. 26, 880–889 (2019).

Cornett, E. M., Ferry, L., Defossez, P. A. & Rothbart, S. B. Lysine methylation regulators moonlighting outside the epigenome. Mol. Cell 75, 1092–1101 (2019).

Leatham-Jensen, M. et al. Lysine 27 of replication-independent histone H3.3 is required for Polycomb target gene silencing but not for gene activation. PLoS Genet. 15, e1007932 (2019).

Wang, Z. F. et al. Characterization of the mouse histone gene cluster on chromosome 13: 45 histone genes in three patches spread over 1Mb. Genome Res 6, 688–701 (1996).

Weinert, B. T. et al. Time-resolved analysis reveals rapid dynamics and broad scope of the CBP/p300 acetylome. Cell 174, 231–244 (2018).

Lavarone, E., Barbieri, C. M. & Pasini, D. Dissecting the role of H3K27 acetylation and methylation in PRC2 mediated control of cellular identity. Nat. Commun. 10, 1679 (2019).

Raisner, R. et al. Enhancer activity requires CBP/P300 bromodomain-dependent histone H3K27 acetylation. Cell Rep. 24, 1722–1729 (2018).

Creyghton, M. P. et al. Histone H3K27ac separates active from poised enhancers and predicts developmental state. Proc. Natl Acad. Sci. USA 107, 21931–21936 (2010).

Shvedunova, M. & Akhtar, A. Modulation of cellular processes by histone and non-histone protein acetylation.Nat. Rev. Mol. Cell Biol. 23, 329–349 (2022).

Zhang, T., Zhang, Z., Dong, Q., Xiong, J. & Zhu, B. Histone H3K27 acetylation is dispensable for enhancer activity in mouse embryonic stem cells. Genome Biol. 21, 45 (2020).

Gaudelli, N. M. et al. Programmable base editing of A*T to G*C in genomic DNA without DNA cleavage. Nature 551, 464–471 (2017).

Li, B., Ren, N., Yang, L., Liu, J. & Huang, Q. A qPCR method for genome editing efficiency determination and single-cell clone screening in human cells. Sci. Rep. 9, 18877 (2019).

Sawicka, A. & Seiser, C. Sensing core histone phosphorylation: a matter of perfect timing. Biochim. Biophys. Acta 1839, 711–718 (2014).

Martire, S. et al. Phosphorylation of histone H3.3 at serine 31 promotes p300 activity and enhancer acetylation. Nat. Genet. 51, 941–946 (2019).

Banaszynski, L. A. et al. Hira-dependent histone H3.3 deposition facilitates PRC2 recruitment at developmental loci in ES cells. Cell 155, 107–120 (2013).

Pasini, D., Bracken, A. P., Jensen, M. R., Lazzerini Denchi, E. & Helin, K. Suz12 is essential for mouse development and for EZH2 histone methyltransferase activity. EMBO J. 23, 4061–4071 (2004).

O'Carroll, D. et al. The polycomb-group gene Ezh2 is required for early mouse development. Mol. Cell. Biol. 21, 4330–4336 (2001).

Faust, C., Schumacher, A., Holdener, B. & Magnuson, T. The eed mutation disrupts anterior mesoderm production in mice. Development 121, 273–285 (1995).

Pasini, D., Bracken, A. P., Hansen, J. B., Capillo, M. & Helin, K. The polycomb group protein Suz12 is required for embryonic stem cell differentiation. Mol. Cell. Biol. 27, 3769–3779 (2007).

Kagey, M. H. et al. Mediator and cohesin connect gene expression and chromatin architecture. Nature 467, 430–435 (2010).

Whyte, W. A. et al. Master transcription factors and mediator establish super-enhancers at key cell identity genes. Cell 153, 307–319 (2013).

Hojfeldt, J. W. et al. Accurate H3K27 methylation can be established de novo by SUZ12-directed PRC2. Nat. Struct. Mol. Biol. 25, 225–232 (2018).

Chamberlain, S. J., Yee, D. & Magnuson, T. Polycomb repressive complex 2 is dispensable for maintenance of embryonic stem cell pluripotency. Stem Cells 26, 1496–1505 (2008).

Hayashi, K., Ohta, H., Kurimoto, K., Aramaki, S. & Saitou, M. Reconstitution of the mouse germ cell specification pathway in culture by pluripotent stem cells. Cell 146, 519–532 (2011).

Buecker, C. et al. Reorganization of enhancer patterns in transition from naive to primed pluripotency. Cell Stem Cell 14, 838–853 (2014).

Sun, Z. et al. The long noncoding RNA Lncenc1 maintains naive states of mouse ESCs by promoting the glycolysis pathway. Stem Cell Rep. 11, 741–755 (2018).

Pasini, D. et al. Characterization of an antagonistic switch between histone H3 lysine 27 methylation and acetylation in the transcriptional regulation of Polycomb group target genes. Nucleic Acids Res. 38, 4958–4969 (2010).

Fang, F. et al. Coactivators p300 and CBP maintain the identity of mouse embryonic stem cells by mediating long-range chromatin structure. Stem Cells 32, 1805–1816 (2014).

Wang, Z. et al. Prediction of histone post-translational modification patterns based on nascent transcription data. Nat. Genet. 54, 295–305 (2022).

Martin, B. J. E. et al. Transcription shapes genome-wide histone acetylation patterns. Nat. Commun. 12, 210 (2021).

Anzalone, A. V., Koblan, L. W. & Liu, D. R. Genome editing with CRISPR-Cas nucleases, base editors, transposases and prime editors. Nat. Biotechnol. 38, 824–844 (2020).

Martin Gonzalez, J. et al. Embryonic stem cell culture conditions support distinct states associated with different developmental stages and potency. Stem Cell Rep. 7, 177–191 (2016).

dos Santos, R. L. et al. MBD3/NuRD facilitates induction of pluripotency in a context-dependent manner. Cell Stem Cell 15, 102–110 (2014).

Gilbert, L. A. et al. Genome-scale CRISPR-mediated control of gene repression and activation. Cell 159, 647–661 (2014).

Heckl, D. et al. Generation of mouse models of myeloid malignancy with combinatorial genetic lesions using CRISPR-Cas9 genome editing. Nat. Biotechnol. 32, 941–946 (2014).

Lewis, P. W. et al. Inhibition of PRC2 activity by a gain-of-function H3 mutation found in pediatric glioblastoma. Science 340, 857–861 (2013).

Madi, E. et al. Gene silencing triggers polycomb repressive complex 2 recruitment to CpG islands genome wide. Mol. Cell 55, 347–360 (2014).

Lerdrup, M., Johansen, J. V., Agrawal-Singh, S. & Hansen, K. An interactive environment for agile analysis and visualization of ChIP-sequencing data. Nat. Struct. Mol. Biol. 23, 349–357 (2016).

Yu, G., Wang, L. G., Han, Y. & He, Q. Y. clusterProfiler: an R package for comparing biological themes among gene clusters. OMICS 16, 284–287 (2012).

Subramanian, A. et al. Gene set enrichment analysis: a knowledge-based approach for interpreting genome-wide expression profiles. Proc. Natl Acad. Sci. U S A 102, 15545–15550 (2005).
Acknowledgements
We thank A. Laugesen and R. L. Armstrong for critical reading of the manuscript and all members of the Helin laboratory for discussions and support. The work in the Helin laboratory was supported by the Neye Foundation (K.H.), the Brain Tumor Charity (GN-00358, K.H.), a center grant from the Novo Nordisk Foundation to the NNF Center for Stem Cell Biology (NNF17CC0027852, K.H.), the European Union's Horizon research and innovation programme (MSCA-ITN-2018-813327, K.H.) and a Memorial Sloan Kettering Cancer Center Support Grant (National Institutes of Health P30 CA008748, K.H.).
Ethics declarations
Competing interests
K.H. is a co-founder of Dania Therapeutics ApS, a consultant for Inthera Bioscience and a scientific advisor for MetaboMed and Hannibal Innovation. All other authors have no competing interests.
Peer review
Peer review information
Nature Genetics thanks Shelley Berger and the other, anonymous, reviewer(s) for their contribution to the peer review of this work. Peer reviewer reports are available.
Additional information
Publisher's note Springer Nature remains neutral with regard to jurisdictional claims in published maps and institutional affiliations.
Supplementary information
About this article
Cite this article
Sankar, A., Mohammad, F., Sundaramurthy, A.K. et al. Histone editing elucidates the functional roles of H3K27 methylation and acetylation in mammals. Nat Genet 54, 754–760 (2022). https://doi.org/10.1038/s41588-022-01091-2
Received:

Accepted:

Published:

Issue Date:

DOI: https://doi.org/10.1038/s41588-022-01091-2
Further reading
Alessandro Scacchetti
Roberto Bonasio

Nature Genetics (2022)