Access options
Subscribe to Journal
Get full journal access for 1 year
$59.00
only $4.92 per issue
All prices are NET prices.
VAT will be added later in the checkout.
Tax calculation will be finalised during checkout.
Rent or Buy article
Get time limited or full article access on ReadCube.
from$8.99
All prices are NET prices.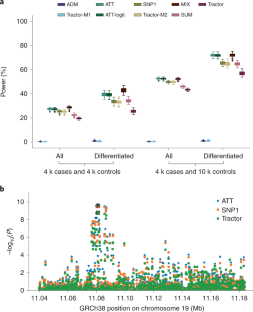 Data availability
This research was conducted using the UK Biobank Resource under application 33297. We thank the participants of UK Biobank for making this work possible. The UK Biobank genotype and phenotype data are available by application from https://www.ukbiobank.ac.uk/. Extended results can be accessed at our Zenodo repository https://doi.org/10.5281/zenodo.5308562.
Code availability
Software and extended results, including an implementation of the Tractor association models, can be found at our Zenodo repository. (The Tractor software currently does not include logistic models for association; https://github.com/eatkinson/Tractor accessed 22 February 2021.)
References
1.

Martin, A. R. et al. Human demographic history impacts genetic risk prediction across diverse populations. Am. J. Hum. Genet. 100, 635–649 (2017).

2.

Atkinson, E. G. et al. Tractor uses local ancestry to enable the inclusion of admixed individuals in GWAS and to boost power. Nat. Genet. 53, 195–204 (2021).

3.

Zhang, J. & Stram, D. O. The role of local ancestry adjustment in association studies using admixed populations. Genet. Epidemiol. 38, 502–515 (2014).

4.

Seldin, M. F., Pasaniuc, B. & Price, A. L. New approaches to disease mapping in admixed populations. Nat. Rev. Genet. 12, 523–528 (2011).

5.

Pasaniuc, B. et al. Enhanced statistical tests for GWAS in admixed populations: assessment using African Americans from CARe and a Breast Cancer Consortium. PLoS Genet. 7, e1001371 (2011).

6.

Tang, H., Siegmund, D. O., Johnson, N. A., Romieu, I. & London, S. J. Joint testing of genotype and ancestry association in admixed families. Genet. Epidemiol. 34, 783–791 (2010).

7.

Shriner, D., Adeyemo, A. & Rotimi, C. N. Joint ancestry and association testing in admixed individuals. PLoS Comput. Biol. 7, e1002325 (2011).

8.

Yorgov, D., Edwards, K. L. & Santorico, S. A. Use of admixture and association for detection of quantitative trait loci in the Type 2 Diabetes Genetic Exploration by Next-Generation Sequencing in Ethnic Samples (T2D-GENES) study. BMC Proc. 8, S6 (2014).

9.

Wojcik, G. L. et al. Genetic analyses of diverse populations improves discovery for complex traits. Nature 570, 514–518 (2019).

10.

Auton, A. et al. A global reference for human genetic variation. Nature 526, 68–74 (2015).

11.

de Candia, T. R. et al. Additive genetic variation in schizophrenia risk is shared by populations of African and European descent. Am. J. Hum. Genet. 93, 463–470 (2013).

12.

Lam, M. et al. Comparative genetic architectures of schizophrenia in East Asian and European populations. Nat. Genet. 51, 1670–1678 (2019).

13.

Liu, J. Z. et al. Association analyses identify 38 susceptibility loci for inflammatory bowel disease and highlight shared genetic risk across populations. Nat. Genet. 47, 979–986 (2015).

14.

Shi, H. et al. Population-specific causal disease effect sizes in functionally important regions impacted by selection. Nat. Commun. 12, 1098 (2021).

15.

Van Rheenen, W., Peyrot, W. J., Schork, A. J., Lee, S. H. & Wray, N. R. Genetic correlations of polygenic disease traits: from theory to practice. Nat. Rev. Genet. 20, 567–581 (2019).
Ethics declarations
Competing interests
The authors declare no competing interests.
Additional information
Peer review information Nature Genetics thanks Loïc Yengo and the other, anonymous, reviewer(s) for their contribution to the peer review of this work.
Publisher's note Springer Nature remains neutral with regard to jurisdictional claims in published maps and institutional affiliations.
Supplementary information
About this article
Cite this article
Hou, K., Bhattacharya, A., Mester, R. et al. On powerful GWAS in admixed populations. Nat Genet (2021). https://doi.org/10.1038/s41588-021-00953-5
Received:

Accepted:

Published: