Abstract
Altered transcription is a cardinal feature of acute myeloid leukemia (AML); however, exactly how mutations synergize to remodel the epigenetic landscape and rewire three-dimensional DNA topology is unknown. Here, we apply an integrated genomic approach to a murine allelic series that models the two most common mutations in AML: Flt3-ITD and Npm1c. We then deconvolute the contribution of each mutation to alterations of the epigenetic landscape and genome organization, and infer how mutations synergize in the induction of AML. Our studies demonstrate that Flt3-ITD signals to chromatin to alter the epigenetic environment and synergizes with mutations in Npm1c to alter gene expression and drive leukemia induction. These analyses also allow the identification of long-range cis-regulatory circuits, including a previously unknown superenhancer of Hoxa locus, as well as larger and more detailed gene-regulatory networks, driven by transcription factors including PU.1 and IRF8, whose importance we demonstrate through perturbation of network members.
This is a preview of subscription content
Access options
Subscribe to Journal
Get full journal access for 1 year
$59.00
only $4.92 per issue
All prices are NET prices.
VAT will be added later in the checkout.
Tax calculation will be finalised during checkout.
Rent or Buy article
Get time limited or full article access on ReadCube.
from$8.99
All prices are NET prices.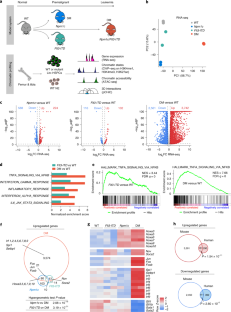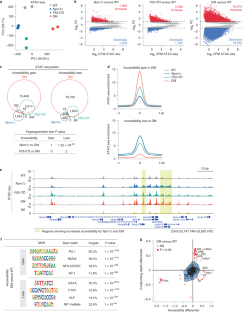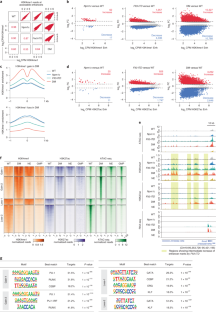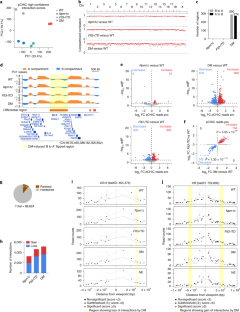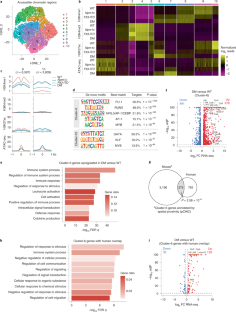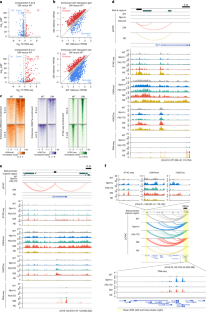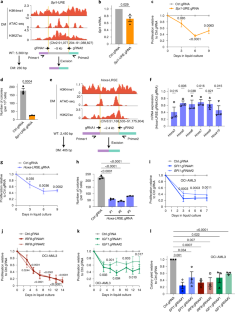 Data availability
All sequencing raw data, normalized bigwig tracks for RNA-seq, ChIP-seq and ATAC-seq have been deposited in the GEO database under the series GSE146669 (subseries GSE146668 for RNA-seq, GSE146663 for ChIP-seq, GSE146613 for ATAC-seq and GSE146662 for pCHiC) and with no restrictions to access. All supporting data derived from the sequencing analysis to assist understanding of the results and discussions in the paper were provided in several supplementary tables. The studies have also reanalyzed multiple datasets that are publicly available: the ChIP-seq on BRD4 (ArrayExpress: ERR220396) and H3K27ac (GSM2716711) in OCI-AML3 cells; H3K27ac in Kasumi-1 cells (GSM2212053); H3K4me1 (GSM1816068) and CTCF (GSM651541) in human CD34+ HSPC; the DHS-seq in AML patients (GSM2893610, GSM2893614, GSM2893615 and GSM2893616); the ATAC-seq in human CD34+ HSPC (GSM1888536); the pCHiC from human CD34+ cells (ArrayExpress: ERR436027); H3K4me1 (GSM14412890), H3K27ac (GSM1441273) and ATAC-seq (GSM1463173) in mouse GMP cells. Source data are provided with this paper.
References
1.

Maston, G. A., Evans, S. K. & Green, M. R. Transcriptional regulatory elements in the human genome. Annu Rev. Genomics Hum. Genet 7, 29–59 (2006).

2.

Lagha, M., Bothma, J. P. & Levine, M. Mechanisms of transcriptional precision in animal development. Trends Genet. 28, 409–416 (2012).

3.

Spitz, F. & Furlong, E. E. Transcription factors: from enhancer binding to developmental control. Nat. Rev. Genet. 13, 613–626 (2012).

4.

Schoenfelder, S. & Fraser, P. Long-range enhancer-promoter contacts in gene expression control. Nat. Rev. Genet. 20, 437–455 (2019).

5.

Laurenti, E. & Gottgens, B. From haematopoietic stem cells to complex differentiation landscapes. Nature 553, 418–426 (2018).

6.

Huang, J. et al. Dynamic control of enhancer repertoires drives lineage and stage-specific transcription during hematopoiesis. Dev. Cell 36, 9–23 (2016).

7.

Orkin, S. H. & Zon, L. I. Hematopoiesis: an evolving paradigm for stem cell biology. Cell 132, 631–644 (2008).

8.

Cedar, H. & Bergman, Y. Epigenetics of haematopoietic cell development. Nat. Rev. Immunol. 11, 478–488 (2011).

9.

Cancer Genome Atlas Research, N. et al. Genomic and epigenomic landscapes of adult de novo acute myeloid leukemia. N. Engl. J. Med. 368, 2059–2074 (2013).

10.

Grimwade, D., Ivey, A. & Huntly, B. J. Molecular landscape of acute myeloid leukemia in younger adults and its clinical relevance. Blood 127, 29–41 (2016).

11.

Papaemmanuil, E. et al. Genomic classification and prognosis in acute myeloid leukemia. N. Engl. J. Med. 374, 2209–2221 (2016).

12.

Dohner, H., Weisdorf, D. J. & Bloomfield, C. D. Acute myeloid leukemia. N. Engl. J. Med. 373, 1136–1152 (2015).

13.

Tenen, D. G. Disruption of differentiation in human cancer: AML shows the way. Nat. Rev. Cancer 3, 89–101 (2003).

14.

Lee, B. H. et al. FLT3 mutations confer enhanced proliferation and survival properties to multipotent progenitors in a murine model of chronic myelomonocytic leukemia. Cancer Cell 12, 367–380 (2007).

15.

Vassiliou, G. S. et al. Mutant nucleophosmin and cooperating pathways drive leukemia initiation and progression in mice. Nat. Genet. 43, 470–475 (2011).

16.

Mupo, A. et al. A powerful molecular synergy between mutant Nucleophosmin and Flt3-ITD drives acute myeloid leukemia in mice. Leukemia 27, 1917–1920 (2013).

17.

Buenrostro, J. D. et al. Transposition of native chromatin for fast and sensitive epigenomic profiling of open chromatin, DNA-binding proteins and nucleosome position. Nat. Methods 10, 1213–1218 (2013).

18.

Mifsud, B. et al. Mapping long-range promoter contacts in human cells with high-resolution capture Hi-C. Nat. Genet. 47, 598–606 (2015).

19.

Assi, S. A. et al. Subtype-specific regulatory network rewiring in acute myeloid leukemia. Nat. Genet. 51, 151–162 (2019).

20.

Bell, O., Tiwari, V. K., Thoma, N. H. & Schubeler, D. Determinants and dynamics of genome accessibility. Nat. Rev. Genet. 12, 554–564 (2011).

21.

Snow, J. W. et al. Context-dependent function of 'GATA switch' sites in vivo. Blood 117, 4769–4772 (2011).

22.

Yamazaki, H. et al. A remote GATA2 hematopoietic enhancer drives leukemogenesis in inv(3)(q21;q26) by activating EVI1 expression. Cancer Cell 25, 415–427 (2014).

23.

Baek, S., Goldstein, I. & Hager, G. L. Bivariate genomic footprinting detects changes in transcription factor activity. Cell Rep. 19, 1710–1722 (2017).

24.

Calo, E. & Wysocka, J. Modification of enhancer chromatin: what, how, and why? Mol. Cell 49, 825–837 (2013).

25.

Lara-Astiaso, D. et al. Immunogenetics. Chromatin state dynamics during blood formation. Science 345, 943–949 (2014).

26.

Heinz, S. et al. Simple combinations of lineage-determining transcription factors prime cis-regulatory elements required for macrophage and B cell identities. Mol. Cell 38, 576–589 (2010).

27.

Lieberman-Aiden, E. et al. Comprehensive mapping of long-range interactions reveals folding principles of the human genome. Science 326, 289–293 (2009).

28.

Tischkowitz, M. et al. Bi-allelic silencing of the Fanconi anaemia gene FANCF in acute myeloid leukaemia. Br. J. Haematol. 123, 469–471 (2003).

29.

Freire-Pritchett, P. et al. Global reorganisation of cis-regulatory units upon lineage commitment of human embryonic stem cells. eLife 6, 21926 (2017).

30.

Rubin, A. J. et al. Lineage-specific dynamic and pre-established enhancer-promoter contacts cooperate in terminal differentiation. Nat. Genet. 49, 1522–1528 (2017).

31.

Ma, Q. et al. Super-Enhancer redistribution as a mechanism of broad gene dysregulation in repeatedly drug-treated cancer cells. Cell Rep. 31, 107532 (2020).

32.

Satija, R. et al. Spatial reconstruction of single-cell gene expression data. Nat. Biotechnol. 33, 495–502 (2015).

33.

Li, Y. et al. Regulation of the PU.1 gene by distal elements. Blood 98, 2958–2965 (2001).

34.

Okuno, Y. et al. Potential autoregulation of transcription factor PU.1 by an upstream regulatory element. Mol. Cell. Biol. 25, 2832–2845 (2005).

35.

Rosenbauer, F. et al. Lymphoid cell growth and transformation are suppressed by a key regulatory element of the gene encoding PU.1. Nat. Genet. 38, 27–37 (2006).

36.

Will, B. et al. Minimal PU.1 reduction induces a preleukemic state and promotes development of acute myeloid leukemia. Nat. Med. 21, 1172–1181 (2015).

37.

Hu, G. et al. Regulation of nucleosome landscape and transcription factor targeting at tissue-specific enhancers by BRG1. Genome Res. 21, 1650–1658 (2011).

38.

Mazumdar, C. et al. Leukemia-associated cohesin mutants dominantly enforce stem cell programs and impair human hematopoietic progenitor differentiation. Cell Stem Cell 17, 675–688 (2015).

39.

Dawson, M. A. et al. Recurrent mutations, including NPM1c, activate a BRD4-dependent core transcriptional program in acute myeloid leukemia. Leukemia 28, 311–320 (2014).

40.

Zhao, Y. et al. High-resolution mapping of RNA polymerases identifies mechanisms of sensitivity and resistance to BET inhibitors in t(8;21) AML. Cell Rep. 16, 2003–2016 (2016).

41.

Gerlach, D. et al. The novel BET bromodomain inhibitor BI 894999 represses super-enhancer-associated transcription and synergizes with CDK9 inhibition in AML. Oncogene 37, 2687–2701 (2018).

42.

Dovey, O. M. et al. Molecular synergy underlies the co-occurrence patterns and phenotype of NPM1-mutant acute myeloid leukemia. Blood 130, 1911–1922 (2017).

43.

Foletta, V. C., Segal, D. H. & Cohen, D. R. Transcriptional regulation in the immune system: all roads lead to AP-1. J. Leukoc. Biol. 63, 139–152 (1998).

44.

Madrigal, P. & Alasoo, K. AP-1 takes centre stage in enhancer chromatin dynamics. Trends Cell Biol. 28, 509–511 (2018).

45.

Carotta, S., Wu, L. & Nutt, S. L. Surprising new roles for PU.1 in the adaptive immune response. Immunol. Rev. 238, 63–75 (2010).

46.

Voon, D. C., Hor, Y. T. & Ito, Y. The RUNX complex: reaching beyond haematopoiesis into immunity. Immunology 146, 523–536 (2015).

47.

Cauchy, P. et al. Chronic FLT3-ITD Signaling in acute myeloid leukemia is connected to a specific chromatin signature. Cell Rep. 12, 821–836 (2015).

48.

Gadad, S. S. et al. The multifunctional protein nucleophosmin (NPM1) is a human linker histone H1 chaperone. Biochemistry 50, 2780–2789 (2011).

49.

Nemeth, A. et al. Initial genomics of the human nucleolus. PLoS Genet. 6, e1000889 (2010).

50.

van Koningsbruggen, S. et al. High-resolution whole-genome sequencing reveals that specific chromatin domains from most human chromosomes associate with nucleoli. Mol. Biol. Cell 21, 3735–3748 (2010).

51.

Yan, J. et al. Histone H3 lysine 4 monomethylation modulates long-range chromatin interactions at enhancers. Cell Res. 28, 204–220 (2018).

52.

Tzelepis, K. et al. A CRISPR dropout screen identifies genetic vulnerabilities and therapeutic targets in acute myeloid leukemia. Cell Rep. 17, 1193–1205 (2016).

53.

Wang, T. et al. Gene essentiality profiling reveals gene networks and synthetic lethal interactions with oncogenic ras. Cell 168, 890–903 e815 (2017).

54.

McKenzie, M. D. et al. Interconversion between tumorigenic and differentiated states in acute myeloid leukemia. Cell Stem Cell 25, 258–272 e259 (2019).

55.

Rosenbauer, F., Koschmieder, S., Steidl, U. & Tenen, D. G. Effect of transcription−factor concentrations on leukemic stem cells. Blood 106, 1519–1524 (2005).

56.

Bonadies, N., Pabst, T. & Mueller, B. U. Heterozygous deletion of the PU.1 locus in human AML. Blood 115, 331–334 (2010).

57.

Huang, G. et al. The ability of MLL to bind RUNX1 and methylate H3K4 at PU.1 regulatory regions is impaired by MDS/AML-associated RUNX1/AML1 mutations. Blood 118, 6544–6552 (2011).

58.

Vangala, R. K. et al. The myeloid master regulator transcription factor PU.1 is inactivated by AML1-ETO in t(8;21) myeloid leukemia. Blood 101, 270–277 (2003).

59.

Bell, C. C. et al. Targeting enhancer switching overcomes non-genetic drug resistance in acute myeloid leukaemia. Nat. Commun. 10, 2723 (2019).

60.

Cusan, M. et al. LSD1 inhibition exerts its antileukemic effect by recommissioning PU.1− and C/EBPalpha-dependent enhancers in AML. Blood 131, 1730–1742 (2018).

61.

Gozdecka, M. et al. UTX-mediated enhancer and chromatin remodeling suppresses myeloid leukemogenesis through noncatalytic inverse regulation of ETS and GATA programs. Nat. Genet. 50, 883–894 (2018).

62.

Behre, G. et al. Meropenem monotherapy versus combination therapy with ceftazidime and amikacin for empirical treatment of febrile neutropenic patients. Ann. Hematol. 76, 73–80 (1998).

63.

Grondin, B. et al. c-Jun homodimers can function as a context-specific coactivator. Mol. Cell. Biol. 27, 2919–2933 (2007).

64.

Huang, Y. et al. Identification and characterization of Hoxa9 binding sites in hematopoietic cells. Blood 119, 388–398 (2012).

65.

Zhou, J. et al. PU.1 is essential for MLL leukemia partially via crosstalk with the MEIS/HOX pathway. Leukemia 28, 1436–1448 (2014).

66.

Neijts, R. & Deschamps, J. At the base of colinear Hox gene expression: cis-features and trans-factors orchestrating the initial phase of Hox cluster activation. Dev. Biol. 428, 293–299 (2017).

67.

Noordermeer, D. et al. The dynamic architecture of Hox gene clusters. Science 334, 222–225 (2011).

68.

Dobin, A. et al. STAR: ultrafast universal RNA-seq aligner. Bioinformatics 29, 15–21 (2013).

69.

Robinson, M. D., McCarthy, D. J. & Smyth, G. K. edgeR: a Bioconductor package for differential expression analysis of digital gene expression data. Bioinformatics 26, 139–140 (2010).

70.

Conesa, A. et al. A survey of best practices for RNA-seq data analysis. Genome Biol. 17, 13 (2016).

71.

Love, M. I., Huber, W. & Anders, S. Moderated estimation of fold change and dispersion for RNA-seq data with DESeq2. Genome Biol. 15, 550 (2014).

72.

Bailey, T. et al. Practical guidelines for the comprehensive analysis of ChIP–seq data. PLoS Comput. Biol. 9, e1003326 (2013).

73.

Langmead, B., Trapnell, C., Pop, M. & Salzberg, S. L. Ultrafast and memory-efficient alignment of short DNA sequences to the human genome. Genome Biol. 10, R25 (2009).

74.

Ross-Innes, C. S. et al. Differential oestrogen receptor binding is associated with clinical outcome in breast cancer. Nature 481, 389–393 (2012).

75.

Ramirez, F. et al. deepTools2: a next generation web server for deep-sequencing data analysis. Nucleic Acids Res. 44, W160–W165 (2016).

76.

Wingett, S. et al. HiCUP: pipeline for mapping and processing Hi-C data. F1000Res 4, 1310 (2015).

77.

Cairns, J. et al. CHiCAGO: robust detection of DNA looping interactions in Capture Hi-C data. Genome Biol. 17, 127 (2016).

78.

Yun, H. haiyang-yun/3D_chromatin_in_AML. Zenodo https://doi.org/10.5281/zenodo.5009065 (2021).
Acknowledgements
This study was carried out in the laboratory of B.J.P.H. with funding from Cancer Research UK (C18680/A25508), the European Research Council (647685), MRC (MR-R009708-1), the Kay Kendall Leukaemia Fund (KKL1243), the Wellcome Trust (205254/Z/16/Z) and the Cancer Research UK Cambridge Major Centre (C49940/A25117). This research was supported by the NIHR Cambridge Biomedical Research Centre (BRC-1215-20014), and was funded in part by the Wellcome Trust, who supported the Wellcome – MRC Cambridge Stem Cell Institute (203151/Z/16/Z) and Cambridge Institute for Medical Research (100140/Z/12/Z). The views expressed are those of the authors and not necessarily those of the NIHR or the Department of Health and Social Care. D.L.-A. is Marie-Skłodowska-Curie International Fellow (886474). D.S. was a postdoctoral fellow of the Mildred-Scheel Organization, German Cancer Aid (111875). P.G. is funded by a Cancer Research UK Advanced Clinician Scientist Fellowship (C57799/A27964) and was previously funded by a Wellcome Trust fellowship (109967/Z/15/Z) and an ASH Global Research Award. G.S.V. is a CRUK Senior Cancer Research Fellow (C22/324/A23015) and work in his laboratory was supported by Blood Cancer UK (17006). For the purpose of Open Access, the author has applied a CC BY public copyright licence to any Author Accepted Manuscript version arising from this submission. We acknowledge M. Dawes in the Department of Hematology for interlab communications and organizational assistance, and thank M. Paramor in the NGS library facility at Cambridge Stem Cell Institute for the help with preparation of RNA-seq libraries and the Cancer Research UK (CRUK) Cambridge Institute Genomics Core for providing the NGS services.
Ethics declarations
Competing interests
The authors declare no competing interests.
Additional information
Peer review information Nature Genetics thanks Charles Mullighan and the other, anonymous, reviewer(s) for their contribution to the peer review of this work.
Publisher's note Springer Nature remains neutral with regard to jurisdictional claims in published maps and institutional affiliations.
Supplementary information
Supplementary Note and Figs. 1–3.
Supplementary Tables 1–13
About this article
Cite this article
Yun, H., Narayan, N., Vohra, S. et al. Mutational synergy during leukemia induction remodels chromatin accessibility, histone modifications and three-dimensional DNA topology to alter gene expression. Nat Genet 53, 1443–1455 (2021). https://doi.org/10.1038/s41588-021-00925-9
Received:

Accepted:

Published:

Issue Date: