Abstract
Breast cancers are complex cellular ecosystems where heterotypic interactions play central roles in disease progression and response to therapy. However, our knowledge of their cellular composition and organization is limited. Here we present a single-cell and spatially resolved transcriptomics analysis of human breast cancers. We developed a single-cell method of intrinsic subtype classification (SCSubtype) to reveal recurrent neoplastic cell heterogeneity. Immunophenotyping using cellular indexing of transcriptomes and epitopes by sequencing (CITE-seq) provides high-resolution immune profiles, including new PD-L1/PD-L2+ macrophage populations associated with clinical outcome. Mesenchymal cells displayed diverse functions and cell-surface protein expression through differentiation within three major lineages. Stromal-immune niches were spatially organized in tumors, offering insights into antitumor immune regulation. Using single-cell signatures, we deconvoluted large breast cancer cohorts to stratify them into nine clusters, termed 'ecotypes', with unique cellular compositions and clinical outcomes. This study provides a comprehensive transcriptional atlas of the cellular architecture of breast cancer.
Relevant articles
Open Access articles citing this article.
Youxue Zhang

,

Fang Zhen

…

Jing Hu

Journal of Translational Medicine Open Access 25 August 2023

Lakshmipuram Seshadri Swapna

,

Michael Huang

&

Yue Li

Genome Biology Open Access 18 August 2023

Francisco Avila Cobos

,

Mohammad Javad Najaf Panah

…

Pavel Sumazin

Genome Biology Open Access 01 August 2023
Access options
Access Nature and 54 other Nature Portfolio journals
Get Nature+, our best-value online-access subscription
$29.99 / 30 days
cancel any time
Subscribe to this journal
Receive 12 print issues and online access
$209.00 per year
only $17.42 per issue
Rent or buy this article
Prices vary by article type
from$1.95
to$39.95
Prices may be subject to local taxes which are calculated during checkout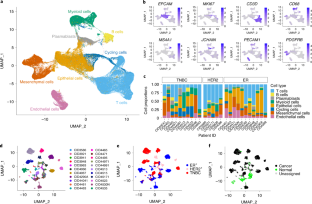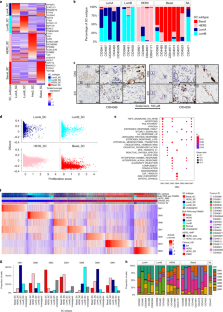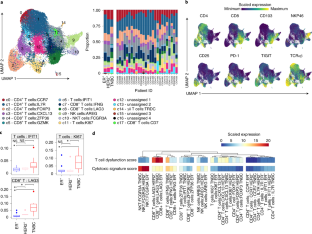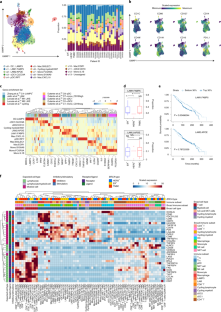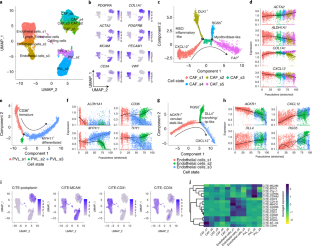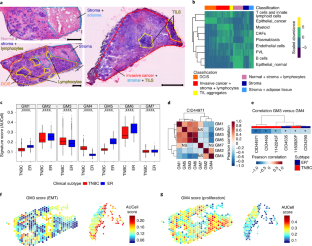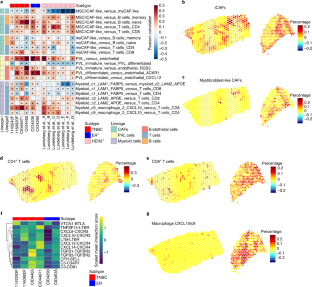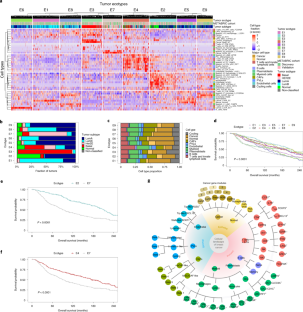 Data availability
All processed scRNA-seq data are available for in-browser exploration and download through the Broad Institute Single Cell portal at https://singlecell.broadinstitute.org/single_cell/study/SCP1039. Processed scRNA-seq data from this study are also available through the Gene Expression Omnibus under accession number GSE176078. Raw scRNA-seq data from this study have been deposited with the European Genome-phenome Archive, which is hosted by the European Bioinformatics Institute and Centre for Genomic Regulation under accession no. EGAS00001005173. All spatially resolved transcriptomics data from this study are available from the Zenodo data repository (https://doi.org/10.5281/zenodo.4739739). Spatially resolved transcriptomics data from Andersson et al.56 can be downloaded from the Zenodo data repository (https://doi.org/10.5281/zenodo.3957257).
References
Kim, H. K. et al. Discordance of the PAM50 intrinsic subtypes compared with immunohistochemistry-based surrogate in breast cancer patients: potential implication of genomic alterations of discordance. Cancer Res. Treat. 51, 737–747 (2019).

Picornell, A. C. et al. Breast cancer PAM50 signature: correlation and concordance between RNA-Seq and digital multiplexed gene expression technologies in a triple negative breast cancer series. BMC Genomics 20, 452 (2019).

Parker, J. S. et al. Supervised risk predictor of breast cancer based on intrinsic subtypes. J. Clin. Oncol. 27, 1160–1167 (2009).

Perou, C. M. et al. Molecular portraits of human breast tumours. Nature 406, 747–752 (2000).

Sørlie T. et al. Gene expression patterns of breast carcinomas distinguish tumor subclasses with clinical implications. Proc. Natl Acad. Sci. USA 98, 10869–10874 (2001).

Sørlie, T. et al. Repeated observation of breast tumor subtypes in independent gene expression data sets. Proc. Natl Acad. Sci. USA 100, 8418–8423 (2003).

Su, S. et al. CD10+ GPR77+ cancer-associated fibroblasts promote cancer formation and chemoresistance by sustaining cancer stemness. Cell 172, 841–856.e16 (2018).

Cazet, A. S. et al. Targeting stromal remodeling and cancer stem cell plasticity overcomes chemoresistance in triple negative breast cancer. Nat. Commun. 9, 2897 (2018).

Dushyanthen, S. et al. Relevance of tumor-infiltrating lymphocytes in breast cancer. BMC Med. 13, 202 (2015).

Cassetta, L. et al. Human tumor-associated macrophage and monocyte transcriptional landscapes reveal cancer-specific reprogramming, biomarkers, and therapeutic targets. Cancer Cell 35, 588–602.e10 (2019).

Katzenelenbogen, Y. et al. Coupled scRNA-seq and intracellular protein activity reveal an immunosuppressive role of TREM2 in cancer. Cell 182, 872–885.e19 (2020).

Medler, T. R. et al. Complement C5a fosters squamous carcinogenesis and limits T cell response to chemotherapy. Cancer Cell 34, 561–578.e6 (2018).

Nakamura, K. & Smyth, M. J. TREM2 marks tumor-associated macrophages. Signal Transduct. Target. Ther. 5, 233 (2020).

Costa, A. et al. Fibroblast heterogeneity and immunosuppressive environment in human breast cancer. Cancer Cell 33, 463–479.e10 (2018).

Wu, S. Z. et al. Stromal cell diversity associated with immune evasion in human triple-negative breast cancer. EMBO J. 39, e104063 (2020).

Sahai, E. et al. A framework for advancing our understanding of cancer-associated fibroblasts. Nat. Rev. Cancer 20, 174–186 (2020).

Öhlund, D. et al. Distinct populations of inflammatory fibroblasts and myofibroblasts in pancreatic cancer. J. Exp. Med. 214, 579–596 (2017).

Biffi, G. et al. IL1-induced JAK/STAT signaling is antagonized by TGFβ to shape CAF heterogeneity in pancreatic ductal adenocarcinoma. Cancer Discov. 9, 282–301 (2019).

Elyada, E. et al. Cross-species single-cell analysis of pancreatic ductal adenocarcinoma reveals antigen-presenting cancer-associated fibroblasts. Cancer Discov. 9, 1102–1123 (2019).

Puram, S. V. et al. Single-cell transcriptomic analysis of primary and metastatic tumor ecosystems in head and neck cancer. Cell 171, 1611–1624.e24 (2017).

Lambrechts, D. et al. Phenotype molding of stromal cells in the lung tumor microenvironment. Nat. Med. 24, 1277–1289 (2018).

Azizi, E. et al. Single-cell map of diverse immune phenotypes in the breast tumor microenvironment. Cell 174, 1293–1308.e36 (2018).

Savas, P. et al. Single-cell profiling of breast cancer T cells reveals a tissue-resident memory subset associated with improved prognosis. Nat. Med. 24, 986–993 (2018).

Kim, C. et al. Chemoresistance evolution in triple-negative breast cancer delineated by single-cell sequencing. Cell 173, 879–893.e13 (2018).

Ali, H. R. et al. Imaging mass cytometry and multiplatform genomics define the phenogenomic landscape of breast cancer. Nat. Cancer 1, 163–175 (2020).

Wagner, J. et al. A single-cell atlas of the tumor and immune ecosystem of human breast cancer. Cell 177, 1330–1345.e18 (2019).

Aran, D., Hu, Z. & Butte, A. J. xCell: digitally portraying the tissue cellular heterogeneity landscape. Genome Biol. 18, 220 (2017).

Lim, E. et al. Aberrant luminal progenitors as the candidate target population for basal tumor development in BRCA1 mutation carriers. Nat. Med. 15, 907–913 (2009).

Pliner, H. A., Shendure, J. & Trapnell, C. Supervised classification enables rapid annotation of cell atlases. Nat. Methods 16, 983–986 (2019).

Neftel, C. et al. An integrative model of cellular states, plasticity, and genetics for glioblastoma. Cell 178, 835–849.e21 (2019).

Tirosh, I. et al. Dissecting the multicellular ecosystem of metastatic melanoma by single-cell RNA-seq. Science 352, 189–196 (2016).

Koboldt, D. C. et al. Comprehensive molecular portraits of human breast tumours. Nature 490, 61–70 (2012).

Prat, A. et al. Phenotypic and molecular characterization of the claudin-low intrinsic subtype of breast cancer. Breast Cancer Res. 12, R68 (2010).

Nielsen, T. O. et al. A comparison of PAM50 intrinsic subtyping with immunohistochemistry and clinical prognostic factors in tamoxifen-treated estrogen receptor-positive breast cancer. Clin. Cancer Res. 16, 5222–5232 (2010).

Stoeckius, M. et al. Simultaneous epitope and transcriptome measurement in single cells. Nat. Methods 14, 865–868 (2017).

Stuart, T. et al. Comprehensive integration of single-cell data. Cell 177, 1888–1902.e21 (2019).

Glajcar, A., Szpor, J., Hodorowicz-Zaniewska, D., Tyrak, K. E. & Okoń, K. The composition of T cell infiltrates varies in primary invasive breast cancer of different molecular subtypes as well as according to tumor size and nodal status. Virchows Arch. 475, 13–23 (2019).

Li, H. et al. Dysfunctional CD8 T cells form a proliferative, dynamically regulated compartment within human melanoma. Cell 176, 775–789.e18 (2019).

Yamada, S., Shinozaki, K. & Agematsu, K. Involvement of CD27/CD70 interactions in antigen-specific cytotoxic T-lymphocyte (CTL) activity by perforin-mediated cytotoxicity. Clin. Exp. Immunol. 130, 424–430 (2002).

Curtis, C. et al. The genomic and transcriptomic architecture of 2,000 breast tumours reveals novel subgroups. Nature 486, 346–352 (2012).

Slyper, M. et al. A single-cell and single-nucleus RNA-Seq toolbox for fresh and frozen human tumors. Nat. Med. 26, 792–802 (2020).

Ruffell, B. et al. Leukocyte composition of human breast cancer. Proc. Natl Acad. Sci. USA 109, 2796–2801 (2012).

Zhang, Q. et al. Landscape and dynamics of single immune cells in hepatocellular carcinoma. Cell 179, 829–845.e20 (2019).

Jaitin, D. A. et al. Lipid-associated macrophages control metabolic homeostasis in a Trem2-dependent manner. Cell 178, 686–698.e14 (2019).

Chen, J. et al. CCL18 from tumor-associated macrophages promotes breast cancer metastasis via PITPNM3. Cancer Cell 19, 541–555 (2011).

Qiu, X. et al. Reversed graph embedding resolves complex single-cell trajectories. Nat. Methods 14, 979–982 (2017).

Kumar, A. et al. Specification and diversification of pericytes and smooth muscle cells from mesenchymoangioblasts. Cell Rep. 19, 1902–1916 (2017).

Thiriot, A. et al. Differential DARC/ACKR1 expression distinguishes venular from non-venular endothelial cells in murine tissues. BMC Biol. 15, 45 (2017).

Mailhos, C. et al. Delta4, an endothelial specific notch ligand expressed at sites of physiological and tumor angiogenesis. Differentiation 69, 135–144 (2001).

Ubezio, B. et al. Synchronization of endothelial Dll4-Notch dynamics switch blood vessels from branching to expansion. eLife 5, e12167 (2016).

Kryczek, I. et al. CXCL12 and vascular endothelial growth factor synergistically induce neoangiogenesis in human ovarian cancers. Cancer Res. 65, 465–472 (2005).

Blanco, R. & Gerhardt, H. VEGF and Notch in tip and stalk cell selection. Cold Spring Harb. Perspect. Med. 3, a006569 (2013).

Jakobsson, L. et al. Endothelial cells dynamically compete for the tip cell position during angiogenic sprouting. Nat. Cell Biol. 12, 943–953 (2010).

Andersson, A. et al. Single-cell and spatial transcriptomics enables probabilistic inference of cell type topography. Commun. Biol. 3, 565 (2020).

Lakins, M. A., Ghorani, E., Munir, H., Martins, C. P. & Shields, J. D. Cancer-associated fibroblasts induce antigen-specific deletion of CD8+ T cells to protect tumour cells. Nat. Commun. 9, 948 (2018).

Andersson, A. et al. Spatial deconvolution of HER2-positive breast tumors reveals novel intercellular relationships. Preprint at bioRxiv https://doi.org/10.1101/2020.07.14.200600 (2020).

Newman, A. M. et al. Determining cell type abundance and expression from bulk tissues with digital cytometry. Nat. Biotechnol. 37, 773–782 (2019).

Tsoucas, D. et al. Accurate estimation of cell-type composition from gene expression data. Nat. Commun. 10, 2975 (2019).

Tsai, J. H., Donaher, J. L., Murphy, D. A., Chau, S. & Yang, J. Spatiotemporal regulation of epithelial-mesenchymal transition is essential for squamous cell carcinoma metastasis. Cancer Cell 22, 725–736 (2012).

Molgora, M. et al. TREM2 modulation remodels the tumor myeloid landscape enhancing anti-PD-1 immunotherapy. Cell 182, 886–900.e17 (2020).

Leruste, A. et al. Clonally expanded T cells reveal immunogenicity of rhabdoid tumors. Cancer Cell 36, 597–612.e8 (2019).

Dutertre, C. A. et al. Single-cell analysis of human mononuclear phagocytes reveals subset-defining markers and identifies circulating inflammatory dendritic cells. Immunity 51, 573–589.e8 (2019).

Wu, S. Z. et al. Cryopreservation of human cancers conserves tumour heterogeneity for single-cell multi-omics analysis. Genome Med. 13, 81 (2021).

Lun, A. T. L. et al. EmptyDrops: distinguishing cells from empty droplets in droplet-based single-cell RNA sequencing data. Genome Biol. 20, 63 (2019).

Zhao, X., Rødland, E. A., Tibshirani, R. & Plevritis, S. Molecular subtyping for clinically defined breast cancer subgroups. Breast Cancer Res. 17, 29 (2015).

Patro, R., Duggal, G., Love, M. I., Irizarry, R. A. & Kingsford, C. Salmon provides fast and bias-aware quantification of transcript expression. Nat. Methods 14, 417–419 (2017).

Finak, G. et al. MAST: a flexible statistical framework for assessing transcriptional changes and characterizing heterogeneity in single-cell RNA sequencing data. Genome Biol. 16, 278 (2015).

Aibar, S. et al. SCENIC: single-cell regulatory network inference and clustering. Nat. Methods 14, 1083–1086 (2017).

Yu, G., Wang, L.-G., Han, Y. & He, Q.-Y. clusterProfiler: an R package for comparing biological themes among gene clusters. OMICS 16, 284–287 (2012).

Efremova, M., Vento-Tormo, M., Teichmann, S. A. & Vento-Tormo, R. CellPhoneDB: inferring cell–cell communication from combined expression of multi-subunit ligand–receptor complexes. Nat. Protoc. 15, 1484–1506 (2020).

Ramilowski, J. A. et al. A draft network of ligand–receptor-mediated multicellular signalling in human. Nat. Commun. 6, 7866 (2015).

Swarbrick, A., Wu, S., Al-Eryani, G., Roden, D. & Bartonicek, N. BrCa_cell_atlas. Version 1.0.0 (analysis code) https://doi.org/10.5281/zenodo.5031502 (2021).
Acknowledgements
This work is supported by a research grant from the National Breast Cancer Foundation (NBCF) of Australia (no. IIRS-19-106) and supported by the generosity of J. McMurtrie, AM and D. McMurtrie, the Petre Foundation, White Butterfly Foundation, Sydney Breast Cancer Foundation, Skipper Jacobs Charitable Trust, G. P. Harris Foundation and The National Health and Medical Research Council (NHMRC). A.S. is the recipient of a Senior Research Fellowship from the NHMRC (no. APP1161216). S.Z.W., G.A.-E. and J.T. are supported by the Australian Government Research Training Program Scholarship. S.O.T. is supported by the NBCF (PRAC 16-006; no. IIRS-19-084), Sydney Breast Cancer Foundation and the Family and Friends of M. O'Sullivan. S.J. is supported by a research fellowship from the NBCF. X.S.L. is supported by the Breast Cancer Research Foundation (no. BCRF-19-100) and National Institutes of Health (no. R01CA234018). C.M.P. and A.T. were supported by the National Cancer Institute Breast SPORE program (no. P50-CA58223), grant no. RO1-CA148761, and Breast Cancer Research Foundation. This work was supported by the Australian Centre for Translational Breast Cancer Research, Walter and Eliza Hall Institute, with funding support from the NHMRC Centre for Research Excellence grant no. APP1153049. E.L. is supported as a National Breast Cancer Foundation Endowed Chair and by the Love Your Sister foundation. The funders had no role in study design, data collection and analysis, decision to publish or preparation of the manuscript. We thank the following people for their assistance in the experimental part of this manuscript: J. Yang; G. Lehrbach from the Garvan Institute of Medical Research Tissue Culture Facility; A. Zaratzian from the Garvan Histopathology Facility for tissue processing and IHC staining and guidance on the Visium experiments; the Garvan–Weizmann Centre for Cellular Genomics, including E. Lam, H. Saeed and M. Armstrong for the expertise in flow sorting. We thank H. Holliday for the incredible illustration in Fig. 8g. We thank H. H. Milioli for providing guidance for analyzing the METABRIC cohort dataset. We thank I. Shapiro and C. Grant as consumer advocates. This manuscript was edited at Life Science Editors.
Ethics declarations
Competing interests
C.M.P. is an equity stockholder and consultant for BioClassifier; he is also listed as an inventor on patent applications for the Breast PAM50 Subtyping assay. J.L. is an author on patents owned by Spatial Transcriptomics AB covering technology presented in this paper. The other authors declare no competing interests.
Additional information
Peer review information Nature Genetics thanks Itai Yanai and the other, anonymous, reviewer(s) for their contribution to the peer review of this work. Peer reviewer reports are available.
Publisher's note Springer Nature remains neutral with regard to jurisdictional claims in published maps and institutional affiliations.
Supplementary information
About this article
Cite this article
Wu, S.Z., Al-Eryani, G., Roden, D.L. et al. A single-cell and spatially resolved atlas of human breast cancers. Nat Genet 53, 1334–1347 (2021). https://doi.org/10.1038/s41588-021-00911-1
Received:

Accepted:

Published:

Issue Date:

DOI: https://doi.org/10.1038/s41588-021-00911-1