Abstract
Hypoxia-inducible transcription factors (HIFs) are fundamental to cellular adaptation to low oxygen levels, but it is unclear how they interact with chromatin and activate their target genes. Here, we use genome-wide mutagenesis to identify genes involved in HIF transcriptional activity, and define a requirement for the histone H3 lysine 4 (H3K4) methyltransferase SET1B. SET1B loss leads to a selective reduction in transcriptional activation of HIF target genes, resulting in impaired cell growth, angiogenesis and tumor establishment in SET1B-deficient xenografts. Mechanistically, we show that SET1B accumulates on chromatin in hypoxia, and is recruited to HIF target genes by the HIF complex. The selective induction of H3K4 trimethylation at HIF target loci is both HIF- and SET1B-dependent and, when impaired, correlates with decreased promoter acetylation and gene expression. Together, these findings show SET1B as a determinant of site-specific histone methylation and provide insight into how HIF target genes are differentially regulated.
Access options
Subscribe to Journal
Get full journal access for 1 year
$59.00
only $4.92 per issue
All prices are NET prices.
VAT will be added later in the checkout.
Tax calculation will be finalised during checkout.
Rent or Buy article
Get time limited or full article access on ReadCube.
from$8.99
All prices are NET prices.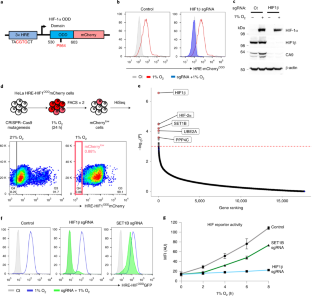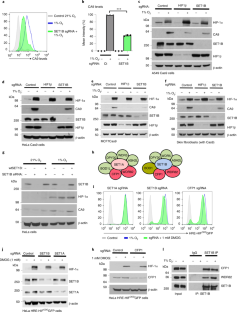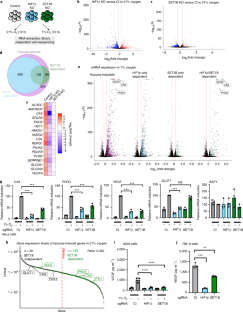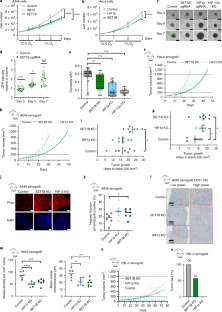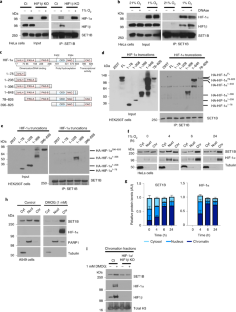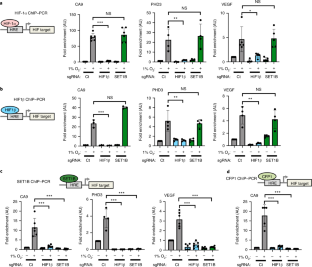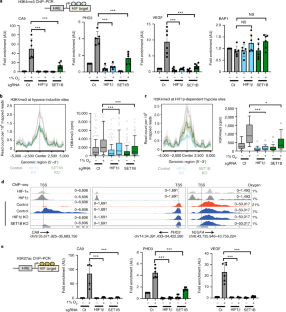 References
1.

Kaelin, W. G. Jr. & Ratcliffe, P. J. Oxygen sensing by metazoans: the central role of the HIF hydroxylase pathway. Mol. Cell 30, 393–402 (2008).

2.

Semenza, G. L. Hypoxia-inducible factor 1 (HIF-1) pathway. Sci. STKE 2007, cm8 (2007).

3.

Epstein, A. C. et al. C. elegans EGL-9 and mammalian homologs define a family of dioxygenases that regulate HIF by prolyl hydroxylation. Cell 107, 43–54 (2001).

4.

Maxwell, P. H. et al. The tumour suppressor protein VHL targets hypoxia-inducible factors for oxygen-dependent proteolysis. Nature 399, 271–275 (1999).

5.

Ivan, M. et al. HIFalpha targeted for VHL-mediated destruction by proline hydroxylation: implications for O2 sensing. Science 292, 464–468 (2001).

6.

Bruick, R. K. & McKnight, S. L. A conserved family of prolyl-4-hydroxylases that modify HIF. Science 294, 1337–1340 (2001).

7.

Jaakkola, P. et al. Targeting of HIF-alpha to the von Hippel-Lindau ubiquitylation complex by O2-regulated prolyl hydroxylation. Science 292, 468–472 (2001).

8.

Arany, Z. et al. An essential role for p300/CBP in the cellular response to hypoxia. Proc. Natl Acad. Sci. USA 93, 12969–12973 (1996).

9.

Perez-Perri, J. I. et al. The TIP60 complex is a conserved coactivator of HIF1A. Cell Rep. 16, 37–47 (2016).

10.

Dekanty, A. et al. Drosophila genome-wide RNAi screen identifies multiple regulators of HIF-dependent transcription in hypoxia. PLoS Genet. 6, e1000994 (2010).

11.

Galbraith, M. D. et al. HIF1A employs CDK8-mediator to stimulate RNAPII elongation in response to hypoxia. Cell 153, 1327–1339 (2013).

12.

Batie, M. et al. Hypoxia induces rapid changes to histone methylation and reprograms chromatin. Science 363, 1222–1226 (2019).

13.

Chakraborty, A. A. et al. Histone demethylase KDM6A directly senses oxygen to control chromatin and cell fate. Science 363, 1217–1222 (2019).

14.

Lee, J. H., Tate, C. M., You, J. S. & Skalnik, D. G. Identification and characterization of the human Set1B histone H3-Lys4 methyltransferase complex. J. Biol. Chem. 282, 13419–13428 (2007).

15.

Shilatifard, A. The COMPASS family of histone H3K4 methylases: mechanisms of regulation in development and disease pathogenesis. Annu. Rev. Biochem. 81, 65–95 (2012).

16.

Burr, S. P. et al. Mitochondrial protein lipoylation and the 2-oxoglutarate dehydrogenase complex controls HIF1alpha stability in aerobic conditions. Cell Metab. 24, 740–752 (2016).

17.

Miles, A. L., Burr, S. P., Grice, G. L. & Nathan, J. A. The vacuolar-ATPase complex and assembly factors, TMEM199 and CCDC115, control HIF1alpha prolyl hydroxylation by regulating cellular iron levels. eLife 6, e22693 (2017).

18.

Hart, T. et al. High-resolution CRISPR screens reveal fitness genes and genotype-specific cancer liabilities. Cell 163, 1515–1526 (2015).

19.

Kim, J., Hake, S. B. & Roeder, R. G. The human homolog of yeast BRE1 functions as a transcriptional coactivator through direct activator interactions. Mol. Cell 20, 759–770 (2005).

20.

Prenzel, T. et al. Estrogen-dependent gene transcription in human breast cancer cells relies upon proteasome-dependent monoubiquitination of histone H2B. Cancer Res. 71, 5739–5753 (2011).

21.

Zhang, X. et al. Histone deacetylase 3 (HDAC3) activity is regulated by interaction with protein serine/threonine phosphatase 4. Genes Dev. 19, 827–839 (2005).

22.

Maxwell, P. H. et al. Hypoxia-inducible factor-1 modulates gene expression in solid tumors and influences both angiogenesis and tumor growth. Proc. Natl Acad. Sci. USA 94, 8104–8109 (1997).

23.

Ryan, H. E. et al. Hypoxia-inducible factor-1alpha is a positive factor in solid tumor growth. Cancer Res. 60, 4010–4015 (2000).

24.

Bertout, J. A., Patel, S. A. & Simon, M. C. The impact of O2 availability on human cancer. Nat. Rev. Cancer 8, 967–975 (2008).

25.

Kung, A. L., Wang, S., Klco, J. M., Kaelin, W. G. & Livingston, D. M. Suppression of tumor growth through disruption of hypoxia-inducible transcription. Nat. Med. 6, 1335–1340 (2000).

26.

Wang, L. et al. A cytoplasmic COMPASS is necessary for cell survival and triple-negative breast cancer pathogenesis by regulating metabolism. Genes Dev. 31, 2056–2066 (2017).

27.

Tang, Z. et al. SET1 and p300 act synergistically, through coupled histone modifications, in transcriptional activation by p53. Cell 154, 297–310 (2013).

28.

Wang, Z. et al. Genome-wide mapping of HATs and HDACs reveals distinct functions in active and inactive genes. Cell 138, 1019–1031 (2009).

29.

Crump, N. T. et al. Dynamic acetylation of all lysine-4 trimethylated histone H3 is evolutionarily conserved and mediated by p300/CBP. Proc. Natl Acad. Sci. USA 108, 7814–7819 (2011).

30.

Zhang, T., Cooper, S. & Brockdorff, N. The interplay of histone modifications – writers that read. EMBO Rep. 16, 1467–1481 (2015).

31.

Sun, Z. W. & Allis, C. D. Ubiquitination of histone H2B regulates H3 methylation and gene silencing in yeast. Nature 418, 104–108 (2002).

32.

Pavri, R. et al. Histone H2B monoubiquitination functions cooperatively with FACT to regulate elongation by RNA polymerase II. Cell 125, 703–717 (2006).

33.

Zhu, B. et al. Monoubiquitination of human histone H2B: the factors involved and their roles in HOX gene regulation. Mol. Cell 20, 601–611 (2005).

34.

Chen, Y. et al. ZMYND8 acetylation mediates HIF-dependent breast cancer progression and metastasis. J. Clin. Invest. 128, 1937–1955 (2018).

35.

Brici, D. et al. Setd1b, encoding a histone 3 lysine 4 methyltransferase, is a maternal effect gene required for the oogenic gene expression program. Development 144, 2606–2617 (2017).

36.

Schmidt, K. et al. The H3K4 methyltransferase Setd1b is essential for hematopoietic stem and progenitor cell homeostasis in mice. eLife 7, e27157 (2018).

37.

Schodel, J. et al. High-resolution genome-wide mapping of HIF-binding sites by ChIP-seq. Blood 117, e207–e217 (2011).

38.

Smythies, J. A. et al. Inherent DNA-binding specificities of the HIF-1α and HIF-2α transcription factors in chromatin. EMBO Rep. 20, e46401 (2019).

39.

Qiu, B. et al. HIF2α-dependent lipid storage promotes endoplasmic reticulum homeostasis in clear-cell renal cell carcinoma. Cancer Disco. 5, 652–667 (2015).

40.

Semenza, G. L. Physiology meets biophysics: visualizing the interaction of hypoxia-inducible factor 1 alpha with p300 and CBP. Proc. Natl Acad. Sci. USA 99, 11570–11572 (2002).

41.

Douillet, D. et al. Uncoupling histone H3K4 trimethylation from developmental gene expression via an equilibrium of COMPASS, Polycomb and DNA methylation. Nat. Genet. 52, 615–625 (2020).

42.

Fang, L. et al. SET1A-mediated mono-methylation at K342 regulates YAP activation by blocking its nuclear export and promotes tumorigenesis. Cancer Cell 34, 103–118.e9 (2018).

43.

Luo, W., Chang, R., Zhong, J., Pandey, A. & Semenza, G. L. Histone demethylase JMJD2C is a coactivator for hypoxia-inducible factor 1 that is required for breast cancer progression. Proc. Natl Acad. Sci. 109, E3367–E3376 (2012).

44.

Chen, W. et al. Targeting renal cell carcinoma with a HIF-2 antagonist. Nature 539, 112–117 (2016).

45.

Scheuermann, T. H. et al. Allosteric inhibition of hypoxia inducible factor-2 with small molecules. Nat. Chem. Biol. 9, 271–276 (2013).

46.

Cho, H. et al. On-target efficacy of a HIF-2α antagonist in preclinical kidney cancer models. Nature 539, 107–111 (2016).

47.

Courtney, K. D. et al. HIF-2 complex dissociation, target inhibition, and acquired resistance with PT2385, a first-in-class HIF-2 inhibitor, in patients with clear cell renal cell carcinoma. Clin. Cancer Res. 26, 793–803 (2020).

48.

Wykoff, C. C., Pugh, C. W., Maxwell, P. H., Harris, A. L. & Ratcliffe, P. J. Identification of novel hypoxia dependent and independent target genes of the von Hippel-Lindau (VHL) tumour suppressor by mRNA differential expression profiling. Oncogene 19, 6297–6305 (2000).

49.

Demaison, C. et al. High-level transduction and gene expression in hematopoietic repopulating cells using a human immunodeficiency [correction of imunodeficiency] virus type 1-based lentiviral vector containing an internal spleen focus forming virus promoter. Hum. Gene Ther. 13, 803–813 (2002).

50.

Bailey, P. S. J. et al. ABHD11 maintains 2-oxoglutarate metabolism by preserving functional lipoylation of the 2-oxoglutarate dehydrogenase complex. Nat. Commun. 11, 4046 (2020).

51.

Schödel, J. et al. High-resolution genome-wide mapping of HIF-binding sites by ChIP–seq. Blood 117, e207–e217 (2011).

52.

Salama, R. et al. Heterogeneous effects of direct hypoxia pathway activation in kidney cancer. PLoS ONE 10, e0134645 (2015).

53.

Shen, L., Shao, N., Liu, X. & Nestler, E. ngs.plot: quick mining and visualization of next-generation sequencing data by integrating genomic databases. BMC Genomics 15, 284 (2014).

54.

Robinson, J. T. et al. Integrative genomics viewer. Nat. Biotechnol. 29, 24–26 (2011).

55.

Hower, V., Evans, S. N. & Pachter, L. Shape-based peak identification for ChIP–Seq. BMC Bioinf. 12, 15 (2011).

56.

Stark, R. & Brown, G. DiffBind: Differential binding analysis of ChIP–Seq peak data (2011); http://bioconductor.org/packages/release/bioc/html/DiffBind.html

57.

Dale, R. K., Pedersen, B. S. & Quinlan, A. R. Pybedtools: a flexible Python library for manipulating genomic datasets and annotations. Bioinformatics 27, 3423–3424 (2011).

58.

Li, H. et al. The Sequence Alignment/Map format and SAMtools. Bioinformatics 25, 2078–2079 (2009).

59.

Subramanian, A. et al. Gene set enrichment analysis: a knowledge-based approach for interpreting genome-wide expression profiles. Proc. Natl Acad. Sci. USA 102, 15545–15550 (2005).

60.

Mootha, V. K. et al. PGC-1α-responsive genes involved in oxidative phosphorylation are coordinately downregulated in human diabetes. Nat. Genet. 34, 267–273 (2003).

61.

Leek, R., Grimes, D. R., Harris, A. L. & McIntyre, A. Methods: using three-dimensional culture (spheroids) as an in vitro model of tumour hypoxia. Adv. Exp. Med. Biol. 899, 167–196 (2016).

62.

Väyrynen, S. A. et al. Clinical impact and network of determinants of tumour necrosis in colorectal cancer. Br. J. Cancer 114, 1334–1342 (2016).

63.

Bankhead, P. et al. QuPath: open source software for digital pathology image analysis. Sci. Rep. 7, 16878 (2017).

64.

Niemistö, A., Dunmire, V., Yli-Harja, O., Zhang, W. & Shmulevich, I. Robust quantification of in vitro angiogenesis through image analysis. IEEE Trans. Med. Imaging 24, 549–553 (2005).

65.

Li, W. et al. MAGeCK enables robust identification of essential genes from genome-scale CRISPR/Cas9 knockout screens. Genome Biol. 15, 554 (2014).
Acknowledgements
We thank the Nathan laboratory for their helpful discussions. We also thank B. Huntly and E. Meduri for initial help with the RNA-seq analysis. This work was supported by a Wellcome Senior Clinical Research Fellowship to J.A.N. (no. 215477/Z/19/Z) and a Lister Institute Research Fellowship to J.A.N. This work was also supported by the NIHR Cambridge Biomedical Research Centre and the Addenbrooke's Charitable Trust. P.H.M. is supported by a Wellcome Senior Investigator Award (no. 096956/Z/11/Z). D.R.M. is supported by the National Institute for Health Research (grant no. NIHR-RP-2016-06-004) and the Deanship of Scientific Research, King Abdulaziz University, Ministry of High Education for Saudi Arabia. P.J.R. is supported by the Ludwig Institute for Cancer Research, the Wellcome Trust (grant no. 106241/Z/14/Z) and the Francis Crick Institute, which receives its core funding from Cancer Research UK (grant no. FC001501), the Medical Research Council (grant no. FC001501) and the Wellcome Trust (grant no. FC001501). We thank the Oxford Genomics Centre at the Wellcome Centre for Human Genetics (funded by Wellcome Trust grant no. 203141/Z/16/Z) for the generation and initial processing of sequencing data. Computational facilities included the Oxford Biomedical Research Computing (BMRC) facility, a joint development between the Wellcome Centre for Human Genetics and the Big Data Institute supported by Health Data Research UK and the NIHR Oxford Biomedical Research Centre. The views expressed are those of the author(s) and not necessarily those of the NHS, the NIHR or the Department of Health.
Ethics declarations
Competing interests
P.J.R. is a scientific cofounder of ReOx Ltd., a company that is developing inhibitors of the HIF hydroxylase enzymes. P.H.M. is a scientific cofounder and equity holder of ReOx and has received speaker honoraria from Fibrogen, both of which aim to develop PHD inhibitors as therapies. The other authors declare no competing interests.
Additional information
Peer review information Nature Genetics thanks Sara Sdelci and the other, anonymous, reviewer(s) for their contribution to the peer review of this work. Peer reviewer reports are available.
Publisher's note Springer Nature remains neutral with regard to jurisdictional claims in published maps and institutional affiliations.
Supplementary information
About this article
Cite this article
Ortmann, B.M., Burrows, N., Lobb, I.T. et al. The HIF complex recruits the histone methyltransferase SET1B to activate specific hypoxia-inducible genes. Nat Genet 53, 1022–1035 (2021). https://doi.org/10.1038/s41588-021-00887-y
Received:

Accepted:

Published:

Issue Date: