Abstract
In cancer cells, enhancer hijacking mediated by chromosomal alterations and/or increased deposition of acetylated histone H3 lysine 27 (H3K27ac) can support oncogene expression. However, how the chromatin conformation of enhancer–promoter interactions is affected by these events is unclear. In the present study, by comparing chromatin structure and H3K27ac levels in normal and lymphoma B cells, we show that enhancer–promoter-interacting regions assume different conformations according to the local abundance of H3K27ac. Genetic or pharmacological depletion of H3K27ac decreases the frequency and the spreading of these interactions, altering oncogene expression. Moreover, enhancer hijacking mediated by chromosomal translocations influences the epigenetic status of the regions flanking the breakpoint, prompting the formation of distinct intrachromosomal interactions in the two homologous chromosomes. These interactions are accompanied by allele-specific gene expression changes. Overall, our work indicates that H3K27ac dynamics modulates interaction frequency between regulatory regions and can lead to allele-specific chromatin configurations to sustain oncogene expression.
Access options
Subscribe to Journal
Get full journal access for 1 year
$59.00
only $4.92 per issue
All prices are NET prices.
VAT will be added later in the checkout.
Tax calculation will be finalised during checkout.
Rent or Buy article
Get time limited or full article access on ReadCube.
from$8.99
All prices are NET prices.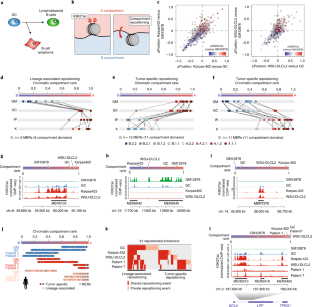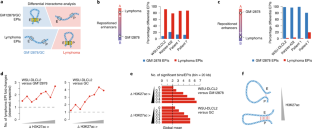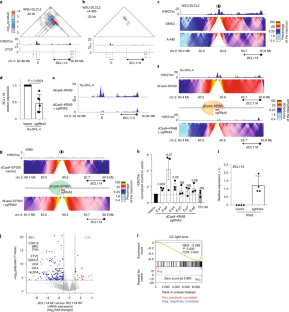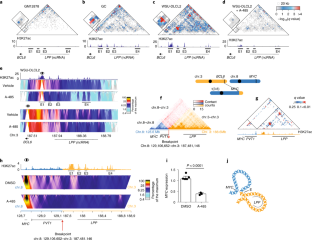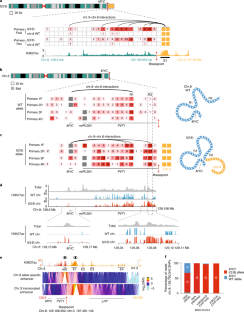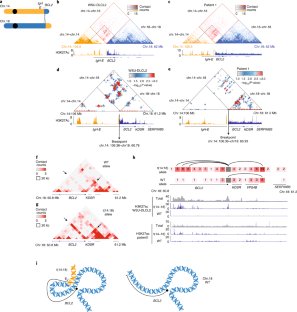 Data availability
RNA-seq and H3K27ac ChIP–seq data were obtained as follows: for lymphoblastoid cells from ref. 68 and the ArrayExpress Archive (http://www.ebi.ac.uk/arrayexpress), accession nos. E-MTAB-3656 and E-MTAB-3657, for GM12878 from ENCODE accession nos. GSE78551 and GSM733771, for SU-DHL-4, accession nos. GSM1227199 and GSM1703927, for OCI-LY7, accession nos. GSM1227199 and GSE86708, for DoHH2 ENCODE accession nos. GSM2366283 and GSE86743, for Karpas-422 accession no. GSE86733 (H3K27ac), for primary centrocytes and centroblasts, accession nos. GSE62246 and GSE89688, for five primary follicular lymphoma and two GC diffuse large B-cell lymphoma BLUEPRINT, accession no. EGAD00001001502. WGS data and RNA-seq data were obtained for lymphoma cell lines and for 30 primary DLBCLs and their matched controls from dbGaP (phs000235.v13.p2). WGS data and RNA-seq data for Burkitt's lymphoma or DLBCL with t(8;14) were downloaded from the Malignant Lymphoma MMML ICGC portal. RNA-seq data were generated for Karpas-422 and WSU-DLCL2 that were nontreated and treated by A-485 and for three independent clones WSU-DLCL2 with BCL11A knockout (data are deposited in the Gene Expression Omnibus database at accession no. GSE168471). CTCF ChIP–seq data were obtained from ENCODE for GM12878 and we generated the data for Karpas-422 and WSU-DLCL2 that were nontreated and treated by A-485 (accession no. GSE168470). H3K36me3 ChIP–seq data were generated for WSU-DLCL2 (accession no. GSE168472). Hi-C data for nontreated WSU-DLCL2 and Karpas-422 were obtained from Donaldson-Collier et al.4 and generated for the treated replicates for the present study (accession no. GSE168470). Source data are provided with this paper.
References
1.

Feinberg, A. P., Koldobskiy, M. A. & Göndör, A. Epigenetic modulators, modifiers and mediators in cancer aetiology and progression. Nat. Rev. Genet. 17, 284–299 (2016).

2.

Flavahan, W. A. et al. Insulator dysfunction and oncogene activation in IDH mutant gliomas. Nature 529, 110–114 (2016).

3.

Flavahan, W. A. et al. Altered chromosomal topology drives oncogenic programs in SDH-deficient GISTs. Nature 575, 229–233 (2019).

4.

Donaldson-Collier, M. C. et al. EZH2 oncogenic mutations drive epigenetic, transcriptional, and structural changes within chromatin domains. Nat. Genet. https://doi.org/10.1038/s41588-018-0338-y (2019).

5.

Achinger-Kawecka, J. et al. Epigenetic reprogramming at estrogen-receptor binding sites alters 3D chromatin landscape in endocrine-resistant breast cancer. Nat. Commun. 11, 320 (2020).

6.

Viny, A. D. et al. Cohesin members Stag1 and Stag2 display distinct roles in chromatin accessibility and topological control of HSC self-renewal and differentiation. Cell Stem Cell 25, 682–696.e8 (2019).

7.

Beagan, J. A. & Phillips-Cremins, J. E. On the existence and functionality of topologically associating domains. Nat. Genet. 52, 8–16 (2020).

8.

Rao, S. S. P. et al. A 3D map of the human genome at kilobase resolution reveals principles of chromatin looping. Cell 159, 1665–1680 (2014).

9.

Rao, S. S. P. et al. Cohesin loss eliminates all loop domains. Cell 171, 305–320.e24 (2017).

10.

Lieberman-Aiden, E. et al. Comprehensive mapping of long-range interactions reveals folding principles of the human genome. Science 326, 289–293 (2009).

11.

Dixon, J. R. et al. Topological domains in mammalian genomes identified by analysis of chromatin interactions. Nature 485, 376–380 (2012).

12.

Schoenfelder, S. & Fraser, P. Long-range enhancer–promoter contacts in gene expression control. Nat. Rev. Genet. 20, 437–455 (2019).

13.

Weischenfeldt, J. et al. Pan-cancer analysis of somatic copy-number alterations implicates IRS4 and IGF2 in enhancer hijacking. Nat. Genet. 49, 65–74 (2017).

14.

Koche, R. P. et al. Extrachromosomal circular DNA drives oncogenic genome remodeling in neuroblastoma. Nat. Genet. 52, 29–34 (2020).

15.

Morton, A. R. et al. Functional enhancers shape extrachromosomal oncogene amplifications. Cell 179, 1330–1341.e13 (2019).

16.

Hnisz, D. et al. Activation of proto-oncogenes by disruption of chromosome neighborhoods. Science https://doi.org/10.1126/science.aad9024 (2016).

17.

Hnisz, D. et al. Super-enhancers in the control of cell identity and disease. Cell 155, 934–947 (2013).

18.

Hnisz, D. et al. Convergence of developmental and oncogenic signaling pathways at transcriptional super-enhancers. Mol. Cell 58, 362–370 (2015).

19.

Ernst, J. et al. Systematic analysis of chromatin state dynamics in nine human cell types. Nature 473, 43–49 (2011).

20.

Calo, E. & Wysocka, J. Modification of enhancer chromatin: what, how and why? Mol. Cell 49, 825–837 (2013).

21.

Andersson, R. & Sandelin, A. Determinants of enhancer and promoter activities of regulatory elements. Nat. Rev. Genet. 21, 71–87 (2020).

22.

Bartman, C. R., Hsu, S. C., Hsiung, C. C.-S., Raj, A. & Blobel, G. A. Enhancer regulation of transcriptional bursting parameters revealed by forced chromatin looping. Mol. Cell 62, 237–247 (2016).

23.

Larsson, A. J. M. et al. Genomic encoding of transcriptional burst kinetics. Nature 565, 251–254 (2019).

24.

Deng, W. et al. Controlling long-range genomic interactions at a native locus by targeted tethering of a looping factor. Cell 149, 1233–1244 (2012).

25.

Chen, H. et al. Dynamic interplay between enhancer–promoter topology and gene activity. Nat. Genet. 50, 1296–1303 (2018).

26.

Rosencrance, C. D. et al. Chromatin hyperacetylation impacts chromosome folding by forming a nuclear subcompartment. Mol. Cell 78, 112–126.e12 (2020).

27.

Bonev, B. & Cavalli, G. Organization and function of the 3D genome. Nat. Rev. Genet. 17, 661–678 (2016).

28.

Liu, Y. et al. Systematic inference and comparison of multi-scale chromatin sub-compartments connects spatial organization to cell phenotypes. Nat. Commun. https://doi.org/10.1038/s41467-021-22666-3 (2021).

29.

Amoli, M. M., Carthy, D., Platt, H. & Ollier, W. E. R. EBV Immortalization of human B lymphocytes separated from small volumes of cryo-preserved whole blood. Int. J. Epidemiol. 37, i41–i45 (2008).

30.

Koues, O. I. et al. Enhancer sequence variants and transcription-factor deregulation synergize to construct pathogenic regulatory circuits in B-cell lymphoma. Immunity 42, 186–198 (2015).

31.

Zhang, J. et al. The CREBBP acetyltransferase is a haploinsufficient tumor suppressor in B-cell lymphoma. Cancer Discov. 7, 322–337 (2017).

32.

Basso, K. & Dalla-Favera, R. Roles of BCL6 in normal and transformed germinal center B cells. Immunol. Rev. 247, 172–183 (2012).

33.

Hsu, J. et al. CHD7 and Runx1 interaction provides a braking mechanism for hematopoietic differentiation. Proc. Natl Acad. Sci. USA 117, 23626–23635 (2020).

34.

Li, J. et al. The EMT transcription factor Zeb2 controls adult murine hematopoietic differentiation by regulating cytokine signaling. Blood 129, 460–472 (2017).

35.

Robles, E. F. et al. Homeobox NKX2-3 promotes marginal-zone lymphomagenesis by activating B-cell receptor signalling and shaping lymphocyte dynamics. Nat. Commun. 7, 11889 (2016).

36.

Nagel, S. et al. NKL homeobox gene NKX2-2 is aberrantly expressed in Hodgkin lymphoma. Oncotarget 9, 37480–37496 (2018).

37.

Battistello, E. et al. Pan-SRC kinase inhibition blocks B-cell receptor oncogenic signaling in non-Hodgkin lymphoma. Blood https://doi.org/10.1182/blood-2017-10-809210 (2018).

38.

Carty, M. et al. An integrated model for detecting significant chromatin interactions from high-resolution Hi-C data. Nat. Commun. 8, 15454 (2017).

39.

Lasko, L. M. et al. Discovery of a potent catalytic p300/CBP inhibitor that targets lineage-specific tumors. Nature 550, 128–132 (2017).

40.

Bauer, D. E. et al. An erythroid enhancer of BCL11A subject to genetic variation determines fetal hemoglobin level. Science 342, 253–257 (2013).

41.

Canver, M. C. et al. BCL11A enhancer dissection by Cas9-mediated in situ saturating mutagenesis. Nature 527, 192–197 (2015).

42.

Okosun, J. et al. Integrated genomic analysis identifies recurrent mutations and evolution patterns driving the initiation and progression of follicular lymphoma. Nat. Genet. 46, 176–181 (2014).

43.

Rao, P. H. et al. Chromosomal and gene amplification in diffuse large B-cell lymphoma. Blood 92, 234–240 (1998).

44.

Weniger, M. A. et al. Gains of the proto-oncogene BCL11A and nuclear accumulation of BCL11A XL protein are frequent in primary mediastinal B-cell lymphoma. Leukemia 20, 1880–1882 (2006).

45.

Victora, G. D. et al. Identification of human germinal center light and dark zone cells and their relationship to human B-cell lymphomas. Blood 120, 2240 (2012).

46.

Bunting, K. L. et al. Multi-tiered reorganization of the genome during B cell affinity maturation anchored by a germinal center-specific locus control region. Immunity 45, 497–512 (2016).

47.

Chong, L. C. et al. High-resolution architecture and partner genes of MYC rearrangements in lymphoma with DLBCL morphology. Blood Adv. 2, 2755–2765 (2018).

48.

Ohno, H., Nakagawa, M., Kishimori, C., Fukutsuka, K. & Honjo, G. Cryptic t(3;8)(q27;q24) and/or MYC-BCL6 linkage associated with MYC expression by immunohistochemistry is frequent in multiple-hit B-cell lymphomas. Blood Cancer J. 7, e578 (2017).

49.

Ryan, R. J. H. et al. Detection of enhancer-associated rearrangements reveals mechanisms of oncogene dysregulation in B-cell lymphoma. Cancer Discov. 5, 1058–1071 (2015).

50.

Cho, S. W. et al. Promoter of lncRNA gene PVT1 is a tumor-suppressor DNA boundary element. Cell 173, 1398–1412.e22 (2018).

51.

Küppers, R. & Dalla-Favera, R. Mechanisms of chromosomal translocations in B cell lymphomas. Oncogene 20, 5580–5594 (2001).

52.

Graninger, W. B., Seto, M., Boutain, B., Goldman, P. & Korsmeyer, S. J. Expression of Bcl-2 and Bcl-2-Ig fusion transcripts in normal and neoplastic cells. J. Clin. Invest. 80, 1512–1515 (1987).

53.

Tsujimoto, Y., Cossman, J., Jaffe, E. & Croce, C. M. Involvement of the bcl-2 gene in human follicular lymphoma. Science 228, 1440–1443 (1985).

54.

Boettiger, A. N. et al. Super-resolution imaging reveals distinct chromatin folding for different epigenetic states. Nature 529, 418–422 (2016).

55.

Falk, M. et al. Heterochromatin drives compartmentalization of inverted and conventional nuclei. Nature 570, 395–399 (2019).

56.

Morgan, M. A. J. & Shilatifard, A. Reevaluating the roles of histone-modifying enzymes and their associated chromatin modifications in transcriptional regulation. Nat. Genet. 52, 1271–1281 (2020).

57.

Douillet, D. et al. Uncoupling histone H3K4 trimethylation from developmental gene expression via an equilibrium of COMPASS, Polycomb and DNA methylation. Nat. Genet. 52, 615–625 (2020).

58.

Pérez-Lluch, S. et al. Absence of canonical marks of active chromatin in developmentally regulated genes. Nat. Genet. 47, 1158–1167 (2015).

59.

Northcott, P. A. et al. Enhancer hijacking activates GFI1 family oncogenes in medulloblastoma. Nature 511, 428–434 (2014).

60.

Kilpinen, H. et al. Coordinated effects of sequence variation on DNA binding, chromatin structure, and transcription. Science 342, 744–747 (2013).

61.

Gimelbrant, A., Hutchinson, J. N., Thompson, B. R. & Chess, A. Widespread monoallelic expression on human autosomes. Science 318, 1136–1140 (2007).

62.

Dixon, J. R. et al. Chromatin architecture reorganization during stem cell differentiation. Nature 518, 331–336 (2015).

63.

Schwartzman, O. et al. UMI-4C for quantitative and targeted chromosomal contact profiling. Nat. Methods 13, 685–691 (2016).

64.

Servant, N. et al. HiC-Pro: an optimized and flexible pipeline for Hi-C data processing. Genome Biol. 16, 259 (2015).

65.

Loh, P.-R., Palamara, P. F. & Price, A. L. Fast and accurate long-range phasing in a UK Biobank cohort. Nat. Genet. 48, 811–816 (2016).

66.

Edge, P., Bafna, V. & Bansal, V. HapCUT2: robust and accurate haplotype assembly for diverse sequencing technologies. Genome Res. 27, 801–812 (2017).

67.

Ramos-Rodriguez, M. & Subirana-Granes, M. UMI4Cats: Processing, analysis and visualization of UMI-4C chromatin contact data. R package version 4.0 https://doi.org/10.18129/B9.bioc.UMI4Cats (2021).

68.

Waszak, S. M. et al. Population variation and genetic control of modular chromatin architecture in humans. Cell 162, 1039–1050 (2015).
Acknowledgements
We thank EPFL facilities and, in particular, B. Mangeat for the sequencing facility and M. Pujol for cell sorting at CIML. This work was supported by the ISREC Foundation (E.O.), the Swiss National Science Foundation (grant number 31003A_182526) (E.O.) and Swiss Cancer Research foundation (grant number KFS-3982-08-2016-R) (E.O.), and the Gelu Foundation. G.C. is supported by the Giorgi–Cavaglieri Foundation. S.R. is supported by the French National Cancer Institute (INCa) Epigenetic and Cancer program. S.S. has been supported with a Marie Curie EPFL fellow.
Ethics declarations
Competing interests
The authors declare no competing interests.
Additional information
Peer review information Nature Genetics thanks Berkley Gryder, Rolf Ohlsson and the other, anonymous, reviewer for their contribution to the peer review of this work. Peer reviewer reports are available.
Publisher's note Springer Nature remains neutral with regard to jurisdictional claims in published maps and institutional affiliations.
Supplementary information
Source data
Unprocessed western blots.
Unprocessed western blots.
Unprocessed western blots.
About this article
Cite this article
Sungalee, S., Liu, Y., Lambuta, R.A. et al. Histone acetylation dynamics modulates chromatin conformation and allele-specific interactions at oncogenic loci. Nat Genet 53, 650–662 (2021). https://doi.org/10.1038/s41588-021-00842-x
Received:

Accepted:

Published:

Issue Date:
Further reading
Yuanlong Liu

,

Luca Nanni

,

Stephanie Sungalee

,

Marie Zufferey

,

Daniele Tavernari

,

Marco Mina

,

Stefano Ceri

,

Elisa Oricchio

&

Giovanni Ciriello

Nature Communications (2021)