Abstract
A central question in the post-genomic era is how genes interact to form biological pathways. Measurements of gene dependency across hundreds of cell lines have been used to cluster genes into 'co-essential' pathways, but this approach has been limited by ubiquitous false positives. In the present study, we develop a statistical method that enables robust identification of gene co-essentiality and yields a genome-wide set of functional modules. This atlas recapitulates diverse pathways and protein complexes, and predicts the functions of 108 uncharacterized genes. Validating top predictions, we show that TMEM189 encodes plasmanylethanolamine desaturase, a key enzyme for plasmalogen synthesis. We also show that C15orf57 encodes a protein that binds the AP2 complex, localizes to clathrin-coated pits and enables efficient transferrin uptake. Finally, we provide an interactive webtool for the community to explore our results, which establish co-essentiality profiling as a powerful resource for biological pathway identification and discovery of new gene functions.
Relevant articles
Open Access articles citing this article.
Xiao Chen

,

Yinglu Li

…

Chao Lu

Nature Communications Open Access 17 July 2023

Tanaz Sharifnia

,

Mathias J. Wawer

…

Stuart L. Schreiber

Nature Communications Open Access 06 April 2023

Marouen Ben Guebila

,

Tian Wang

…

John Quackenbush

Genome Biology Open Access 09 March 2023
Access options
Access Nature and 54 other Nature Portfolio journals
Get Nature+, our best-value online-access subscription
$29.99 / 30 days
cancel any time
Subscribe to this journal
Receive 12 print issues and online access
$209.00 per year
only $17.42 per issue
Rent or buy this article
Prices vary by article type
from$1.95
to$39.95
Prices may be subject to local taxes which are calculated during checkout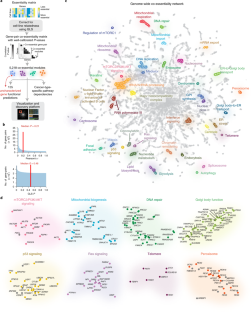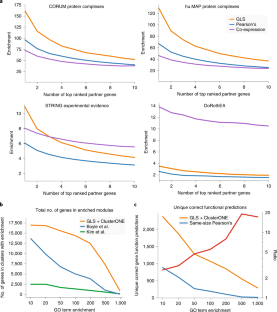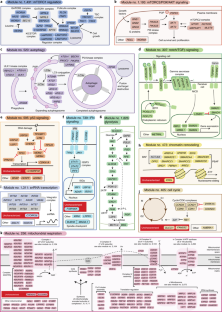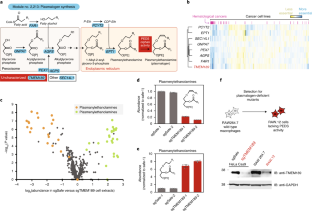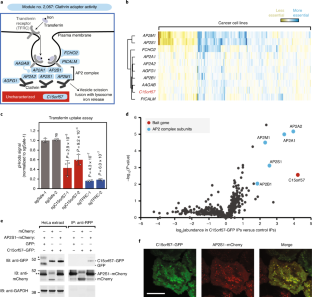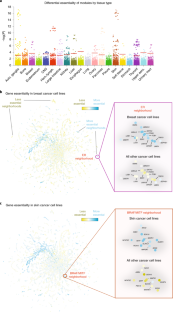 References
Barabási, A.-L. & Oltvai, Z. N. Network biology: understanding the cell's functional organization. Nat. Rev. Genet. 5, 101–113 (2004).

Chuang, H.-Y., Hofree, M. & Ideker, T. A decade of systems biology. Annu. Rev. Cell Dev. Biol. 26, 721–744 (2010).

Stuart, J. M., Segal, E., Koller, D. & Kim, S. K. A gene-coexpression network for global discovery of conserved genetic modules. Science 302, 249–255 (2003).

Costanzo, M. et al. A global genetic interaction network maps a wiring diagram of cellular function. Science 353, aaf1420 (2016).

Horlbeck, M. A. et al. Mapping the genetic landscape of human cells. Cell 174, 953–967.e22 (2018).

Hartwell, L. H., Hopfield, J. J., Leibler, S. & Murray, A. W. From molecular to modular cell biology. Nature 402, C47–C52 (1999).

Harrow, J. et al. GENCODE: the reference human genome annotation for the ENCODE Project. Genome Res. 22, 1760–1774 (2012).

Carpenter, A. E. & Sabatini, D. M. Systematic genome-wide screens of gene function. Nat. Rev. Genet. 5, 11–22 (2004).

Alonso, J. M. & Ecker, J. R. Moving forward in reverse: genetic technologies to enable genome-wide phenomic screens in Arabidopsis. Nat. Rev. Genet. 7, 524–536 (2006).

Mohr, S. E., Smith, J. A., Shamu, C. E., Neumüller, R. A. & Perrimon, N. RNAi screening comes of age: improved techniques and complementary approaches. Nat. Rev. Mol. Cell Biol. 15, 591–600 (2014).

Shalem, O., Sanjana, N. E. & Zhang, F. High-throughput functional genomics using CRISPR–Cas9. Nat. Rev. Genet. 16, 299–311 (2015).

Tong, A. H. et al. Systematic genetic analysis with ordered arrays of yeast deletion mutants. Science 294, 2364–2368 (2001).

Tong, A. H. Y. Global mapping of the yeast genetic interaction network. Science 303, 808–813 (2004).

Costanzo, M. et al. The genetic landscape of a cell. Science 327, 425–431 (2010).

Bassik, M. C. et al. A systematic mammalian genetic interaction map reveals pathways underlying ricin susceptibility. Cell 152, 909–922 (2013).

Rosenbluh, J. et al. Genetic and proteomic interrogation of lower confidence candidate genes reveals signaling networks in β-catenin-active cancers. Cell Syst. 3, 302–316.e4 (2016).

Shen, J. P. et al. Combinatorial CRISPR–Cas9 screens for de novo mapping of genetic interactions. Nat. Methods 14, 573–576 (2017).

Han, K. et al. Synergistic drug combinations for cancer identified in a CRISPR screen for pairwise genetic interactions. Nat. Biotechnol. 35, 463–474 (2017).

Du, D. et al. Genetic interaction mapping in mammalian cells using CRISPR interference. Nat. Methods 14, 577–580 (2017).

Boettcher, M. et al. Dual gene activation and knockout screen reveals directional dependencies in genetic networks. Nat. Biotechnol. 36, 170–178 (2018).

Wang, T. et al. Gene essentiality profiling reveals gene networks and synthetic lethal interactions with oncogenic ras. Cell 168, 890–903.e15 (2017).

Rauscher, B. et al. Toward an integrated map of genetic interactions in cancer cells. Mol. Syst. Biol. 14, e7656 (2018).

McDonald, E. R. 3rd et al. Project DRIVE: a compendium of cancer dependencies and synthetic lethal relationships uncovered by large-scale, deep RNAi screening. Cell 170, 577–592.e10 (2017).

Pan, J. et al. Interrogation of mammalian protein complex structure, function, and membership using genome-scale fitness screens. Cell Syst. 6, 555–568.e7 (2018).

Boyle, E. A., Pritchard, J. K. & Greenleaf, W. J. High-resolution mapping of cancer cell networks using co-functional interactions. Mol. Syst. Biol. 14, e8594 (2018).

Kim, E. et al. A network of human functional gene interactions from knockout fitness screens in cancer cells. Life Sci. Alliance 2, e201800278 (2019).

Meyers, R. M. et al. Computational correction of copy number effect improves specificity of CRISPR–Cas9 essentiality screens in cancer cells. Nat. Genet. 49, 1779–1784 (2017).

Tsherniak, A. et al. Defining a cancer dependency map. Cell 170, 564–576.e16 (2017).

Aitkin, A. C. On least squares and linear combination of observations. Proc. R. Soc. Edinb. 55, 42–48 (1935).

Yang, J. et al. Genomic inflation factors under polygenic inheritance. Eur. J. Hum. Genet. 19, 807–812 (2011).

Moll, U. M. & Petrenko, O. The MDM2-–p53 interaction. Mol. Cancer Res. 1, 1001–1008 (2003).

Wang, X. et al. PHLDA2 is a key oncogene-induced negative feedback inhibitor of EGFR/ErbB2 signaling via interference with AKT signaling. Oncotarget 9, 24914 (2018).

Furukawa, T., Tanji, E., Xu, S. & Horii, A. Feedback regulation of DUSP6 transcription responding to MAPK1 via ETS2 in human cells. Biochem. Biophys. Res. Commun. 377, 317–320 (2008).

Rickman, D. S., Schulte, J. H. & Eilers, M. The expanding world of N-MYC–driven tumors. Cancer Disco. 8, 150–163 (2018).

McInnes, L., Healy, J., Saul, N. & Großberger, L. UMAP: Uniform Manifold Approximation and Projection. J. Open Source Softw. 3, 861 (2018).

Coifman, R. R. & Lafon, S. Diffusion maps. Appl. Comput. Harmon. Anal. 21, 5–30 (2006).

Ruepp, A. et al. CORUM: the comprehensive resource of mammalian protein complexes. Nucleic Acids Res. 36, D646–D650 (2008).

Drew, K. et al. Integration of over 9,000 mass spectrometry experiments builds a global map of human protein complexes. Mol. Syst. Biol. 13, 932 (2017).

Szklarczyk, D. et al. The STRING database in 2017: quality-controlled protein–protein association networks, made broadly accessible. Nucleic Acids Res. 45, D362–D368 (2017).

Okamura, Y. et al. COXPRESdb in 2015: coexpression database for animal species by DNA-microarray and RNAseq-based expression data with multiple quality assessment systems. Nucleic Acids Res. 43, D82–D86 (2015).

Garcia-Alonso, L., Holland, C. H., Ibrahim, M. M., Turei, D. & Saez-Rodriguez, J. Benchmark and integration of resources for the estimation of human transcription factor activities. Genome Res. 29, 1363–1375 (2019).

Nepusz, T., Yu, H. & Paccanaro, A. Detecting overlapping protein complexes in protein–protein interaction networks. Nat. Methods 9, 471–472 (2012).

Saxton, R. A. & Sabatini, D. M. mTOR signaling in growth, metabolism, and disease. Cell 169, 361–371 (2017).

Shoemaker, C. J. et al. CRISPR screening using an expanded toolkit of autophagy reporters identifies TMEM41B as a novel autophagy factor. PLoS Biol. 17, e2007044 (2019).

Breslow, D. K. et al. A CRISPR-based screen for Hedgehog signaling provides insights into ciliary function and ciliopathies. Nat. Genet. 50, 460–471 (2018).

Blomen, V. A. et al. Gene essentiality and synthetic lethality in haploid human cells. Science 350, 1092–1096 (2015).

Nagan, N. & Zoeller, R. A. Plasmalogens: biosynthesis and functions. Prog. Lipid Res. 40, 199–229 (2001).

Vaz, F. M. et al. Mutations in PCYT2 disrupt etherlipid biosynthesis and cause a complex hereditary spastic paraplegia. Brain 142, 3382–3397 (2019).

Horibata, Y. et al. EPT1 (selenoprotein I) is critical for the neural development and maintenance of plasmalogen in humans. J. Lipid Res. 59, 1015–1026 (2018).

Contrepois, K. et al. Cross-platform comparison of untargeted and targeted lipidomics approaches on aging mouse plasma. Sci. Rep. 8, 17747 (2018).

Schüssler-Fiorenza Rose, S. M. et al. A longitudinal big data approach for precision health. Nat. Med. 25, 792–804 (2019).

Snyder, F., Lee, T.-C. & Wykle, R. L. in The Enzymes of Biological Membranes, Vol. 2, Biosynthesis and Metabolism (ed. Martonosi, A. N.) 1–58 (Springer US, 1985).

Zoeller, R. A. et al. Mutants in a macrophage-like cell line are defective in plasmalogen biosynthesis, but contain functional peroxisomes. J. Biol. Chem. 267, 8299–8306 (1992).

Gao, J. et al. Fatty acid desaturase4 of Arabidopsis encodes a protein distinct from characterized fatty acid desaturases. Plant J. 60, 832–839 (2009).

Motley, A., Bright, N. A., Seaman, M. N. J. & Robinson, M. S. Clathrin-mediated endocytosis in AP-2-depleted cells. J. Cell Biol. 162, 909–918 (2003).

Huttlin, E. L. et al. Architecture of the human interactome defines protein communities and disease networks. Nature 545, 505–509 (2017).

Huttlin, E. L. et al. The BioPlex Network: a systematic exploration of the human interactome. Cell 162, 425–440 (2015).

Chan, E. M. et al. WRN helicase is a synthetic lethal target in microsatellite unstable cancers. Nature 568, 551–556 (2019).

Ariazi, E., Ariazi, J., Cordera, F. & Jordan, V. Estrogen receptors as therapeutic targets in breast cancer. Curr. Top. Med. Chem. 6, 181–202 (2006).

Fletcher, M. N. C. et al. Master regulators of FGFR2 signalling and breast cancer risk. Nat. Commun. 4, 2464 (2013).

Roman, S. D. et al. Estradiol induction of retinoic acid receptors in human breast cancer cells. Cancer Res. 53, 5940–5945 (1993).

Zhang, Y.-W. et al. Acquisition of estrogen independence induces TOB1-related mechanisms supporting breast cancer cell proliferation. Oncogene 35, 1643–1656 (2016).

Ascierto, P. A. et al. The role of BRAF V600 mutation in melanoma. J. Transl. Med. 10, 85 (2012).

Garraway, L. A. et al. Integrative genomic analyses identify MITF as a lineage survival oncogene amplified in malignant melanoma. Nature 436, 117–122 (2005).

Perotti, V. et al. NFATc2 is an intrinsic regulator of melanoma dedifferentiation. Oncogene 35, 2862–2872 (2016).

Harris, M. L., Baxter, L. L., Loftus, S. K. & Pavan, W. J. Sox proteins in melanocyte development and melanoma. Pigment Cell Melanoma Res. 23, 496–513 (2010).

Gallego-García, A. et al. A bacterial light response reveals an orphan desaturase for human plasmalogen synthesis. Science 366, 128–132 (2019).

Werner, E. R. et al. The TMEM189 gene encodes plasmanylethanolamine desaturase which introduces the characteristic vinyl ether double bond into plasmalogens. Proc. Natl Acad. Sci. USA 117, 7792–7798 (2020).

Piano, V. et al. Discovery of inhibitors for the ether lipid-generating enzyme AGPS as anti-cancer agents. ACS Chem. Biol. 10, 2589–2597 (2015).

Zhu, C. et al. The fusion landscape of hepatocellular carcinoma. Mol. Oncol. 13, 1214–1225 (2019).

Chen, J. & Wagner, E. J. snRNA 3′ end formation: the dawn of the integrator complex. Biochem. Soc. Trans. 38, 1082–1087 (2010).

Boeing, S. et al. Multiomic analysis of the UV-induced DNA damage response. Cell Rep. 15, 1597–1610 (2016).

Luck, K. et al. A reference map of the human binary protein interactome. Nature 580, 402–408 (2020).

Shifrut, E. et al. Genome-wide CRISPR screens in primary human T cells reveal key regulators of immune function. Cell 175, 1958–1971.e15 (2018).

Povey, S. et al. The HUGO gene nomenclature committee (HGNC). Hum. Genet. 109, 678–680 (2001).

Collard, F. et al. A conserved phosphatase destroys toxic glycolytic side products in mammals and yeast. Nat. Chem. Biol. 12, 601–607 (2016).

Braverman, N. et al. Human PEX7 encodes the peroxisomal PTS2 receptor and is responsible for rhizomelic chondrodysplasia punctata. Nat. Genet. 15, 369–376 (1997).

Doench, J. G. et al. Optimized sgRNA design to maximize activity and minimize off-target effects of CRISPR-Cas9. Nat. Biotechnol. 34, 184–191 (2016).

Ashburner, M. et al. Gene ontology: tool for the unification of biology. The Gene Ontology Consortium. Nat. Genet. 25, 25–29 (2000).

The Gene Ontology Consortium. Expansion of the gene ontology knowledgebase and resources. Nucleic Acids Res. 45, D331–D338 (2017).

Yu, J. et al. A unified mixed-model method for association mapping that accounts for multiple levels of relatedness. Nat. Genet. 38, 203–208 (2006).

Storey, J. D. & Tibshirani, R. Statistical significance for genomewide studies. Proc. Natl Acad. Sci. USA 100, 9440–9445 (2003).

Liu, Y. & Xie, J. Cauchy combination test: a powerful test with analytic p-value calculation under arbitrary dependency structures. J. Am. Statist. Assoc. https://doi.org/10.1080/01621459.2018.1554485 (2019).

Liu, Y. et al. ACAT: a fast and powerful p value combination method for rare-variant analysis in sequencing studies. Am. J. Hum. Genet. 104, 410–421 (2019).

Haghverdi, L., Buettner, F. & Theis, F. J. Diffusion maps for high-dimensional single-cell analysis of differentiation data. Bioinformatics 31, 2989–2998 (2015).

Perez-Riverol, Y. et al. The PRIDE database and related tools and resources in 2019: improving support for quantification data. Nucleic Acids Res. 47, D442–D450 (2019).
Acknowledgements
We thank R. Zoeller (Boston University Medical Center) for providing RAW.12 cells and the parent RAW264.7 cell line. We thank E. Boyle, J. Donnelly, M. Pearson, G. Anderson, S. Simpkins, T. Ideker and members of the Bassik and Kundaje laboratories for helpful discussions. This work was supported by a National Institute of Health (NIH) Director's New Innovator award (no. 1DP2HD084069-01 to M.C.B.), a grant from NIH/ENCODE (no. 5UM1HG009436-02 to A.K. and M.C.B.), a Stanford Bio-X Bowes Fellowship (to M.W.), and a Stanford School of Medicine Dean's Postdoctoral Fellowship and a Jane Coffin Childs Postdoctoral Fellowship (to R.A.K.).
Ethics declarations
Competing interests
The authors declare no competing interests.
Additional information
Peer review information Nature Genetics thanks Francesco Iorio and the other, anonymous, reviewer for their contribution to the peer review of this work. Peer reviewer reports are available.
Publisher's note Springer Nature remains neutral with regard to jurisdictional claims in published maps and institutional affiliations.
Supplementary information
Source data
Unprocessed western blots.
Unprocessed western blots.
About this article
Cite this article
Wainberg, M., Kamber, R.A., Balsubramani, A. et al. A genome-wide atlas of co-essential modules assigns function to uncharacterized genes. Nat Genet 53, 638–649 (2021). https://doi.org/10.1038/s41588-021-00840-z
Received:

Accepted:

Published:

Issue Date:

DOI: https://doi.org/10.1038/s41588-021-00840-z