Abstract
Genome editing has therapeutic potential for treating genetic diseases and cancer. However, the currently most practicable approaches rely on the generation of DNA double-strand breaks (DSBs), which can give rise to a poorly characterized spectrum of chromosome structural abnormalities. Here, using model cells and single-cell whole-genome sequencing, as well as by editing at a clinically relevant locus in clinically relevant cells, we show that CRISPR–Cas9 editing generates structural defects of the nucleus, micronuclei and chromosome bridges, which initiate a mutational process called chromothripsis. Chromothripsis is extensive chromosome rearrangement restricted to one or a few chromosomes that can cause human congenital disease and cancer. These results demonstrate that chromothripsis is a previously unappreciated on-target consequence of CRISPR–Cas9-generated DSBs. As genome editing is implemented in the clinic, the potential for extensive chromosomal rearrangements should be considered and monitored.
Relevant articles
Open Access articles citing this article.
Alima Qureshi

&

John B. Connolly

Malaria Journal Open Access 14 August 2023

G. Cullot

,

J. Boutin

…

A. Bedel

Nature Communications Open Access 10 July 2023

Jake June-Koo Lee

,

Youngsook Lucy Jung

…

Peter J. Park

Nature Open Access 17 May 2023
Access options
Access Nature and 54 other Nature Portfolio journals
Get Nature+, our best-value online-access subscription
$29.99 / 30 days
cancel any time
Subscribe to this journal
Receive 12 print issues and online access
$209.00 per year
only $17.42 per issue
Rent or buy this article
Prices vary by article type
from$1.95
to$39.95
Prices may be subject to local taxes which are calculated during checkout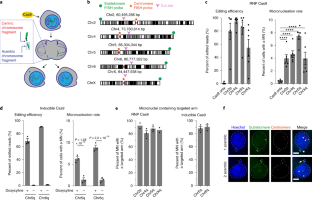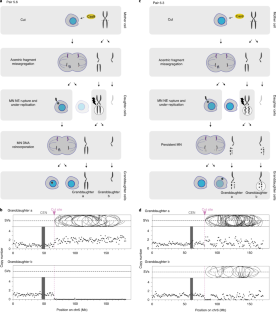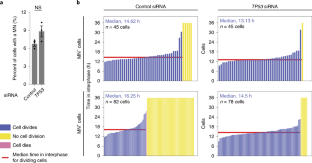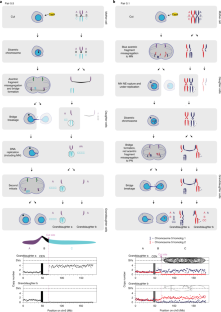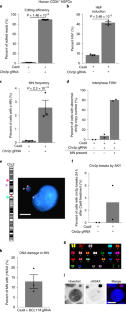 Data availability
Whole images of cells presented in Figs. 1f and 6e,i and Extended Data Fig. 2e and filtered SV calls are available at https://doi.org/10.5281/zenodo.4533299. Original images and videos that contribute to analyses in Figs. 1e, 4 and 6c,h, Extended Data Figs. 1d, 2 and 5c and Look-Seq experiments (Figs. 2, 3 and 5 and Extended Data Fig. 3) were not published due to constraints of file size but are available upon reasonable request. CD34+ HSPC-derived FISH and SKY images and analyses (Fig. 6d–g) were generated by the St. Jude Cytogenetic Shared Resource Laboratory and derived data supporting the findings in Fig. 6d–g are available from the corresponding authors upon request. Sequence read data are available in the Sequencing Read Archive under BioProject PRJNA676146. Source data are provided with this paper.
References
Hsu, P. D., Lander, E. S. & Zhang, F. Development and applications of CRISPR–Cas9 for genome engineering. Cell 157, 1262–1278 (2014).

Doudna, J. A. The promise and challenge of therapeutic genome editing. Nature 578, 229–236 (2020).

Xu, J. et al. Correction of sickle cell disease in adult mice by interference with fetal hemoglobin silencing. Science 334, 993–996 (2011).

Orkin, S. H. & Bauer, D. E. Emerging genetic therapy for sickle cell disease. Annu. Rev. Med. 70, 257–271 (2019).

Wu, Y. et al. Highly efficient therapeutic gene editing of human hematopoietic stem cells. Nat. Med. 25, 776–783 (2019).

Frangoul, H. et al. CRISPR–Cas9 gene editing for sickle cell disease and β-thalassemia. N. Engl. J. Med. 384, 252–260 (2021).

Dever, D. P. et al. CRISPR/Cas9 β-globin gene targeting in human haematopoietic stem cells. Nature 539, 384–389 (2016).

DeWitt, M. A. et al. Selection-free genome editing of the sickle mutation in human adult hematopoietic stem/progenitor cells. Sci. Transl. Med. 8, 360ra134 (2016).

Richardson, C. D. et al. CRISPR–Cas9 genome editing in human cells occurs via the Fanconi anemia pathway. Nat. Genet. 50, 1132–1139 (2018).

Romero, Z. et al. Editing the sickle cell disease mutation in human hematopoietic stem cells: comparison of endonucleases and homologous donor templates. Mol. Ther. 27, 1389–1406 (2019).

Komor, A. C., Kim, Y. B., Packer, M. S., Zuris, J. A. & Liu, D. R. Programmable editing of a target base in genomic DNA without double-stranded DNA cleavage. Nature 533, 420–424 (2016).

Gaudelli, N. M. et al. Programmable base editing of A•T to G•C in genomic DNA without DNA cleavage. Nature 551, 464–471 (2017).

Anzalone, A. V. et al. Search-and-replace genome editing without double-strand breaks or donor DNA. Nature 576, 149–157 (2019).

Kim, D., Luk, K., Wolfe, S. A. & Kim, J. S. Evaluating and enhancing target specificity of gene-editing nucleases and deaminases. Annu. Rev. Biochem. 88, 191–220 (2019).

Haapaniemi, E., Botla, S., Persson, J., Schmierer, B. & Taipale, J. CRISPR–Cas9 genome editing induces a p53-mediated DNA damage response. Nat. Med. 24, 927–930 (2018).

Ihry, R. J. et al. p53 inhibits CRISPR–Cas9 engineering in human pluripotent stem cells. Nat. Med. 24, 939–946 (2018).

van den Berg, J. et al. A limited number of double-strand DNA breaks is sufficient to delay cell cycle progression. Nucleic Acids Res. 46, 10132–10144 (2018).

Enache, O. M. et al. Cas9 activates the p53 pathway and selects for p53-inactivating mutations. Nat. Genet. 52, 662–668 (2020).

Whitworth, K. M. et al. Use of the CRISPR/Cas9 system to produce genetically engineered pigs from in vitro-derived oocytes and embryos. Biol. Reprod. 91, 78 (2014).

Shin, H. Y. et al. CRISPR/Cas9 targeting events cause complex deletions and insertions at 17 sites in the mouse genome. Nat. Commun. 8, 15464 (2017).

Adikusuma, F. et al. Large deletions induced by Cas9 cleavage. Nature 560, E8–E9 (2018).

Kosicki, M., Tomberg, K. & Bradley, A. Repair of double-strand breaks induced by CRISPR–Cas9 leads to large deletions and complex rearrangements. Nat. Biotechnol. 36, 765–771 (2018).

Zuccaro, M. V. et al. Allele-specific chromosome removal after Cas9 cleavage in human embryos. Cell 183, 1650–1664 (2020).

Weisheit, I. et al. Detection of deleterious on-target effects after HDR-mediated CRISPR editing. Cell Rep. 31, 107689 (2020).

Alanis-Lobato, G. et al. Frequent loss-of-heterozygosity in CRISPR–Cas9-edited early human embryos. Preprint at bioRxiv https://doi.org/10.1101/2020.06.05.135913 (2020).

Cullot, G. et al. CRISPR–Cas9 genome editing induces megabase-scale chromosomal truncations. Nat. Commun. 10, 1136 (2019).

Stadtmauer, E. A. et al. CRISPR-engineered T cells in patients with refractory cancer. Science 367, eaba7365 (2020).

Zhang, C. Z. et al. Chromothripsis from DNA damage in micronuclei. Nature 522, 179–184 (2015).

Umbreit, N. T. et al. Mechanisms generating cancer genome complexity from a single cell division error. Science 368, eaba0712 (2020).

Liu, P. et al. Chromosome catastrophes involve replication mechanisms generating complex genomic rearrangements. Cell 146, 889–903 (2011).

Kloosterman, W. P. & Cuppen, E. Chromothripsis in congenital disorders and cancer: similarities and differences. Curr. Opin. Cell Biol. 25, 341–348 (2013).

Stephens, P. J. et al. Massive genomic rearrangement acquired in a single catastrophic event during cancer development. Cell 144, 27–40 (2011).

Rausch, T. et al. Genome sequencing of pediatric medulloblastoma links catastrophic DNA rearrangements with TP53 mutations. Cell 148, 59–71 (2012).

Ly, P. et al. Chromosome segregation errors generate a diverse spectrum of simple and complex genomic rearrangements. Nat. Genet. 51, 705–715 (2019).

Consortium, I. T. P.-C. Ao. W. G. Pan-cancer analysis of whole genomes. Nature 578, 82–93 (2020).

Cortes-Ciriano, I. et al. Comprehensive analysis of chromothripsis in 2,658 human cancers using whole-genome sequencing. Nat. Genet. 52, 331–341 (2020).

Leibowitz, M. L., Zhang, C. Z. & Pellman, D. Chromothripsis: a new mechanism for rapid karyotype evolution. Annu. Rev. Genet. 49, 183–211 (2015).

Ly, P. & Cleveland, D. W. Rebuilding chromosomes after catastrophe: emerging mechanisms of chromothripsis. Trends Cell Biol. 27, 917–930 (2017).

Soto, M., Garcia-Santisteban, I., Krenning, L., Medema, R. H. & Raaijmakers, J. A. Chromosomes trapped in micronuclei are liable to segregation errors. J. Cell Sci. 131, jcs214742 (2018).

Canver, M. C. et al. BCL11A enhancer dissection by Cas9-mediated in situ saturating mutagenesis. Nature 527, 192–197 (2015).

McKinley, K. L. & Cheeseman, I. M. Large-scale analysis of CRISPR/Cas9 cell-cycle knockouts reveals the diversity of p53-dependent responses to cell-cycle defects. Dev. Cell 40, 405–420 (2017).

Brinkman, E. K. et al. Kinetics and fidelity of the repair of Cas9-induced double-strand DNA breaks. Mol. Cell 70, 801–813 (2018).

Wu, J., Tang, B. & Tang, Y. Allele-specific genome targeting in the development of precision medicine. Theranostics 10, 3118–3137 (2020).

Stark, J. M. & Jasin, M. Extensive loss of heterozygosity is suppressed during homologous repair of chromosomal breaks. Mol. Cell Biol. 23, 733–743 (2003).

Rao, P. N., Johnson, R. T. & Sperling, K. Premature Chromosome Condensation: Application in Basic, Clinical, and Mutation Research xvi (Academic Press, 1982).

Hoffelder, D. R. et al. Resolution of anaphase bridges in cancer cells. Chromosoma 112, 389–397 (2004).

Terradas, M., Martin, M., Tusell, L. & Genesca, A. DNA lesions sequestered in micronuclei induce a local defective-damage response. DNA Repair 8, 1225–1234 (2009).

Crasta, K. et al. DNA breaks and chromosome pulverization from errors in mitosis. Nature 482, 53–58 (2012).

Hatch, E. M., Fischer, A. H., Deerinck, T. J. & Hetzer, M. W. Catastrophic nuclear envelope collapse in cancer cell micronuclei. Cell 154, 47–60 (2013).

Ly, P. et al. Selective Y centromere inactivation triggers chromosome shattering in micronuclei and repair by non-homologous end joining. Nat. Cell Biol. 19, 68–75 (2017).

Liu, S. et al. Nuclear envelope assembly defects link mitotic errors to chromothripsis. Nature 561, 551–555 (2018).

Kneissig, M. et al. Micronuclei-based model system reveals functional consequences of chromothripsis in human cells. eLife 8, e50292 (2019).

Priestley, P. et al. Pan-cancer whole-genome analyses of metastatic solid tumours. Nature 575, 210–216 (2019).

Ikeda, K. et al. Efficient scarless genome editing in human pluripotent stem cells. Nat. Methods 15, 1045–1047 (2018).

Liang, D. et al. Frequent gene conversion in human embryos induced by double strand breaks. Preprint at bioRxiv https://doi.org/10.1101/2020.06.19.162214 (2020).

Korbel, J. O. & Campbell, P. J. Criteria for inference of chromothripsis in cancer genomes. Cell 152, 1226–1236 (2013).

Vazquez-Diez, C., Yamagata, K., Trivedi, S., Haverfield, J. & FitzHarris, G. Micronucleus formation causes perpetual unilateral chromosome inheritance in mouse embryos. Proc. Natl Acad. Sci. USA 113, 626–631 (2016).

Minocherhomji, S. et al. Replication stress activates DNA repair synthesis in mitosis. Nature 528, 286–290 (2015).

Cleal, K., Jones, R. E., Grimstead, J. W., Hendrickson, E. A. & Baird, D. M. Chromothripsis during telomere crisis is independent of NHEJ, and consistent with a replicative origin. Genome Res. 29, 737–749 (2019).

Maciejowski, J., Li, Y., Bosco, N., Campbell, P. J. & de Lange, T. Chromothripsis and kataegis induced by telomere crisis. Cell 163, 1641–1654 (2015).

Maciejowski, J. et al. APOBEC3-dependent kataegis and TREX1-driven chromothripsis during telomere crisis. Nat. Genet. 52, 884–890 (2020).

Ribeyre, C. & Shore, D. Regulation of telomere addition at DNA double-strand breaks. Chromosoma 122, 159–173 (2013).

Maciejowski, J. & de Lange, T. Telomeres in cancer: tumour suppression and genome instability. Nat. Rev. Mol. Cell Biol. 18, 175–186 (2017).

Canela, A. et al. DNA breaks and end resection measured genome-wide by end sequencing. Mol. Cell 63, 898–911 (2016).

McClintock, B. The stability of broken ends of chromosomes in Zea mays. Genetics 26, 234–282 (1941).

Campbell, P. J. et al. The patterns and dynamics of genomic instability in metastatic pancreatic cancer. Nature 467, 1109–1113 (2010).

Li, Y. et al. Constitutional and somatic rearrangement of chromosome 21 in acute lymphoblastic leukaemia. Nature 508, 98–102 (2014).

Ma, H. et al. Correction of a pathogenic gene mutation in human embryos. Nature 548, 413–419 (2017).

Egli, D. et al. Inter-homologue repair in fertilized human eggs? Nature 560, E5–E7 (2018).

Finn, J. D. et al. A single administration of CRISPR/Cas9 lipid nanoparticles achieves robust and persistent in vivo genome editing. Cell Rep. 22, 2227–2235 (2018).

Humbert, O., Peterson, C. W., Norgaard, Z. K., Radtke, S. & Kiem, H. P. A nonhuman primate transplantation model to evaluate hematopoietic stem cell gene editing strategies for β-hemoglobinopathies. Mol. Ther. Methods Clin. Dev. 8, 75–86 (2018).

Humbert, O. et al. Therapeutically relevant engraftment of a CRISPR–Cas9-edited HSC-enriched population with HbF reactivation in nonhuman primates. Sci. Transl. Med. 11, eaaw3768 (2019).

Demirci, S. et al. BCL11A enhancer-edited hematopoietic stem cells persist in rhesus monkeys without toxicity. J. Clin. Invest. 130, 6677–6687 (2020).

Lu, Y. et al. Safety and feasibility of CRISPR-edited T cells in patients with refractory non-small-cell lung cancer. Nat. Med. 26, 732–740 (2020).

Luc, S. et al. Bcl11a deficiency leads to hematopoietic stem cell defects with an aging-like phenotype. Cell Rep. 16, 3181–3194 (2016).

Sanders, A. D. et al. Single-cell analysis of structural variations and complex rearrangements with tri-channel processing. Nat. Biotechnol. 38, 343–354 (2020).

McDermott, D. H. et al. Chromothriptic cure of WHIM syndrome. Cell 160, 686–699 (2015).

Maeder, M. L. et al. Development of a gene-editing approach to restore vision loss in Leber congenital amaurosis type 10. Nat. Med. 25, 229–233 (2019).

Lomova, A. et al. Improving gene editing outcomes in human hematopoietic stem and progenitor cells by temporal control of DNA repair. Stem Cells 37, 284–294 (2019).

Metais, J. Y. et al. Genome editing of HBG1 and HBG2 to induce fetal hemoglobin. Blood Adv. 3, 3379–3392 (2019).

Weber, L. et al. Editing a γ-globin repressor binding site restores fetal hemoglobin synthesis and corrects the sickle cell disease phenotype. Sci. Adv. 6, eaay9392 (2020).

Howden, S. E. et al. A Cas9 variant for efficient generation of indel-free knockin or gene-corrected human pluripotent stem cells. Stem Cell Rep. 7, 508–517 (2016).

Rees, H. A. & Liu, D. R. Base editing: precision chemistry on the genome and transcriptome of living cells. Nat. Rev. Genet. 19, 770–788 (2018).

Connelly, J. P. & Pruett-Miller, S. M. CRIS.py: a versatile and high-throughput analysis program for CRISPR-based genome editing. Sci. Rep. 9, 4194 (2019).
Acknowledgements
We are grateful to R. Jaenisch, S. Markoulaki, A. Spektor and members of the Pellman and Weiss laboratories for discussions, I. Cheeseman for the doxycycline-inducible Cas9 RPE-1 cell line, D. Cullins for assistance with single-cell sorting of HSPCs and N. Mynhier for help with data visualization. This work was supported by the National Science Foundation Graduate Research Fellowship under grant no. DGE1144152 (M.L.L.), the National Cancer Institute career transition award K22CA216319 (C.-Z.Z.), the Howard Hughes Medical Institute (D.P.), NIH grants R01 CA213404 (D.P.), F32 DK118822 (P.A.D.) and P01 HL053749 (M.J.W.), the Assisi Foundation (M.J.W.), the Doris Duke Charitable Foundation (M.J.W.) and St. Jude/ALSAC. The St. Jude Cytogenetic and Center for Advanced Genome Engineering Shared Resource Laboratories are supported by NIH grant P30 CA21765 and by St. Jude/ALSAC. We thank the members of the St. Jude Children's Research Hospital Center for Advanced Genome Engineering and Cytogenetics core facilities.
Ethics declarations
Competing interests
M.J.W. is a consultant for Rubius Inc., Cellarity Inc., Beam Therapeutics and Esperion; none of the consulting work is relevant to the current project. C.-Z.Z. is a scientific adviser for Pillar BioSciences. D.P. is a member of the Volastra Therapeutics scientific advisory board. All other authors declare no competing interests.
Additional information
Peer review information Nature Genetics thanks Fyodor Urnov and the other, anonymous, reviewers for their contribution to the peer review of this work.
Publisher's note Springer Nature remains neutral with regard to jurisdictional claims in published maps and institutional affiliations.
Supplementary information
About this article
Cite this article
Leibowitz, M.L., Papathanasiou, S., Doerfler, P.A. et al. Chromothripsis as an on-target consequence of CRISPR–Cas9 genome editing. Nat Genet 53, 895–905 (2021). https://doi.org/10.1038/s41588-021-00838-7
Received:

Accepted:

Published:

Issue Date:

DOI: https://doi.org/10.1038/s41588-021-00838-7