Abstract
Studying the function of common genetic variants in primary human tissues and during development is challenging. To address this, we use an efficient multiplexing strategy to differentiate 215 human induced pluripotent stem cell (iPSC) lines toward a midbrain neural fate, including dopaminergic neurons, and use single-cell RNA sequencing (scRNA-seq) to profile over 1 million cells across three differentiation time points. The proportion of neurons produced by each cell line is highly reproducible and is predictable by robust molecular markers expressed in pluripotent cells. Expression quantitative trait loci (eQTL) were characterized at different stages of neuronal development and in response to rotenone-induced oxidative stress. Of these, 1,284 eQTL colocalize with known neurological trait risk loci, and 46% are not found in the Genotype–Tissue Expression (GTEx) catalog. Our study illustrates how coupling scRNA-seq with long-term iPSC differentiation enables mechanistic studies of human trait-associated genetic variants in otherwise inaccessible cell states.
Relevant articles
Open Access articles citing this article.
Nil Aygün

,

Dan Liang

…

Jason L. Stein

Genome Biology Open Access 30 May 2023

Gongyu Shi

,

Helen Scott

…

James B. Uney

Scientific Reports Open Access 23 May 2023

Ana Gutiérrez-Franco

,

Franz Ake

…

Mireya Plass

Communications Biology Open Access 15 May 2023
Access options
Access Nature and 54 other Nature Portfolio journals
Get Nature+, our best-value online-access subscription
$29.99 / 30 days
cancel any time
Subscribe to this journal
Receive 12 print issues and online access
$209.00 per year
only $17.42 per issue
Rent or buy this article
Prices vary by article type
from$1.95
to$39.95
Prices may be subject to local taxes which are calculated during checkout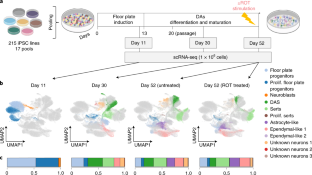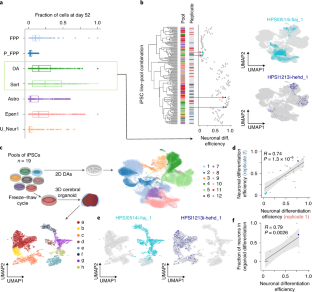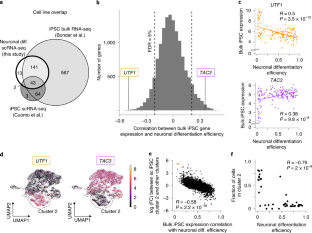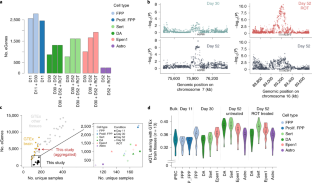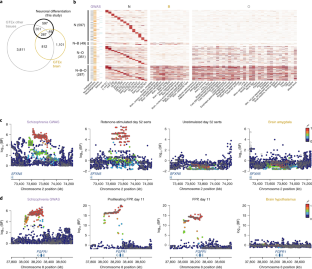 References
Kilpinen, H. et al. Common genetic variation drives molecular heterogeneity in human iPSCs. Nature 546, 370–375 (2017).

Cuomo, A. S. E. et al. Single-cell RNA-sequencing of differentiating iPS cells reveals dynamic genetic effects on gene expression. Nat. Commun. 11, 810 (2020).

Strober, B. J. et al. Dynamic genetic regulation of gene expression during cellular differentiation. Science 364, 1287–1290 (2019).

Schwartzentruber, J. et al. Molecular and functional variation in iPSC-derived sensory neurons. Nat. Genet. 50, 54–61 (2018).

Alasoo, K. et al. Shared genetic effects on chromatin and gene expression indicate a role for enhancer priming in immune response. Nat. Genet. 50, 424–431 (2018).

D'Antonio-Chronowska, A., D'Antonio, M. & Frazer, K. In vitro differentiation of human iPSC-derived retinal pigment epithelium cells (iPSC-RPE). Bio-protocol 9, e3469 (2019).

Banovich, N. E. et al. Impact of regulatory variation across human iPSCs and differentiated cells. Genome Res. 28, 122–131 (2018).

Volpato, V. et al. Reproducibility of molecular phenotypes after long-term differentiation to human iPSC-derived neurons: a multi-site omics study. Stem Cell Rep. 11, 897–911 (2018).

Nguyen, Q. H. et al. Single-cell RNA-seq of human induced pluripotent stem cells reveals cellular heterogeneity and cell state transitions between subpopulations. Genome Res. 28, 1053–1066 (2018).

Mitchell, J. M. et al. Mapping genetic effects on cellular phenotypes with 'cell villages'. Preprint at bioRxiv https://doi.org/10.1101/2020.06.29.174383 (2020).

Osborn, T. & Hallett, P. J. Seq-ing markers of midbrain dopamine neurons. Cell Stem Cell 20, 11–12 (2017).

Stoddard-Bennett, T. & Pera, R. R. Stem cell therapy for Parkinson's disease: safety and modeling. Neural Regen. Res. 15, 36–40 (2020).

Kriks, S. et al. Dopamine neurons derived from human ES cells efficiently engraft in animal models of Parkinson's disease. Nature 480, 547–551 (2011).

Xiong, N. et al. Mitochondrial complex I inhibitor rotenone-induced toxicity and its potential mechanisms in Parkinson's disease models. Crit. Rev. Toxicol. 42, 613–632 (2012).

Blondel, V. D., Guillaume, J.-L., Lambiotte, R. & Lefebvre, E. Fast unfolding of communities in large networks. J. Stat. Mech. Theory Exp. 2008, P10008 (2008).

Kang, H. M. et al. Multiplexed droplet single-cell RNA-sequencing using natural genetic variation. Nat. Biotechnol. 36, 89–94 (2018).

Korsunsky, I. et al. Fast, sensitive and accurate integration of single-cell data with Harmony. Nat. Methods 16, 1289–1296 (2019).

La Manno, G. et al. Molecular diversity of midbrain development in mouse, human, and stem cells. Cell 167, 566–580 (2016).

Park, C.-H. et al. Acquisition of in vitro and in vivo functionality of Nurr1-induced dopamine neurons. FASEB J. 20, 2553–2555 (2006).

Ramonet, D. et al. PARK9-associated ATP13A2 localizes to intracellular acidic vesicles and regulates cation homeostasis and neuronal integrity. Hum. Mol. Genet. 21, 1725–1743 (2012).

Arenas, E., Denham, M. & Villaescusa, J. C. How to make a midbrain dopaminergic neuron. Development 142, 1918–1936 (2015).

Welch, J. D. et al. Single-cell multi-omic integration compares and contrasts features of brain cell identity. Cell 177, 1873–1887 (2019).

Cummings, K. J. & Hodges, M. R. The serotonergic system and the control of breathing during development. Respir. Physiol. Neurobiol. 270, 103255 (2019).

Campbell, J. N. et al. A molecular census of arcuate hypothalamus and median eminence cell types. Nat. Neurosci. 20, 484–496 (2017).

Sloan, S. A. et al. Human astrocyte maturation captured in 3D cerebral cortical spheroids derived from pluripotent stem cells. Neuron 95, 779–790 (2017).

Zhang, Y. et al. Purification and characterization of progenitor and mature human astrocytes reveals transcriptional and functional differences with mouse. Neuron 89, 37–53 (2016).

Bertrand, N., Castro, D. S. & Guillemot, F. Proneural genes and the specification of neural cell types. Nat. Rev. Neurosci. 3, 517–530 (2002).

Lacomme, M., Liaubet, L., Pituello, F. & Bel-Vialar, S. NEUROG2 drives cell cycle exit of neuronal precursors by specifically repressing a subset of cyclins acting at the G1 and S phases of the cell cycle. Mol. Cell. Biol. 32, 2596–2607 (2012).

Sherer, T. B. et al. Mechanism of toxicity in rotenone models of Parkinson's disease. J. Neurosci. 23, 10756–10764 (2003).

Knönagel, H. & Karmann, U. Autologous blood transfusions in interventions of the pelvis using the cell saver. Helv. Chir. Acta 59, 485–488 (1992).

Cannon, J. R. et al. A highly reproducible rotenone model of Parkinson's disease. Neurobiol. Dis. 34, 279–290 (2009).

D'Antonio-Chronowska, A. et al. Association of human iPSC gene signatures and X chromosome dosage with two distinct cardiac differentiation trajectories. Stem Cell Rep. 13, 924–938 (2019).

Ye, W., Shimamura, K., Rubenstein, J. L., Hynes, M. A. & Rosenthal, A. FGF and Shh signals control dopaminergic and serotonergic cell fate in the anterior neural plate. Cell 93, 755–766 (1998).

He, Z. & Yu, Q. Identification and characterization of functional modules reflecting transcriptome transition during human neuron maturation. BMC Genomics 19, 262 (2018).

Lancaster, M. A. et al. Guided self-organization and cortical plate formation in human brain organoids. Nat. Biotechnol. 35, 659–666 (2017).

Müller, F.-J. et al. A bioinformatic assay for pluripotency in human cells. Nat. Methods 8, 315–317 (2011).

Bonder, M. J. et al. Identification of rare and common regulatory variants using population-scale transcriptomics of pluripotent cells. Nat. Genet. https://doi.org/10.1038/s41588-021-00800-7 (2021).

Sarkar, A. K. et al. Discovery and characterization of variance QTLs in human induced pluripotent stem cells. PLoS Genet. 15, e1008045 (2019).

Miller, D. J. & Fort, P. E. Heat shock proteins regulatory role in neurodevelopment. Front. Neurosci. 12, 821 (2018).

Bartelt-Kirbach, B. et al. HspB5/αB-crystallin increases dendritic complexity and protects the dendritic arbor during heat shock in cultured rat hippocampal neurons. Cell. Mol. Life Sci. 73, 3761–3775 (2016).

Shimura, H., Miura-Shimura, Y. & Kosik, K. S. Binding of tau to heat shock protein 27 leads to decreased concentration of hyperphosphorylated tau and enhanced cell survival. J. Biol. Chem. 279, 17957–17962 (2004).

Wilhelmus, M. M. M. et al. Small heat shock proteins inhibit amyloid-β protein aggregation and cerebrovascular amyloid-β protein toxicity. Brain Res. 1089, 67–78 (2006).

Tucci, S. Brain metabolism and neurological symptoms in combined malonic and methylmalonic aciduria. Orphanet J. Rare Dis. 15, 27 (2020).

Urbut, S. M., Wang, G., Carbonetto, P. & Stephens, M. Flexible statistical methods for estimating and testing effects in genomic studies with multiple conditions. Nat. Genet. 51, 187–195 (2019).

GTEx Consortium et al. Genetic effects on gene expression across human tissues. Nature 550, 204–213 (2017).

Giambartolomei, C. et al. Bayesian test for colocalisation between pairs of genetic association studies using summary statistics. PLoS Genet. 10, e1004383 (2014).

Kory, N. et al. SFXN1 is a mitochondrial serine transporter required for one-carbon metabolism. Science 362, eaat9528 (2018).

Palmer, G., Horgan, D. J., Tisdale, H., Singer, T. P. & Beinert, H. Studies on the respiratory chain-linked reduced nicotinamide adenine dinucleotide dehydrogenase. XIV. Location of the sites of inhibition of rotenone, barbiturates, and piericidin by means of electron paramagnetic resonance spectroscopy. J. Biol. Chem. 243, 844–847 (1968).

Betarbet, R. et al. Chronic systemic pesticide exposure reproduces features of Parkinson's disease. Nat. Neurosci. 3, 1301–1306 (2000).

Ma, D. K., Ponnusamy, K., Song, M.-R., Ming, G.-L. & Song, H. Molecular genetic analysis of FGFR1 signalling reveals distinct roles of MAPK and PLCγ1 activation for self-renewal of adult neural stem cells. Mol. Brain 2, 16 (2009).

Stachowiak, E. K. et al. Cerebral organoids reveal early cortical maldevelopment in schizophrenia-computational anatomy and genomics, role of FGFR1. Transl. Psychiatry 7, 6 (2017).

International Stem Cell Initiative. Assessment of established techniques to determine developmental and malignant potential of human pluripotent stem cells. Nat. Commun. 9, 1925 (2018).

Tsankov, A. M. et al. A qPCR ScoreCard quantifies the differentiation potential of human pluripotent stem cells. Nat. Biotechnol. 33, 1182–1192 (2015).

Bock, C. et al. Reference maps of human ES and iPS cell variation enable high-throughput characterization of pluripotent cell lines. Cell 144, 439–452 (2011).

Kajiwara, M. et al. Donor-dependent variations in hepatic differentiation from human-induced pluripotent stem cells. Proc. Natl Acad. Sci. USA 109, 12538–12543 (2012).

Hu, S. et al. Effects of cellular origin on differentiation of human induced pluripotent stem cell-derived endothelial cells. JCI Insight 1, e85558 (2016).

Lancaster, M. A. & Knoblich, J. A. Generation of cerebral organoids from human pluripotent stem cells. Nat. Protoc. 9, 2329–2340 (2014).

Wolf, F. A., Angerer, P. & Theis, F. J. SCANPY: large-scale single-cell gene expression data analysis. Genome Biol. 19, 15 (2018).

Ferri, A. L. M. et al. Foxa1 and Foxa2 regulate multiple phases of midbrain dopaminergic neuron development in a dosage-dependent manner. Development 134, 2761–2769 (2007).

Andersson, E. et al. Identification of intrinsic determinants of midbrain dopamine neurons. Cell 124, 393–405 (2006).

Loo, L. et al. Single-cell transcriptomic analysis of mouse neocortical development. Nat. Commun. 10, 134 (2019).

Ren, J. et al. Single-cell transcriptomes and whole-brain projections of serotonin neurons in the mouse dorsal and median raphe nuclei. eLife 8, e49424 (2019).

Huang, K. W. et al. Molecular and anatomical organization of the dorsal raphe nucleus. eLife 8, e46464 (2019).

Okaty, B. W. et al. A single-cell transcriptomic and anatomic atlas of mouse dorsal raphe neurons. eLife 9, e55523 (2020).

Mercurio, S., Serra, L. & Nicolis, S. K. More than just stem cells: functional roles of the transcription factor Sox2 in differentiated glia and neurons. Int. J. Mol. Sci. 20, 4540 (2019).

Wu, Y., Liu, Y., Levine, E. M. & Rao, M. S. Hes1 but not Hes5 regulates an astrocyte versus oligodendrocyte fate choice in glial restricted precursors. Dev. Dyn. 226, 675–689 (2003).

Wiese, S., Karus, M. & Faissner, A. Astrocytes as a source for extracellular matrix molecules and cytokines. Front. Pharmacol. 3, 120 (2012).

Redies, C. Cadherins in the central nervous system. Prog. Neurobiol. 61, 611–648 (2000).

Haghverdi, L., Lun, A. T. L., Morgan, M. D. & Marioni, J. C. Batch effects in single-cell RNA-sequencing data are corrected by matching mutual nearest neighbors. Nat. Biotechnol. 36, 421–427 (2018).

Raudvere, U. et al. g:Profiler: a web server for functional enrichment analysis and conversions of gene lists (2019 update). Nucleic Acids Res. 47, W191–W198 (2019).

Lippert, C., Casale, F. P., Rakitsch, B. & Stegle, O. LIMIX: genetic analysis of multiple traits. Preprint at bioRxiv https://doi.org/10.1101/003905 (2014).

Casale, F. P., Rakitsch, B., Lippert, C. & Stegle, O. Efficient set tests for the genetic analysis of correlated traits. Nat. Methods 12, 755–758 (2015).

Ongen, H., Buil, A., Brown, A. A., Dermitzakis, E. T. & Delaneau, O. Fast and efficient QTL mapper for thousands of molecular phenotypes. Bioinformatics 32, 1479–1485 (2016).

Storey, J. D. & Tibshirani, R. Statistical significance for genomewide studies. Proc. Natl Acad. Sci. USA 100, 9440–9445 (2003).
Acknowledgements
All data for this study were generated under the Open Targets project OTAR039. J.J. was supported by a postdoctoral fellowship from Open Targets, A.S.E.C. was supported by a PhD fellowship from the EMBL International PhD Programme, and D.D.S. was supported by a postdoctoral fellowship from the EMBL Interdisciplinary Postdoctoral Programme. M.A.L. was funded by the Medical Research Council (MC_UP_1201/9). N.K. and D.J.G. were funded by the Wellcome Trust grant WT206194. F.T.M. is a New York Stem Cell Foundation, Robertson Investigator and is supported by the New York Stem Cell Foundation (NYSCF-R-156), the Wellcome Trust and Royal Society (211221/Z/18/Z) and the Chan Zuckerberg Initiative (191942) and by the NIHR Cambridge BRC. J.C.M. acknowledges core support from EMBL and Cancer Research UK (C9545/A29580). O.S. is supported by core funding from EMBL and the DKFZ, as well as the BMBF, the Volkswagen Foundation and the EU (810296). We thank the MRC Metabolic Diseases Unit Imaging Core Facility for assistance with imaging. We thank the staff at the Cellular Generation and Phenotyping and Sequencing core facilities at the Wellcome Sanger Institute and the imaging core facility of the Wellcome–MRC Institute of Metabolic Science. We thank H. Kilpinen and P. Puigdevall Costa for useful discussions regarding data analysis.
Ethics declarations
Competing interests
D.J.G. and E.M. were employees of Genomics PLC, and D.D.S. was an employee of GSK at the time the manuscript was submitted.
Additional information
Peer review information Nature Genetics thanks Kristen Brennand and the other, anonymous, reviewer(s) for their contribution to the peer review of this work.
Publisher's note Springer Nature remains neutral with regard to jurisdictional claims in published maps and institutional affiliations.
Supplementary information
Supplementary Figs. 1–7 and Methods
Supplementary Tables 1–11
About this article
Cite this article
Jerber, J., Seaton, D.D., Cuomo, A.S.E. et al. Population-scale single-cell RNA-seq profiling across dopaminergic neuron differentiation. Nat Genet 53, 304–312 (2021). https://doi.org/10.1038/s41588-021-00801-6
Received:

Accepted:

Published:

Issue Date:

DOI: https://doi.org/10.1038/s41588-021-00801-6