Abstract
Induced pluripotent stem cells (iPSCs) are an established cellular system to study the impact of genetic variants in derived cell types and developmental contexts. However, in their pluripotent state, the disease impact of genetic variants is less well known. Here, we integrate data from 1,367 human iPSC lines to comprehensively map common and rare regulatory variants in human pluripotent cells. Using this population-scale resource, we report hundreds of new colocalization events for human traits specific to iPSCs, and find increased power to identify rare regulatory variants compared with somatic tissues. Finally, we demonstrate how iPSCs enable the identification of causal genes for rare diseases.
Relevant articles
Open Access articles citing this article.
Vicente A. Yépez

,

Mirjana Gusic

…

Holger Prokisch

Genome Medicine Open Access 05 April 2022

Shruti Marwaha

,

Joshua W. Knowles

&

Euan A. Ashley

Genome Medicine Open Access 28 February 2022

Anna S. E. Cuomo

,

Giordano Alvari

…

Marc Jan Bonder

Genome Biology Open Access 24 June 2021
Access options
Subscribe to Nature+
Get immediate online access to Nature and 55 other Nature journal
Subscribe to Journal
Get full journal access for 1 year
$79.00
only $6.58 per issue
All prices are NET prices.
VAT will be added later in the checkout.
Tax calculation will be finalised during checkout.
Buy article
Get time limited or full article access on ReadCube.
$32.00
All prices are NET prices.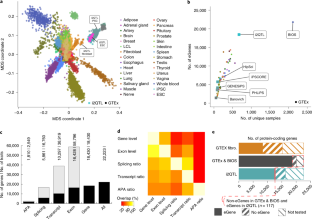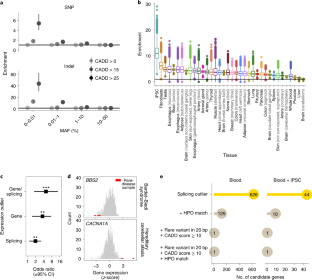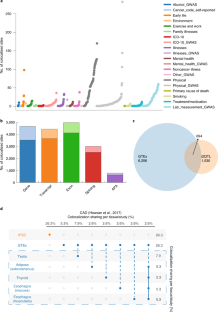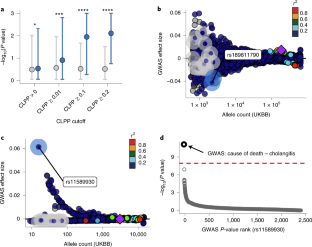 References
Westra, H.-J. et al. Systematic identification of trans-eQTLs as putative drivers of known disease associations. Nat. Genet. 45, 1238–1243 (2013).

Bonder, M. J. et al. Disease variants alter transcription factor levels and methylation of their binding sites. Nat. Genet. 49, 131–138 (2017).

Zhernakova, D. V. et al. Identification of context-dependent expression quantitative trait loci in whole blood. Nat. Genet. 49, 139–145 (2017).

GTEx Consortium. Genetic effects on gene expression across human tissues. Nature 550, 204–213 (2017).

Lappalainen, T. et al. Transcriptome and genome sequencing uncovers functional variation in humans. Nature 501, 506–511 (2013).

Alasoo, K. et al. Shared genetic effects on chromatin and gene expression indicate a role for enhancer priming in immune response. Nat. Genet. 50, 424–431 (2018).

Schwartzentruber, J. et al. Molecular and functional variation in iPSC-derived sensory neurons. Nat. Genet. 50, 54–61 (2018).

Cuomo, A. S. E. et al. Single-cell RNA sequencing of differentiating iPS cells reveals dynamic genetic effects on gene expression. Nat. Commun. 11, 810 (2020).

Jerber, J. et al. Population-scale single-cell RNA-seq profiling across dopaminergic neuron differentiation. Nat. Genet. https://doi.org/10.1038/s41588-021-00801-6 (2021).

Sun, N. et al. Patient-specific induced pluripotent stem cells as a model for familial dilated cardiomyopathy. Sci. Transl. Med. 4, 130ra47 (2012).

Lan, F. et al. Abnormal calcium handling properties underlie familial hypertrophic cardiomyopathy pathology in patient-specific induced pluripotent stem cells. Cell Stem Cell 12, 101–113 (2013).

Lee, J. et al. Activation of PDGF pathway links LMNA mutation to dilated cardiomyopathy. Nature 572, 335–340 (2019).

Kodo, K. et al. iPSC-derived cardiomyocytes reveal abnormal TGF-β signalling in left ventricular non-compaction cardiomyopathy. Nat. Cell Biol. 18, 1031–1042 (2016).

Wu, H. et al. Modelling diastolic dysfunction in induced pluripotent stem cell-derived cardiomyocytes from hypertrophic cardiomyopathy patients. Eur. Heart J. 40, 3685–3695 (2019).

Dubois, N. C. et al. SIRPA is a specific cell-surface marker for isolating cardiomyocytes derived from human pluripotent stem cells. Nat. Biotechnol. 29, 1011–1018 (2011).

Sterneckert, J. L., Reinhardt, P. & Schöler, H. R. Investigating human disease using stem cell models. Nat. Rev. Genet. 15, 625–639 (2014).

Kilpinen, H. et al. Common genetic variation drives molecular heterogeneity in human iPSCs. Nature 546, 370–375 (2017).

Panopoulos, A. D. et al. iPSCORE: a resource of 222 iPSC lines enabling functional characterization of genetic variation across a variety of cell types. Stem Cell Rep. 8, 1086–1100 (2017).

Pashos, E. E. et al. Large, diverse population cohorts of hiPSCs and derived hepatocyte-like cells reveal functional genetic variation at blood lipid-associated loci. Cell Stem Cell 20, 558–570 (2017).

Banovich, N. E. et al. Impact of regulatory variation across human iPSCs and differentiated cells. Genome Res. 28, 122–131 (2018).

Carcamo-Orive, I. et al. Analysis of transcriptional variability in a large human iPSC library reveals genetic and non-genetic determinants of heterogeneity. Cell Stem Cell 20, 518–532.e9 (2017).

Frésard, L. et al. Identification of rare-disease genes using blood transcriptome sequencing and large control cohorts. Nat. Med. 25, 911–919 (2019).

Li, X. et al. The impact of rare variation on gene expression across tissues. Nature 550, 239–243 (2017).

Choi, J. et al. A comparison of genetically matched cell lines reveals the equivalence of human iPSCs and ESCs. Nat. Biotechnol. 33, 1173–1181 (2015).

Thomas, S. M. et al. Reprogramming LCLs to iPSCs results in recovery of donor-specific gene expression signature. PLoS Genet. 11, e1005216 (2015).

Donovan, M. K. R., D'Antonio-Chronowska, A., D'Antonio, M. & Frazer, K. A. Cellular deconvolution of GTEx tissues powers eQTL studies to discover thousands of novel disease and cell-type associated regulatory variants. Nat. Commun. 11, 955 (2020).

Forbes, S. A. et al. COSMIC: mining complete cancer genomes in the catalogue of somatic mutations in cancer. Nucleic Acids Res. 39, D945–D950 (2010).

Gerrard, D. T. et al. An integrative transcriptomic atlas of organogenesis in human embryos. eLife 5, e15657 (2016).

Urbut, S. M., Wang, G., Carbonetto, P. & Stephens, M. Flexible statistical methods for estimating and testing effects in genomic studies with multiple conditions. Nat. Genet. 51, 187–195 (2019).

Buniello, A. et al. The NHGRI-EBI GWAS Catalog of published genome-wide association studies, targeted arrays and summary statistics 2019. Nucleic Acids Res. 47, D1005–D1012 (2019).

Jakubosky, D. et al. Discovery and quality analysis of a comprehensive set of structural variants and short tandem repeats. Nat. Commun. 11, 2928 (2020).

Zhao, J. et al. A burden of rare variants associated with extremes of gene expression in human peripheral blood. Am. J. Hum. Genet. 98, 299–309 (2016).

Li, X. et al. Transcriptome sequencing of a large human family identifies the impact of rare noncoding variants. Am. J. Hum. Genet. 95, 245–256 (2014).

Stegle, O., Parts, L., Piipari, M., Winn, J. & Durbin, R. Using probabilistic estimation of expression residuals to obtain increased power and interpretability of gene expression analyses. Nat. Protoc. 7, 500–507 (2012).

Ferraro, N. M. et al. Transcriptomic signatures across human tissues identify functional rare genetic variation. Science 369, eaaz5900 (2020).

Cummings, B. B. et al. Improving genetic diagnosis in Mendelian disease with transcriptome sequencing. Sci. Transl. Med. 9, eaal5209 (2017).

Kremer, L. S. et al. Genetic diagnosis of Mendelian disorders via RNA sequencing. Nat. Commun. 8, 15824 (2017).

Kernohan, K. D. et al. Whole-transcriptome sequencing in blood provides a diagnosis of spinal muscular atrophy with progressive myoclonic epilepsy. Hum. Mutat. 38, 611–614 (2017).

McKusick, V. A. Mendelian Inheritance in Man: a Catalog of Human Genes and Genetic Disorders (JHU Press, 1998).

Benner, C. et al. FINEMAP: efficient variable selection using summary data from genome-wide association studies. Bioinformatics 32, 1493–1501 (2016).

Hormozdiari, F. et al. Colocalization of GWAS and eQTL signals detects target genes. Am. J. Hum. Genet. 99, 1245–1260 (2016).

Kamat, M. A. et al. PhenoScanner V2: an expanded tool for searching human genotype–phenotype associations. Bioinformatics https://doi.org/10.1093/bioinformatics/btz469 (2019).

Liu, B., Gloudemans, M. J., Rao, A. S., Ingelsson, E. & Montgomery, S. B. Abundant associations with gene expression complicate GWAS follow-up. Nat. Genet. 51, 768–769 (2019).

van der Harst, P. & Verweij, N. Identification of 64 novel genetic loci provides an expanded view on the genetic architecture of coronary artery disease. Circ. Res. 122, 433–443 (2018).

Liu, J. Z. et al. Dense fine-mapping study identifies new susceptibility loci for primary biliary cirrhosis. Nat. Genet. 44, 1137–1141 (2012).

Teslovich, T. M. et al. Biological, clinical and population relevance of 95 loci for blood lipids. Nature 466, 707–713 (2010).

Pongor, L. et al. A genome-wide approach to link genotype to clinical outcome by utilizing next-generation sequencing and gene chip data of 6,697 breast cancer patients. Genome Med. 7, 104 (2015).

Yengo, L. et al. Meta-analysis of genome-wide association studies for height and body mass index in ∼700000 individuals of European ancestry. Hum. Mol. Genet. 27, 3641–3649 (2018).

Sanchez, E. et al. POLR1B and neural crest cell anomalies in Treacher Collins syndrome type 4. Genet. Med. 22, 547–556 (2020).

Howson, J. M. M. et al. Fifteen new risk loci for coronary artery disease highlight arterial-wall-specific mechanisms. Nat. Genet. 49, 1113–1119 (2017).

Pankratz, N. et al. Meta-analysis of Parkinson's disease: identification of a novel locus, RIT2. Ann. Neurol. 71, 370–384 (2012).

Lambert, J. C. et al. Meta-analysis of 74,046 individuals identifies 11 new susceptibility loci for Alzheimer's disease. Nat. Genet. 45, 1452–1458 (2013).

Scott, R. A. et al. An expanded genome-wide association study of type 2. Diabetes 66, 2888–2902 (2017).

Webb, G. J., Siminovitch, K. A. & Hirschfield, G. M. The immunogenetics of primary biliary cirrhosis: a comprehensive review. J. Autoimmun. 64, 42–52 (2015).

1000 Genomes Project Consortiumet al. A global reference for human genetic variation. Nature 526, 68–74 (2015).

Streeter, I. et al. The human-induced pluripotent stem cell initiative-data resources for cellular genetics. Nucleic Acids Res. 45, D691–D697 (2017).

D'Antonio, M. et al. Insights into the mutational burden of human induced pluripotent stem cells from an integrative multi-omics approach. Cell Rep. 24, 883–894 (2018).

DeBoever, C. et al. Large-scale profiling reveals the influence of genetic variation on gene expression in human induced pluripotent stem cells. Cell Stem Cell 20, 533–546.e7 (2017).

Knowles, J. W., Hao, K., Xie, W., Weedon, M. N. & Zhang, Z. Genetic and functional analyses identify NAT2 as a human insulin sensitivity gene. Circulation 128, A10906 (2013).

Casale, F. P., Rakitsch, B., Lippert, C. & Stegle, O. Efficient set tests for the genetic analysis of correlated traits. Nat. Methods 12, 755–758 (2015).

Purcell, S. et al. PLINK: a tool set for whole-genome association and population-based linkage analyses. Am. J. Hum. Genet. 81, 559–575 (2007).

Ongen, H., Buil, A., Brown, A. A., Dermitzakis, E. T. & Delaneau, O. Fast and efficient QTL mapper for thousands of molecular phenotypes. Bioinformatics 32, 1479–1485 (2016).

Storey, J. D. & Tibshirani, R. Statistical significance for genomewide studies. Proc. Natl Acad. Sci. USA 100, 9440–9445 (2003).

Saha, A. & Battle, A. False positives in trans-eQTL and coexpression analyses arising from RNA-sequencing alignment errors. F1000Res. 7, 1860 (2018).

Pedersen, B. S., Layer, R. M. & Quinlan, A. R. Vcfanno: fast, flexible annotation of genetic variants. Genome Biol. 17, 118 (2016).

Hall, C. L. et al. Frequency of genetic variants associated with arrhythmogenic right ventricular cardiomyopathy in the genome aggregation database. Eur. J. Hum. Genet. 26, 1312–1318 (2018).

Rentzsch, P., Witten, D., Cooper, G. M., Shendure, J. & Kircher, M. CADD: predicting the deleteriousness of variants throughout the human genome. Nucleic Acids Res. 47, D886–D894 (2019).

Li, H. et al. The Sequence Alignment/Map format and SAMtools. Bioinformatics 1000, 2078–2079 (2009).

Churchhouse, C & Neale, B. Rapid GWAS of thousands of phenotypes for 337,000 samples in the UK Biobank. https://www.nealelab.is/blog/2017/7/19/rapid-gwas-of-thousands-of-phenotypes-for-337000-samples-in-the-uk-biobank/ (2017).
Acknowledgements
The authors thank the HipSci, iPSCORE, GENSIPS and PhLiPS cohorts for their input into the study and (early) access to the data. This work was supported by: a strategic award from the Wellcome Trust and UK Medical Research Council (WT098503), the EMBL Interdisciplinary Postdoc (EI3POD) program under Marie Skłodowska-Curie Actions COFUND (grant no. 664726 to M.J.B. and D.S.); National Institutes of Health (NIH; T32 LM012409 to C.S.; T15 LM01127 to D.J.; U01 HL107388-01, P30DK116074 and SPO 130829 to I.C.-O.; HL107442, DK105541, DK112155 to K.A.F.); Stanford Graduate Fellowship (to M.J.G.); National Natural Science Foundation of China (31970554 to X.L.); National Key R&D Program of China (2019YFC1315804 to X.L.); Shanghai Municipal Science and Technology Major Project (2017SHZDZX01 to X.L.); EBI–Sanger Postdoctoral Fellowship (to N.C.); National Science Foundation Graduate Research Fellowship (to N.M.F.); and California Institute for Regenerative Medicine (GC1R-06673 to K.A.F.). Research in the Stegle laboratory is supported by the BMBF, the Volkswagen Foundation and the European Union (ERC project DECODE). S.B.M. is supported by NIH grants U01HG009431, R01HL142015, R01HG008150, R01AG066490 and U01HG009080. Research in the Knowles laboratory is supported by NIH grants DK116750, DK120565, DK106236, DK107437 and HL107388. We thank the staff in the Cellular Genetics and Phenotyping and Sequencing core facilities at the Wellcome Trust Sanger Institute. Work at the Wellcome Trust Sanger Institute was further supported by Wellcome Trust grant WT090851. Several datasets used in this study were sourced from the NextGen Consortium, available from the NCBI database of Genotypes and Phenotypes (dbGaP): iPSCORE (phs000924.v4.p1 and phs001325.v3.p1); PhLiPS (phs001341.v1.p1); and GENESiPS (phs001139.v1.p1). This work, in part, used supercomputing resources provided by the Stanford Genetics Bioinformatics Service Center, supported by NIH S10 instrumentation grant S10OD023452. Research reported in this manuscript was in part supported by the NIH Common Fund, through the Office of Strategic Coordination/Office of the NIH Director under award no. U01HG007708. The content is solely the responsibility of the authors and does not necessarily represent the official views of the NIH.
Ethics declarations
Competing interests
S.B.M. is a member of the Scientific Advisory Board of Myome. All other authors declare no competing interests.
Additional information
Peer review information Nature Genetics thanks Gabriel Hoffman and Vijay Sankaran for their contribution to the peer review of this work.
Publisher's note Springer Nature remains neutral with regard to jurisdictional claims in published maps and institutional affiliations.
Supplementary information
Supplementary Results, Methods and Note
Supplementary Tables 1–18
About this article
Cite this article
Bonder, M.J., Smail, C., Gloudemans, M.J. et al. Identification of rare and common regulatory variants in pluripotent cells using population-scale transcriptomics. Nat Genet 53, 313–321 (2021). https://doi.org/10.1038/s41588-021-00800-7
Received:

Accepted:

Published:

Issue Date:

DOI: https://doi.org/10.1038/s41588-021-00800-7