Abstract
Rapid cellular responses to environmental stimuli are fundamental for development and maturation. Immediate early genes can be transcriptionally induced within minutes in response to a variety of signals. How their induction levels are regulated and their untimely activation by spurious signals prevented during development is poorly understood. We found that in developing sensory neurons, before perinatal sensory-activity-dependent induction, immediate early genes are embedded into a unique bipartite Polycomb chromatin signature, carrying active H3K27ac on promoters but repressive Ezh2-dependent H3K27me3 on gene bodies. This bipartite signature is widely present in developing cell types, including embryonic stem cells. Polycomb marking of gene bodies inhibits mRNA elongation, dampening productive transcription, while still allowing for fast stimulus-dependent mark removal and bipartite gene induction. We reveal a developmental epigenetic mechanism regulating the rapidity and amplitude of the transcriptional response to relevant stimuli, while preventing inappropriate activation of stimulus-response genes.
Relevant articles
Open Access articles citing this article.
Rachel K. Lex

,

Weiqiang Zhou

…

Steven A. Vokes

Nature Communications Open Access 10 February 2022
Access options
Subscribe to Nature+
Get immediate online access to Nature and 55 other Nature journal
Subscribe to Journal
Get full journal access for 1 year
$79.00
only $6.58 per issue
All prices are NET prices.
VAT will be added later in the checkout.
Tax calculation will be finalised during checkout.
Buy article
Get time limited or full article access on ReadCube.
$32.00
All prices are NET prices.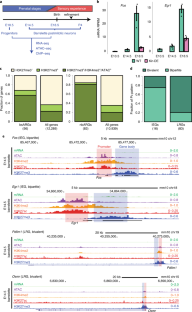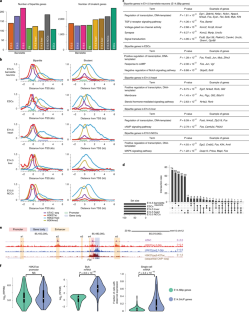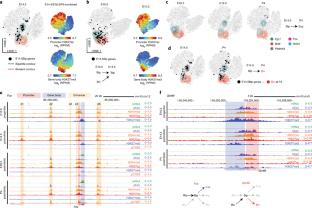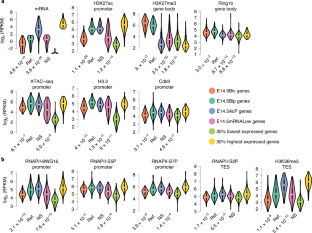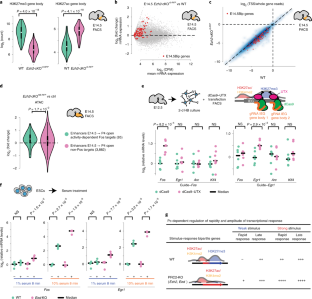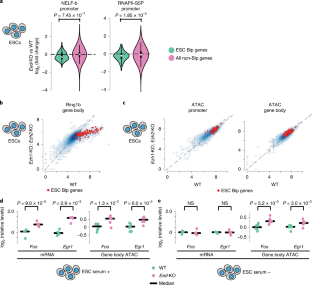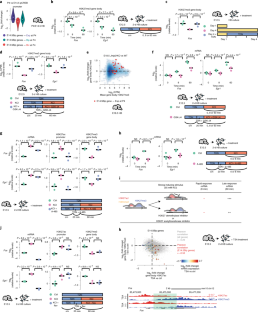 Data availability
All raw sequencing data and processed data used for this study are available through ArrayExpress and will be released to the public without restrictions: mRNA-seq (Smart-seq2), E-MTAB-8314; total RNA-seq (Solo RNA-seq), E-MTAB-8311; ChIP–seq (ChIPmentation), E-MTAB-8317; ATAC–seq, E-MTAB-8313; 4C–seq, E-MTAB-8295; and single-cell RNA-seq (10x Genomics), E-MTAB-8312. FACS gating strategies/source data are presented in Supplementary Figs. 1–4. Public sequencing datasets were obtained from the Gene Expression Omnibus and ENCODE as follows: mouse cortical culture (GSE21161 and GSE60192), mouse embryonic forebrain (GSE93011 and GSE52386), mouse adult cortical excitatory neuron (GSE63137), mouse ESCs (GSE36114 and GSE94250), mouse ESCs for Ezh2-KO experiments (GSE116603), mouse E14.5 heart tissues (GSE82764, GSE82637, GSE82640 and GSE78441; ENCSR068YGC), mouse E14.5 liver tissues (GSE78422, GSE82407, GSE82615 and GSE82620; ENCSR032HKE) and E10.5 mouse NCCs isolated from the frontal nasal process (GSE89437).
References
Fowler, T., Sen, R. & Roy, A. L. Regulation of primary response genes. Mol. Cell 44, 348–360 (2011).

West, A. E. & Greenberg, M. E. Neuronal activity-regulated gene transcription in synapse development and cognitive function. Cold Spring Harb. Perspect. Biol. https://doi.org/10.1101/cshperspect.a005744 (2011).

Greenberg, M. E. & Ziff, E. B. Stimulation of 3T3 cells induces transcription of the c-fos proto-oncogene. Nature 311, 433–438 (1984).

Malik, A. N. et al. Genome-wide identification and characterization of functional neuronal activity-dependent enhancers. Nat. Neurosci. 17, 1330–1339 (2014).

Vierbuchen, T. et al. AP-1 transcription factors and the BAF complex mediate signal-dependent enhancer selection. Mol. Cell 68, 1067–1082 (2017).

Stroud, H. et al. An activity-mediated transition in transcription in early postnatal neurons. Neuron 107, 874–890 (2020).

Mayer, A., Landry, H. M. & Churchman, L. S. Pause & go: from the discovery of RNA polymerase pausing to its functional implications. Curr. Opin. Cell Biol. 46, 72–80 (2017).

Yap, E. L. & Greenberg, M. E. Activity-regulated transcription: bridging the gap between neural activity and behavior. Neuron 100, 330–348 (2018).

Lonze, B. E. & Ginty, D. D. Function and regulation of CREB family transcription factors in the nervous system. Neuron 35, 605–623 (2002).

Toth, A. B., Shum, A. K. & Prakriya, M. Regulation of neurogenesis by calcium signaling. Cell Calcium 59, 124–134 (2016).

Ginty, D. D., Glowacka, D., Bader, D. S., Hidaka, H. & Wagner, J. A. Induction of immediate early genes by Ca2+ influx requires cAMP-dependent protein kinase in PC12 cells. J. Biol. Chem. 266, 17454–17458 (1991).

Greenberg, M. E., Greene, L. A. & Ziff, E. B. Nerve growth factor and epidermal growth factor induce rapid transient changes in proto-oncogene transcription in PC12 cells. J. Biol. Chem. 260, 14101–14110 (1985).

Erzurumlu, R. S., Murakami, Y. & Rijli, F. M. Mapping the face in the somatosensory brainstem. Nat. Rev. Neurosci. 11, 252–263 (2010).

Kitazawa, T. & Rijli, F. M. Barrelette map formation in the prenatal mouse brainstem. Curr. Opin. Neurobiol. 53, 210–219 (2018).

Erzurumlu, R. S. & Gaspar, P. Development and critical period plasticity of the barrel cortex. Eur. J. Neurosci. 35, 1540–1553 (2012).

Hrvatin, S. et al. Single-cell analysis of experience-dependent transcriptomic states in the mouse visual cortex. Nat. Neurosci. 21, 120–129 (2018).

Tyssowski, K. M. et al. Different neuronal activity patterns induce different gene expression programs. Neuron 98, 530–546 (2018).

Valles, A. et al. Genomewide analysis of rat barrel cortex reveals time- and layer-specific mRNA expression changes related to experience-dependent plasticity. J. Neurosci. 31, 6140–6158 (2011).

Mohn, F. et al. Lineage-specific polycomb targets and de novo DNA methylation define restriction and potential of neuronal progenitors. Mol. Cell 30, 755–766 (2008).

Ferrai, C. et al. RNA polymerase II primes Polycomb-repressed developmental genes throughout terminal neuronal differentiation. Mol. Syst. Biol. 13, 946 (2017).

Hirabayashi, Y. et al. Polycomb limits the neurogenic competence of neural precursor cells to promote astrogenic fate transition. Neuron 63, 600–613 (2009).

Aranda, S., Mas, G. & Di Croce, L. Regulation of gene transcription by Polycomb proteins. Sci. Adv. 1, e1500737 (2015).

Schuettengruber, B., Bourbon, H. M., Di Croce, L. & Cavalli, G. Genome regulation by Polycomb and Trithorax: 70 years and counting. Cell 171, 34–57 (2017).

Bernstein, B. E. et al. A bivalent chromatin structure marks key developmental genes in embryonic stem cells. Cell 125, 315–326 (2006).

Minoux, M. et al. Gene bivalency at Polycomb domains regulates cranial neural crest positional identity. Science https://doi.org/10.1126/science.aal2913 (2017).

Piunti, A. & Shilatifard, A. Epigenetic balance of gene expression by Polycomb and COMPASS families. Science 352, aad9780 (2016).

Bonnefont, J. et al. Cortical neurogenesis requires Bcl6-mediated transcriptional repression of multiple self-renewal-promoting extrinsic pathways. Neuron 103, 1096–1108 (2019).

Chen, F. X., Smith, E. R. & Shilatifard, A. Born to run: control of transcription elongation by RNA polymerase II. Nat. Rev. Mol. Cell Biol. 19, 464–478 (2018).

Brookes, E. & Pombo, A. Modifications of RNA polymerase II are pivotal in regulating gene expression states. EMBO Rep. 10, 1213–1219 (2009).

Zaborowska, J., Egloff, S. & Murphy, S. The pol II CTD: new twists in the tail. Nat. Struct. Mol. Biol. 23, 771–777 (2016).

Brookes, E. et al. Polycomb associates genome-wide with a specific RNA polymerase II variant, and regulates metabolic genes in ESCs. Cell Stem Cell 10, 157–170 (2012).

Stock, J. K. et al. Ring1-mediated ubiquitination of H2A restrains poised RNA polymerase II at bivalent genes in mouse ES cells. Nat. Cell Biol. 9, 1428–1435 (2007).

Simon, J. A. & Kingston, R. E. Mechanisms of polycomb gene silencing: knowns and unknowns. Nat. Rev. Mol. Cell Biol. 10, 697–708 (2009).

Blackledge, N. P., Rose, N. R. & Klose, R. J. Targeting Polycomb systems to regulate gene expression: modifications to a complex story. Nat. Rev. Mol. Cell Biol. 16, 643–649 (2015).

Shen, X. et al. EZH1 mediates methylation on histone H3 lysine 27 and complements EZH2 in maintaining stem cell identity and executing pluripotency. Mol. Cell 32, 491–502 (2008).

Schoeftner, S. et al. Recruitment of PRC1 function at the initiation of X inactivation independent of PRC2 and silencing. EMBO J. 25, 3110–3122 (2006).

Lavarone, E., Barbieri, C. M. & Pasini, D. Dissecting the role of H3K27 acetylation and methylation in PRC2-mediated control of cellular identity. Nat. Commun. 10, 1679 (2019).

Kim, T. K. et al. Widespread transcription at neuronal activity-regulated enhancers. Nature 465, 182–187 (2010).

Schaukowitch, K. et al. Enhancer RNA facilitates NELF release from immediate early genes. Mol. Cell 56, 29–42 (2014).

Voiculescu, O. et al. Hindbrain patterning: Krox20 couples segmentation and specification of regional identity. Development 128, 4967–4978 (2001).

Madisen, L. et al. A robust and high-throughput Cre reporting and characterization system for the whole mouse brain. Nat. Neurosci. 13, 133–140 (2010).

Bechara, A. et al. Hoxa2 selects barrelette neuron identity and connectivity in the mouse somatosensory brainstem. Cell Rep. 13, 783–797 (2015).

Moreno-Juan, V. et al. Prenatal thalamic waves regulate cortical area size prior to sensory processing. Nat. Commun. 8, 14172 (2017).

Luche, H., Weber, O., Nageswara Rao, T., Blum, C. & Fehling, H. J. Faithful activation of an extra-bright red fluorescent protein in 'knock-in' Cre-reporter mice ideally suited for lineage tracing studies. Eur. J. Immunol. 37, 43–53 (2007).

Di Meglio, T. et al. Ezh2 orchestrates topographic migration and connectivity of mouse precerebellar neurons. Science 339, 204–207 (2013).

Maheshwari, U. et al. Postmitotic Hoxa5 expression specifies pontine neuron positional identity and input connectivity of cortical afferent subsets. Cell Rep. 31, 107767 (2020).

Seidler, B. et al. A Cre-loxP-based mouse model for conditional somatic gene expression and knockdown in vivo by using avian retroviral vectors. Proc. Natl Acad. Sci. USA 105, 10137–10142 (2008).

Picelli, S. et al. Full-length RNA-seq from single cells using Smart-seq2. Nat. Protoc. 9, 171–181 (2014).

Schmidl, C., Rendeiro, A. F., Sheffield, N. C. & Bock, C. ChIPmentation: fast, robust, low-input ChIP–seq for histones and transcription factors. Nat. Methods 12, 963–965 (2015).

Buenrostro, J. D., Giresi, P. G., Zaba, L. C., Chang, H. Y. & Greenleaf, W. J. Transposition of native chromatin for fast and sensitive epigenomic profiling of open chromatin, DNA-binding proteins and nucleosome position. Nat. Methods 10, 1213–1218 (2013).

Ritchie, M. E. et al. limma powers differential expression analyses for RNA-sequencing and microarray studies. Nucleic Acids Res. 43, e47 (2015).

O'Connell, J. & Hojsgaard, S. Hidden semi-Markov models for multiple observation sequences: the mhsmm package for R. J. Stat. Softw. 39, 4 (2011).

Zheng, G. X. et al. Massively parallel digital transcriptional profiling of single cells. Nat. Commun. 8, 14049 (2017).

Heinz, S. et al. Simple combinations of lineage-determining transcription factors prime cis-regulatory elements required for macrophage and B cell identities. Mol. Cell 38, 576–589 (2010).

Maaten, L. J. P. V. D. & Hinton, G. E. Visualizing high-dimensional data using t-SNE. J. Mach. Learn. Res. 9, 2579–2605 (2008).

Venables, W. N. & Ripley, B. D. Modern Applied Statistics with S 4th edn (Springer, 2002).

Durinck, S., Spellman, P. T., Birney, E. & Huber, W. Mapping identifiers for the integration of genomic datasets with the R/Bioconductor package biomaRt. Nat. Protoc. 4, 1184–1191 (2009).
Acknowledgements
F.M.R. wishes to dedicate this paper to the memory of P. Sassone-Corsi (1956–2020), dear friend and eminent scientist who made seminal contributions to immediate early gene and activator protein-1 transcriptional regulation and with whom F.M.R. discussed this project at an early stage. We thank A. Pombo for very useful discussion. We thank N. Vilain, S. Smallwood, D. Gaidatzis and the members of the Rijli group and FMI facilities for excellent technical support and discussion. We thank S. H. Orkin (Harvard Medical School) and A. Wutz (ETH Zurich) for the kind gifts of the Ezh2flox mouse line and EedKO ESCs, respectively. The LAL-R26TVA-LacZ line was a kind gift from D. Saur (Technische Universitat Munchen). T.K. was supported by a Japan Society for the Promotion of Science fellowship, and O.J. was supported by an EMBO Long-Term fellowship. F.M.R. was supported by the Swiss National Science Foundation (31003A_149573 and 31003A_175776). This project has also received funding from the European Research Council under the European Union's Horizon 2020 research and innovation programme (grant no. 810111-EpiCrest2Reg). F.M.R. and M.B.S. were also supported by the Novartis Research Foundation.
Ethics declarations
Competing interests
The authors declare no competing interests.
Additional information
Peer review information Nature Genetics thanks the anonymous reviewers for their contribution to the peer review of this work. Peer reviewer reports are available.
Publisher's note Springer Nature remains neutral with regard to jurisdictional claims in published maps and institutional affiliations.
Supplementary information
About this article
Cite this article
Kitazawa, T., Machlab, D., Joshi, O. et al. A unique bipartite Polycomb signature regulates stimulus-response transcription during development. Nat Genet 53, 379–391 (2021). https://doi.org/10.1038/s41588-021-00789-z
Received:

Accepted:

Published:

Issue Date:

DOI: https://doi.org/10.1038/s41588-021-00789-z
This article is cited by
Rachel K. Lex
Weiqiang Zhou
Steven A. Vokes

Nature Communications (2022)