Abstract
Resistance to immune checkpoint inhibitors (ICIs) is a key challenge in cancer therapy. To elucidate underlying mechanisms, we developed Perturb-CITE-sequencing (Perturb-CITE-seq), enabling pooled clustered regularly interspaced short palindromic repeat (CRISPR)–Cas9 perturbations with single-cell transcriptome and protein readouts. In patient-derived melanoma cells and autologous tumor-infiltrating lymphocyte (TIL) co-cultures, we profiled transcriptomes and 20 proteins in ~218,000 cells under ~750 perturbations associated with cancer cell-intrinsic ICI resistance (ICR). We recover known mechanisms of resistance, including defects in the interferon-γ (IFN-γ)–JAK/STAT and antigen-presentation pathways in RNA, protein and perturbation space, and new ones, including loss/downregulation of CD58. Loss of CD58 conferred immune evasion in multiple co-culture models and was downregulated in tumors of melanoma patients with ICR. CD58 protein expression was not induced by IFN-γ signaling, and CD58 loss conferred immune evasion without compromising major histocompatibility complex (MHC) expression, suggesting that it acts orthogonally to known mechanisms of ICR. This work provides a framework for the deciphering of complex mechanisms by large-scale perturbation screens with multimodal, single-cell readouts, and discovers potentially clinically relevant mechanisms of immune evasion.
Access options
Subscribe to Journal
Get full journal access for 1 year
$59.00
only $4.92 per issue
All prices are NET prices.
VAT will be added later in the checkout.
Tax calculation will be finalised during checkout.
Rent or Buy article
Get time limited or full article access on ReadCube.
from$8.99
All prices are NET prices.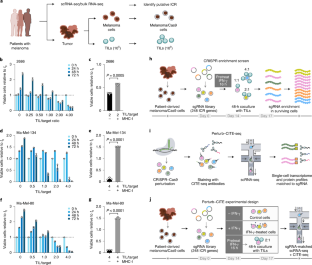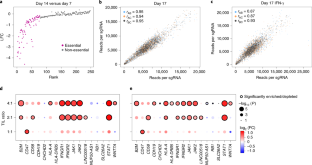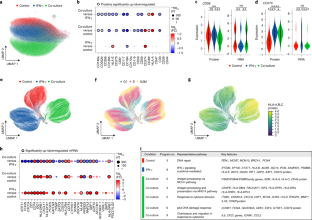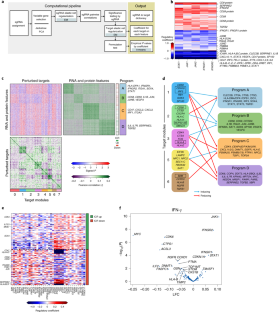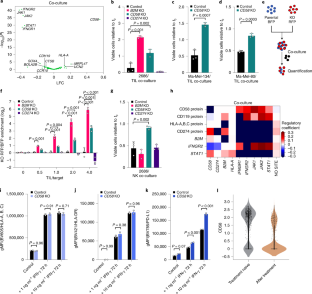 References
1.

Dixit, A. et al. Perturb-seq: dissecting molecular circuits with scalable single-cell RNA profiling of pooled genetic screens. Cell 167, 1853–1866 (2016).

2.

Adamson, B. et al. A multiplexed single-cell CRISPR screening platform enables systematic dissection of the unfolded protein response. Cell 167, 1867–1882 (2016).

3.

Datlinger, P. et al. Pooled CRISPR screening with single-cell transcriptome readout. Nat. Methods 14, 297–301 (2017).

4.

Jaitin, D. A. et al. Dissecting immune circuits by linking CRISPR-pooled screens with single-cell RNA-seq. Cell 167, 1883–1896 (2016).

5.

Mimitou, E. P. et al. Multiplexed detection of proteins, transcriptomes, clonotypes and CRISPR perturbations in single cells. Nat. Methods 16, 409–412 (2019).

6.

Sharma, P. & Allison, J. P. The future of immune checkpoint therapy. Science 348, 56–61 (2015).

7.

Zaretsky, J. M. et al. Mutations associated with acquired resistance to PD-1 blockade in melanoma. N. Engl. J. Med. 375, 819–829 (2016).

8.

Sade-Feldman, M. et al. Resistance to checkpoint blockade therapy through inactivation of antigen presentation. Nat. Commun. 8, 1136 (2017).

9.

Jerby-Arnon, L. et al. A cancer cell program promotes T cell exclusion and resistance to checkpoint blockade. Cell 175, 984–997 (2018).

10.

Patel, S. J. et al. Identification of essential genes for cancer immunotherapy. Nature 548, 537–542 (2017).

11.

Kearney, C. J. et al. Tumor immune evasion arises through loss of TNF sensitivity. Sci. Immunol. 3, eaar3451 (2018).

12.

Pan, D. et al. A major chromatin regulator determines resistance of tumor cells to T cell-mediated killing. Science 359, 770–775 (2018).

13.

Manguso, R. T. et al. In vivo CRISPR screening identifies Ptpn2 as a cancer immunotherapy target. Nature 547, 413–418 (2017).

14.

Peng, W. et al. Loss of PTEN promotes resistance to T cell-mediated immunotherapy. Cancer Discov. 6, 202–216 (2016).

15.

Mbofung, R. M. et al. HSP90 inhibition enhances cancer immunotherapy by upregulating interferon response genes. Nat. Commun. 8, 451 (2017).

16.

McKenzie, J. A. et al. The effect of topoisomerase I inhibitors on the efficacy of T-cell-based cancer immunotherapy. J. Natl Cancer Inst. 110, 777–786 (2018).

17.

Huang, L. et al. The RNA-binding protein MEX3B mediates resistance to cancer immunotherapy by downregulating HLA-A expression. Clin. Cancer Res. 24, 3366–3376 (2018).

18.

Stoeckius, M. et al. Simultaneous epitope and transcriptome measurement in single cells. Nat. Methods 14, 865–868 (2017).

19.

Veillette, A. & Chen, J. SIRPα–CD47 immune checkpoint blockade in anticancer therapy. Trends Immunol. 39, 173–184 (2018).

20.

Myers, L. M. et al. A functional subset of CD8+ T cells during chronic exhaustion is defined by SIRPα expression. Nat. Commun. 10, 794 (2019).

21.

Zhang, W. et al. Advances in anti-tumor treatments targeting the CD47/SIRPα Axis. Front. Immunol. 11, 18 (2020).

22.

Arulanandam, A. R. et al. The CD58 (LFA-3) binding site is a localized and highly charged surface area on the AGFCC'C" face of the human CD2 adhesion domain. Proc. Natl Acad. Sci. USA 90, 11613–11617 (1993).

23.

Pardoll, D. M. The blockade of immune checkpoints in cancer immunotherapy. Nat. Rev. Cancer 12, 252–264 (2012).

24.

Restifo, N. P., Dudley, M. E. & Rosenberg, S. A. Adoptive immunotherapy for cancer: harnessing the T cell response. Nat. Rev. Immunol. 12, 269–281 (2012).

25.

Chen, Q., Sun, L. & Chen, Z. J. Regulation and function of the cGAS-STING pathway of cytosolic DNA sensing. Nat. Immunol. 17, 1142–1149 (2016).

26.

Agrawal, S. & Kandimalla, E. R. Intratumoural immunotherapy: activation of nucleic acid sensing pattern recognition receptors. Immunooncol. Technol. 3, 15–23 (2019).

27.

Gao, J. et al. Loss of IFN-γ pathway genes in tumor cells as a mechanism of resistance to Anti-CTLA-4 therapy. Cell 167, 397–404 (2016).

28.

Challa-Malladi, M. et al. Combined genetic inactivation of β2-microglobulin and CD58 reveals frequent escape from immune recognition in diffuse large B cell lymphoma. Cancer Cell 20, 728–740 (2011).

29.

Leitner, J., Herndler-Brandstetter, D., Zlabinger, G. J., Grubeck-Loebenstein, B. & Steinberger, P. CD58/CD2 is the primary costimulatory pathway in human CD28–CD8+ T cells. J. Immunol. 195, 477–487 (2015).

30.

Strioga, M., Pasukoniene, V. & Characiejus, D. CD8+CD28– and CD8+CD57+ T cells and their role in health and disease. Immunology 134, 17–32 (2011).

31.

Boyeau, P. et al. Deep generative models for detecting differential expression in single cells. Preprint at bioRxiv https://doi.org/10.1101/794289 (2019).

32.

Li, W. et al. Quality control, modeling, and visualization of CRISPR screens with MAGeCK-VISPR. Genome Biol. 16, 281 (2015).

33.

Li, B. et al. Cumulus provides cloud-based data analysis for large-scale single-cell and single-nucleus RNA-seq. Nat. Methods 17, 793–798 (2020).

34.

Wolf, F. A., Angerer, P. & Theis, F. J. SCANPY: large-scale single-cell gene expression data analysis. Genome Biol. 19, 15 (2018).

35.

Pedregosa, F. et al. Scikit-learn: machine learning in Python. J. Mach. Learn. Res. 12, 2825–2830 (2011).

36.

Loh, P.-L. & Wainwright, M. J. High-dimensional regression with noisy and missing data: provable guarantees with nonconvexity. Ann. Stat. 40, 1637–1664 (2012).
Acknowledgements
This work was supported by the Koch Institute-Dana-Farber/Harvard Cancer Center Bridge Project Grant (A.Regev, B.E.J. and B.I.); the Klarman Cell Observatory (A. Regev and O.R.-R.); HHMI (A. Regev); Center for Cell Circuits, NHGRI Center of Excellence in Genomic Science (A. Regev); National Institutes of Health (NIH) grant nos. K08CA222663 (B.I.) and U54CA225088 (B.I.); the Burroughs Wellcome Fund Career Award for Medical Scientists (B.I.); the Louis V. Gerstner, Jr Scholars Program (B.I.); and the Velocity Fellow Program (B.I.). P.I.T. was supported by NIH grant no. F32AI138458. P.H. was supported by NIH grant no. T32GM007367. L.J.-A. was supported by a CRI Irvington Fellowship, the Eric and Wendy Schmidt postdoctoral program and the Burroughs Wellcome Fund Career Award at the Scientific Interface. K.W.W. was supported by the Ludwig Center for Cancer Research at Harvard and NIH grant nos. R01CA238039 and P01CA163222. B.C. was supported by the Broad Fellows. A. Regev was an Investigator of the Howard Hughes Medical Institute. This research was funded in part through the NIH/NCI Cancer Center Support (grant no. P30CA013696) at Columbia University.
Ethics declarations
Competing interests
A. Regev is a cofounder and equity holder of Celsius Therapeutics, an equity holder in Immunitas and, until 31 July 2020, was an SAB member of Thermo Fisher Scientific, Syros Pharmaceuticals, Neogene Therapeutics and Asimov. From 1 August 2020, A. Regev has been an employee of Genentech. B.I. is a consultant for Merck and Volastra Therapeutics. B.E.J. is on the scientific advisory board of Checkpoint Therapeutics. From 16 November 2020, K.G.S. and O.R.-R. have been employees of Genentech. A. Rotem is a consultant to eGenesis, a SAB member of NucleAI and an equity holder in Celsius Therapeutics. Since 31 August 2020, A. Rotem has been an employee of AstraZeneca. K.W.W. serves on the scientific advisory board of TCR2 Therapeutics, T-Scan Therapeutics, SQZ Biotech and Nextechinvest and receives sponsored research funding from Novartis. K.W.W. is a cofounder of Immunitas, a biotech company. These activities are not related to the research reported in this publication. C.B. is on the scientific advisory board of Myst Therapeutics. A. Regev, B.I., J.C.M., K.R.G.-S., P.I.T. and C.J.F. are inventors on a patent application related to this work.
Additional information
Peer review information Nature Genetics thanks Dominic Grun and the other, anonymous, reviewer(s) for their contribution to the peer review of this work.
Publisher's note Springer Nature remains neutral with regard to jurisdictional claims in published maps and institutional affiliations.
Supplementary information
About this article
Cite this article
Frangieh, C.J., Melms, J.C., Thakore, P.I. et al. Multimodal pooled Perturb-CITE-seq screens in patient models define mechanisms of cancer immune evasion. Nat Genet 53, 332–341 (2021). https://doi.org/10.1038/s41588-021-00779-1
Received:

Accepted:

Published:

Issue Date: