Abstract
Cancer cells retain genomic alterations that provide a selective advantage. The prediction and validation of advantageous alterations are major challenges in cancer genomics. Moreover, it is crucial to understand how the coexistence of specific alterations alters response to genetic and therapeutic perturbations. In the present study, we inferred functional alterations and preferentially selected combinations of events in >9,000 human tumors. Using a Bayesian inference framework, we validated computational predictions with high-throughput readouts from genetic and pharmacological screenings on 2,000 cancer cell lines. Mutually exclusive and co-occurring cancer alterations reflected, respectively, functional redundancies able to rescue the phenotype of individual target inhibition, or synergistic interactions, increasing oncogene addiction. Among the top scoring dependencies, co-alteration of the phosphoinositide 3-kinase (PI3K) subunit PIK3CA and the nuclear factor NFE2L2 was a synergistic evolutionary trajectory in squamous cell carcinomas. By integrating computational, experimental and clinical evidence, we provide a framework to study the combinatorial functional effects of cancer genomic alterations.
This is a preview of subscription content
Access options
Subscribe to Journal
Get full journal access for 1 year
$59.00
only $4.92 per issue
All prices are NET prices.
VAT will be added later in the checkout.
Tax calculation will be finalised during checkout.
Rent or Buy article
Get time limited or full article access on ReadCube.
from$8.99
All prices are NET prices.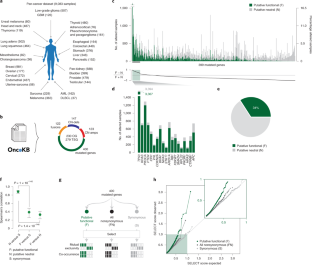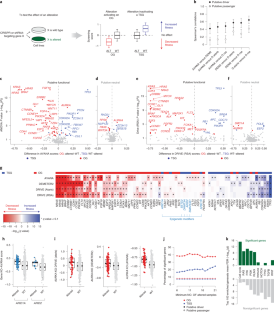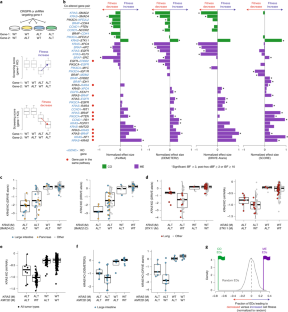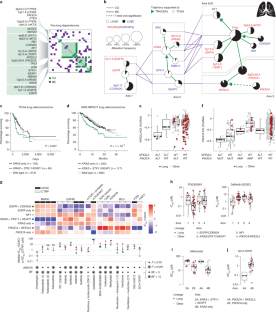 References
1.

Sanchez-Vega et al. Oncogenic signaling pathways in the cancer genome atlas. Cell 173, 321–337.e10 (2018).

2.

Bailey et al. Comprehensive characterization of cancer driver genes and mutations. Cell 173, 371–385.e18 (2018).

3.

Sieber, O. M., Tomlinson, S. R. & Tomlinson, I. P. M. Tissue, cell and stage specificity of (epi)mutations in cancers. Nat. Rev. Cancer 5, 649–655 (2005).

4.

Visvader, J. E. Cells of origin in cancer. Nature 469, 314–322 (2011).

5.

Schaefer, M. H. & Serrano, L. Cell type-specific properties and environment shape tissue specificity of cancer genes. Sci. Rep. 6, 20707 (2016).

6.

Schneider, G., Schmidt-Supprian, M., Rad, R. & Saur, D. Tissue-specific tumorigenesis: context matters. Nat. Rev. Cancer 17, 239–253 (2017).

7.

Park, S. & Lehner, B. Cancer type-dependent genetic interactions between cancer driver alterations indicate plasticity of epistasis across cell types. Mol. Syst. Biol. 11, 824 (2015).

8.

Mina et al. Conditional selection of genomic alterations dictates cancer evolution and oncogenic dependencies. Cancer Cell 32, 155–168.e6 (2017).

9.

Sansom et al. Loss of Apc allows phenotypic manifestation of the transforming properties of an endogenous K-ras oncogene in vivo. Proc. Natl Acad. Sci. USA 103, 14122–14127 (2006).

10.

Bardeesy et al. Smad4 is dispensable for normal pancreas development yet critical in progression and tumor biology of pancreas cancer. Genes Dev. 20, 3130–3146 (2006).

11.

Farmer et al. Targeting the DNA repair defect in BRCA mutant cells as a therapeutic strategy. Nature 434, 917–921 (2005).

12.

Unni, A. M., Lockwood, W. W., Zejnullahu, K., Lee-Lin, S.-Q. & Varmus, H. Evidence that synthetic lethality underlies the mutual exclusivity of oncogenic KRAS and EGFR mutations in lung adenocarcinoma. eLife 4, e06907 (2015).

13.

Etemadmoghadam et al. Synthetic lethality between CCNE1 amplification and loss of BRCA1. Proc. Natl Acad. Sci. USA 110, 19489–19494 (2013).

14.

Chakravarty, D. et al. OncoKB: a precision oncology knowledge base. JCO Precis. Oncol. https://doi.org/10.1200/PO.17.00011 (2017).

15.

Chang, T. et al. Accelerating discovery of functional mutant alleles in cancer. Cancer Discov. 8, 174–183 (2017).

16.

Chang et al. Identifying recurrent mutations in cancer reveals widespread lineage diversity and mutational specificity. Nat. Biotech. 34, 155–163 (2016).

17.

Turajlic et al. Tracking cancer evolution reveals constrained routes to metastases: TRACERx renal. Cell 173, 581–594.e12 (2018).

18.

Caravagna, et al. Detecting repeated cancer evolution from multi-region tumor sequencing data. Nat. Methods 15, 707–714 (2018).

19.

Jamal-Hanjani et al. Tracking the evolution of non–small-cell lung cancer. N. Engl. J. Med. 376, 2109–2121 (2017).

20.

Gaiti et al. Epigenetic evolution and lineage histories of chronic lymphocytic leukaemia. Nature 569, 576–580 (2019).

21.

Tirosh et al. Single-cell RNA-seq supports a developmental hierarchy in human oligodendroglioma. Nature 539, 309–313 (2016).

22.

Roerink et al. Intra-tumour diversification in colorectal cancer at the single-cell level. Nature 556, 457–462 (2018).

23.

Boca, S. M., Kinzler, K. W., Velculescu, V. E., Vogelstein, B. & Parmigiani, G. Patient-oriented gene set analysis for cancer mutation data. Genome Biol. 11, R112 (2010).

24.

Ciriello, G., Cerami, E., Sander, C. & Schultz, N. Mutual exclusivity analysis identifies oncogenic network modules. Genome Res. 22, 398–406 (2012).

25.

Kim et al. Characterizing genomic alterations in cancer by complementary functional associations. Nat. Biotech. 34, 539–546 (2016).

26.

Haar et al. Identifying epistasis in cancer genomes: a delicate affair. Cell 177, 1375–1383 (2019).

27.

Meyers et al. Computational correction of copy-number effect improves specificity of CRISPR–Cas9 essentiality screens in cancer cells. Nat. Genet. 49, 1779–1784 (2017).

28.

McDonald et al. Project DRIVE: a compendium of cancer dependencies and synthetic lethal relationships uncovered by large-scale, deep RNAi screening. Cell 170, 577–592.e10 (2017).

29.

Behan et al. Prioritization of cancer therapeutic targets using CRISPR–Cas9 screens. Nature 568, 511–516 (2019).

30.

McFarland et al. Improved estimation of cancer dependencies from large-scale RNAi screens using model-based normalization and data integration. Nat. Commun. 9, 1–13 (2018).

31.

Beroukhim et al. The landscape of somatic copy-number alteration across human cancers. Nature 463, 899–905 (2010).

32.

Lawrence et al. Discovery and saturation analysis of cancer genes across 21 tumour types. Nature 505, 495–501 (2014).

33.

Scholl et al. Synthetic lethal interaction between oncogenic KRAS dependency and STK33 suppression in human cancer cells. Cell 137, 821–834 (2009).

34.

Zhao et al. ARID1A promotes genomic stability through protecting telomere cohesion. Nat. Commun. 10, 4067 (2019).

35.

Helming, K. C., Wang, X. & Roberts, C. W. M. Vulnerabilities of mutant SWI/SNF complexes in cancer. Cancer Cell 26, 309–317 (2014).

36.

Zhang, H., Chen, X., Liu, B. & Zhou, L. Effects of stable knockdown of Aurora kinase A on proliferation, migration, chromosomal instability, and expression of focal adhesion kinase and matrix metalloproteinase-2 in HEp-2 cells. Mol. Cell. Biochem. 357, 95–106 (2011).

37.

Berger, J. O. & Sellke, T. Testing a point null hypothesis: the irreconcilability of P values and evidence. J. Am. Stat. Assoc. 82, 112–122 (1987).

38.

Jarosz, A. & Wiley, J. What are the odds? A practical guide to computing and reporting bayes factors. J. Prob. Solving 7, 2–9 (2014).

39.

Jeffreys, S. H. The Theory of Probability (Oxford University Press, 1998).

40.

Skoulidis et al. Co-occurring genomic alterations define major subsets of KRAS—mutant lung adenocarcinoma with distinct biology, immune profiles, and therapeutic vulnerabilities. Cancer Discov. 5, 860–877 (2015).

41.

Skoulidis et al. STK11/LKB1 mutations and PD-1 inhibitor resistance in KRAS-mutant lung adenocarcinoma. Cancer Discov. 8, 822–835 (2018).

42.

Rao, R. C. & Dou, Y. Hijacked in cancer: the KMT2 (MLL) family of methyltransferases. Nat. Rev. Cancer 15, 334–346 (2015).

43.

Bögershausen et al. RAP1-mediated MEK/ERK pathway defects in Kabuki syndrome. J. Clin. Invest. 125, 3585–3599 (2015).

44.

Vogelstein, B. & Kinzler, K. W. The path to cancer—three strikes and you're out. N. Engl. J. Med. 373, 1895–1898 (2015).

45.

Zehir et al. Mutational landscape of metastatic cancer revealed from prospective clinical sequencing of 10,000 patients. Nat. Med. 23, 703–713 (2017).

46.

Sanghvi et al. The oncogenic action of NRF2 depends on de-glycation by fructosamine-3-kinase. Cell 178, 807–819.e21 (2019).

47.

Raynaud, F., Mina, M., Tavernari, D. & Ciriello, G. Pan-cancer inference of intra-tumor heterogeneity reveals associations with different forms of genomic instability. PLoS Genet. 14, e1007669 (2018).

48.

Mitsuishi, Y. et al. Nrf2 redirects glucose and glutamine into anabolic pathways in metabolic reprogramming. Cancer Cell 22, 66–79 (2012).

49.

Iorio, F. et al. A landscape of pharmacogenomic interactions in cancer. Cell 166, 740–754 (2016).

50.

Rees, M. G. et al. Correlating chemical sensitivity and basal gene expression reveals mechanism of action. Nat. Chem. Biol. 12, 109–116 (2016).

51.

Enache, O. M. et al. Cas9 activates the p53 pathway and selects for p53-inactivating mutations. Nat. Genet. 52, 662–668 (2020).

52.

Haapaniemi, E., Botla, S., Persson, J., Schmierer, B. & Taipale, J. CRISPR–Cas9 genome editing induces a p53-mediated DNA damage response. Nat. Med. 24, 927–930 (2018).

53.

Zamanighomi, M. et al. GEMINI: a variational Bayesian approach to identify genetic interactions from combinatorial CRISPR screens. Genome Biol. 20, 137 (2019).

54.

Gao, Q. et al. Driver fusions and their implications in the development and treatment of human cancers. Cell Rep. 23, 227–238.e3 (2018).

55.

Hu, X. et al. TumorFusions: an integrative resource for cancer-associated transcript fusions. Nucleic Acids Res. 46, D1144–D1149 (2018).

56.

Rouder, J. N., Morey, R. D., Speckman, P. L. & Province, J. M. Default Bayes factors for ANOVA designs. J. Math. Psychol. 56, 356–374 (2012).

57.

Rouder, J. N., Morey, R. D., Verhagen, J., Swagman, A. R. & Wagenmakers, E.-J. Bayesian analysis of factorial designs. Psychol. Methods 22, 304–321 (2017).

58.

Zellner, A. & Siow, A. Posterior odds ratios for selected regression hypotheses. Trabajos de Estadistica Y de Investigacion Operativa 31, 585–603 (1980).

59.

Lefebvre, C. et al. A human B-cell interactome identifies MYB and FOXM1 as master regulators of proliferation in germinal centers. Mol. Syst. Biol. 6, 377 (2010).

60.

Alvarez, M. J. et al. Network-based inference of protein activity helps functionalize the genetic landscape of cancer. Nat. Genet. 48, 838–847 (2016).
Acknowledgements
We thank A. Sottoriva and G. Caravagna for providing inferred tumor phylogenies of the TRACERx cohort, and E. Oricchio and B. Correia for the critical reading of and feedback to our work. This work was supported by the Swiss National Science Foundation (grant no. 310030_169519). Additional support was provided by the Gabriella Giorgi Cavaglieri Foundation (to G.C.).
Ethics declarations
Competing interests
The authors declare no competing interests.
Additional information
Publisher's note Springer Nature remains neutral with regard to jurisdictional claims in published maps and institutional affiliations.
Supplementary information
Supplementary spreadsheet-based tables have been here aggregated into a single workbook as requested. The first spreadsheet provides an index with a title and description of each table.
About this article
Cite this article
Mina, M., Iyer, A., Tavernari, D. et al. Discovering functional evolutionary dependencies in human cancers. Nat Genet 52, 1198–1207 (2020). https://doi.org/10.1038/s41588-020-0703-5
Received:

Accepted:

Published:

Issue Date: