FOXA1 is a key pioneer factor in androgen-receptor activity but has been an elusive drug target. A new study shows that inhibition of the associated cofactor LSD1 modifies the methylation state of FOXA1, thus resulting in chromatin dissociation and tumor inhibition, even in models of treatment-resistant prostate cancer.
Access options
Subscribe to Journal
Get full journal access for 1 year
$59.00
only $4.92 per issue
All prices are NET prices.
VAT will be added later in the checkout.
Tax calculation will be finalised during checkout.
Rent or Buy article
Get time limited or full article access on ReadCube.
from$8.99
All prices are NET prices.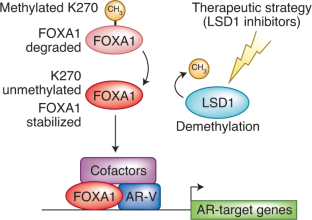 References
1.

Lupien, M. et al. Cell 132, 958–970 (2008).

2.

Augello, M. A., Hickey, T. E. & Knudsen, K. E. EMBO J. 30, 3885–3894 (2011).

3.

Gao, S. et al. Nat. Genet. https://doi.org/10.1038/s41588-020-0681-7 (2020).

4.

Cirillo, L. A. et al. EMBO J. 17, 244–254 (1998).

5.

Zaret, K. S. & Carroll, J. S. Genes Dev. 25, 2227–2241 (2011).

6.

Parolia, A. et al. Nature 571, 413–418 (2019).

7.

Adams, E. J. et al. Nature 571, 408–412 (2019).

8.

Cai, C. et al. Cell Rep. 9, 1618–1627 (2014).

9.

Jozwik, K. M., Chernukhin, I., Serandour, A. A., Nagarajan, S. & Carroll, J. S. Cell Rep. 17, 2715–2723 (2016).

10.

Kim, J. et al. Oncogene 36, 4072–4080 (2017).
Ethics declarations
Competing interests
The authors declare no competing interests.
About this article
Cite this article
Omarjee, S., Carroll, J.S. Targeting LSD1 and FOXA1 in prostate cancer. Nat Genet 52, 1002–1003 (2020). https://doi.org/10.1038/s41588-020-0702-6