Abstract
FOXA1 functions as a pioneer transcription factor by facilitating the access to chromatin for steroid hormone receptors, such as androgen receptor and estrogen receptor1,2,3,4, but mechanisms regulating its binding to chromatin remain elusive. LSD1 (KDM1A) acts as a transcriptional repressor by demethylating mono/dimethylated histone H3 lysine 4 (H3K4me1/2)5,6, but also acts as a steroid hormone receptor coactivator through mechanisms that are unclear. Here we show, in prostate cancer cells, that LSD1 associates with FOXA1 and active enhancer markers, and that LSD1 inhibition globally disrupts FOXA1 chromatin binding. Mechanistically, we demonstrate that LSD1 positively regulates FOXA1 binding by demethylating lysine 270, adjacent to the wing2 region of the FOXA1 DNA-binding domain. Acting through FOXA1, LSD1 inhibition broadly disrupted androgen-receptor binding and its transcriptional output, and dramatically decreased prostate cancer growth alone and in synergy with androgen-receptor antagonist treatment in vivo. These mechanistic insights suggest new therapeutic strategies in steroid-driven cancers.
Relevant articles
Open Access articles citing this article.
Ramachandran Prakasam

,

Angela Bonadiman

…

Maria Pennuto

Nature Communications Open Access 06 February 2023

Faruk Hadziselimovic

,

Gilvydas Verkauskas

&

Michael Stadler

Basic and Clinical Andrology Open Access 21 June 2022

Emma Bollmann Hansen

,

Jacob Fredsøe

…

Karina Dalsgaard Sørensen

Genome Medicine Open Access 25 January 2022
Access options
Access Nature and 54 other Nature Portfolio journals
Get Nature+, our best-value online-access subscription
$29.99 / 30 days
cancel any time
Subscribe to this journal
Receive 12 print issues and online access
$209.00 per year
only $17.42 per issue
Rent or buy this article
Prices vary by article type
from$1.95
to$39.95
Prices may be subject to local taxes which are calculated during checkout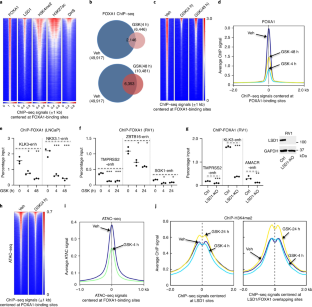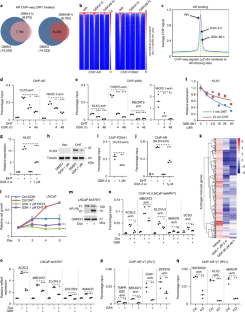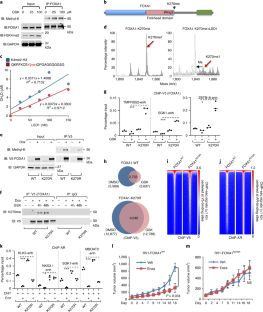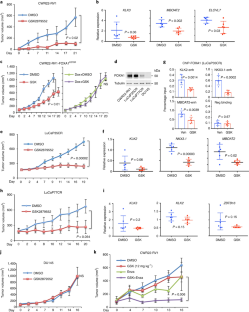 Data availability
All data generated or analyzed during this study are included in this published article. The GEO accession for ChIP–seq and RNA-seq data is GSE149007. Readers are welcome to comment on the online version of the paper. Correspondence and requests for materials should be addressed to C.C. (changmeng.cai@umb.edu). Source data are provided with this paper.
Code availability
This study did not generate any unpublished code, software or algorithm. All data analyses were performed using cited software with the parameters indicated in the Methods section.
References
Gao, N. et al. The role of hepatocyte nuclear factor-3 alpha (forkhead box A1) and androgen receptor in transcriptional regulation of prostatic genes. Mol. Endocrinol. 17, 1484–1507 (2003).

Carroll, J. S. et al. Chromosome-wide mapping of estrogen receptor binding reveals long-range regulation requiring the forkhead protein FoxA1. Cell 122, 33–43 (2005).

Jozwik, K. M. & Carroll, J. S. Pioneer factors in hormone-dependent cancers. Nat. Rev. Cancer 12, 381–385 (2012).

Yang, Y. A. & Yu, J. Current perspectives on FOXA1 regulation of androgen receptor signaling and prostate cancer. Genes Dis. 2, 144–151 (2015).

Shi, Y. et al. Histone demethylation mediated by the nuclear amine oxidase homolog LSD1. Cell 119, 941–953 (2004).

Shi, Y. J. et al. Regulation of LSD1 histone demethylase activity by its associated factors. Mol. Cell 19, 857–864 (2005).

Metzger, E. et al. LSD1 demethylates repressive histone marks to promote androgen-receptor-dependent transcription. Nature 437, 436–439 (2005).

Wissmann, M. et al. Cooperative demethylation by JMJD2C and LSD1 promotes androgen receptor-dependent gene expression. Nat. Cell Biol. 9, 347–353 (2007).

Metzger, E. et al. Phosphorylation of histone H3 at threonine 11 establishes a novel chromatin mark for transcriptional regulation. Nat. Cell Biol. 10, 53–60 (2008).

Metzger, E. et al. Phosphorylation of histone H3T6 by PKCβI controls demethylation at histone H3K4. Nature 464, 792–796 (2010).

Cai, C. et al. Lysine-specific demethylase 1 has dual functions as a major regulator of androgen receptor transcriptional activity. Cell Rep. 9, 1618–1627 (2014).

Lupien, M. et al. FoxA1 translates epigenetic signatures into enhancer-driven lineage-specific transcription. Cell 132, 958–970 (2008).

Swinstead, E. E. et al. Steroid receptors reprogram FoxA1 occupancy through dynamic chromatin transitions. Cell 165, 593–605 (2016).

Metzger, E. et al. Assembly of methylated KDM1A and CHD1 drives androgen receptor-dependent transcription and translocation. Nat. Struct. Mol. Biol. 23, 132–139 (2016).

Sehrawat, A. et al. LSD1 activates a lethal prostate cancer gene network independently of its demethylase function. Proc. Natl Acad. Sci. USA 115, E4179–E4188 (2018).

Mimasu, S. et al. Structurally designed trans-2-phenylcyclopropylamine derivatives potently inhibit histone demethylase LSD1/KDM1. Biochemistry 49, 6494–6503 (2010).

Mohammad, H. P. et al. A DNA hypomethylation signature predicts antitumor activity of LSD1 inhibitors in SCLC. Cancer Cell 28, 57–69 (2015).

He, H. H. et al. Differential DNase I hypersensitivity reveals factor-dependent chromatin dynamics. Genome Res. 22, 1015–1025 (2012).

Wang, D. et al. Reprogramming transcription by distinct classes of enhancers functionally defined by eRNA. Nature 474, 390–394 (2011).

Jin, H. J., Zhao, J. C., Wu, L., Kim, J. & Yu, J. Cooperativity and equilibrium with FOXA1 define the androgen receptor transcriptional program. Nat. Commun. 5, 3972 (2014).

Sheng, W. et al. LSD1 ablation stimulates anti-tumor immunity and enables checkpoint blockade. Cell 174, 549–563.e19 (2018).

Antonarakis, E. S. et al. AR-V7 and resistance to enzalutamide and abiraterone in prostate cancer. N. Engl. J. Med. 371, 1028–1038 (2014).

Yu, Z. et al. Rapid induction of androgen receptor splice variants by androgen deprivation in prostate cancer. Clin. Cancer Res. 20, 1590–1600 (2014).

Sharp, A. et al. Androgen receptor splice variant-7 expression emerges with castration resistance in prostate cancer. J. Clin. Invest. 129, 192–208 (2019).

Hu, R. et al. Ligand-independent androgen receptor variants derived from splicing of cryptic exons signify hormone-refractory prostate cancer. Cancer Res. 69, 16–22 (2009).

Li, Y. et al. Intragenic rearrangement and altered RNA splicing of the androgen receptor in a cell-based model of prostate cancer progression. Cancer Res. 71, 2108–2117 (2011).

Huang, J. et al. p53 is regulated by the lysine demethylase LSD1. Nature 449, 105–108 (2007).

Wang, J. et al. The lysine demethylase LSD1 (KDM1) is required for maintenance of global DNA methylation. Nat. Genet. 41, 125–129 (2009).

Kontaki, H. & Talianidis, I. Lysine methylation regulates E2F1-induced cell death. Mol. Cell 39, 152–160 (2010).

Jozwik, K. M., Chernukhin, I., Serandour, A. A., Nagarajan, S. & Carroll, J. S. FOXA1 directs H3K4 monomethylation at enhancers via recruitment of the methyltransferase MLL3. Cell Rep. 17, 2715–2723 (2016).

Barbieri, C. E. et al. Exome sequencing identifies recurrent SPOP, FOXA1 and MED12 mutations in prostate cancer. Nat. Genet. 44, 685–689 (2012).

Grasso, C. S. et al. The mutational landscape of lethal castration-resistant prostate cancer. Nature 487, 239–243 (2012).

Cancer Genome Atlas Research Network. The molecular taxonomy of primary prostate cancer. Cell 163, 1011–1025 (2015).

Robinson, D. et al. Integrative clinical genomics of advanced prostate cancer. Cell 161, 1215–1228 (2015).

Parolia, A. et al. Distinct structural classes of activating FOXA1 alterations in advanced prostate cancer. Nature 571, 413–418 (2019).

Li, J. et al. A genomic and epigenomic atlas of prostate cancer in Asian populations. Nature 580, 93–99 (2020).

Iwafuchi, M. et al. Gene network transitions in embryos depend upon interactions between a pioneer transcription factor and core histones. Nat. Genet. 52, 418–427 (2020).

Scher, H. I. et al. Increased survival with enzalutamide in prostate cancer after chemotherapy. N. Engl. J. Med. 367, 1187–1197 (2012).

Park, J. W., Lee, J. K., Witte, O. N. & Huang, J. FOXA2 is a sensitive and specific marker for small cell neuroendocrine carcinoma of the prostate. Mod. Pathol. 30, 1262–1272 (2017).

Brechka, H., Bhanvadia, R. R., VanOpstall, C. & Vander Griend, D. J. HOXB13 mutations and binding partners in prostate development and cancer: function, clinical significance, and future directions. Genes Dis. 4, 75–87 (2017).

Maes, T. et al. ORY-1001, a potent and selective covalent KDM1A inhibitor, for the treatment of acute leukemia. Cancer Cell 33, 495–511.e12 (2018).

Pishas, K. I. et al. Therapeutic targeting of KDM1A/LSD1 in Ewing sarcoma with SP-2509 engages the endoplasmic reticulum stress response. Mol. Cancer Ther. 17, 1902–1916 (2018).

Corey, E. et al. LuCaP 35: a new model of prostate cancer progression to androgen independence. Prostate 55, 239–246 (2003).

Nguyen, H. M. et al. LuCaP prostate cancer patient-derived xenografts reflect the molecular heterogeneity of advanced disease and serve as models for evaluating cancer therapeutics. Prostate 77, 654–671 (2017).

de Bono, J. S. et al. Abiraterone and increased survival in metastatic prostate cancer. N. Engl. J. Med. 364, 1995–2005 (2011).

Wang, Q. et al. Androgen receptor regulates a distinct transcription program in androgen-independent prostate cancer. Cell 138, 245–256 (2009).

Corces, M. R. et al. An improved ATAC–seq protocol reduces background and enables interrogation of frozen tissues. Nat. Methods 14, 959–962 (2017).

Li, H. Exploring single-sample SNP and INDEL calling with whole-genome de novo assembly. Bioinformatics 28, 1838–1844 (2012).

Hsi-Yang Fritz, M., Leinonen, R., Cochrane, G. & Birney, E. Efficient storage of high throughput DNA sequencing data using reference-based compression. Genome Res. 21, 734–740 (2011).

Zhang, Y. et al. Model-based analysis of ChIP-Seq (MACS). Genome Biol. 9, R137 (2008).

Zhu, L. J. et al. ChIPpeakAnno: a Bioconductor package to annotate ChIP-seq and ChIP-chip data. BMC Bioinformatics 11, 237 (2010).

Ramirez, F. et al. deepTools2: a next generation web server for deep-sequencing data analysis. Nucleic Acids Res. 44, W160–W165 (2016).

Dobin, A. et al. STAR: ultrafast universal RNA-seq aligner. Bioinformatics 29, 15–21 (2013).

Wang, L., Wang, S. & Li, W. RSeQC: quality control of RNA-seq experiments. Bioinformatics 28, 2184–2185 (2012).

Wang, S. et al. Target analysis by integration of transcriptome and ChIP–seq data with BETA. Nat. Protoc. 8, 2502–2515 (2013).

Hurtado, A., Holmes, K. A., Ross-Innes, C. S., Schmidt, D. & Carroll, J. S. FOXA1 is a key determinant of estrogen receptor function and endocrine response. Nat. Genet. 43, 27–33 (2011).

Zhang, Y. et al. Nucleation of DNA repair factors by FOXA1 links DNA demethylation to transcriptional pioneering. Nat. Genet. 48, 1003–1013 (2016).
Acknowledgements
This work is supported by grants from NIH (R00 CA166507 and R01 CA211350 to C.C., U54 CA156734 to C.C. and J.A.M. and P01 CA163227 to S.P.B.), DOD (W81XWH-15-1-0554 and W81XWH-19-1-0777 to S.G., W81XWH-16-1-0445 and W81XWH-19-1-0361 to C.C.), CIHR (142246, 152863, 152864 and 159567 to H.H.H.), Prostate Cancer Canada (RS2016-1022 and TAG2018-2061 to H.H.H.), NSERC (498706 to H.H.H.), Terry Fox Program Project Grants (1093 to H.H.H.) and Princess Margaret Cancer Foundation (to H.H.H.). H.H.H. holds a Joey and Toby Tanenbaum Brazilian Ball Chair in Prostate Cancer Research. We thank J. Asara and M. Yuan from Beth Israel Deaconess Medical Center and J. Lee from Dana-Farber Cancer Institute for the work on mass spectrometry analyses.
Ethics declarations
Competing interests
The authors declare no competing interests.
Additional information
Publisher's note Springer Nature remains neutral with regard to jurisdictional claims in published maps and institutional affiliations.
Supplementary information
List of oligonucleotide sequences
About this article
Cite this article
Gao, S., Chen, S., Han, D. et al. Chromatin binding of FOXA1 is promoted by LSD1-mediated demethylation in prostate cancer. Nat Genet 52, 1011–1017 (2020). https://doi.org/10.1038/s41588-020-0681-7
Received:

Accepted:

Published:

Issue Date:

DOI: https://doi.org/10.1038/s41588-020-0681-7