Abstract
Propagation of clonal regulatory programs contributes to cancer development. It is poorly understood how epigenetic mechanisms interact with genetic drivers to shape this process. Here, we combine single-cell analysis of transcription and DNA methylation with a Luria–Delbrück experimental design to demonstrate the existence of clonally stable epigenetic memory in multiple types of cancer cells. Longitudinal transcriptional and genetic analysis of clonal colon cancer cell populations reveals a slowly drifting spectrum of epithelial-to-mesenchymal transcriptional identities that is seemingly independent of genetic variation. DNA methylation landscapes correlate with these identities but also reflect an independent clock-like methylation loss process. Methylation variation can be explained as an effect of global trans-acting factors in most cases. However, for a specific class of promoters—in particular, cancer–testis antigens—de-repression is correlated with and probably driven by loss of methylation in cis. This study indicates how genetic sub-clonal structure in cancer cells can be diversified by epigenetic memory.
Access options
Subscribe to Journal
Get full journal access for 1 year
$209.00
only $17.42 per issue
All prices are NET prices.
VAT will be added later in the checkout.
Rent or Buy article
Get time limited or full article access on ReadCube.
from$8.99
All prices are NET prices.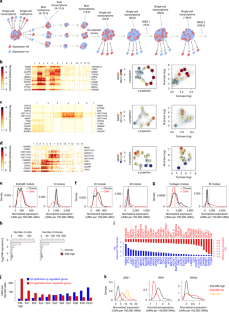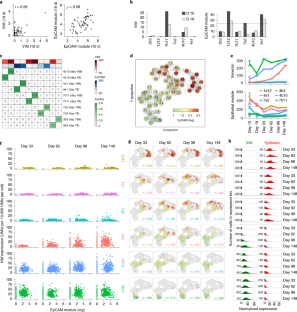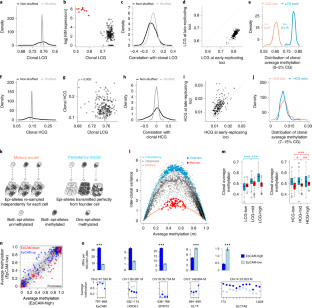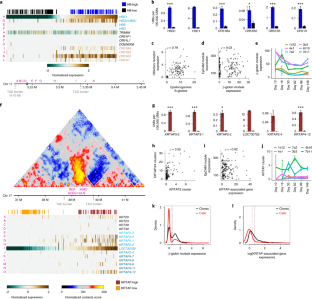 Data availability
Raw and transformed data are available from the Gene Expression Omnibus and Sequence Read Archive (accession GSE144357).
References
1.

Hanahan, D. & Weinberg, R. A. Hallmarks of cancer: the next generation. Cell 144, 646–674 (2011).

2.

Zwemer, L. M. et al. Autosomal monoallelic expression in the mouse. Genome Biol. 13, R10 (2012).

3.

Iberg-Badeaux, A. et al. A transcription factor pulse can prime chromatin for heritable transcriptional memory. Mol. Cell. Biol. 37, e00372-16 (2017).

4.

Shaffer, S. M. et al. Memory sequencing reveals heritable single cell gene expression programs associated with distinct cellular behaviors. Preprint at https://www.biorxiv.org/content/10.1101/379016v2 (2018).

5.

Vardi, N., Levy, S., Assaf, M., Carmi, M. & Barkai, N. Budding yeast escape commitment to the phosphate starvation program using gene expression noise. Curr. Biol. 23, 2051–2057 (2013).

6.

Shipony, Z. et al. Dynamic and static maintenance of epigenetic memory in pluripotent and somatic cells. Nature 513, 115–119 (2014).

7.

Choi, M. et al. Epigenetic memory via concordant DNA methylation is inversely correlated to developmental potential of mammalian cells. PLoS Genet. 13, e1007060 (2017).

8.

Arand, J. et al. Selective impairment of methylation maintenance is the major cause of DNA methylation reprogramming in the early embryo. Epigenet. Chromatin 8, 1 (2015).

9.

Li, E., Bestor, T. H. & Jaenisch, R. Targeted mutation of the DNA methyltransferase gene results in embryonic lethality. Cell 69, 915–926 (1992).

10.

Liu, X. et al. UHRF1 targets DNMT1 for DNA methylation through cooperative binding of hemi-methylated DNA and methylated H3K9. Nat. Commun. 4, 1563 (2013).

11.

Roadmap Epigenomics Consortium et al. Integrative analysis of 111 reference human epigenomes. Nature 518, 317–330 (2015).

12.

Horvath, S. & Raj, K. DNA methylation-based biomarkers and the epigenetic clock theory of ageing. Nat. Rev. Genet. 19, 371–384 (2018).

13.

Cruickshanks, H. A. et al. Senescent cells harbour features of the cancer epigenome. Nat. Cell Biol. 15, 1495–1506 (2013).

14.

Irizarry, R. A. et al. The human colon cancer methylome shows similar hypo- and hypermethylation at conserved tissue-specific CpG island shores. Nat. Genet. 41, 178–186 (2009).

15.

Klutstein, M., Nejman, D., Greenfield, R. & Cedar, H. DNA methylation in cancer and aging. Cancer Res. 76, 3446–3450 (2016).

16.

Shih, A. H., Abdel-Wahab, O., Patel, J. P. & Levine, R. L. The role of mutations in epigenetic regulators in myeloid malignancies. Nat. Rev. Cancer 12, 599–612 (2012).

17.

Zhou, W. et al. DNA methylation loss in late-replicating domains is linked to mitotic cell division. Nat. Genet. 50, 591–602 (2018).

18.

Maxfield, K. E. et al. Comprehensive functional characterization of cancer–testis antigens defines obligate participation in multiple hallmarks of cancer. Nat. Commun. 6, 8840 (2015).

19.

The Cancer Genome Atlas Network Comprehensive molecular characterization of human colon and rectal cancer. Nature 487, 330–337 (2012).

20.

Rao, S. S. P. et al. Cohesin loss eliminates all loop domains. Cell 171, 305–320.e24 (2017).

21.

Milyavsky, M. et al. Prolonged culture of telomerase-immortalized human fibroblasts leads to a premalignant phenotype. Cancer Res. 63, 7147–7157 (2003).

22.

Jaitin, D. A. et al. Massively parallel single cell RNA-Seq for marker-free decomposition of tissues into cell types. Science 343, 776–779 (2014).

23.

Brocks, D., Chomsky, E., Mukamel, Z., Lifshitz, A. & Tanay, A. Single cell analysis reveals dynamics of transposable element transcription following epigenetic de-repression. Preprint at https://www.biorxiv.org/content/10.1101/462853v1 (2019).

24.

Luo, C. et al. Single-cell methylomes identify neuronal subtypes and regulatory elements in mammalian cortex. Science 357, 600–604 (2017).

25.

Baran, Y. et al. MetaCell: analysis of single-cell RNA-seq data using K-nn graph partitions. Genome Biol. 20, 206 (2019).

26.

Olivares-Chauvet, P. et al. Capturing pairwise and multi-way chromosomal conformations using chromosomal walks. Nature 540, 296–300 (2016).

27.

Bonev, B. et al. Multiscale 3D genome rewiring during mouse neural development. Cell 171, 557–572.e24 (2017).
Acknowledgements
We thank O. Schwartzman for assistance with whole-exome sequencing analysis, P. Olivares-Chauvet for help with analysis of the Hi-C data, and all members of the Tanay group for fruitful discussions. We also thank E. Hagai, G. Levi-Cohen, A. Sharp and Z. Porat from the Weizmann Institute of Science flow cytometry unit. Research was supported by the European Research Council (724824 - scAssembly), Israel Science Foundation and Chan Zuckerberg Initiative. A.T. is a Kimmel investigator.
Ethics declarations
Competing interests
The authors declare no competing interests.
Additional information
Publisher's note Springer Nature remains neutral with regard to jurisdictional claims in published maps and institutional affiliations.
Supplementary information
Supplementary Tables 1–13
About this article
Cite this article
Meir, Z., Mukamel, Z., Chomsky, E. et al. Single-cell analysis of clonal maintenance of transcriptional and epigenetic states in cancer cells. Nat Genet 52, 709–718 (2020). https://doi.org/10.1038/s41588-020-0645-y
Received:

Accepted:

Published:

Issue Date: