Abstract
Structural variants and presence/absence polymorphisms are common in plant genomes, yet they are routinely overlooked in genome-wide association studies (GWAS). Here, we expand the type of genetic variants detected in GWAS to include major deletions, insertions and rearrangements. We first use raw sequencing data directly to derive short sequences, k-mers, that mark a broad range of polymorphisms independently of a reference genome. We then link k-mers associated with phenotypes to specific genomic regions. Using this approach, we reanalyzed 2,000 traits in Arabidopsis thaliana, tomato and maize populations. Associations identified with k-mers recapitulate those found with SNPs, but with stronger statistical support. Importantly, we discovered new associations with structural variants and with regions missing from reference genomes. Our results demonstrate the power of performing GWAS before linking sequence reads to specific genomic regions, which allows the detection of a wider range of genetic variants responsible for phenotypic variation.
Relevant articles
Open Access articles citing this article.
Feng Zhu

,

Weiwei Wen

…

Alisdair R. Fernie

aBIOTECH Open Access 11 January 2023

Kristen A. Behrens

,

Stephan Koblmüller

&

Thomas D. Kocher

Scientific Reports Open Access 26 October 2022

Nadav Brandes

,

Omer Weissbrod

&

Michal Linial

Genome Biology Open Access 20 June 2022
Access options
Subscribe to Nature+
Get immediate online access to Nature and 55 other Nature journal
Subscribe to Journal
Get full journal access for 1 year
$79.00
only $6.58 per issue
All prices are NET prices.
VAT will be added later in the checkout.
Tax calculation will be finalised during checkout.
Buy article
Get time limited or full article access on ReadCube.
$32.00
All prices are NET prices.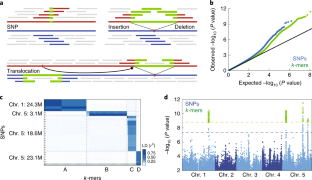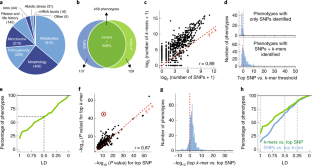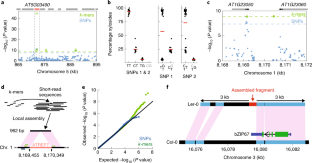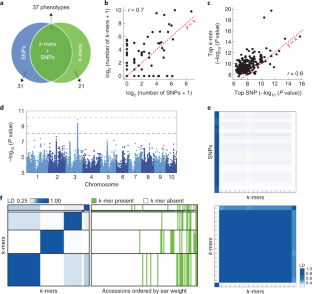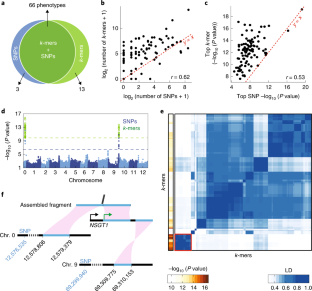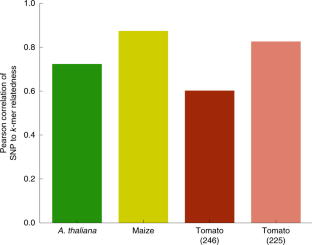 References
Saxena, R. K., Edwards, D. & Varshney, R. K. Structural variations in plant genomes. Brief. Funct. Genomics 13, 296–307 (2014).

Iqbal, Z., Caccamo, M., Turner, I., Flicek, P. & McVean, G. De novo assembly and genotyping of variants using colored de Bruijn graphs. Nat. Genet. 44, 226–232 (2012).

Salzberg, S. L., Pertea, M., Fahrner, J. A. & Sobreira, N. DIAMUND: direct comparison of genomes to detect mutations. Hum. Mutat. 35, 283–288 (2014).

Zielezinski, A. et al. Benchmarking of alignment-free sequence comparison methods. Genome Biol. 20, 144 (2019).

Lees, J. A. et al. Sequence element enrichment analysis to determine the genetic basis of bacterial phenotypes. Nat. Commun. 7, 12797 (2016).

Sheppard, S. K. et al. Genome-wide association study identifies vitamin B5 biosynthesis as a host specificity factor in Campylobacter. Proc. Natl Acad. Sci. USA 110, 11923–11927 (2013).

Lees, J. A. et al. Genome-wide identification of lineage and locus specific variation associated with pneumococcal carriage duration. eLife 6, e26255 (2017).

Rahman, A., Hallgrímsdóttir, I., Eisen, M. & Pachter, L. Association mapping from sequencing reads using k-mers. eLife 7, e32920 (2018).

Gordon, S. P. et al. Extensive gene content variation in the Brachypodium distachyon pan-genome correlates with population structure. Nat. Commun. 8, 2184 (2017).

Sun, S. et al. Extensive intraspecific gene order and gene structural variations between Mo17 and other maize genomes. Nat. Genet. 50, 1289–1295 (2018).

Minio, A., Massonnet, M., Figueroa-Balderas, R., Castro, A. & Cantu, D. Diploid genome assembly of the wine grape Carménère. G3 9, 1331–1337 (2019).

Arora, S. et al. Resistance gene cloning from a wild crop relative by sequence capture and association genetics. Nat. Biotechnol. 37, 139–143 (2019).

1001 Genomes Consortium. 1,135 genomes reveal the global pattern of polymorphism in Arabidopsis thaliana. Cell 166, 481–491 (2016).

Zhou, X. & Stephens, M. Genome-wide efficient mixed-model analysis for association studies. Nat. Genet. 44, 821–824 (2012).

Abney, M. Permutation testing in the presence of polygenic variation. Genet. Epidemiol. 39, 249–258 (2015).

Svishcheva, G. R., Axenovich, T. I., Belonogova, N. M., van Duijn, C. M. & Aulchenko, Y. S. Rapid variance components-based method for whole-genome association analysis. Nat. Genet. 44, 1166–1170 (2012).

Loh, P.-R. et al. Efficient Bayesian mixed-model analysis increases association power in large cohorts. Nat. Genet. 47, 284–290 (2015).

Li, X. et al. Exploiting natural variation of secondary metabolism identifies a gene controlling the glycosylation diversity of dihydroxybenzoic acids in Arabidopsis thaliana. Genetics 198, 1267–1276 (2014).

Vetter, M., Karasov, T. L. & Bergelson, J. Differentiation between MAMP-triggered defenses in Arabidopsis thaliana. PLoS Genet. 12, e1006068 (2016).

Bao, W., Kojima, K. K. & Kohany, O. Repbase Update, a database of repetitive elements in eukaryotic genomes. Mob. DNA 6, 11 (2015).

Morrison, G. D. & Linder, C. R. Association mapping of germination traits in Arabidopsis thaliana under light and nutrient treatments: searching for G×E effects. G3 (Bethesda) 4, 1465–1478 (2014).

Zapata, L. et al. Chromosome-level assembly of Arabidopsis thaliana Ler reveals the extent of translocation and inversion polymorphisms. Proc. Natl Acad. Sci. USA 113, E4052–E4060 (2016).

Bryant, F. M., Hughes, D., Hassani-Pak, K. & Eastmond, P. J. Basic LEUCINE ZIPPER TRANSCRIPTION FACTOR67 transactivates DELAY OF GERMINATION1 to establish primary seed dormancy in Arabidopsis. Plant Cell 31, 1276–1288 (2019).

Schnable, P. S. et al. The B73 maize genome: complexity, diversity and dynamics. Science 326, 1112–1115 (2009).

Gore, M. A. et al. A first-generation haplotype map of maize. Science 326, 1115–1117 (2009).

Springer, N. M. et al. The maize W22 genome provides a foundation for functional genomics and transposon biology. Nat. Genet. 50, 1282–1288 (2018).

Zhao, W. et al. Panzea: a database and resource for molecular and functional diversity in the maize genome. Nucleic Acids Res. 34, D752–D757 (2006).

Bukowski, R. et al. Construction of the third-generation Zea mays haplotype map. Gigascience 7, 1–12 (2018).

Tomato Genome Consortium. The tomato genome sequence provides insights into fleshy fruit evolution. Nature 485, 635–641 (2012).

Lin, T. et al. Genomic analyses provide insights into the history of tomato breeding. Nat. Genet. 46, 1220–1226 (2014).

Tieman, D. et al. A chemical genetic roadmap to improved tomato flavor. Science 355, 391–394 (2017).

Zhu, G. et al. Rewiring of the fruit metabolome in tomato breeding. Cell 172, 249–261 (2018).

Tikunov, Y. M. et al. Non-smoky glycosyltransferase1 prevents the release of smoky aroma from tomato fruit. Plant Cell 25, 3067–3078 (2013).

Sohn, J.-I. & Nam, J.-W. The present and future of de novo whole-genome assembly. Brief. Bioinform. 19, 23–40 (2018).

Pascoe, B. et al. Enhanced biofilm formation and multi-host transmission evolve from divergent genetic backgrounds in Campylobacter jejuni. Environ. Microbiol. 17, 4779–4789 (2015).

Schneeberger, K. et al. Simultaneous alignment of short reads against multiple genomes. Genome Biol. 10, R98 (2009).

Paten, B., Novak, A. M., Eizenga, J. M. & Garrison, E. Genome graphs and the evolution of genome inference. Genome Res. 27, 665–676 (2017).

Seren, Ü. et al. AraPheno: a public database for Arabidopsis thaliana phenotypes. Nucleic Acids Res. 45, D1054–D1059 (2017).

Fordyce, R. F. et al. Digital imaging combined with genome-wide association mapping links loci to plant–pathogen interaction traits. Plant Physiol. 178, 1406–1422 (2018).

Chan, E. K. F., Rowe, H. C., Hansen, B. G. & Kliebenstein, D. J. The complex genetic architecture of the metabolome. PLoS Genet. 6, e1001198 (2010).

Danecek, P. et al. The variant call format and VCFtools. Bioinformatics 27, 2156–2158 (2011).

Purcell, S. et al. PLINK: a tool set for whole-genome association and population-based linkage analyses. Am. J. Hum. Genet. 81, 559–575 (2007).

Cheng, C.-Y. et al. Araport11: a complete reannotation of the Arabidopsis thaliana reference genome. Plant J. 89, 789–804 (2017).

Portwood, J. L. 2nd et al. MaizeGDB 2018: the maize multi-genome genetics and genomics database. Nucleic Acids Res. 47, D1146–D1154 (2019).

Kokot, M., Dlugosz, M. & Deorowicz, S. KMC 3: counting and manipulating k-mer statistics. Bioinformatics 33, 2759–2761 (2017).

Kang, H. M. et al. Efficient control of population structure in model organism association mapping. Genetics 178, 1709–1723 (2008).

Atwell, S. et al. Genome-wide association study of 107 phenotypes in Arabidopsis thaliana inbred lines. Nature 465, 627–631 (2010).

Devlin, B. & Risch, N. A comparison of linkage disequilibrium measures for fine-scale mapping. Genomics 29, 311–322 (1995).

Togninalli, M. et al. The AraGWAS Catalog: a curated and standardized Arabidopsis thaliana GWAS catalog. Nucleic Acids Res. 46, D1150–D1156 (2018).

Bankevich, A. et al. SPAdes: a new genome assembly algorithm and its applications to single-cell sequencing. J. Comput. Biol. 19, 455–477 (2012).

Langmead, B. & Salzberg, S. L. Fast gapped-read alignment with Bowtie 2. Nat. Methods 9, 357–359 (2012).

Robinson, J. T. et al. Integrative Genomics Viewer. Nat. Biotechnol. 29, 24–26 (2011).

Ristova, D., Giovannetti, M., Metesch, K. & Busch, W. Natural genetic variation shapes root system responses to phytohormones in Arabidopsis. Plant J. 96, 468–481 (2018).

Li, H. Minimap2: pairwise alignment for nucleotide sequences. Bioinformatics 34, 3094–3100 (2018).
Acknowledgements
We thank the many colleagues who have shared A. thaliana phenotypic information with us. We thank in particular G. Zhu and S. Huang for help with tomato genotypic and phenotypic information and C. Romay, R. Bukowski and E. Buckler for help with maize genotypes and phenotypes. We thank K. Swarts, F. Rabanal and I. Soifer for fruitful discussions. This work was supported by the DFG ERA-CAPS 1001 Genomes Plus and the Max Planck Society.
Ethics declarations
Competing interests
The authors declare no competing interests.
Additional information
Publisher's note Springer Nature remains neutral with regard to jurisdictional claims in published maps and institutional affiliations.
Supplementary information
Supplementary Figs. 1 and 2, Supplementary Note and Supplementary Tables 2 and 3
Summarized genome-wide association analysis results for phenotypes used in this study.
About this article
Cite this article
Voichek, Y., Weigel, D. Identifying genetic variants underlying phenotypic variation in plants without complete genomes. Nat Genet 52, 534–540 (2020). https://doi.org/10.1038/s41588-020-0612-7
Received:

Accepted:

Published:

Issue Date:

DOI: https://doi.org/10.1038/s41588-020-0612-7