Abstract
Low-coverage whole-genome sequencing followed by imputation has been proposed as a cost-effective genotyping approach for disease and population genetics studies. However, its competitiveness against SNP arrays is undermined because current imputation methods are computationally expensive and unable to leverage large reference panels. Here, we describe a method, GLIMPSE, for phasing and imputation of low-coverage sequencing datasets from modern reference panels. We demonstrate its remarkable performance across different coverages and human populations. GLIMPSE achieves imputation of a genome for less than US$1 in computational cost, considerably outperforming other methods and improving imputation accuracy over the full allele frequency range. As a proof of concept, we show that 1× coverage enables effective gene expression association studies and outperforms dense SNP arrays in rare variant burden tests. Overall, this study illustrates the promising potential of low-coverage imputation and suggests a paradigm shift in the design of future genomic studies.
Access options
Subscribe to Journal
Get full journal access for 1 year
$59.00
only $4.92 per issue
All prices are NET prices.
VAT will be added later in the checkout.
Tax calculation will be finalised during checkout.
Rent or Buy article
Get time limited or full article access on ReadCube.
from$8.99
All prices are NET prices.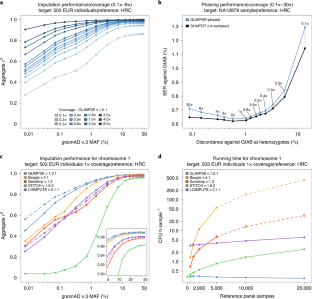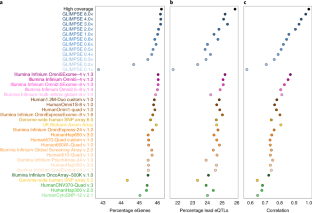 References
1.

Brody, J. A. et al. Analysis commons, a team approach to discovery in a big-data environment for genetic epidemiology. Nat. Genet. 49, 1560–1563 (2017).

2.

Alex Buerkle, C. & Gompert, Z. Population genomics based on low coverage sequencing: how low should we go? Mol. Ecol. 22, 3028–3035 (2013).

3.

Le, S. Q. & Durbin, R. SNP detection and genotyping from low-coverage sequencing data on multiple diploid samples. Genome Res. 21, 952–960 (2011).

4.

Pasaniuc, B. et al. Extremely low-coverage sequencing and imputation increases power for genome-wide association studies. Nat. Genet. 44, 631–635 (2012).

5.

Cai, N. et al. Sparse whole-genome sequencing identifies two loci for major depressive disorder. Nature 523, 588–591 (2015).

6.

Gilly, A. et al. Very low-depth sequencing in a founder population identifies a cardioprotective APOC3 signal missed by genome-wide imputation. Hum. Mol. Genet. 25, 2360–2365 (2016).

7.

Gilly, A. et al. Very low-depth whole-genome sequencing in complex trait association studies. Bioinformatics 35, 2555–2561 (2019).

8.

Browning, B. L. & Yu, Z. Simultaneous genotype calling and haplotype phasing improves genotype accuracy and reduces false-positive associations for genome-wide association studies. Am. J. Hum. Genet. 85, 847–861 (2009).

9.

Spiliopoulou, A., Colombo, M., Orchard, P., Agakov, F. & McKeigue, P. GeneImp: fast imputation to large reference panels using genotype likelihoods from ultralow coverage sequencing. Genetics 206, 91–104 (2017).

10.

Wasik, K. et al. Comparing low-pass sequencing and genotyping for trait mapping in pharmacogenetics. Preprint at bioRxiv https://doi.org/10.1101/632141 (2019).

11.

Davies, R. W., Flint, J., Myers, S. & Mott, R. Rapid genotype imputation from sequence without reference panels. Nat. Genet. 48, 965–969 (2016).

12.

Li, N. & Stephens, M. Modeling linkage disequilibrium and identifying recombination hotspots using single-nucleotide polymorphism data. Genetics 165, 2213–2233 (2003).

13.

Marchini, J., Howie, B., Myers, S., McVean, G. & Donnelly, P. A new multipoint method for genome-wide association studies by imputation of genotypes. Nat. Genet. 39, 906–913 (2007).

14.

Delaneau, O., Zagury, J.-F., Robinson, M. R., Marchini, J. L. & Dermitzakis, E. T. Accurate, scalable and integrative haplotype estimation. Nat. Commun. 10, 5436 (2019).

15.

Durbin, R. Efficient haplotype matching and storage using the positional Burrows–Wheeler transform (PBWT). Bioinformatics 30, 1266–1272 (2014).

16.

Rubinacci, S., Delaneau, O. & Marchini, J. Genotype imputation using the Positional Burrows Wheeler Transform. PLoS Genet. 16, e1009049 (2020).

17.

Browning, B. L. & Browning, S. R. Genotype imputation with millions of reference samples. Am. J. Hum. Genet. 98, 116–126 (2016).

18.

Auton, A. et al. A global reference for human genetic variation. Nature 526, 68–74 (2015).

19.

McCarthy, S. et al. A reference panel of 64,976 haplotypes for genotype imputation. Nat. Genet. 48, 1279–1283 (2016).

20.

Bycroft, C. et al. The UK Biobank resource with deep phenotyping and genomic data. Nature 562, 203–209 (2018).

21.

Karczewski, K. J. et al. The mutational constraint spectrum quantified from variation in 141,456 humans. Nature 581, 434–443 (2020).

22.

Pritchard, J. K. & Przeworski, M. Linkage disequilibrium in humans: models and data. Am. J. Hum. Genet. 69, 1–14 (2001).

23.

Zook, J. M. et al. Integrating human sequence data sets provides a resource of benchmark SNP and indel genotype calls. Nat. Biotechnol. 32, 246–251 (2014).

24.

Huang, J. et al. Improved imputation of low-frequency and rare variants using the UK10K haplotype reference panel. Nat. Commun. 6, 8111 (2015).

25.

Browning, B. L., Zhou, Y. & Browning, S. R. A one-penny imputed genome from next-generation reference panels. Am. J. Hum. Genet. 103, 338–348 (2018).

26.

Lappalainen, T. et al. Transcriptome and genome sequencing uncovers functional variation in humans. Nature 501, 506–511 (2013).

27.

Delaneau, O. et al. Chromatin three-dimensional interactions mediate genetic effects on gene expression. Science 364, eaat8266 (2019).

28.

Aguet, F. et al. Genetic effects on gene expression across human tissues. Nature 550, 204–213 (2017).

29.

Brown, A. A. et al. Predicting causal variants affecting expression by using whole-genome sequencing and RNA-seq from multiple human tissues. Nat. Genet. 49, 1747–1751 (2017).

30.

Taliun, D. et al. Sequencing of 53,831 diverse genomes from the NHLBI TOPMed Program. Preprint at bioRxiv https://doi.org/10.1101/563866 (2019).

31.

Li, H. A statistical framework for SNP calling, mutation discovery, association mapping and population genetical parameter estimation from sequencing data. Bioinformatics 27, 2987–2993 (2011).

32.

McKenna, A. et al. The Genome Analysis Toolkit: a MapReduce framework for analyzing next-generation DNA sequencing data. Genome Res. 20, 1297–1303 (2010).

33.

Delaneau, O. et al. A complete tool set for molecular QTL discovery and analysis. Nat. Commun. 8, 15452 (2017).

34.

Dale, R. K., Pedersen, B. S. & Quinlan, A. R. Pybedtools: a flexible Python library for manipulating genomic datasets and annotations. Bioinformatics 27, 3423–3424 (2011).

35.

Harrow, J. et al. GENCODE: the reference human genome annotation for The ENCODE Project. Genome Res. 22, 1760–1774 (2012).
Acknowledgements
This work was funded by a Swiss National Science Foundation project grant no. PP00P3_176977. The New York Genome Center 1000 Genomes data were generated at the New York Genome Center with funds provided by a National Human Genome Research Institute grant no. 3UM1HG008901–03S1. We thank S. Carmi for useful comments on the preprint version of the manuscript.
Ethics declarations
Competing interests
The authors declare no competing interests.
Additional information
Peer review information Nature Genetics thanks Garrett Hellenthal, Sam Morris and the other, anonymous, reviewer(s) for their contribution to the peer review of this work.
Publisher's note Springer Nature remains neutral with regard to jurisdictional claims in published maps and institutional affiliations.
Supplementary information
Supplementary Note, Figs. 1–15, and Tables 1 and 2
About this article
Cite this article
Rubinacci, S., Ribeiro, D.M., Hofmeister, R.J. et al. Efficient phasing and imputation of low-coverage sequencing data using large reference panels. Nat Genet 53, 120–126 (2021). https://doi.org/10.1038/s41588-020-00756-0
Received:

Accepted:

Published:

Issue Date: