Abstract
The genetic elements required to tune gene expression are partitioned in active and repressive nuclear condensates. Chromatin compartments include transcriptional clusters whose dynamic establishment and functioning depend on multivalent interactions occurring among transcription factors, cofactors and basal transcriptional machinery. However, how chromatin players contribute to the assembly of transcriptional condensates is poorly understood. By interrogating the effect of KMT2D (also known as MLL4) haploinsufficiency in Kabuki syndrome, we found that mixed lineage leukemia 4 (MLL4) contributes to the assembly of transcriptional condensates through liquid–liquid phase separation. MLL4 loss of function impaired Polycomb-dependent chromatin compartmentalization, altering the nuclear architecture. By releasing the nuclear mechanical stress through inhibition of the mechanosensor ATR, we re-established the mechanosignaling of mesenchymal stem cells and their commitment towards chondrocytes both in vitro and in vivo. This study supports the notion that, in Kabuki syndrome, the haploinsufficiency of MLL4 causes an altered functional partitioning of chromatin, which determines the architecture and mechanical properties of the nucleus.
Access options
Subscribe to Journal
Get full journal access for 1 year
$59.00
only $4.92 per issue
All prices are NET prices.
VAT will be added later in the checkout.
Tax calculation will be finalised during checkout.
Rent or Buy article
Get time limited or full article access on ReadCube.
from$8.99
All prices are NET prices.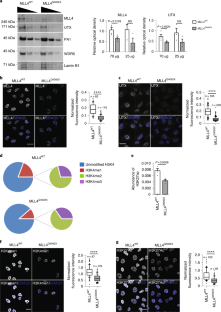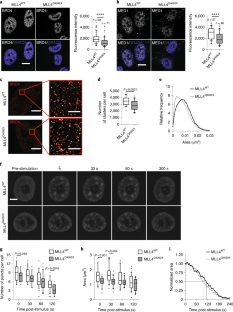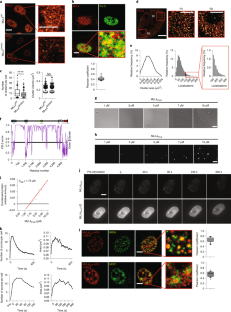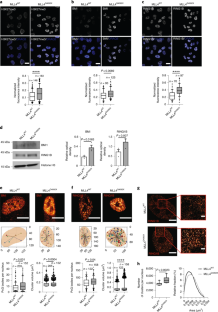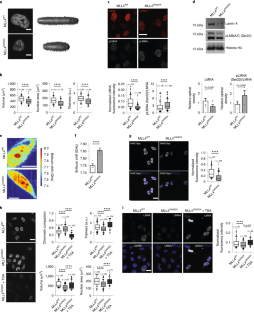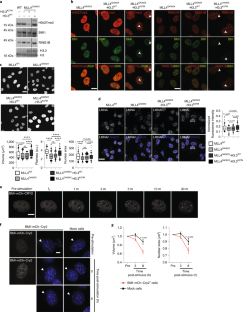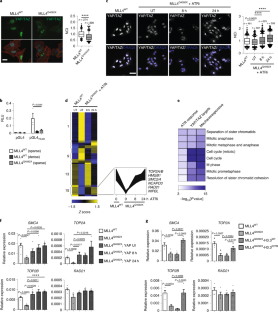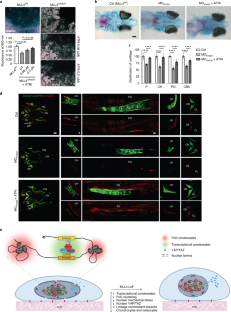 Data availability
The RNA sequencing raw data have been deposited in the Gene Expression Omnibus database under the accession GSE135550. The mass spectrometry proteomics data have been deposited to the ProteomeXchange Consortium via the PRIDE partner repository with the dataset identifier PXD021616. Additional data supporting the findings of this study are available from the corresponding authors upon reasonable request. Source data are provided with this paper.
References
1.

Fukaya, T., Lim, B. & Levine, M. Enhancer control of transcriptional bursting. Cell 166, 358–368 (2016).

2.

Spitz, F. Gene regulation at a distance: from remote enhancers to 3D regulatory ensembles. Semin. Cell Dev. Biol. 57, 57–67 (2016).

3.

Rada-Iglesias, A. et al. A unique chromatin signature uncovers early developmental enhancers in humans. Nature 470, 279–283 (2011).

4.

Calo, E. & Wysocka, J. Modification of enhancer chromatin: what, how, and why? Mol. Cell 49, 825–837 (2013).

5.

Stadhouders, R., Filion, G. J. & Graf, T. Transcription factors and 3D genome conformation in cell-fate decisions. Nature 569, 345–354 (2019).

6.

Van Steensel, B. & Furlong, E. E. M. The role of transcription in shaping the spatial organization of the genome. Nat. Rev. Mol. Cell Biol. 20, 327–337 (2019).

7.

Chong, S. et al. Imaging dynamic and selective low-complexity domain interactions that control gene transcription. Science 361, eaar2555 (2018).

8.

Cho, W. K. et al. Mediator and RNA polymerase II clusters associate in transcription-dependent condensates. Science 361, 412–415 (2018).

9.

Sabari, B. R. et al. Coactivator condensation at super-enhancers links phase separation and gene control. Science 361, eaar3958 (2018).

10.

Boija, A. et al. Transcription factors activate genes through the phase-separation capacity of their activation domains. Cell 175, 1842–1855.e16 (2018).

11.

Lu, H. et al. Phase-separation mechanism for C-terminal hyperphosphorylation of RNA polymerase II. Nature 558, 318–323 (2018).

12.

Alberti, S. Phase separation in biology. Curr. Biol. 27, R1097–R1102 (2017).

13.

Banani, S. F., Lee, H. O., Hyman, A. A. & Rosen, M. K. Biomolecular condensates: organizers of cellular biochemistry. Nat. Rev. Mol. Cell Biol. 18, 285–298 (2017).

14.

Shin, Y. & Brangwynne, C. P.Liquid phase condensation in cell physiology and disease. Science 357, eaaf4382 (2017).

15.

Alberti, S., Halfmann, R., King, O., Kapila, A. & Lindquist, S. A systematic survey identifies prions and illuminates sequence features of prionogenic proteins. Cell 137, 146–158 (2009).

16.

Molliex, A. et al. Phase separation by low complexity domains promotes stress granule assembly and drives pathological fibrillization. Cell 163, 123–133 (2015).

17.

Franzmann, T. M. & Alberti, S. Prion-like low-complexity sequences: key regulators of protein solubility and phase behavior. J. Biol. Chem. 294, 7128–7136 (2019).

18.

March, Z. M., King, O. D. & Shorter, J. Prion-like domains as epigenetic regulators, scaffolds for subcellular organization, and drivers of neurodegenerative disease. Brain Res. 1647, 9–18 (2016).

19.

Herz, H. M. et al. Enhancer-associated H3K4 monomethylation by Trithorax-related, the Drosophila homolog of mammalian Mll3/Mll4. Genes Dev. 26, 2604–2620 (2012).

20.

Wang, S. P. et al. A UTX–MLL4–p300 transcriptional regulatory network coordinately shapes active enhancer landscapes for eliciting transcription. Mol. Cell 67, 308–321.e6 (2017).

21.

Ringrose, L. & Paro, R. Epigenetic regulation of cellular memory by the Polycomb and Trithorax group proteins. Annu. Rev. Genet. 38, 413–443 (2004).

22.

Schuettengruber, B., Bourbon, H. M., Di Croce, L. & Cavalli, G. Genome regulation by Polycomb and Trithorax: 70 years and counting. Cell 171, 34–57 (2017).

23.

Local, A. et al. Identification of H3K4me1-associated proteins at mammalian enhancers. Nat. Genet. 50, 73–82 (2018).

24.

Dorighi, K. M. et al. Mll3 and Mll4 facilitate enhancer RNA synthesis and transcription from promoters independently of H3K4 monomethylation. Mol. Cell 66, 568–576.e4 (2017).

25.

Rickels, R. et al. Histone H3K4 monomethylation catalyzed by Trr and mammalian COMPASS-like proteins at enhancers is dispensable for development and viability. Nat. Genet. 49, 1647–1653 (2017).

26.

Ng, S. B. et al. Exome sequencing identifies MLL2 mutations as a cause of Kabuki syndrome. Nat. Genet. 42, 790–793 (2010).

27.

Banka, S. et al. How genetically heterogeneous is Kabuki syndrome?: MLL2 testing in 116 patients, review and analyses of mutation and phenotypic spectrum. Eur. J. Hum. Genet. 20, 381–388 (2012).

28.

Cocciadiferro, D. et al. Dissecting KMT2D missense mutations in Kabuki syndrome patients. Hum. Mol. Genet. 27, 3651–3668 (2018).

29.

Engler, A. J., Sen, S., Sweeney, H. L. & Discher, D. E. Matrix elasticity directs stem cell lineage specification. Cell 126, 677–689 (2006).

30.

Huebsch, N. et al. Harnessing traction-mediated manipulation of the cell/matrix interface to control stem-cell fate. Nat. Mater. 9, 518–526 (2010).

31.

Vartiainen, M. K., Guettler, S., Larijani, B. & Treisman, R. Nuclear actin regulates dynamic subcellular localization and activity of the SRF cofactor MAL. Science 316, 1749–1752 (2007).

32.

Dupont, S. et al. Role of YAP/TAZ in mechanotransduction. Nature 474, 179–183 (2011).

33.

Uhler, C. & Shivashankar, G. V. Regulation of genome organization and gene expression by nuclear mechanotransduction. Nat. Rev. Mol. Cell Biol. 18, 717–727 (2017).

34.

Stephens, A. D., Banigan, E. J., Adam, S. A., Goldman, R. D. & Marko, J. F. Chromatin and lamin A determine two different mechanical response regimes of the cell nucleus. Mol. Biol. Cell 28, 1984–1996 (2017).

35.

Ghosh, S. et al. Deformation microscopy for dynamic intracellular and intranuclear mapping of mechanics with high spatiotemporal resolution. Cell Rep. 27, 1607–1620.e4 (2019).

36.

Heo, S. J. et al. Differentiation alters stem cell nuclear architecture, mechanics, and mechano-sensitivity. eLife 5, e18207 (2016).

37.

Micale, L. et al. Molecular analysis, pathogenic mechanisms, and readthrough therapy on a large cohort of Kabuki syndrome patients. Hum. Mutat. 35, 841–850 (2014).

38.

Zhang, J. et al. Disruption of KMT2D perturbs germinal center B cell development and promotes lymphomagenesis. Nat. Med. 21, 1190–1198 (2015).

39.

Nair, S. J. et al. Phase separation of ligand-activated enhancers licenses cooperative chromosomal enhancer assembly. Nat. Struct. Mol. Biol. 26, 193–203 (2019).

40.

Shin, Y. et al. Spatiotemporal control of intracellular phase transitions using light-activated optoDroplets. Cell 168, 159–171.e14 (2017).

41.

Lehman, N. et al. Molecular, clinical and neuropsychological study in 31 patients with Kabuki syndrome and KMT2D mutations. Clin. Genet. 92, 298–305 (2017).

42.

Wang, J. et al. A molecular grammar governing the driving forces for phase separation of prion-like RNA binding proteins. Cell 174, 688–699.e16 (2018).

43.

Bugaj, L. J., Choksi, A. T., Mesuda, C. K., Kane, R. S. & Schaffer, D. V. Optogenetic protein clustering and signaling activation in mammalian cells. Nat. Methods 10, 249–252 (2013).

44.

Bustin, M. & Misteli, T. Nongenetic functions of the genome. Science 352, aad6933 (2016).

45.

Rada-Iglesias, A., Grosveld, F. G. & Papantonis, A. Forces driving the three-dimensional folding of eukaryotic genomes. Mol. Syst. Biol. 14, e8214 (2018).

46.

Elosegui-Artola, A. et al. Force triggers YAP nuclear entry by regulating transport across nuclear pores. Cell 171, 1397–1410.e14 (2017).

47.

Swift, J. et al. Nuclear lamin-A scales with tissue stiffness and enhances matrix-directed differentiation. Science 341, 1240104 (2013).

48.

Buxboim, A. et al. Matrix elasticity regulates lamin-A,C phosphorylation and turnover with feedback to actomyosin. Curr. Biol. 24, 1909–1917 (2014).

49.

Antonacci, G., de Turris, V., Rosa, A. & Ruocco, G. Background-deflection Brillouin microscopy reveals altered biomechanics of intracellular stress granules by ALS protein FUS. Commun. Biol. 1, 139 (2018).

50.

Shogren-Knaak, M. et al. Histone H4-K16 acetylation controls chromatin structure and protein interactions. Science 311, 844–847 (2006).

51.

Lewis, P. W. et al. Inhibition of PRC2 activity by a gain-of-function H3 mutation found in pediatric glioblastoma. Science 340, 857–861 (2013).

52.

Driscoll, T. P., Cosgrove, B. D., Heo, S. J., Shurden, Z. E. & Mauck, R. L. Cytoskeletal to nuclear strain transfer regulates YAP signaling in mesenchymal stem cells. Biophys. J. 108, 2783–2793 (2015).

53.

Kumar, A. et al. ATR mediates a checkpoint at the nuclear envelope in response to mechanical stress. Cell 158, 633–646 (2014).

54.

Burgess, R. C., Burman, B., Kruhlak, M. J. & Misteli, T. Activation of DNA damage response signaling by condensed chromatin. Cell Rep. 9, 1703–1717 (2014).

55.

Zanconato, F. et al. Genome-wide association between YAP/TAZ/TEAD and AP-1 at enhancers drives oncogenic growth. Nat. Cell Biol. 17, 1218–1227 (2015).

56.

Provenzano, P. P., Inman, D. R., Eliceiri, K. W. & Keely, P. J. Matrix density-induced mechanoregulation of breast cell phenotype, signaling and gene expression through a FAK–ERK linkage. Oncogene 28, 4326–4343 (2009).

57.

Van Laarhoven, P. M. et al. Kabuki syndrome genes KMT2D and KDM6A: functional analyses demonstrate critical roles in craniofacial, heart and brain development. Hum. Mol. Genet. 24, 4443–4453 (2015).

58.

Bogershausen, N. et al. RAP1-mediated MEK/ERK pathway defects in Kabuki syndrome. J. Clin. Invest. 125, 3585–3599 (2015).

59.

Yu, T. et al. A vertebrate-specific and essential role for osterix in osteogenesis revealed by gene knockout in the teleost medaka. Development 144, 265–271 (2017).

60.

Entrevan, M., Schuettengruber, B. & Cavalli, G. Regulation of genome architecture and function by Polycomb proteins. Trends Cell Biol. 26, 511–525 (2016).

61.

Schoenfelder, S. et al. Polycomb repressive complex PRC1 spatially constrains the mouse embryonic stem cell genome. Nat. Genet. 47, 1179–1186 (2015).

62.

Boettiger, A. N. et al. Super-resolution imaging reveals distinct chromatin folding for different epigenetic states. Nature 529, 418–422 (2016).

63.

Wani, A. H. et al. Chromatin topology is coupled to Polycomb group protein subnuclear organization. Nat. Commun. 7, 10291 (2016).

64.

Plys, A. J. et al. Phase separation of Polycomb-repressive complex 1 is governed by a charged disordered region of CBX2. Genes Dev. 33, 799–813 (2019).

65.

Le, H. Q. et al. Mechanical regulation of transcription controls Polycomb-mediated gene silencing during lineage commitment. Nat. Cell Biol. 18, 864–875 (2016).

66.

Furusawa, T. et al. Chromatin decompaction by the nucleosomal binding protein HMGN5 impairs nuclear sturdiness. Nat. Commun. 6, 6138 (2015).

67.

Wang, P. et al. WDR5 modulates cell motility and morphology and controls nuclear changes induced by a 3D environment. Proc. Natl Acad. Sci. USA 115, 8581–8586 (2018).

68.

Stephens, A. D. et al. Chromatin histone modifications and rigidity affect nuclear morphology independent of lamins. Mol. Biol. Cell 29, 220–233 (2018).

69.

Shin, Y. et al. Liquid nuclear condensates mechanically sense and restructure the genome. Cell 175, 1481–1491.e13 (2018).

70.

Benjamin, J. S. et al. A ketogenic diet rescues hippocampal memory defects in a mouse model of Kabuki syndrome. Proc. Natl Acad. Sci. USA 114, 125–130 (2017).

71.

Bjornsson, H. T. et al. Histone deacetylase inhibition rescues structural and functional brain deficits in a mouse model of Kabuki syndrome. Sci. Transl. Med. 6, 256ra135 (2014).

72.

Tatrai, P. et al. Combined introduction of Bmi-1 and hTERT immortalizes human adipose tissue-derived stromal cells with low risk of transformation. Biochem. Biophys. Res. Commun. 422, 28–35 (2012).

73.

Ricci, M. A., Manzo, C., Garcia-Parajo, M. F., Lakadamyali, M. & Cosma, M. P. Chromatin fibers are formed by heterogeneous groups of nucleosomes in vivo. Cell 160, 1145–1158 (2015).

74.

Iwamatsu, T. Stages of normal development in the medaka Oryzias latipes. Mech. Dev. 121, 605–618 (2004).

75.

Conte, I. et al. MiR-204 is responsible for inherited retinal dystrophy associated with ocular coloboma. Proc. Natl Acad. Sci. USA 112, E3236–E3245 (2015).

76.

Lepert, G., Gouveia, R. M., Connon, C. J. & Paterson, C. Assessing corneal biomechanics with Brillouin spectro-microscopy. Faraday Discuss. 187, 415–428 (2016).

77.

Antonacci, G., Lepert, G., Paterson, C. & Torok, P.Elastic suppression in Brillouin imaging by destructive interference. Appl. Phys. Lett. 107, 061102 (2015).
Acknowledgements
We thank the Next-Generation Sequencing Facility at the Department of Cellular, Computational and Integrative Biology (CIBIO) for help with RNA sequencing, the Protein Technology Facility at CIBIO for recombinant protein purification, the Advanced Light and Electron Microscopy Bioimaging Center at the San Raffaele Scientific Institute (Milan, Italy) for STORM imaging acquisition and data analyses, the TIGEM Medaka Core Facility and F. G. Salierno for technical assistance and the CrestOptics–IIT JointLab for Advanced Microscopy for financial and technical support. We thank G. Merla (IRCCS Casa Sollievo della Sofferenza, San Giovanni Rotondo, Italy). The Genomic and Genetic Disorders Biobank, a member of the Telethon Network of Genetic Biobanks (project number GTB12001), funded by Telethon Italy, and of the EuroBioBank network, provided us with the human primary fibroblasts derived from either healthy donors or donors with Kabuki syndrome. We thank E. Biasini and the members of the Zippo laboratory for helpful discussions and critical reading of the manuscript. We thank D. Allis for sharing the H3.3K27M construct, R. Young for sharing the OptoIDR vectors and Z. Qiuping for the EGFP–Nesprin1/2–KASH vectors. The Mass Spectrometry and Proteomics Core Facility of CIBIO is supported by the European Regional Development Fund 2014–2020. Work in the Zippo group was supported by grants from the Italian Ministry of Health (GR-2011-02351172), Telethon Foundation (GEP13057) and AFM Telethon (AFM 21514). V.P. is the recipient of an AIRC fellowship (21158).
Ethics declarations
Competing interests
The authors declare no competing interests.
Additional information
Publisher's note Springer Nature remains neutral with regard to jurisdictional claims in published maps and institutional affiliations.
Supplementary information
About this article
Cite this article
Fasciani, A., D'Annunzio, S., Poli, V. et al. MLL4-associated condensates counterbalance Polycomb-mediated nuclear mechanical stress in Kabuki syndrome. Nat Genet 52, 1397–1411 (2020). https://doi.org/10.1038/s41588-020-00724-8
Received:

Accepted:

Published:

Issue Date:
Further reading
Bi Shi

,

Wei Li

,

Yansu Song

,

Zhenjia Wang

,

Rui Ju

,

Aleksandra Ulman

,

Jing Hu

,

Francesco Palomba

,

Yanfang Zhao

,

John Philip Le

,

William Jarrard

,

David Dimoff

,

Michelle A. Digman

,

Enrico Gratton

,

Chongzhi Zang

&

Hao Jiang

Nature (2021)

David Lara-Astiaso

&

Brian J. P. Huntly

Nature (2021)