Abstract
Bread wheat expanded its habitat from a core area of the Fertile Crescent to global environments within ~10,000 years. The genetic mechanisms of this remarkable evolutionary success are not well understood. By whole-genome sequencing of populations from 25 subspecies within the genera Triticum and Aegilops, we identified composite introgression from wild populations contributing to a substantial portion (4–32%) of the bread wheat genome, which increased the genetic diversity of bread wheat and allowed its divergent adaptation. Meanwhile, convergent adaptation to human selection showed 2- to 16-fold enrichment relative to random expectation—a certain set of genes were repeatedly selected in Triticum species despite their drastic differences in ploidy levels and growing zones, indicating the important role of evolutionary constraints in shaping the adaptive landscape of bread wheat. These results showed the genetic necessities of wheat as a global crop and provided new perspectives on transferring adaptive success across species for crop improvement.
Relevant articles
Open Access articles citing this article.
Chunyun Zhou

,

Hongchun Xiong

…

Luxiang Liu

BMC Plant Biology Open Access 22 June 2023

Yangyang Liu

,

Kuocheng Shen

…

Zifeng Guo

Genome Biology Open Access 12 May 2023

Meriem Banouh

,

David Armisen

…

Peter Civáň

BMC Genomics Open Access 11 May 2023
Access options
Access Nature and 54 other Nature Portfolio journals
Get Nature+, our best-value online-access subscription
$29.99 / 30 days
cancel any time
Subscribe to this journal
Receive 12 print issues and online access
$209.00 per year
only $17.42 per issue
Rent or buy this article
Prices vary by article type
from$1.95
to$39.95
Prices may be subject to local taxes which are calculated during checkout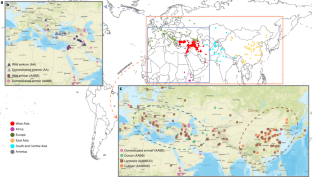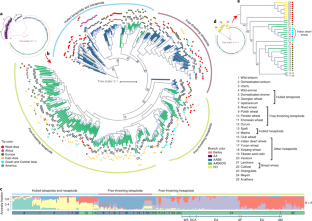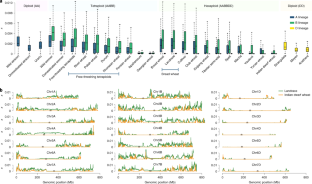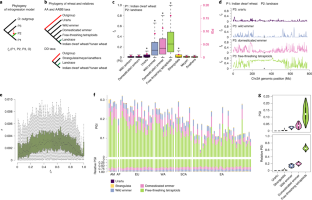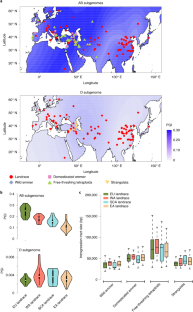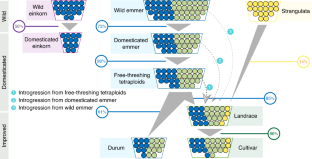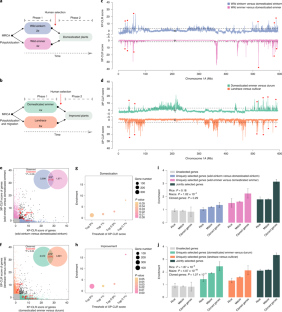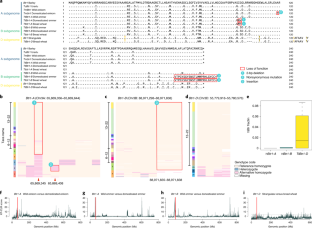 References
Lev-Yadun, S., Gopher, A. & Abbo, S. The cradle of agriculture. Science 288, 1602–1603 (2000).

Salamini, F., Özkan, H., Brandolini, A., Schäfer-Pregl, R. & Martin, W. Genetics and geography of wild cereal domestication in the near east. Nat. Rev. Genet. 3, 429–441 (2002).

Shiferaw, B. et al. Crops that feed the world 10. Past successes and future challenges to the role played by wheat in global food security. Food Secur. 5, 291–317 (2013).

Asseng, S. et al. Rising temperatures reduce global wheat production. Nat. Clim. Change 5, 143–147 (2015).

Kahiluoto, H. et al. Decline in climate resilience of European wheat. Proc. Natl Acad. Sci. USA 116, 123–128 (2019).

Lukaszewski, A. J. et al. A chromosome-based draft sequence of the hexaploid bread wheat (Triticum aestivum) genome. Science 345, 1251788 (2014).

Dubcovsky, J. & Dvorak, J. Genome plasticity a key factor in the success of polyploid wheat under domestication. Science 316, 1862–1866 (2007).

Cenci, A. et al. Grinding up wheat: a massive loss of nucleotide diversity since domestication. Mol. Biol. Evol. 24, 1506–1517 (2007).

Akhunov, E. D. et al. Nucleotide diversity maps reveal variation in diversity among wheat genomes and chromosomes. BMC Genomics 11, 702 (2010).

He, F. et al. Exome sequencing highlights the role of wild-relative introgression in shaping the adaptive landscape of the wheat genome. Nat. Genet. 51, 896–904 (2019).

Cheng, H. et al. Frequent intra- and inter-species introgression shapes the landscape of genetic variation in bread wheat. Genome Biol. 20, 136 (2019).

Faris, J. D. in Genomics of Plant Genetic Resources Vol. 1 (eds Tuberosa, R. et al.) 439–464 (Springer, 2014).

Matsuoka, Y. Evolution of polyploid Triticum wheats under cultivation: the role of domestication, natural hybridization and allopolyploid speciation in their diversification. Plant Cell Physiol. 52, 750–764 (2011).

Glémin, S. et al. Pervasive hybridizations in the history of wheat relatives. Sci. Adv. 5, eaav9188 (2019).

Maccaferri, M. et al. Durum wheat genome highlights past domestication signatures and future improvement targets. Nat. Genet. 51, 885–895 (2019).

Lu, F. et al. Switchgrass genomic diversity, ploidy, and evolution: novel insights from a network-based SNP discovery protocol. PLoS Genet. 9, e1003215 (2013).

Tsunewaki, K. Comparative gene analysis of common wheat and its ancestral species. III. Glume hairiness. Genetics 53, 303–311 (1966).

Dvorak, J. et al. The origin of spelt and free-threshing hexaploid wheat. J. Hered. 103, 426–441 (2012).

Matsuoka, Y. & Nasuda, S. Durum wheat as a candidate for the unknown female progenitor of bread wheat: an empirical study with a highly fertile F1 hybrid with Aegilops tauschii Coss. Theor. Appl. Genet. 109, 1710–1717 (2004).

Pont, C. et al. Tracing the ancestry of modern bread wheats. Nat. Genet. 51, 905–911 (2019).

Balfourier, F. et al. Worldwide phylogeography and history of wheat genetic diversity. Sci. Adv. 5, eaav0536 (2019).

Wang, J. et al. Aegilops tauschii single nucleotide polymorphisms shed light on the origins of wheat D-genome genetic diversity and pinpoint the geographic origin of hexaploid wheat. New Phytol. 198, 925–937 (2013).

Tenaillon, M. I. et al. Patterns of DNA sequence polymorphism along chromosome 1 of maize (Zea mays ssp. mays L.). Proc. Natl Acad. Sci. USA 98, 9161–9166 (2001).

Huang, X. et al. Genome-wide association studies of 14 agronomic traits in rice landraces. Nat. Genet. 42, 961–967 (2010).

Huang, L. et al. Evolution and adaptation of wild emmer wheat populations to biotic and abiotic stresses. Annu. Rev. Phytopathol. 54, 279–301 (2016).

Li, M. et al. A CNL protein in wild emmer wheat confers powdery mildew resistance. New Phytol. 3, 1027–1037 (2020).

Green, R. E. et al. A draft sequence of the Neandertal genome. Science 328, 710–722 (2010).

Martin, S. H., Davey, J. W. & Jiggins, C. D. Evaluating the use of ABBA–BABA statistics to locate introgressed loci. Mol. Biol. Evol. 32, 244–257 (2015).

Ling, H.-Q. et al. Genome sequence of the progenitor of wheat A subgenome Triticum urartu. Nature 557, 424–428 (2018).

Marcussen, T. et al. Ancient hybridizations among the ancestral genomes of bread wheat. Science 345, 1250092 (2014).

Singh, N. et al. Genomic analysis confirms population structure and identifies inter-lineage hybrids in Aegilops tauschii. Front. Plant Sci. 10, 9 (2019).

Guan, Y. Detecting structure of haplotypes and local ancestry. Genetics 196, 625–642 (2014).

Seixas, F. A., Boursot, P. & Melo-Ferreira, J. The genomic impact of historical hybridization with massive mitochondrial DNA introgression. Genome Biol. 19, 91 (2018).

Harris, K. & Nielsen, R. Inferring demographic history from a spectrum of shared haplotype lengths. PLoS Genet. 9, e1003521 (2013).

Chen, H., Patterson, N. & Reich, D. Population differentiation as a test for selective sweeps. Genome Res. 20, 393–402 (2010).

Huang, X. et al. A map of rice genome variation reveals the origin of cultivated rice. Nature 490, 497–501 (2012).

Hufford, M. B. et al. Comparative population genomics of maize domestication and improvement. Nat. Genet. 44, 808–811 (2012).

Wang, W. et al. Genomic variation in 3,010 diverse accessions of Asian cultivated rice. Nature 557, 43–49 (2018).

Stitzer, M. C. & Ross-Ibarra, J. Maize domestication and gene interaction. New Phytol. 220, 395–408 (2018).

Milner, S. G. et al. Genebank genomics highlights the diversity of a global barley collection. Nat. Genet. 51, 319–326 (2019).

Pourkheirandish, M. et al. Evolution of the grain dispersal system in barley. Cell 162, 527–539 (2015).

Avni, R. et al. Wild emmer genome architecture and diversity elucidate wheat evolution and domestication. Science 357, 93–97 (2017).

Pourkheirandish, M. et al. On the origin of the non-brittle rachis trait of domesticated einkorn wheat. Front. Plant Sci. 8, 2031 (2017).

Ray, D. K., Mueller, N. D., West, P. C. & Foley, J. A. Yield trends are insufficient to double global crop production by 2050. PLoS ONE 8, e66428 (2013).

Carroll, S. P. et al. Applying evolutionary biology to address global challenges. Science 346, 1245993 (2014).

Vernot, B. & Akey, J. M. Resurrecting surviving Neandertal lineages from modern human genomes. Science 343, 1017–1021 (2014).

Huang, X., Zhao, Q. & Han, B. Comparative population genomics reveals strong divergence and infrequent introgression between Asian and African rice. Mol. Plant 8, 958–960 (2015).

Zhao, K. et al. Genomic diversity and introgression in O. sativa reveal the impact of domestication and breeding on the rice genome. PLoS ONE 5, e10780 (2010).

Hufford, M. B. et al. The genomic signature of crop-wild introgression in maize. PLoS Genet. 9, e1003477 (2013).

Wang, L. et al. The interplay of demography and selection during maize domestication and expansion. Genome Biol. 18, 215 (2017).

Baduel, P., Bray, S., Vallejo-Marin, M., Kolář, F. & Yant, L. The 'polyploid hop': shifting challenges and opportunities over the evolutionary lifespan of genome duplications. Front. Ecol. Evol. 6, 117 (2018).

Chen, K., Wang, Y., Zhang, R., Zhang, H. & Gao, C. CRISPR/Cas genome editing and precision plant breeding in agriculture. Annu. Rev. Plant Biol. 70, 667–697 (2019).

Li, H. Aligning sequence reads, clone sequences and assembly contigs with BWA-MEM. Preprint at https://arxiv.org/abs/1303.3997 (2013).

Unterseer, S. et al. A powerful tool for genome analysis in maize: development and evaluation of the high density 600 k SNP genotyping array. BMC Genomics 15, 823 (2014).

Bukowski, R. et al. Construction of the third-generation Zea mays haplotype map. Gigascience 7, 134 (2018).

Danecek, P. et al. The variant call format and VCFtools. Bioinformatics 27, 2156–2158 (2011).

Li, H. A statistical framework for SNP calling, mutation discovery, association mapping and population genetical parameter estimation from sequencing data. Bioinformatics 27, 2987–2993 (2011).

Hohenlohe, P. A. et al. Population genomics of parallel adaptation in threespine stickleback using sequenced RAD tags. PLoS Genet. 6, e1000862 (2010).

Mascher, M. et al. A chromosome conformation capture ordered sequence of the barley genome. Nature 544, 427–433 (2017).

Marcais, G. et al. MUMmer4: a fast and versatile genome alignment system. PLoS Comput. Biol. 14, e1005944 (2018).

Stamatakis, A. RAxML version 8: a tool for phylogenetic analysis and post-analysis of large phylogenies. Bioinformatics 30, 1312–1313 (2014).

Letunic, I. & Bork, P. Interactive tree of life (iTOL) v3: an online tool for the display and annotation of phylogenetic and other trees. Nucleic Acids Res. 44, W242–W245 (2016).

Frichot, E., Mathieu, F., Trouillon, T., Bouchard, G. & François, O. Fast and efficient estimation of individual ancestry coefficients. Genetics 196, 973–983 (2014).

Jakobsson, M. & Rosenberg, N. A. CLUMPP: a cluster matching and permutation program for dealing with label switching and multimodality in analysis of population structure. Bioinformatics 23, 1801–1806 (2007).

Nei, M. & Li, W. H. Mathematical model for studying genetic variation in terms of restriction endonucleases. Proc. Natl Acad. Sci. USA 76, 5269–5273 (1979).

International Wheat Genome Sequencing Consortium et al. Shifting the limits in wheat research and breeding using a fully annotated reference genome. Science 361, eaar7191 (2018).

Yeaman, S., Gerstein, A. C., Hodgins, K. A. & Whitlock, M. C. Quantifying how constraints limit the diversity of viable routes to adaptation. PLoS Genet. 14, e1007717 (2018).

Zeng, X. et al. Origin and evolution of qingke barley in Tibet. Nat. Commun. 9, 5433 (2018).

Li, L., Stoeckert, C. J. & Roos, D. S. OrthoMCL: identification of ortholog groups for eukaryotic genomes. Genome Res. 13, 2178–2189 (2003).

Tian, T. et al. agriGO v2.0: a GO analysis toolkit for the agricultural community, 2017 update. Nucleic Acids Res. 45, W122–W129 (2017).

Bray, N. L., Pimentel, H., Melsted, P. & Pachter, L. Near-optimal probabilistic RNA-seq quantification. Nat. Biotechnol. 34, 525–527 (2016).
Acknowledgements
We thank Y. Guo (Institute of Botany, Chinese Academy of Sciences); Z. Liu, S. Zheng, X. Zhang and X. Fu (Institute of Genetics and Developmental Biology, Chinese Academy of Sciences); Y. Zhou (Department of Ecology and Evolutionary Biology, University of California); and P. Kear (International Potato Center–China Center for Asia and the Pacific) for their valuable suggestions and comments. This research was supported by the Strategic Priority Research Program of the Chinese Academy of Sciences (XDA24020201) and the National Natural Science Foundation of China (31970631) to F.L., the National Natural Science Foundation of China (31921005) and Strategic Priority Research Program of the Chinese Academy of Sciences (XDA24020203) to Y.J. and the China Postdoctoral Science Foundation (2018M631614) to Y.Z.
Ethics declarations
Competing interests
The authors declare no competing interests.
Additional information
Publisher's note Springer Nature remains neutral with regard to jurisdictional claims in published maps and institutional affiliations.
Supplementary information
Supplementary Notes 1–6 and Figs. 1–14.
Combined supplementary tables.
About this article
Cite this article
Zhou, Y., Zhao, X., Li, Y. et al. Triticum population sequencing provides insights into wheat adaptation. Nat Genet 52, 1412–1422 (2020). https://doi.org/10.1038/s41588-020-00722-w
Received:

Accepted:

Published:

Issue Date:

DOI: https://doi.org/10.1038/s41588-020-00722-w