Abstract
Increased production of fetal hemoglobin (HbF) can ameliorate the severity of sickle cell disease and β-thalassemia1. BCL11A represses the genes encoding HbF and regulates human hemoglobin switching through variation in its expression during development2,3,4,5,6,7. However, the mechanisms underlying the developmental expression of BCL11A remain mysterious. Here we show that BCL11A is regulated at the level of messenger RNA (mRNA) translation during human hematopoietic development. Despite decreased BCL11A protein synthesis earlier in development, BCL11A mRNA continues to be associated with ribosomes. Through unbiased genomic and proteomic analyses, we demonstrate that the RNA-binding protein LIN28B, which is developmentally expressed in a pattern reciprocal to that of BCL11A, directly interacts with ribosomes and BCL11A mRNA. Furthermore, we show that BCL11A mRNA translation is suppressed by LIN28B through direct interactions, independently of its role in regulating let-7 microRNAs, and that BCL11A is the major target of LIN28B-mediated HbF induction. Our results reveal a previously unappreciated mechanism underlying human hemoglobin switching that illuminates new therapeutic opportunities.
Access options
Subscribe to Journal
Get full journal access for 1 year
$225.00
only $18.75 per issue
All prices are NET prices.
VAT will be added later in the checkout.
Rent or Buy article
Get time limited or full article access on ReadCube.
from$8.99
All prices are NET prices.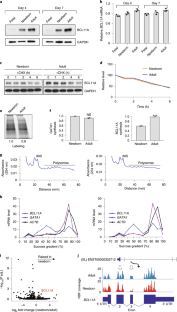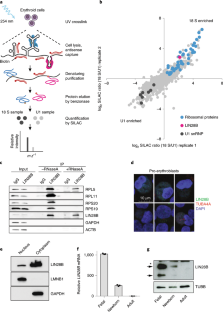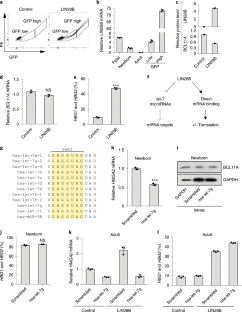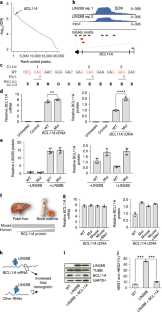 Data availability
The massively parallel sequencing data associated with this manuscript are available in the Gene Expression Omnibus database under accession code GSE118359.
The original mass spectra and the protein sequence database used for searches have been deposited in the public proteomics repository MassIVE (http://massive.ucsd.edu) and are accessible at accession MSV000084443. Source data for Figs. 1–4 and Extended Data Figs. 1, 3–5 and 10 are available online.
References
1.

Sankaran, V. G. & Orkin, S. H. The switch from fetal to adult hemoglobin. Cold Spring Harb. Perspect. Med. 3, a011643 (2013).

2.

Sankaran, V. G. et al. Human fetal hemoglobin expression is regulated by the developmental stage-specific repressor BCL11A. Science 322, 1839–1842 (2008).

3.

Sankaran, V. G. et al. Developmental and species-divergent globin switching are driven by BCL11A. Nature 460, 1093–1097 (2009).

4.

Basak, A. et al. BCL11A deletions result in fetal hemoglobin persistence and neurodevelopmental alterations. J. Clin. Invest. 125, 2363–2368 (2015).

5.

Liu, N. et al. Direct promoter repression by BCL11A controls the fetal to adult hemoglobin switch. Cell 173, 430–442 e17 (2018).

6.

Xu, J. et al. Transcriptional silencing of γ-globin by BCL11A involves long-range interactions and cooperation with SOX6. Genes Dev. 24, 783–798 (2010).

7.

Martyn, G. E. et al. Natural regulatory mutations elevate the fetal globin gene via disruption of BCL11A or ZBTB7A binding. Nat. Genet. 50, 498–503 (2018).

8.

Sankaran, V. G. & Weiss, M. J. Anemia: progress in molecular mechanisms and therapies. Nat. Med. 21, 221–230 (2015).

9.

Menzel, S. et al. A QTL influencing F cell production maps to a gene encoding a zinc-finger protein on chromosome 2p15. Nat. Genet. 39, 1197–1199 (2007).

10.

Uda, M. et al. Genome-wide association study shows BCL11A associated with persistent fetal hemoglobin and amelioration of the phenotype of beta-thalassemia. Proc. Natl Acad. Sci. USA 105, 1620–1625 (2008).

11.

Yen, H. C., Xu, Q., Chou, D. M., Zhao, Z. & Elledge, S. J. Global protein stability profiling in mammalian cells. Science 322, 918–923 (2008).

12.

Ludwig, L. S. et al. Altered translation of GATA1 in Diamond–Blackfan anemia. Nat. Med. 20, 748–753 (2014).

13.

Dieterich, D. C., Link, A. J., Graumann, J., Tirrell, D. A. & Schuman, E. M. Selective identification of newly synthesized proteins in mammalian cells using bioorthogonal noncanonical amino acid tagging (BONCAT). Proc. Natl Acad. Sci. USA 103, 9482–9487 (2006).

14.

Sankaran, V. G. et al. Exome sequencing identifies GATA1 mutations resulting in Diamond–Blackfan anemia. J. Clin. Invest. 122, 2439–2443 (2012).

15.

Khajuria, R. K. et al. Ribosome levels selectively regulate translation and lineage commitment in human hematopoiesis. Cell 173, 90–103 e19 (2018).

16.

Darnell, J. C. et al. FMRP stalls ribosomal translocation on mRNAs linked to synaptic function and autism. Cell 146, 247–261 (2011).

17.

Ingolia, N. T. Ribosome footprint profiling of translation throughout the genome. Cell 165, 22–33 (2016).

18.

Das Sharma, S. et al. Widespread alterations in translation elongation in the brain of juvenile Fmr1 knockout mice. Cell Rep. 26, 3313–3322 e5 (2019).

19.

Richter, J. D. & Coller, J. Pausing on polyribosomes: make way for elongation in translational control. Cell 163, 292–300 (2015).

20.

Chen, E., Sharma, M. R., Shi, X., Agrawal, R. K. & Joseph, S. Fragile X mental retardation protein regulates translation by binding directly to the ribosome. Mol. Cell 54, 407–417 (2014).

21.

McHugh, C. A. et al. The Xist lncRNA interacts directly with SHARP to silence transcription through HDAC3. Nature 521, 232–236 (2015).

22.

Rappsilber, J., Mann, M. & Ishihama, Y. Protocol for micro-purification, enrichment, pre-fractionation and storage of peptides for proteomics using StageTips. Nat. Protoc. 2, 1896–1906 (2007).

23.

Munschauer, M. et al. The NORAD lncRNA assembles a topoisomerase complex critical for genome stability. Nature 561, 132–136 (2018).

24.

Graf, R. et al. Identification of LIN28B-bound mRNAs reveals features of target recognition and regulation. RNA Biol. 10, 1146–1159 (2013).

25.

Lee, Y. T. et al. LIN28B-mediated expression of fetal hemoglobin and production of fetal-like erythrocytes from adult human erythroblasts ex vivo. Blood 122, 1034–1041 (2013).

26.

Yuan, J., Nguyen, C. K., Liu, X., Kanellopoulou, C. & Muljo, S. A. Lin28b reprograms adult bone marrow hematopoietic progenitors to mediate fetal-like lymphopoiesis. Science 335, 1195–1200 (2012).

27.

Rowe, R. G. et al. Developmental regulation of myeloerythroid progenitor function by the Lin28b–let-7–Hmga2 axis. J. Exp. Med. 213, 1497–1512 (2016).

28.

Copley, M. R. et al. The Lin28b–let-7–Hmga2 axis determines the higher self-renewal potential of fetal haematopoietic stem cells. Nat. Cell Biol. 15, 916–925 (2013).

29.

Bronevetsky, Y., Burt, T. D. & McCune, J. M. Lin28b regulates fetal regulatory T cell differentiation through modulation of TGF-beta signaling. J. Immunol. 197, 4344–4350 (2016).

30.

Newman, M. A., Thomson, J. M. & Hammond, S. M. Lin-28 interaction with the Let-7 precursor loop mediates regulated microRNA processing. RNA 14, 1539–1549 (2008).

31.

Viswanathan, S. R., Daley, G. Q. & Gregory, R. I. Selective blockade of microRNA processing by Lin28. Science 320, 97–100 (2008).

32.

Wilbert, M. L. et al. LIN28 binds messenger RNAs at GGAGA motifs and regulates splicing factor abundance. Mol. Cell 48, 195–206 (2012).

33.

Hafner, M. et al. Identification of mRNAs bound and regulated by human LIN28 proteins and molecular requirements for RNA recognition. RNA 19, 613–626 (2013).

34.

Van Nostrand, E. L. et al. Robust transcriptome-wide discovery of RNA-binding protein binding sites with enhanced CLIP (eCLIP). Nat. Methods 13, 508–514 (2016).

35.

Hafner, M. et al. Transcriptome-wide identification of RNA-binding protein and microRNA target sites by PAR-CLIP. Cell 141, 129–141 (2010).

36.

Cho, J. et al. LIN28A is a suppressor of ER-associated translation in embryonic stem cells. Cell 151, 765–777 (2012).

37.

Nam, Y., Chen, C., Gregory, R. I., Chou, J. J. & Sliz, P. Molecular basis for interaction of let-7 microRNAs with Lin28. Cell 147, 1080–1091 (2011).

38.

Giani, F. C. et al. Targeted application of human genetic variation can improve red blood cell production from stem cells. Cell Stem Cell 18, 73–78 (2016).

39.

Bray, N. L., Pimentel, H., Melsted, P. & Pachter, L. Near-optimal probabilistic RNA-seq quantification. Nat. Biotechnol. 34, 525–527 (2016).

40.

Pimentel, H., Bray, N. L., Puente, S., Melsted, P. & Pachter, L. Differential analysis of RNA-seq incorporating quantification uncertainty. Nat. Methods 14, 687–690 (2017).

41.

Hahne, F. & Ivanek, R. Visualizing genomic data using Gviz and Bioconductor. Methods Mol. Biol. 1418, 335–351 (2016).

42.

Ulirsch, J. C. et al. Altered chromatin occupancy of master regulators underlies evolutionary divergence in the transcriptional landscape of erythroid differentiation. PLoS Genet. 10, e1004890 (2014).

43.

Trapnell, C. et al. Differential gene and transcript expression analysis of RNA-seq experiments with TopHat and Cufflinks. Nat. Protoc. 7, 562–578 (2012).

44.

Xue, S. et al. RNA regulons in Hox 5′ UTRs confer ribosome specificity to gene regulation. Nature 517, 33–38 (2015).

45.

Koontz, L. TCA precipitation. Methods Enzymol. 541, 3–10 (2014).

46.

Engreitz, J. M. et al. The Xist lncRNA exploits three-dimensional genome architecture to spread across the X chromosome. Science 341, 1237973 (2013).

47.

Dobin, A. et al. STAR: ultrafast universal RNA-seq aligner. Bioinformatics 29, 15–21 (2013).

48.

Li, W., Wang, W., Uren, P. J., Penalva, L. O. F. & Smith, A. D. Riborex: fast and flexible identification of differential translation from Ribo-seq data. Bioinformatics 33, 1735–1737 (2017).

49.

Robinson, J. T. et al. Integrative genomics viewer. Nat. Biotechnol. 29, 24–26 (2011).

50.

Klass, D. M. et al. Quantitative proteomic analysis reveals concurrent RNA-protein interactions and identifies new RNA-binding proteins in Saccharomyces cerevisiae. Genome Res. 23, 1028–1038 (2013).

51.

Simsek, D. et al. The mammalian ribo-interactome reveals ribosome functional diversity and heterogeneity. Cell 169, 1051–1065 e18 (2017).
Acknowledgements
We are grateful to D. Nathan, G. Daley, L. Zon and members of the Sankaran laboratory for valuable guidance and suggestions. We are grateful to D. Tenen for assistance with RNA immunoprecipitation and H. Keshishian for assistance with mass spectra data access. This work was supported by National Institutes of Health grants nos. U01 HL117720, R01 DK103794 and R33 HL120791 (to V.G.S.) and P01 DK32094 (to N.M.), a gift from the Lodish Family to Boston Children's Hospital (to V.G.S.) and the New York Stem Cell Foundation (to V.G.S.). V.G.S. is a NYSCF–Robertson Investigator.
Ethics declarations
Competing interests
The authors declare no competing interests.
Additional information
Publisher's note Springer Nature remains neutral with regard to jurisdictional claims in published maps and institutional affiliations.
Supplementary information
About this article
Cite this article
Basak, A., Munschauer, M., Lareau, C.A. et al. Control of human hemoglobin switching by LIN28B-mediated regulation of BCL11A translation. Nat Genet 52, 138–145 (2020). https://doi.org/10.1038/s41588-019-0568-7
Received:

Accepted:

Published:

Issue Date:
Further reading
Ruth Simon

,

Christoph Wiegreffe

&

Stefan Britsch

Frontiers in Molecular Neuroscience (2020)

Eugene Khandros

,

Peng Huang

,

Scott A. Peslak

,

Malini Sharma

,

Osheiza Abdulmalik

,

Belinda M. Giardine

,

Zhe Zhang

,

Cheryl A. Keller

,

Ross C. Hardison

&

Gerd A. Blobel

Blood (2020)

Satish K. Nandakumar

,

Xiaotian Liao

&

Vijay G. Sankaran

Trends in Genetics (2020)