Abstract
Core regulatory transcription factors (CR TFs) orchestrate the placement of super-enhancers (SEs) to activate transcription of cell-identity specifying gene networks, and are critical in promoting cancer. Here, we define the core regulatory circuitry of rhabdomyosarcoma and identify critical CR TF dependencies. These CR TFs build SEs that have the highest levels of histone acetylation, yet paradoxically the same SEs also harbor the greatest amounts of histone deacetylases. We find that hyperacetylation selectively halts CR TF transcription. To investigate the architectural determinants of this phenotype, we used absolute quantification of architecture (AQuA) HiChIP, which revealed erosion of native SE contacts, and aberrant spreading of contacts that involved histone acetylation. Hyperacetylation removes RNA polymerase II (RNA Pol II) from core regulatory genetic elements, and eliminates RNA Pol II but not BRD4 phase condensates. This study identifies an SE-specific requirement for balancing histone modification states to maintain SE architecture and CR TF transcription.
Access options
Subscribe to Journal
Get full journal access for 1 year
$59.00
only $4.92 per issue
All prices are NET prices.
VAT will be added later in the checkout.
Tax calculation will be finalised during checkout.
Rent or Buy article
Get time limited or full article access on ReadCube.
from$8.99
All prices are NET prices.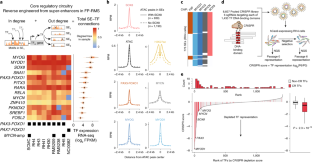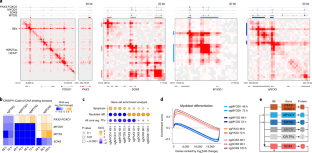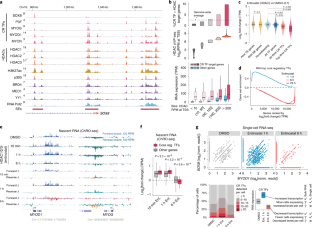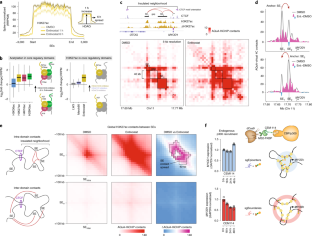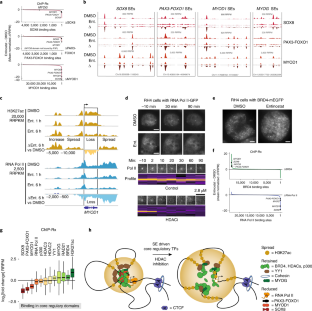 Data availability
The data reported herein are made publicly available through the Gene Expression Omnibus (https://www.ncbi.nlm.nih.gov/geo). The GEO accession number for all ChIP-seq, ChIP-Rx, AQuA-HiChIP and RNA-seq data is GSE116344. Code is available at https://github.com/GryderArt. A list of related resources and reagents used in our study can be found in Supplementary Table 6, which includes a list of all software and data used herein and their sources.
References
1.

Lambert, S. A. et al. The human transcription factors. Cell 172, 650–665 (2018).

2.

Orphanides, G., Lagrange, T. & Reinberg, D. The general transcription factors of RNA polymerase II. Genes Dev. 10, 2657–2683 (1996).

3.

Lee, T. I. & Young, R. A. Transcriptional regulation and its misregulation in disease. Cell 152, 1237–1251 (2013).

4.

Boyer, L. A. et al. Core transcriptional regulatory circuitry in human embryonic stem cells. Cell 122, 947–956 (2005).

5.

Whyte, W. A. et al. Master transcription factors and mediator establish super-enhancers at key cell identity genes. Cell 153, 307–319 (2013).

6.

Saint-André, V. et al. Models of human core transcriptional regulatory circuitries. Genome Res. 26, 385–396 (2016).

7.

Durbin, A. D. et al. Selective gene dependencies in MYCN-amplified neuroblastoma include the core transcriptional regulatory circuitry. Nat. Genet. 50, 1240–1246 (2018).

8.

Lin, C. Y. et al. Active medulloblastoma enhancers reveal subgroup-specific cellular origins. Nature 530, 57–62 (2016).

9.

Hnisz, D. et al. Super-enhancers in the control of cell identity and disease. Cell 155, 934–947 (2013).

10.

Gryder, B. E. et al. Chemical genomics reveals histone deacetylases are required for core regulatory transcription. Nat. Commun. 10, 3004 (2019).

11.

Allfrey, V., Faulkner, R. & Mirsky, A. Acetylation and methylation of histones and their possible role in the regulation of RNA synthesis. Proc. Natl Acad. Sci. USA 51, 786–794 (1964).

12.

Pogo, B., Allfrey, V. & Mirsky, A. RNA synthesis and histone acetylation during the course of gene activation in lymphocytes. Proc. Natl Acad. Sci. USA 55, 805–812 (1966).

13.

Kanno, T. et al. BRD4 assists elongation of both coding and enhancer RNAs by interacting with acetylated histones. Nat. Struct. Mol. Biol. 21, 1047–1057 (2014).

14.

Moriniere, J. et al. Cooperative binding of two acetylation marks on a histone tail by a single bromodomain. Nature 461, 664–668 (2009).

15.

Gryder, B. E. et al. PAX3-FOXO1 establishes myogenic super enhancers and confers BET bromodomain vulnerability. Cancer Discov. 7, 884–899 (2017).

16.

Stewart, E. et al. Identification of therapeutic targets in rhabdomyosarcoma through integrated genomic, epigenomic, and proteomic analyses. Cancer Cell 34, 411–426.e19 (2018).

17.

Meyers, R. M. Computational correction of copy number effect improves specificity of CRISPR-Cas9 essentiality screens in cancer cells. Nat. Genet. 49, 1779–1784 (2017).

18.

Tenente, I. M. et al. Myogenic regulatory transcription factors regulate growth in rhabdomyosarcoma. eLife 6, e19214 (2017).

19.

Schmidt, K., Glaser, G., Wernig, A., Wegner, M. & Rosorius, O. Sox8 is a specific marker for muscle satellite cells and inhibits myogenesis. J. Biol. Chem. 278, 29769–29775 (2003).

20.

Böhm, M. et al. Helicase CHD4 is an epigenetic coregulator of PAX3-FOXO1 in alveolar rhabdomyosarcoma. J. Clin. Invest. 126, 4237–4249 (2016).

21.

Chu, T. et al. Chromatin run-on and sequencing maps the transcriptional regulatory landscape of glioblastoma multiforme. Nat. Genet. 50, 1553–1564 (2018).

22.

Blumberg, A. et al. Characterizing RNA stability genome-wide through combined analysis of PRO-seq and RNA-seq data. Preprint at bioRxiv https://doi.org/10.1101/690644 (2019).

23.

Sharova, L. V. et al. Database for mRNA half-life of 19 977 genes obtained by DNA microarray analysis of pluripotent and differentiating mouse embryonic stem cells. DNA Res. 16, 45–58 (2009).

24.

Fukaya, T., Lim, B. & Levine, M. Enhancer control of transcriptional bursting. Cell 166, 358–368 (2016).

25.

Greer, C. B. et al. Histone deacetylases positively regulate transcription through the elongation machinery. Cell Rep. 13, 1444–1455 (2015).

26.

Sanchez, G. J. et al. Genome-wide dose-dependent inhibition of histone deacetylases studies reveal their roles in enhancer remodeling and suppression of oncogenic super-enhancers. Nucleic Acids Res. 46, 1756–1776 (2018).

27.

Orlando, D. A. et al. Quantitative ChIP-Seq normalization reveals global modulation of the epigenome. Cell Rep. 9, 1163–1170 (2014).

28.

Rao, S. S. P. et al. A 3D map of the human genome at kilobase resolution reveals principles of chromatin looping. Cell 159, 1665–1680 (2014).

29.

Dowen, J. M. et al. Control of cell identity genes occurs in insulated neighborhoods in mammalian chromosomes. Cell 159, 374–387 (2014).

30.

Mumbach, M. R. et al. HiChIP: efficient and sensitive analysis of protein-directed genome architecture. Nat. Methods 13, 919–922 (2016).

31.

Mumbach, M. R. et al. Enhancer connectome in primary human cells identifies target genes of disease-associated DNA elements. Nat. Genet. 49, 1602–1612 (2017).

32.

Chory, E. J. et al. Nucleosome turnover regulates histone methylation patterns over the genome. Mol. Cell 73, 61–72.e3 (2019).

33.

Stanton, B. Z., Chory, E. J. & Crabtree, G. R. Chemically induced proximity in biology and medicine. Science 359, eaao5902 (2018).

34.

Chiarella, A. M. et al. Dose-dependent activation of gene expression is achieved using CRISPR and small molecules that recruit endogenous chromatin machinery. Nat. Biotechnol. https://doi.org/10.1038/s41587-019-0296-7 (2019).

35.

Cho, W.-K. et al. RNA Polymerase II cluster dynamics predict mRNA output in living cells. eLife 5, e13617 (2016).

36.

Cho, W.-K. et al. Mediator and RNA polymerase II clusters associate in transcription-dependent condensates. Science 361, 412–415 (2018).

37.

Weider, M. & Wegner, M. SoxE factors: Transcriptional regulators of neural differentiation and nervous system development. Semin. Cell Dev. Biol. 63, 35–42 (2017).

38.

Banani, S. F., Lee, H. O., Hyman, A. A. & Rosen, M. K. Biomolecular condensates: organizers of cellular biochemistry. Nat. Rev. Mol. Cell Biol. 18, 285–298 (2017).

39.

Sabari, B. R. et al. Coactivator condensation at super-enhancers links phase separation and gene control. Science 361, eaar3958 (2018).

40.

Boulay, G. et al. Cancer-specific retargeting of BAF complexes by a prion-like domain. Cell 171, 163–178.e19 (2017).

41.

Chang, W. et al. Multi-dimensional ClinOmics for precision therapy of children and adolescent young adults with relapsed and refractory cancer: a report from the center for cancer research. Clin. Cancer Res. 22, 3810–3820 (2016).

42.

Barski, A. et al. High-Resolution Profiling of Histone Methylations in the Human Genome. Cell 129, 823–837 (2007).

43.

Yohe, M. E. et al. MEK inhibition induces MYOG and remodels super-enhancers in RAS-driven rhabdomyosarcoma. Sci. Transl Med. 10, eaan4470 (2018).

44.

Buenrostro, J. D., Giresi, P. G., Zaba, L. C., Chang, H. Y. & Greenleaf, W. J. Transposition of native chromatin for fast and sensitive epigenomic profiling of open chromatin, DNA-binding proteins and nucleosome position. Nat. Methods 10, 1213–1218 (2013).

45.

Hodges, H. C. et al. Dominant-negative SMARCA4 mutants alter the accessibility landscape of tissue-unrestricted enhancers. Nat. Struct. Mol. Biol. 25, 61–72 (2018).

46.

Subramanian, A. et al. Gene set enrichment analysis: a knowledge-based approach for interpreting genome-wide expression profiles. Proc. Natl Acad. Sci. USA 102, 15545–15550 (2005).

47.

Tarumoto, Y. et al. LKB1, salt-inducible kinases, and MEF2C are linked dependencies in acute myeloid leukemia. Mol. Cell 69, 1017–1027.e6 (2018).

48.

Shi, J. et al. Discovery of cancer drug targets by CRISPR-Cas9 screening of protein domains. Nat. Biotechnol. 33, 661–667 (2015).

49.

Macosko, E. Z. et al. Highly parallel genome-wide expression profiling of individual cells using nanoliter droplets. Cell 161, 1202–1214 (2015).

50.

Kidder, B. L. & Zhao, K. Efficient library preparation for next-generation sequencing analysis of genome-wide epigenetic and transcriptional landscapes in embryonic stem cells. Methods Mol Biol. 1150, 3–20 (2014).

51.

Servant, N. et al. HiC-Pro: an optimized and flexible pipeline for Hi-C data processing. Genome Biol. 16, 259 (2015).

52.

Durand, N. C. et al. Juicer provides a one-click system for analyzing loop-resolution Hi-C experiments. Cell Syst. 3, 95–98 (2016).

53.

Stanton, B., Khan, J., Gryder, B. Absolute quantification of architecture (AQuA-HiChIP) enables measurement of differential chromatin interactions. Protoc. Exch. https://doi.org/10.1038/protex.2018.130 (2018).

54.

York, A. G. et al. Instant super-resolution imaging in live cells and embryos via analog image processing. Nat. Methods 10, 1122–1126 (2013).

55.

Edelstein, A. D. et al. Advanced methods of microscope control using μManager software. J. Biol Methods 1, e10 (2014).
Acknowledgements
We would like to thank M. Yohe, D. Levens, I. Klein, W. Kuehl, B. Hawley, C. Greer and E. Chory for thoughtful discussions regarding experiments and the manuscript. We are grateful to C. Danko and S.-P. Chou for advice, protocols and code involved with performing ChRO-seq. We are indebted to J. Qi and L. Wu for providing selective HDAC inhibitors LW3 and Merck60. We also thank P. Brown of the Structural Genomics Consortium for providing their set of other epigenetic molecules. We thank the CCR Genomics Core at the National Cancer Institute, NIH, Bethesda, MD, USA, for sequencing the single-cell RNA. This work was supported by the NCI, NIH. S.P. is a recipient of a Fondazione Veronesi fellowship. R. Rota was supported by Associazione Italiana Ricerca sul Cancro (AIRC 15312) and Italian Ministry of Health (PE-2013-02355271). N. Hathaway is supported in part by Grant R01GM118653 from the US National Institutes of Health. C. R. Vakoc and X. S. Wu were supported by the Pershing Square Sohn Cancer Research Alliance, Northwell Health Translational Research Award, the Christina Renna Foundation, The Clark Gillies Foundation, the Friends of T.J. Foundation and the Michelle Paternoster Foundation for Sarcoma Research. B.Z.S. is supported as a St. Baldrick's Foundation Scholar. Finally, we are indebted to H. Vishwasrao and H. Shroff for contributing their expertise on high-resolution imaging. The content of this publication does not necessarily reflect the views or policies of the Department of Health and Human Services. Mention of trade names, commercial products, or organizations does not indicate endorsement by the US Government.
Ethics declarations
Competing interests
The authors declare no competing interests.
Additional information
Publisher's note Springer Nature remains neutral with regard to jurisdictional claims in published maps and institutional affiliations.
Supplementary information
Supplementary information
About this article
Cite this article
Gryder, B.E., Pomella, S., Sayers, C. et al. Histone hyperacetylation disrupts core gene regulatory architecture in rhabdomyosarcoma. Nat Genet 51, 1714–1722 (2019). https://doi.org/10.1038/s41588-019-0534-4
Received:

Accepted:

Published:

Issue Date: