Abstract
Some cancer therapies damage DNA and cause mutations in both cancerous and healthy cells. Therapy-induced mutations may underlie some of the long-term and late side effects of treatments, such as mental disabilities, organ toxicity and secondary neoplasms. Nevertheless, the burden of mutation contributed by different chemotherapies has not been explored. Here we identify the mutational signatures or footprints of six widely used anticancer therapies across more than 3,500 metastatic tumors originating from different organs. These include previously known and new mutational signatures generated by platinum-based drugs as well as a previously unknown signature of nucleoside metabolic inhibitors. Exploiting these mutational footprints, we estimate the contribution of different treatments to the mutation burden of tumors and their risk of contributing coding and potential driver mutations in the genome. The mutational footprints identified here allow for precise assessment of the mutational risk of different cancer therapies to understand their long-term side effects.
Relevant articles
Open Access articles citing this article.
Jared H. Graham

,

Johannes C. M. Schlachetzki

…

Martin W. Breuss

Neuroscience Bulletin Open Access 29 October 2023

Gustav Alexander Poulsgaard

,

Simon Grund Sørensen

…

Jakob Skou Pedersen

Genome Medicine Open Access 17 August 2023

Sujath Abbas

,

Oriol Pich

…

Maria Secrier

Nature Communications Open Access 15 July 2023
Access options
Access Nature and 54 other Nature Portfolio journals
Get Nature+, our best-value online-access subscription
$29.99 / 30 days
cancel any time
Subscribe to this journal
Receive 12 print issues and online access
$209.00 per year
only $17.42 per issue
Rent or buy this article
Prices vary by article type
from$1.95
to$39.95
Prices may be subject to local taxes which are calculated during checkout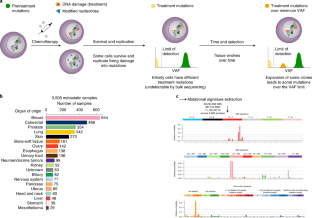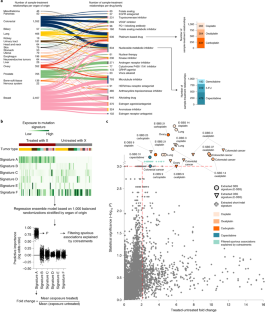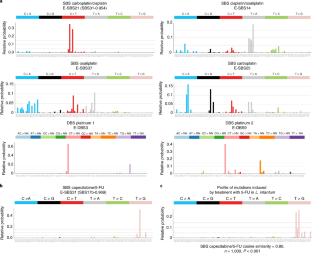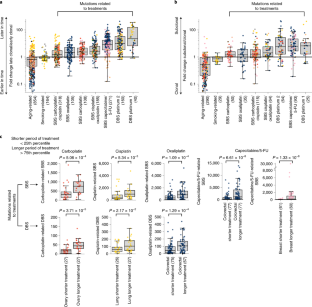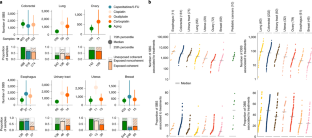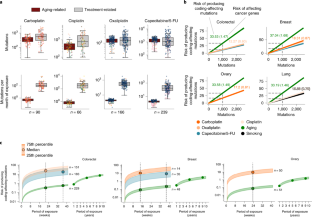 Data availability
As part of this work, we did not generate any original data. We reused publicly available data described in specific sections of the Methods. The metastatic tumor cohort data (DR-024 v.2) are available from the Hartwig Medical Foundation for academic research upon request (https://www.hartwigmedicalfoundation.nl/en).
References
Martincorena, I. & Campbell, P. J. Somatic mutation in cancer and normal cells. Science 349, 1483–1489 (2015).

Alexandrov, L. B. et al. Signatures of mutational processes in human cancer. Nature 500, 415–421 (2013).

Alexandrov, L. et al. The repertoire of mutational signatures in human cancer. Preprint at bioRxiv https://doi.org/10.1101/322859322859 (2018).

Nik-Zainal, S. et al. The genome as a record of environmental exposure. Mutagenesis 30, 763–770 (2015).

Helleday, T., Eshtad, S. & Nik-Zainal, S. Mechanisms underlying mutational signatures in human cancers. Nat. Rev. Genet. 15, 585–598 (2014).

Kucab, J. E. et al. A compendium of mutational signatures of environmental agents. Cell 177, 821–836.e16 (2019).

Boot, A. et al. In-depth characterization of the cisplatin mutational signature in human cell lines and in esophageal and liver tumors. Genome Res. 28, 654–665 (2018).

Kopp, L. M., Gupta, P., Pelayo-Katsanis, L., Wittman, B. & Katsanis, E. Late effects in adult survivors of pediatric cancer: a guide for the primary care physician. Am. J. Med. 125, 636–641 (2012).

Iyer, N. S., Balsamo, L. M., Bracken, M. B. & Kadan-Lottick, N. S. Chemotherapy-only treatment effects on long-term neurocognitive functioning in childhood ALL survivors: a review and meta-analysis. Blood 126, 346–353 (2015).

van der Plas, E. et al. Neurocognitive late effects of chemotherapy in survivors of acute lymphoblastic leukemia: focus on methotrexate. J. Can. Acad. Child Adolesc. Psychiatry 24, 25–32 (2015).

Poon, S. L., McPherson, J. R., Tan, P., Teh, B. T. & Rozen, S. G. Mutation signatures of carcinogen exposure: genome-wide detection and new opportunities for cancer prevention. Genome Med. 6, 24 (2014).

Liu, D. et al. Mutational patterns in chemotherapy resistant muscle-invasive bladder cancer. Nat. Commun. 8, 2193 (2017).

Wang, J. et al. Clonal evolution of glioblastoma under therapy. Nat. Genet. 48, 768–776 (2016).

Behjati, S. et al. Mutational signatures of ionizing radiation in second malignancies. Nat. Commun. 7, 12605 (2016).

Priestley, P. et al. Pan-cancer whole genome analyses of metastatic solid tumors. Preprint at bioRxiv https://doi.org/10.1101/415133 (2018).

Kasar, S. et al. Whole-genome sequencing reveals activation-induced cytidine deaminase signatures during indolent chronic lymphocytic leukaemia evolution. Nat. Commun. 6, 8866 (2015).

Kim, J. et al. Somatic ERCC2 mutations are associated with a distinct genomic signature in urothelial tumors. Nat. Genet. 48, 600–606 (2016).

Alexandrov, L. B., Nik-Zainal, S., Wedge, D. C., Campbell, P. J. & Stratton, M. R. Deciphering signatures of mutational processes operative in human cancer. Cell Rep. 3, 246–259 (2013).

Lee-Six, H. et al. The landscape of somatic mutation in normal colorectal epithelial cells. Preprint at bioRxiv https://doi.org/10.1101/416800 (2018).

Alexandrov, L. B. et al. Clock-like mutational processes in human somatic cells. Nat. Genet. 47, 1402–1407 (2015).

Alexandrov, L. B. et al. Mutational signatures associated with tobacco smoking in human cancer. Science 354, 618–622 (2016).

Hanawalt, P. C. & Spivak, G. Transcription-coupled DNA repair: two decades of progress and surprises. Nat. Rev. Mol. Cell Biol. 9, 958–970 (2008).

Xu, J. et al. Structural basis for the initiation of eukaryotic transcription-coupled DNA repair. Nature 551, 653–657 (2017).

Szikriszt, B. et al. A comprehensive survey of the mutagenic impact of common cancer cytotoxics. Genome Biol. 17, 99 (2016).

Ritt, J.-F. et al. Gene amplification and point mutations in pyrimidine metabolic genes in 5-fluorouracil resistant Leishmania infantum. PLoS Negl. Trop. Dis. 7, e2564 (2013).

Wyatt, M. D. & Wilson, D. M. Participation of DNA repair in the response to 5-fluorouracil. Cell. Mol. Life Sci. 66, 788–799 (2009).

Segovia, R., Shen, Y., Lujan, S. A., Jones, S. J. M. & Stirling, P. C. Hypermutation signature reveals a slippage and realignment model of translesion synthesis by Rev3 polymerase in cisplatin-treated yeast. Proc. Natl Acad. Sci. USA 114, 2663–2668 (2017).

Tomkova, M., Tomek, J., Kriaucionis, S. & Schuster-Böckler, B. Mutational signature distribution varies with DNA replication timing and strand asymmetry. Genome Biol. 19, 129 (2018).

Gerstung, M. et al. The evolutionary history of 2,658 cancers. Preprint at bioRxiv https://doi.org/10.1101/161562 (2017).

Brady, S. W. et al. The clonal evolution of metastatic osteosarcoma as shaped by cisplatin treatment.Mol. Cancer Res. 17, 895–906 (2019).

Sondka, Z. et al. The COSMIC Cancer Gene Census: describing genetic dysfunction across all human cancers. Nat. Rev. Cancer 18, 696–705 (2018).

Zagar, T. M., Cardinale, D. M. & Marks, L. B. Breast cancer therapy-associated cardiovascular disease. Nat. Rev. Clin. Oncol. 13, 172–184 (2016).

Stone, J. B. & DeAngelis, L. M. Cancer-treatment-induced neurotoxicity: focus on newer treatments. Nat. Rev. Clin. Oncol. 13, 92–105 (2016).

Lipshultz, S. E., Cochran, T. R., Franco, V. I. & Miller, T. L. Treatment-related cardiotoxicity in survivors of childhood cancer. Nat. Rev. Clin. Oncol. 10, 697–710 (2013).

Florea, A.-M. & Büsselberg, D. Cisplatin as an anti-tumor drug: cellular mechanisms of activity, drug resistance and induced side effects. Cancers (Basel) 3, 1351–1371 (2011).

Ahles, T. A. & Saykin, A. J. Candidate mechanisms for chemotherapy-induced cognitive changes. Nat. Rev. Cancer 7, 192–201 (2007).

Dracham, C. B., Shankar, A. & Madan, R. Radiation induced secondary malignancies: a review article. Radiat. Oncol. J. 36, 85–94 (2018).

Boffetta, P. & Kaldor, J. M. Secondary malignancies following cancer chemotherapy. Acta Oncol. 33, 591–598 (1994).

Choi, D. K., Helenowski, I. & Hijiya, N. Secondary malignancies in pediatric cancer survivors: perspectives and review of the literature. Int. J. Cancer 135, 1764–1773 (2014).

Kent, W. J. et al. The human genome browser at UCSC. Genome Res. 12, 996–1006 (2002).

Rosenthal, R., McGranahan, N., Herrero, J., Taylor, B. S. & Swanton, C. DeconstructSigs: delineating mutational processes in single tumors distinguishes DNA repair deficiencies and patterns of carcinoma evolution. Genome Biol. 17, 31 (2016).

Lange, S. S., Takata, K. & Wood, R. D. DNA polymerases and cancer. Nat. Rev. Cancer 11, 96–110 (2011).

Bezanson, J., Edelman, A., Karpinski, S. & Shah, V. B. Julia: a fresh approach to numerical computing. SIAM Rev. Soc. Ind. Appl. Math. 59, 65–98 (2017).

Haradhvala, N. J. J. et al. Mutational strand asymmetries in cancer genomes reveal mechanisms of DNA damage and repair. Cell 164, 538–549 (2016).

Morganella, S. et al. The topography of mutational processes in breast cancer genomes. Nat. Commun. 7, 11383 (2016).

Pich, O. et al. Somatic and germline mutation periodicity follow the orientation of the DNA minor groove around nucleosomes. Cell 175, 1074–1087.e18 (2018).

Langmead, B. & Salzberg, S. L. Fast gapped-read alignment with Bowtie 2. Nat. Methods 9, 357–359 (2012).

Li, H. et al. The Sequence Alignment/Map format and SAMtools. Bioinformatics 25, 2078–2079 (2009).
Acknowledgements
N.L-B. acknowledges funding from the European Research Council (consolidator grant no. 682398) and ERDF/Spanish Ministry of Science, Innovation and Universities-Spanish State Research Agency/DamReMap Project (grant no. RTI2018-094095-B-I00). The Institute for Research in Biomedicine Barcelona is a recipient of a Severo Ochoa Centre of Excellence Award (SEV-2015-0500) from the Spanish Ministry of Economy and Competitiveness and is supported by Centres de Recerca de Catalunya (Generalitat de Catalunya). O.P. is the recipient of a BIST PhD fellowship supported by the Secretariat for Universities and Research of the Ministry of Business and Knowledge of the Government of Catalonia and the Barcelona Institute of Science and Technology. A.G-P. is supported by a Ramón y Cajal contract (grant no. RYC-2013-14554). We acknowledge S. Gonzalez for guidance in the analysis of mutations timing and J. Deu-Pons for help with the reimplementation of SigProfiler in the Julia programming language. This publication and the underlying study have been made possible partly on the basis of the data that the Hartwig Medical Foundation has made available to the study. In particular, we acknowledge N. Steeghs (Netherlands Cancer Institute-Antoni van Leeuwenhoekziekenhuis), M. Lolkema (Erasmus University Medical Center), E. Witteveen (UMC Utrecht), H. Bloemendal (Meander Medisch Centrum), H. Verheul (VU University Medical Center Amsterdam), and L. V. Beerepoot (Elisabeth Tweesteden Ziekenhuis), whose institutions contributed more than 5% of the samples in the adult metastatic dataset used in the analyses. Data from the Childhood Solid Tumor Network has also been used in the paper.
Ethics declarations
Competing interests
The authors declare no competing interests.
Additional information
Publisher's note Springer Nature remains neutral with regard to jurisdictional claims in published maps and institutional affiliations.
Supplementary information
About this article
Cite this article
Pich, O., Muiños, F., Lolkema, M.P. et al. The mutational footprints of cancer therapies. Nat Genet 51, 1732–1740 (2019). https://doi.org/10.1038/s41588-019-0525-5
Received:

Accepted:

Published:

Issue Date:

DOI: https://doi.org/10.1038/s41588-019-0525-5