Abstract
The early stages of type 1 diabetes (T1D) are characterized by local autoimmune inflammation and progressive loss of insulin-producing pancreatic β cells. Here we show that exposure to proinflammatory cytokines reveals a marked plasticity of the β-cell regulatory landscape. We expand the repertoire of human islet regulatory elements by mapping stimulus-responsive enhancers linked to changes in the β-cell transcriptome, proteome and three-dimensional chromatin structure. Our data indicate that the β-cell response to cytokines is mediated by the induction of new regulatory regions as well as the activation of primed regulatory elements prebound by islet-specific transcription factors. We find that T1D-associated loci are enriched with newly mapped cis-regulatory regions and identify T1D-associated variants disrupting cytokine-responsive enhancer activity in human β cells. Our study illustrates how β cells respond to a proinflammatory environment and implicate a role for stimulus response islet enhancers in T1D.
Your institute does not have access to this article
Relevant articles
Open Access articles citing this article.
Daniel DiCorpo

,

Sheila M. Gaynor

…

Alisa K. Manning

Communications Biology Open Access 28 July 2022

Shubham Khetan

,

Susan Kales

…

Michael L. Stitzel

Nature Communications Open Access 02 September 2021

Mireia Ramos-Rodríguez

,

Beatriz Pérez-González

&

Lorenzo Pasquali

Current Diabetes Reports Open Access 02 January 2021
Access options
Subscribe to Nature+
Get immediate online access to the entire Nature family of 50+ journals
Subscribe to Journal
Get full journal access for 1 year
$59.00
only $4.92 per issue
All prices are NET prices.
VAT will be added later in the checkout.
Tax calculation will be finalised during checkout.
Buy article
Get time limited or full article access on ReadCube.
$32.00
All prices are NET prices.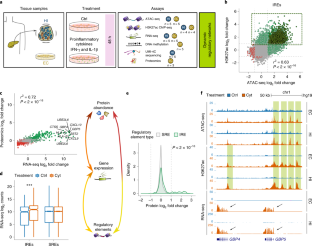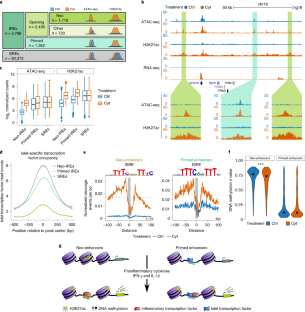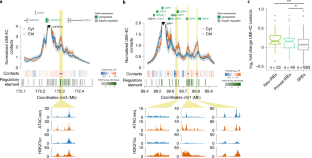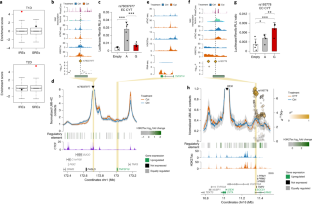 Data availability
Datasets for the IREs are available for download and visualization at the Islet Regulome Browser83 (www.isletregulome.com).
Raw sequencing reads for the different high-throughput assays can be accessed at the Gene Expression Omnibus with the following identifiers: GSE123404 (ATAC-seq); GSE133135 (H3K27ac data); GSE137136 (RNA-seq); and GSE136865 (UMI-4C). Raw proteomics data can be accessed at the ProteomeXchange with the identifier PXD011902.
Code availability
The code and scripts used in this study are available from the corresponding author upon reasonable request.
References
Todd, J. A. Etiology of type 1 diabetes. Immunity 32, 457–467 (2010).

Ziegler, A.-G. & Nepom, G. T. Prediction and pathogenesis in type 1 diabetes. Immunity 32, 468–478 (2010).

Eizirik, D. L., Colli, M. L. & Ortis, F. The role of inflammation in insulitis and β-cell loss in type 1 diabetes. Nat. Rev. Endocrinol. 5, 219–226 (2009).

Onengut-Gumuscu, S. et al. Fine mapping of type 1 diabetes susceptibility loci and evidence for colocalization of causal variants with lymphoid gene enhancers. Nat. Genet. 47, 381–386 (2015).

Farh, K. K. et al. Genetic and epigenetic fine mapping of causal autoimmune disease variants. Nature 518, 337–343 (2015).

Ravassard, P. et al. A genetically engineered human pancreatic β cell line exhibiting glucose-inducible insulin secretion. J. Clin. Invest. 121, 3589–3597 (2011).

Ostuni, R. et al. Latent enhancers activated by stimulation in differentiated cells. Cell 152, 157–171 (2013).

Gonzalez-Duque, S. et al. Conventional and neo-antigenic peptides presented by β cells are targeted by circulating naïve CD8+ T cells in type 1 diabetic and healthy donor.Cell Metab. 28, 946–960.e6 (2018).

Pasquali, L. et al. Pancreatic islet enhancer clusters enriched in type 2 diabetes risk-associated variants. Nat. Genet. 46, 136–143 (2014).

Sung, M.-H., Guertin, M. J., Baek, S. & Hager, G. L. DNase footprint signatures are dictated by factor dynamics and DNA sequence. Mol. Cell 56, 275–285 (2014).

Bird, A. DNA methylation patterns and epigenetic memory. Genes Dev. 16, 6–21 (2002).

Hemberger, M., Dean, W. & Reik, W. Epigenetic dynamics of stem cells and cell lineage commitment: digging Waddington's canal. Nat. Rev. Mol. Cell Biol. 10, 526–537 (2009).

Lister, R. et al. Human DNA methylomes at base resolution show widespread epigenomic differences. Nature 462, 315–322 (2009).

Feinberg, A. P. Phenotypic plasticity and the epigenetics of human disease. Nature 447, 433–440 (2007).

Dixon, J. R. et al. Topological domains in mammalian genomes identified by analysis of chromatin interactions. Nature 485, 376–380 (2012).

Nora, E. P. et al. Spatial partitioning of the regulatory landscape of the X-inactivation centre. Nature 485, 381–385 (2012).

Dekker, J., Marti-Renom, M. A. & Mirny, L. A. Exploring the three-dimensional organization of genomes: interpreting chromatin interaction data. Nat. Rev. Genet. 14, 390–403 (2013).

Symmons, O. et al. Functional and topological characteristics of mammalian regulatory domains. Genome Res. 24, 390–400 (2014).

Krivega, I., Dale, R. K. & Dean, A. Role of LDB1 in the transition from chromatin looping to transcription activation. Genes Dev. 28, 1278–1290 (2014).

Yu, M. & Ren, B. The three-dimensional organization of mammalian genomes. Annu. Rev. Cell Dev. Biol. 33, 265–289 (2017).

Rowley, M. J. & Corces, V. G. Organizational principles of 3D genome architecture. Nat. Rev. Genet. 19, 789–800 (2018).

Schoenfelder, S. & Fraser, P. Long-range enhancer-promoter contacts in gene expression control. Nat. Rev. Genet. 20, 437–455 (2019).

Stadhouders, R., Filion, G. J. & Graf, T. Transcription factors and 3D genome conformation in cell-fate decisions. Nature 569, 345–354 (2019).

Miguel-Escalada, I. et al. Human pancreatic islet three-dimensional chromatin architecture provides insights into the genetics of type 2 diabetes. Nat. Genet. 51, 1137–1148 (2019).

Schwartzman, O. et al. UMI-4C for quantitative and targeted chromosomal contact profiling. Nat. Methods 13, 685–691 (2016).

MacArthur, J. et al. The new NHGRI-EBI Catalog of published genome-wide association studies (GWAS Catalog). Nucleic Acids Res. 45, D896–D901 (2017).

Parker, S. C. J. et al. Chromatin stretch enhancer states drive cell-specific gene regulation and harbor human disease risk variants. Proc. Natl Acad. Sci. USA 110, 17921–17926 (2013).

Cooper, N. J. et al. Type 1 diabetes genome-wide association analysis with imputation identifies five new risk regions. Preprint at bioRxiv https://doi.org/10.1101/120022 (2017).

Fortune, M. D. et al. Statistical colocalization of genetic risk variants for related autoimmune diseases in the context of common controls. Nat. Genet. 47, 839–846 (2015).

Ray, A., Basu, S., Williams, C. B., Salzman, N. H. & Dittel, B. N. A novel IL-10-independent regulatory role for B cells in suppressing autoimmunity by maintenance of regulatory T cells via GITR ligand. J. Immunol. 188, 3188–3198 (2012).

Davison, L. J. et al. Long-range DNA looping and gene expression analyses identify DEXI as an autoimmune disease candidate gene. Hum. Mol. Genet. 21, 322–333 (2012).

Dos Santos, R. S. et al. DEXI, a candidate gene for type 1 diabetes, modulates rat and human pancreatic beta cell inflammation via regulation of the type I IFN/STAT signalling pathway. Diabetologia 62, 459–472 (2019).

Alasoo, K. et al. Shared genetic effects on chromatin and gene expression indicate a role for enhancer priming in immune response. Nat. Genet. 50, 424–431 (2018).

Heinz, S. et al. Effect of natural genetic variation on enhancer selection and function. Nature 503, 487–492 (2013).

Vandenbon, A., Kumagai, Y., Lin, M., Suzuki, Y. & Nakai, K. Waves of chromatin modifications in mouse dendritic cells in response to LPS stimulation. Genome Biol. 19, 138 (2018).

Phanstiel, D. H. et al. Static and dynamic DNA loops form AP-1-bound activation hubs during macrophage development. Mol. Cell 67, 1037–1048.e6 (2017).

Mumbach, M. R. et al. Enhancer connectome in primary human cells identifies target genes of disease-associated DNA elements. Nat. Genet. 49, 1602–1612 (2017).

Taberlay, P. C. et al. Three-dimensional disorganization of the cancer genome occurs coincident with long-range genetic and epigenetic alterations. Genome Res. 26, 719–731 (2016).

Barutcu, A. R. et al. Chromatin interaction analysis reveals changes in small chromosome and telomere clustering between epithelial and breast cancer cells. Genome Biol. 16, 214 (2015).

Chandra, T. et al. Global reorganization of the nuclear landscape in senescent cells. Cell Rep. 10, 471–483 (2015).

Criscione, S. W. et al. Reorganization of chromosome architecture in replicative cellular senescence. Sci. Adv. 2, e1500882 (2016).

Le Dily, F. et al. Distinct structural transitions of chromatin topological domains correlate with coordinated hormone-induced gene regulation. Genes Dev. 28, 2151–2162 (2014).

Op de Beeck, A. & Eizirik, D. L. Viral infections in type 1 diabetes mellitus: why the β cells? Nat. Rev. Endocrinol. 12, 263–273 (2016).

Kim-Hellmuth, S. et al. Genetic regulatory effects modified by immune activation contribute to autoimmune disease associations. Nat. Commun. 8, 266 (2017).

Bucher, P. et al. Assessment of a novel two-component enzyme preparation for human islet isolation and transplantation. Transplantation 79, 91–97 (2005).

Melzi, R. et al. Role of CCL2/MCP-1 in islet transplantation. Cell Transplant. 19, 1031–1046 (2010).

Eizirik, D. L. et al. The human pancreatic islet transcriptome: expression of candidate genes for type 1 diabetes and the impact of pro-inflammatory cytokines. PLoS Genet. 8, e1002552 (2012).

Colli, M. L., Moore, F., Gurzov, E. N., Ortis, F. & Eizirik, D. L. MDA5 and PTPN2, two candidate genes for type 1 diabetes, modify pancreatic β-cell responses to the viral by-product double-stranded RNA. Hum. Mol. Genet. 19, 135–146 (2010).

Ortis, F. et al. Cytokine-induced proapoptotic gene expression in insulin-producing cells is related to rapid, sustained, and nonoscillatory nuclear factor-κB activation. Mol. Endocrinol. 20, 1867–1879 (2006).

Buenrostro, J. D., Giresi, P. G., Zaba, L. C., Chang, H. Y. & Greenleaf, W. J. Transposition of native chromatin for fast and sensitive epigenomic profiling of open chromatin, DNA-binding proteins and nucleosome position. Nat. Methods 10, 1213–1218 (2013).

Lavin, Y. et al. Tissue-resident macrophage enhancer landscapes are shaped by the local microenvironment. Cell 159, 1312–1326 (2014).

Raurell-Vila H., Ramos-Rodríguez M., & Pasquali L. Assay for transposase accessible chromatin (ATAC-Seq) to chart the open chromatin landscape of human pancreatic islets. Methods Mol. Biol. 1766, 197–208 (2018).

Schmidl, C., Rendeiro, A. F., Sheffield, N. C. & Bock, C. ChIPmentation: fast, robust, low-input ChIP-seq for histones and transcription factors. Nat. Methods 12, 963–965 (2015).

Langmead, B. & Salzberg, S. L. Fast gapped-read alignment with Bowtie 2. Nat. Methods 9, 357–359 (2012).

Dunham, I. et al. An integrated encyclopedia of DNA elements in the human genome. Nature 489, 57–74 (2012).

Li, H. et al. The Sequence Alignment/Map format and SAMtools. Bioinformatics 25, 2078–2079 (2009).

Zhang, Y. et al. Model-based analysis of ChIP-Seq (MACS). Genome Biol. 9, R137 (2008).

Juan-Mateu, J. et al. SRp55 regulates a splicing network that controls human pancreatic β-cell function and survival. Diabetes 67, 423–436 (2018).

Trapnell, C., Pachter, L. & Salzberg, S. L. TopHat: discovering splice junctions with RNA-Seq. Bioinformatics 25, 1105–1111 (2009).

Harrow, J. et al. GENCODE: the reference human genome annotation for The ENCODE Project. Genome Res. 22, 1760–1774 (2012).

Anders, S., Pyl, P. T. & Huber, W. HTSeq: a Python framework to work with high-throughput sequencing data. Bioinformatics 31, 166–169 (2015).

Love, M. I., Huber, W. & Anders, S. Moderated estimation of fold change and dispersion for RNA-seq data with DESeq2. Genome Biol. 15, 550 (2014).

Nakayasu, E. S. et al. MPLEx: a robust and universal protocol for single-sample integrative proteomic, metabolomic, and lipidomic analyses. mSystems 1, e00043-16 (2016).

Mayampurath, A. M. et al. DeconMSn: a software tool for accurate parent ion monoisotopic mass determination for tandem mass spectra. Bioinformatics 24, 1021–1023 (2008).

Petyuk, V. A. et al. DtaRefinery, a software tool for elimination of systematic errors from parent ion mass measurements in tandem mass spectra data sets. Mol. Cell. Proteomics 9, 486–496 (2010).

Kim, S. & Pevzner, P. A. MS-GF+ makes progress towards a universal database search tool for proteomics. Nat. Commun. 5, 5277 (2014).

Webb-Robertson, B.-J. M. et al. Bayesian proteoform modeling improves protein quantification of global proteomic measurements. Mol. Cell. Proteomics 13, 3639–3646 (2014).

Li, T. et al. GeNets: a unified web platform for network-based genomic analyses. Nat. Methods 15, 543–546 (2018).

Li, T. et al. A scored human protein–protein interaction network to catalyze genomic interpretation. Nat. Methods 14, 61–64 (2017).

Herwig, R., Hardt, C., Lienhard, M. & Kamburov, A. Analyzing and interpreting genome data at the network level with ConsensusPathDB. Nat. Protoc. 11, 1889–1907 (2016).

Liberzon, A. et al. Molecular signatures database (MSigDB) 3.0. Bioinformatics 27, 1739–1740 (2011).

Heinz, S. et al. Simple combinations of lineage-determining transcription factors prime cis-regulatory elements required for macrophage and B cell identities. Mol. Cell 38, 576–589 (2010).

Wickham, H. ggplot2: Elegant Graphics for Data Analysis (Springer, 2009).

Moran, S., Arribas, C. & Esteller, M. Validation of a DNA methylation microarray for 850,000 CpG sites of the human genome enriched in enhancer sequences. Epigenomics 8, 389–399 (2016).

Assenov, Y. et al. Comprehensive analysis of DNA methylation data with RnBeads. Nat. Methods 11, 1138–1140 (2014).

Ritchie, M. E. et al. limma powers differential expression analyses for RNA-sequencing and microarray studies. Nucleic Acids Res. 43, e47 (2015).

Du, P. et al. Comparison of Beta-value and M-value methods for quantifying methylation levels by microarray analysis. BMC Bioinformatics 11, 587 (2010).

Aronesty, E. Comparison of sequencing utility programs. Open Bioinforma. J. 7, 1–8 (2013).

Ahmed, M. et al. Variant Set Enrichment: an R package to identify disease-associated functional genomic regions. BioData Min. 10, 9 (2017).

Auton, A. et al. A global reference for human genetic variation. Nature 526, 68–74 (2015).

Jordà, M. et al. Upregulation of MMP-9 in MDCK epithelial cell line in response to expression of the Snail transcription factor. J. Cell Sci. 118, 3371–3385 (2005).

Brozzi, F. et al. Cytokines induce endoplasmic reticulum stress in human, rat and mouse beta cells via different mechanisms. Diabetologia 58, 2307–2316 (2015).

Mularoni, L., Ramos-Rodríguez, M. & Pasquali, L. The pancreatic Islet Regulome Browser. Front. Genet. 8, 13 (2017).
Acknowledgements
L.Pasquali was supported by grants from the Spanish Ministry of Economy and Competitiveness (nos. BFU2014-58150-R and SAF2017-86242-R), Marató TV3 (no. 201624.10) and a young investigator award from the Spanish Society of Diabetes (Ayuda SED a Proyectos de Investigación, no. 2017-SED). L.Pasquali is a recipient of a Ramon y Cajal contract from the Spanish Ministry of Economy and Competitiveness (no. RYC-2013-12864). The Pasquali lab is further supported by Instituto de Salud Carlos III (no. PIE16/00011). M.R. is supported by an FI Agència de Gestió d'Ajuts Universitaris i de Recerca PhD fellowship (no. 2019FI_B100203). J.J. was supported by a Marie Skłodowska-Curie Actions fellowship grant from the Horizons 2020 European Union (EU) Programme (project no. 660449). M.I.A. was supported by a FRIA fellowship from the Fonds de la Recherche Scientifique (FNRS) (no. 26410496). Human islets were provided through the European Consortium for Islet Transplantation distribution program for basic research supported by JDRF (no. 31-2008-416). D.L.E. was supported by the Walloon Region through the FRFS-WELBIO Fund for Strategic Fundamental research (no. CR-2015A-06s and CR-2019C-04) and by grants from the Fonds National de la Recherche Scientifique (no. T003613F), the Horizon 2020 Programme (project T2Dsystems, no. GA667191), Brussels Capital Region Innoviris (project DiaType, no. 2017-PFS-24), Dutch Diabetes Research Fundation (project Innovate2CureType1, DDRF; no. 2018.10.002) and the Innovative Medicines Initiative 2 Joint Undertaking (project INNODIA, no. 115797). This Innovative Medicines Initiative 2 Joint Undertaking receives support from the EU's Horizon 2020 Research and Innovation Programme and European Federation of Pharmaceutical Industries and Associations, JDRF and the Leona M. and Harry B. Helmsley Charitable Trust (project INNODIA, no. 115797). T.O.M. and D.L.E. were supported by a grant from the National Institutes of Health-National Institute of Diabetes and Digestive and Kidney Diseases-Human Islet Research Network Consortium (no. 1UC4DK104166-01). Part of the work was performed at the Environmental Molecular Sciences Laboratory, a US Department of Energy national scientific user facility located at Pacific Northwest National Laboratory. Battelle operates the Pacific Northwest National Laboratory for the Department of Energy (contract no. DE-AC05-76RLO01830). We thank J. Mercader (Broad Institute) and M. Guindo Martínez (Barcelona Supercomputing Center) for helpful discussions regarding GWAS enrichment analyses and A. Castela (Université Libre de Bruxelles Center for Diabetes Research) for helping with the glucose-stimulated insulin secretion experiments.
Ethics declarations
Competing interests
The authors declare no competing interests.
Additional information
Publisher's note Springer Nature remains neutral with regard to jurisdictional claims in published maps and institutional affiliations.
Supplementary information
About this article
Cite this article
Ramos-Rodríguez, M., Raurell-Vila, H., Colli, M.L. et al. The impact of proinflammatory cytokines on the β-cell regulatory landscape provides insights into the genetics of type 1 diabetes. Nat Genet 51, 1588–1595 (2019). https://doi.org/10.1038/s41588-019-0524-6
Received:

Accepted:

Published:

Issue Date:

DOI: https://doi.org/10.1038/s41588-019-0524-6