A new study identifies germline NPM1 mutations in people with dyskeratosis congenita. These NPM1 mutations inhibit ribosomal RNA 2´-O-methylation by decreasing the binding of the rRNA methyltransferase FBL to small nucleolar RNAs. Thus, NPM1 influences ribosomal functions via epitranscriptomic regulation.
Access options
Subscribe to Journal
Get full journal access for 1 year
$225.00
only $18.75 per issue
All prices are NET prices.
VAT will be added later in the checkout.
Rent or Buy article
Get time limited or full article access on ReadCube.
from$8.99
All prices are NET prices.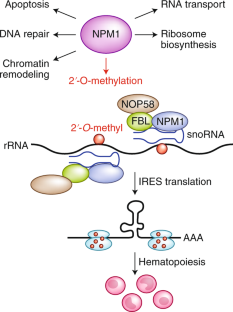 References
1.

Piekna-Przybylska, D., Decatur, W. A. & Fournier, M. J. Nucleic Acids Res. 36, D178–D183 (2008).

2.

Draptchinskaia, N. et al. Nat. Genet. 21, 169–175 (1999).

3.

Ruggero, D. et al. Science 299, 259–262 (2003).

4.

Schwartz, S. et al. Cell 159, 148–162 (2014).

5.

Marcel, V. et al. Cancer Cell 24, 318–330 (2013).

6.

Zhou, F. et al. Nat. Cell Biol. 19, 844–855 (2017).

7.

Nachmani, D. et al. Nat. Genet. https://doi.org/10.1038/s41588-019-0502-z (2019).

8.

Signer, R. A., Magee, J. A., Salic, A. & Morrison, S. J. Nature 509, 49–54 (2014).

9.

Blanco, S. et al. Nature 534, 335–340 (2016).

10.

Marchand, V., Blanloeil-Oillo, F., Helm, M. & Motorin, Y. Nucleic Acids Res. 44, e135 (2016).
Ethics declarations
Competing interests
The authors declare no competing interests.