Abstract
Hypopigmentation along Blaschko's lines is a hallmark of a poorly defined group of mosaic syndromes whose genetic causes are unknown. Here we show that postzygotic inactivating mutations of RHOA cause a neuroectodermal syndrome combining linear hypopigmentation, alopecia, apparently asymptomatic leukoencephalopathy, and facial, ocular, dental and acral anomalies. Our findings pave the way toward elucidating the etiology of pigmentary mosaicism and highlight the role of RHOA in human development and disease.
Access options
Subscribe to Journal
Get full journal access for 1 year
$225.00
only $18.75 per issue
All prices are NET prices.
VAT will be added later in the checkout.
Rent or Buy article
Get time limited or full article access on ReadCube.
from$8.99
All prices are NET prices.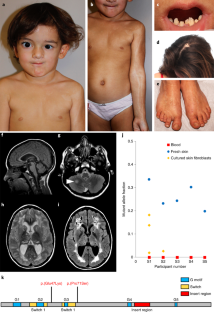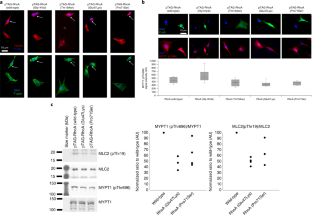 Data availability
The data that support the findings of this study are available from the corresponding authors upon reasonable request.
References
1.

Sybert, V. P. J. Invest. Dermatol. 103, 141S–143S (1994).

2.

Pavone, P., Praticò, A. D., Ruggieri, M. & Falsaperla, R. Neurol. Sci. 36, 1173–1180 (2015).

3.

Canman, J. C. et al. Science 322, 1543–1546 (2008).

4.

Hall, A. Science 279, 509–514 (1998).

5.

Vetter, I. R. & Wittinghofer, A. Science 294, 1299–1304 (2001).

6.

Pan, Z. K. et al. J. Immunol. 160, 3038–3045 (1998).

7.

Zhao, X. et al. Cancer Res. 69, 483–491 (2009).

8.

Maekawa, M. et al. Science 285, 895–898 (1999).

9.

Mirzaa, G. M. et al. JAMA Neurol. 73, 836–845 (2016).

10.

van Steensel, M. A. M. J. Pediatr. Genet. 4, 144–153 (2015).

11.

Lek, M. et al. Nature 536, 285–291 (2016).

12.

Blomen, V. A. et al. Science 350, 1092–1096 (2015).

13.

Wang, T. et al. Science 350, 1096–1101 (2015).

14.

Happle, R. Hum. Genet. 72, 280 (1986).

15.

Fernández, L. C., Torres, M. & Real, F. X. Nat. Rev. Cancer 16, 43–55 (2016).

16.

Kuentz, P. et al. Genet. Med. 19, 989–997 (2017).

17.

Zhang, S., Zhou, X., Lang, R. A. & Guo, F. PLoS ONE 7, e33773 (2012).

18.

Tong, L. & Tergaonkar, V. Biosci. Rep. 34, e00115 (2014).

19.

Ordóñez-Morán, P. et al. J. Cell Biol. 183, 697–710 (2008).

20.

Rodrigues, P. et al. Nat. Commun. 5, 5458 (2014).

21.

Thevenon, J. et al. Clin. Genet. 89, 700–707 (2016).

22.

Rivière, J.-B. et al. Nat. Genet. 44, 934–940 (2012).

23.

Cooper, G. M. et al. Nat. Methods 7, 250–251 (2010).

24.

Kircher, M. et al. Nat. Genet. 46, 310–315 (2014).
Acknowledgements
We thank the participants and families involved in the study. We also thank the University of Burgundy Centre de Calcul (https://haydn2005.u-bourgogne.fr/dsi-ccub/) for technical support and management of the informatics platform. This work was funded by the Agence Nationale de la Recherche (grant no. ANR-13-PDOC-0029 to J.-B.R.), the Programme Hospitalier de Recherche Clinique National 2010 (grant no. NCT01950975 to P.V.), the NIH (grant no. HD067244 to M.E.R.) and the Société Française de Dermatologie. G.B. has received a Research Scholar Junior 1 (2012–2016) salary award from the Fonds de Recherche du Québec en Santé and the New Investigator salary award (2017–2022) from the Canadian Institute for Health Research (no. MOP-G-287547, file no. 24805).
Ethics declarations
Competing interests
The authors declare no competing interests.
Additional information
Publisher's note Springer Nature remains neutral with regard to jurisdictional claims in published maps and institutional affiliations.
A correction to this article is available online at https://doi.org/10.1038/s41588-019-0527-3.
Integrated supplementary information
Supplementary information
Supplementary Figs. 1–8 and Tables 1–10
About this article
Cite this article
Vabres, P., Sorlin, A., Kholmanskikh, S.S. et al. Postzygotic inactivating mutations of RHOA cause a mosaic neuroectodermal syndrome. Nat Genet 51, 1438–1441 (2019) doi:10.1038/s41588-019-0498-4
Received

Accepted

Published

Issue Date