Abstract
The mechanisms by which common risk variants of small effect interact to contribute to complex genetic disorders are unclear. Here, we apply a genetic approach, using isogenic human induced pluripotent stem cells, to evaluate the effects of schizophrenia (SZ)-associated common variants predicted to function as SZ expression quantitative trait loci (eQTLs). By integrating CRISPR-mediated gene editing, activation and repression technologies to study one putative SZ eQTL (FURIN rs4702) and four top-ranked SZ eQTL genes (FURIN, SNAP91, TSNARE1 and CLCN3), our platform resolves pre- and postsynaptic neuronal deficits, recapitulates genotype-dependent gene expression differences and identifies convergence downstream of SZ eQTL gene perturbations. Our observations highlight the cell-type-specific effects of common variants and demonstrate a synergistic effect between SZ eQTL genes that converges on synaptic function. We propose that the links between rare and common variants implicated in psychiatric disease risk constitute a potentially generalizable phenomenon occurring more widely in complex genetic disorders.
Relevant articles
Open Access articles citing this article.
Kyra L. Feuer

,

Marah H. Wahbeh

…

Dimitrios Avramopoulos

Scientific Reports Open Access 13 July 2022

Wenbo Zhang

,

P. Joel Ross

…

Michael W. Salter

Translational Psychiatry Open Access 09 June 2022

Natalia Rodríguez

,

Patricia Gassó

…

Pilar Alejandra Sáiz

Schizophrenia Open Access 27 April 2022
Access options
Subscribe to Nature+
Get immediate online access to the entire Nature family of 50+ journals
Subscribe to Journal
Get full journal access for 1 year
$99.00
only $8.25 per issue
All prices are NET prices.
VAT will be added later in the checkout.
Tax calculation will be finalised during checkout.
Buy article
Get time limited or full article access on ReadCube.
$32.00
All prices are NET prices.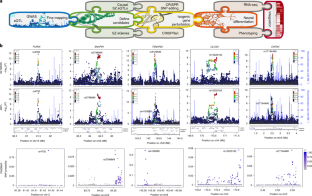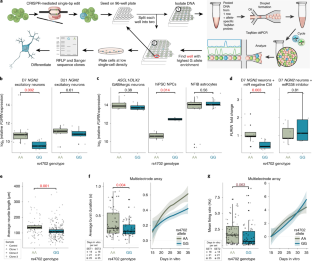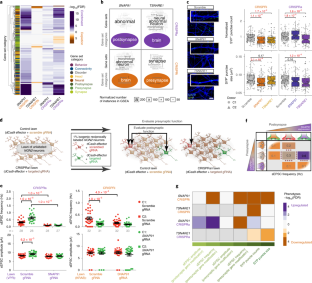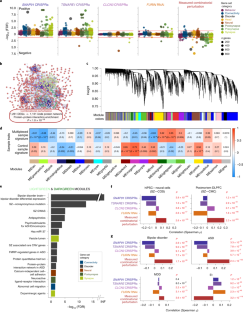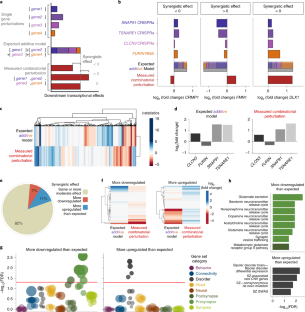 Data availability
All source donor hiPSCs have already been deposited at the Rutgers University Cell and DNA Repository (study 160; http://www.nimhstemcells.org/); CRISPR-edited hiPSCs are in the process of being submitted in advance of publication. The RNA-seq data are available at www.synapse.org/#!Synapse:syn20502314. Additionally, we make available the following resource by which neural cell-type-specific expression of any gene can be easily cross-referenced in our hiPSC datasets as well as case–control postmortem, hiPSC NPC and hiPSC-neuron RNA-seq datasets (https://schroden.shinyapps.io/BrennandLab-ExpressionApp-limited/). Owing to constraints reflecting the original consents, which are restricted to the study of neuropsychiatric disease only, the raw RNA-seq data will be made available by the authors upon reasonable request and institutional review board approval.
References
Ripke, S. et al. Biological insights from 108 schizophrenia-associated genetic loci. Nature 511, 421–427 (2014).

Pardiñas, A. F. et al. Common schizophrenia alleles are enriched in mutation-intolerant genes and in regions under strong background selection. Nat. Genet. 50, 381–389 (2018).

Finucane, H. K. et al. Heritability enrichment of specifically expressed genes identifies disease-relevant tissues and cell types. Nat. Genet. 50, 621–629 (2018).

Skene, N. G. et al. Genetic identification of brain cell types underlying schizophrenia. Nat. Genet. 50, 825–833 (2018).

Jaffe, A. E. et al. Developmental and genetic regulation of the human cortex transcriptome illuminate schizophrenia pathogenesis. Nat. Neurosci. 21, 1117–1125 (2018).

Hall, L. S. et al. A transcriptome wide association study implicates specific pre- and post-synaptic abnormalities in schizophrenia. Preprint at bioRxiv https://doi.org/10.1101/384560 (2018).

Huang, H. et al. Fine-mapping inflammatory bowel disease loci to single-variant resolution. Nature 547, 173–178 (2017).

Huckins, L. M. et al. Gene expression imputation across multiple brain regions provides insights into schizophrenia risk. Nat. Genet. 51, 659–674 (2019).

Dobbyn, A. et al. Landscape of conditional eQTL in dorsolateral prefrontal cortex and co-localization with schizophrenia GWAS. Am. J. Hum. Genet. 102, 1169–1184 (2018).

Hoffman, G. E. et al. Transcriptional signatures of schizophrenia in hiPSC-derived NPCs and neurons are concordant with post-mortem adult brains. Nat. Commun. 8, 2225 (2017).

Schwartzentruber, J. et al. Molecular and functional variation in iPSC-derived sensory neurons. Nat. Genet. 50, 54–61 (2018).

Fromer, M. et al. Gene expression elucidates functional impact of polygenic risk for schizophrenia. Nat. Neurosci. 19, 1442–1453 (2016).

Forrest, M. P. et al. Open chromatin profiling in hiPSC-derived neurons prioritizes functional noncoding psychiatric risk variants and highlights neurodevelopmental loci. Cell Stem Cell 21, 305–318.e8 (2017).

Darmanis, S. et al. A survey of human brain transcriptome diversity at the single cell level. Proc. Natl Acad. Sci. USA 112, 7285–7290 (2015).

Aguet, F. et al. Genetic effects on gene expression across human tissues. Nature 550, 204–213 (2017).

Wang, D. et al. Comprehensive functional genomic resource and integrative model for the human brain. Science 362, eaat8464 (2018).

Qi, L. S. et al. Repurposing CRISPR as an RNA-guided platform for sequence-specific control of gene expression. Cell 152, 1173–1183 (2013).

Gilbert, L. A. et al. CRISPR-mediated modular RNA-guided regulation of transcription in eukaryotes. Cell 154, 442–451 (2013).

Zhang, Y. et al. Rapid single-step induction of functional neurons from human pluripotent stem cells. Neuron 78, 785–798 (2013).

Ho, S. M. et al. Rapid Ngn2-induction of excitatory neurons from hiPSC-derived neural progenitor cells. Methods 101, 113–124 (2016).

Ho, S. M. et al. Evaluating synthetic activation and repression of neuropsychiatric-related genes in hiPSC-derived NPCs, neurons, and astrocytes. Stem Cell Rep. 9, 615–628 (2017).

Doench, J. G. et al. Optimized sgRNA design to maximize activity and minimize off-target effects of CRISPR–Cas9. Nat. Biotechnol. 34, 184–191 (2016).

Paquet, D. et al. Efficient introduction of specific homozygous and heterozygous mutations using CRISPR/Cas9. Nature 533, 125–129 (2016).

Yang, N. et al. Generation of pure GABAergic neurons by transcription factor programming. Nat. Methods 14, 621–628 (2017).

Canals, I. et al. Rapid and efficient induction of functional astrocytes from human pluripotent stem cells. Nat. Methods 15, 693–696 (2018).

Bowles, K. R., Tcw, J., Qian, L., Jadow, B. M. & Goate, A. M. Reduced variability of neural progenitor cells and improved purity of neuronal cultures using magnetic activated cell sorting. PLoS ONE 14, e0213374 (2019).

Paşca, A. M. et al. Functional cortical neurons and astrocytes from human pluripotent stem cells in 3D culture. Nat. Methods 12, 671–678 (2015).

Birey, F. et al. Assembly of functionally integrated human forebrain spheroids. Nature 545, 54–59 (2017).

Hou, Y. et al. Schizophrenia-associated rs4702 G allele-specific downregulation of FURIN expression by miR-338-3p reduces BDNF production. Schizophr. Res. 199, 176–180 (2018).

Mowla, S. J. et al. Biosynthesis and post-translational processing of the precursor to brain-derived neurotrophic factor. J. Biol. Chem. 276, 12660–12666 (2001).

Campenot, R. B. Local control of neurite development by nerve growth factor. Proc. Natl Acad. Sci. USA 74, 4516–4519 (1977).

McGuire, J. L. et al. Altered serine/threonine kinase activity in schizophrenia. Brain Res. 1568, 42–54 (2014).

Petralia, R. S. et al. Reduction of AP180 and CALM produces defects in synaptic vesicle size and density. Neuromolecular Med. 15, 49–60 (2013).

Smith, J. J., Sumiyama, K. & Amemiya, C. T. A living fossil in the genome of a living fossil: Harbinger transposons in the coelacanth genome. Mol. Biol. Evol. 29, 985–993 (2012).

Chun, S. et al. Thalamic miR-338-3p mediates auditory thalamocortical disruption and its late onset in models of 22q11.2 microdeletion. Nat. Med. 23, 39–48 (2017).

Fromer, M. et al. De novo mutations in schizophrenia implicate synaptic networks. Nature 506, 179–184 (2014).

Kirov, G. et al. De novo CNV analysis implicates specific abnormalities of postsynaptic signalling complexes in the pathogenesis of schizophrenia. Mol. Psychiatry 17, 142–153 (2012).

Föcking, M. et al. Proteomic and genomic evidence implicates the postsynaptic density in schizophrenia. Mol. Psychiatry 20, 424–432 (2015).

Ripke, S., Schizophrenia Working Group & O'Donovan, M. Current status of schizophrenia GWAS. Eur. Neuropsychopharmacol. 27, S415 (2017).

Takata, A., Matsumoto, N. & Kato, T. Genome-wide identification of splicing QTLs in the human brain and their enrichment among schizophrenia-associated loci. Nat. Commun. 8, 14519 (2017).

Bardy, C. et al. Neuronal medium that supports basic synaptic functions and activity of human neurons in vitro. Proc. Natl Acad. Sci. USA 112, E2725–E2734 (2015).

Kwon, H. B. et al. Neuroligin-1-dependent competition regulates cortical synaptogenesis and synapse number. Nat. Neurosci. 15, 1667–1674 (2012).

Dityatev, A., Dityateva, G. & Schachner, M. Synaptic strength as a function of post- versus presynaptic expression of the neural cell adhesion molecule NCAM. Neuron 26, 207–217 (2000).

Burrone, J., O'Byrne, M. & Murthy, V. N. Multiple forms of synaptic plasticity triggered by selective suppression of activity in individual neurons. Nature 420, 414–418 (2002).

Suk, H. J. et al. Closed-loop real-time imaging enables fully automated cell-targeted patch-clamp neural recording in vivo. Neuron 96, 244–245 (2017).

Dixit, A. et al. Perturb-seq: dissecting molecular circuits with scalable single-cell RNA profiling of pooled genetic screens. Cell 167, 1853–1866.e17 (2016).

Port, F. & Bullock, S. L. Augmenting CRISPR applications in Drosophila with tRNA-flanked sgRNAs. Nat. Methods 13, 852–854 (2016).

Hoffman, G. E., Schrode, N., Flaherty, E. & Brennand, K. J. New considerations for hiPSC-based models of neuropsychiatric disorders. Mol. Psychiatry 24, 49–66 (2019).

Talkowski, M. E. et al. Sequencing chromosomal abnormalities reveals neurodevelopmental loci that confer risk across diagnostic boundaries. Cell 149, 525–537 (2012).

Purcell, S. M. et al. A polygenic burden of rare disruptive mutations in schizophrenia. Nature 506, 185–190 (2014).

Sanders, S. J. et al. Insights into autism spectrum disorder genomic architecture and biology from 71 risk loci. Neuron 87, 1215–1233 (2015).

O'Dushlaine, C. et al. Psychiatric genome-wide association study analyses implicate neuronal, immune and histone pathways. Nat. Neurosci. 18, 199–209 (2015).

Ballouz, S. & Gillis, J. Strength of functional signature correlates with effect size in autism. Genome Med. 9, 64 (2017).

Jia, P., Chen, X., Fanous, A. H. & Zhao, Z. Convergent roles of de novo mutations and common variants in schizophrenia in tissue-specific and spatiotemporal co-expression network. Transl. Psychiatry 8, 105 (2018).

Anttila, V. et al. Analysis of shared heritability in common disorders of the brain. Science 360, eaap8757 (2018).

Gandal, M. J. et al. Shared molecular neuropathology across major psychiatric disorders parallels polygenic overlap. Science 359, 693–697 (2018).

Wray, N. R., Wijmenga, C., Sullivan, P. F., Yang, J. & Visscher, P. M. Common disease is more complex than implied by the core gene omnigenic model. Cell 173, 1573–1580 (2018).

Wainschtein, P. et al. Recovery of trait heritability from whole genome sequence data. Preprint at bioRxiv https://doi.org/10.1101/588020 (2019).

Zuk, O., Hechter, E., Sunyaev, S. R. & Lander, E. S. The mystery of missing heritability: genetic interactions create phantom heritability. Proc. Natl Acad. Sci. USA 109, 1193–1198 (2012).

Liu, X., Li, Y. I. & Pritchard, J. K. Trans effects on gene expression can drive omnigenic inheritance. Cell 177, 1022–1034.e6 (2019).

Boyle, E. A., Li, Y. I. & Pritchard, J. K. An expanded view of complex traits: from polygenic to omnigenic. Cell 169, 1177–1186 (2017).

Rubin, A. J. et al. Coupled single-cell CRISPR screening and epigenomic profiling reveals causal gene regulatory networks. Cell 176, 361–376.e17 (2019).

Mimitou, E. P. et al. Multiplexed detection of proteins, transcriptomes, clonotypes and CRISPR perturbations in single cells. Nat. Methods 16, 409–412 (2019).

Weiner, D. J. et al. Polygenic transmission disequilibrium confirms that common and rare variation act additively to create risk for autism spectrum disorders. Nat. Genet. 49, 978–985 (2017).

Tansey, K. E. et al. Common alleles contribute to schizophrenia in CNV carriers. Mol. Psychiatry 21, 1153 (2016).

McMahon, F. J. & Insel, T. R. Pharmacogenomics and personalized medicine in neuropsychiatry. Neuron 74, 773–776 (2012).

He, X. et al. Sherlock: detecting gene-disease associations by matching patterns of expression QTL and GWAS. Am. J. Hum. Genet. 92, 667–680 (2013).

Benner, C. et al. FINEMAP: efficient variable selection using summary data from genome-wide association studies. Bioinformatics 32, 1493–1501 (2016).

Brennand, K. J. et al. Modelling schizophrenia using human induced pluripotent stem cells. Nature 473, 221–225 (2011).

Szklarczyk, D. et al. STRING v10: protein–protein interaction networks, integrated over the tree of life. Nucleic Acids Res. 43, D447–D452 (2015).

Hoffman, G. E. & Schadt, E. E. variancePartition: interpreting drivers of variation in complex gene expression studies. BMC Bioinformatics 17, 483 (2016).

Liberzon, A. et al. Molecular signatures database (MSigDB) 3.0. Bioinformatics 27, 1739–1740 (2011).

Ritchie, M. E. et al. limma powers differential expression analyses for RNA-sequencing and microarray studies. Nucleic Acids Res. 43, e47 (2015).

Wu, D. & Smyth, G. K. Camera: a competitive gene set test accounting for inter-gene correlation. Nucleic Acids Res. 40, e133 (2012).
Acknowledgements
This manuscript is dedicated to Pamela Sklar, a scientist, mentor and friend who advanced the field of psychiatric genetics. This work was partially supported by NIH grants (nos. R56 MH101454 to K.J.B., E.S. and H.M., R01 MH106056 to K.J.B., U19 MH104172 and U19 MH107367 to B.A., and R01 MH109897 to P.S. and K.J.B.), the New York Stem Cell Foundation (to K.J.B.) and project ALS (grant no. 2017-03 to J.G. and H.P.). We thank the Neuroscience and Stem Cell Cores at ISMMS. This work was supported in part through the computational resources and staff expertise provided by the Scientific Computing unit at ISMMS. P. O'Reilly provided thoughtful feedback on the manuscript. The GTEx Project was supported by the Common Fund of the Office of the Director of the NIH and by National Cancer Institute, National Human Genome Research Institute, National Heart, Lung, and Blood Institute, National Institute on Drug Abuse, National Institute of Mental Health and National Institute of Neurological Disorders and Stroke. The data used for the analyses described in this manuscript were obtained from the GTEx portal on 4 January 2019.
Ethics declarations
Competing interests
The authors declare no competing interests.
Additional information
Publisher's note Springer Nature remains neutral with regard to jurisdictional claims in published maps and institutional affiliations.
Integrated supplementary information
Supplementary information
About this article
Cite this article
Schrode, N., Ho, SM., Yamamuro, K. et al. Synergistic effects of common schizophrenia risk variants. Nat Genet 51, 1475–1485 (2019). https://doi.org/10.1038/s41588-019-0497-5
Received:

Accepted:

Published:

Issue Date:

DOI: https://doi.org/10.1038/s41588-019-0497-5