Abstract
Promoters and enhancers are key cis-regulatory elements, but how they operate to generate cell type-specific transcriptomes is not fully understood. We developed a simple and robust method, native elongating transcript–cap analysis of gene expression (NET-CAGE), to sensitively detect 5′ ends of nascent RNAs in diverse cells and tissues, including unstable transcripts such as enhancer-derived RNAs. We studied RNA synthesis and degradation at the transcription start site level, characterizing the impact of differential promoter usage on transcript stability. We quantified transcription from cis-regulatory elements without the influence of RNA turnover, and show that enhancer–promoter pairs are generally activated simultaneously on stimulation. By integrating NET-CAGE data with chromatin interaction maps, we show that cis-regulatory elements are topologically connected according to their cell type specificity. We identified new enhancers with high sensitivity, and delineated primary locations of transcription within super-enhancers. Our NET-CAGE dataset derived from human and mouse cells expands the FANTOM5 atlas of transcribed enhancers, with broad applicability to biomedical research.
Access options
Subscribe to Journal
Get full journal access for 1 year
$59.00
only $4.92 per issue
All prices are NET prices.
VAT will be added later in the checkout.
Tax calculation will be finalised during checkout.
Rent or Buy article
Get time limited or full article access on ReadCube.
from$8.99
All prices are NET prices.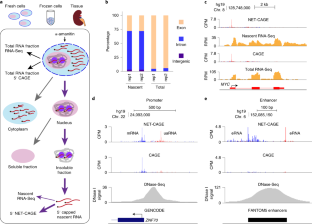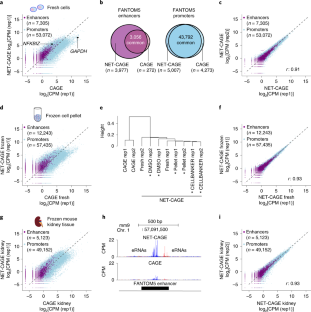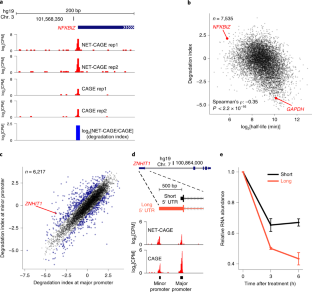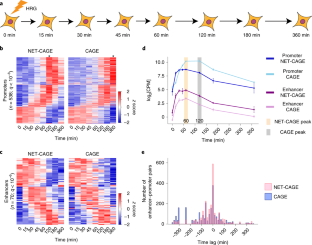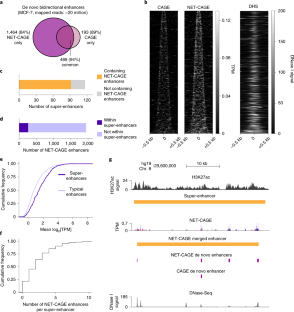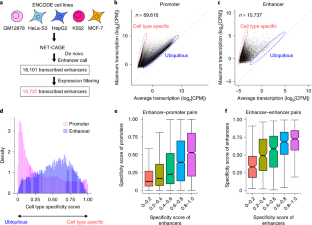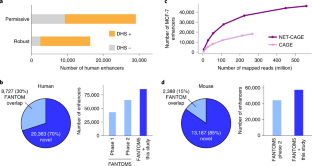 References
1.

Murakawa, Y. et al. Enhanced identification of transcriptional enhancers provides mechanistic insights into diseases. Trends Genet. 32, 76–88 (2016).

2.

Creyghton, M. P. et al. Histone H3K27ac separates active from poised enhancers and predicts developmental state. Proc. Natl Acad. Sci. USA 107, 21931–21936 (2010).

3.

ENCODE Project Consortium An integrated encyclopedia of DNA elements in the human genome. Nature 489, 57–74 (2012).

4.

Roadmap Epigenomics Consortium et al. Integrative analysis of 111 reference human epigenomes. Nature 518, 317–329 (2015).

5.

Heintzman, N. D. et al. Distinct and predictive chromatin signatures of transcriptional promoters and enhancers in the human genome. Nat. Genet. 39, 311–318 (2007).

6.

Beagrie, R. A. et al. Complex multi-enhancer contacts captured by genome architecture mapping. Nature 543, 519–524 (2017).

7.

Li, G. et al. Extensive promoter-centered chromatin interactions provide a topological basis for transcription regulation. Cell 148, 84–98 (2012).

8.

Sanyal, A., Lajoie, B. R., Jain, G. & Dekker, J. The long-range interaction landscape of gene promoters. Nature 489, 109–113 (2012).

9.

Core, L. J., Waterfall, J. J. & Lis, J. T. Nascent RNA sequencing reveals widespread pausing and divergent initiation at human promoters. Science 322, 1845–1848 (2008).

10.

Churchman, L. S. & Weissman, J. S. Nascent transcript sequencing visualizes transcription at nucleotide resolution. Nature 469, 368–373 (2011).

11.

Core, L. J. et al. Analysis of nascent RNA identifies a unified architecture of initiation regions at mammalian promoters and enhancers. Nat. Genet. 46, 1311–1320 (2014).

12.

Seila, A. C. et al. Divergent transcription from active promoters. Science 322, 1849–1851 (2008).

13.

Schwalb, B. et al. TT-Seq maps the human transient transcriptome. Science 352, 1225–1228 (2016).

14.

Djebali, S. et al. Landscape of transcription in human cells. Nature 489, 101–108 (2012).

15.

Tome, J. M., Tippens, N. D. & Lis, J. T. Single-molecule nascent RNA sequencing identifies regulatory domain architecture at promoters and enhancers. Nat. Genet. 50, 1533–1541 (2018).

16.

Chu, T. et al. Chromatin run-on and sequencing maps the transcriptional regulatory landscape of glioblastoma multiforme. Nat. Genet. 50, 1553–1564 (2018).

17.

Kim, T.-K. et al. Widespread transcription at neuronal activity-regulated enhancers. Nature 465, 182–187 (2010).

18.

Lam, M. T. Y., Li, W., Rosenfeld, M. G. & Glass, C. K. Enhancer RNAs and regulated transcriptional programs. Trends Biochem. Sci. 39, 170–182 (2014).

19.

Michel, M. et al. TT-Seq captures enhancer landscapes immediately after T-cell stimulation. Mol. Syst. Biol. 13, 920 (2017).

20.

Andersson, R. et al. An atlas of active enhancers across human cell types and tissues. Nature 507, 455–461 (2014).

21.

Forrest, A. R. R. et al. A promoter-level mammalian expression atlas. Nature 507, 462–470 (2014).

22.

Arner, E. et al. Transcribed enhancers lead waves of coordinated transcription in transitioning mammalian cells. Science 347, 1010–1014 (2015).

23.

Kanamori-Katayama, M. et al. Unamplified cap analysis of gene expression on a single molecule sequencer. Genome Res. 21, 1150–1159 (2011).

24.

Adiconis, X. et al. Comprehensive comparative analysis of 5′-end RNA-sequencing methods. Nat. Methods 15, 505–511 (2018).

25.

Murata, M. et al. Detecting expressed genes using CAGE. Methods Mol. Biol. 1164, 67–85 (2014).

26.

Rabani, M. et al. Metabolic labeling of RNA uncovers principles of RNA production and degradation dynamics in mammalian cells. Nat. Biotechnol. 29, 436–442 (2011).

27.

Kilchert, C., Wittmann, S. & Vasiljeva, L. The regulation and functions of the nuclear RNA exosome complex. Nat. Rev. Mol. Cell Biol. 17, 227–239 (2016).

28.

Mayer, A. et al. Native elongating transcript sequencing reveals human transcriptional activity at nucleotide resolution. Cell 161, 541–554 (2015).

29.

Kwak, H., Fuda, N. J., Core, L. J. & Lis, J. T. Precise maps of RNA polymerase reveal how promoters direct initiation and pausing. Science 339, 950–953 (2013).

30.

Nojima, T. et al. Mammalian NET-Seq reveals genome-wide nascent transcription coupled to RNA processing. Cell 161, 526–540 (2015).

31.

Henriques, T. et al. Widespread transcriptional pausing and elongation control at enhancers. Genes Dev. 32, 26–41 (2018).

32.

Mayer, A. & Churchman, L. S. Genome-wide profiling of RNA polymerase transcription at nucleotide resolution in human cells with native elongating transcript sequencing. Nat. Protoc. 11, 813–833 (2016).

33.

Bhatt, D. M. et al. Transcript dynamics of proinflammatory genes revealed by sequence analysis of subcellular RNA fractions. Cell 150, 279–290 (2012).

34.

Carninci, P. et al. High-efficiency full-length cDNA cloning by biotinylated CAP trapper. Genomics 37, 327–336 (1996).

35.

Yamazaki, S., Muta, T., Matsuo, S. & Takeshige, K. Stimulus-specific induction of a novel nuclear factor-κB regulator, IκB-ζ, via Toll/interleukin-1 receptor is mediated by mRNA stabilization. J. Biol. Chem. 280, 1678–1687 (2005).

36.

Schueler, M. et al. Differential protein occupancy profiling of the mRNA transcriptome. Genome Biol. 15, R15 (2014).

37.

Hon, C.-C. et al. An atlas of human long non-coding RNAs with accurate 5′ ends. Nature 543, 199–204 (2017).

38.

Carninci, P. et al. The transcriptional landscape of the mammalian genome. Science 309, 1559–1563 (2005).

39.

Lagarde, J. et al. High-throughput annotation of full-length long noncoding RNAs with capture long-read sequencing. Nat. Genet. 49, 1731–1740 (2017).

40.

Mina, M. et al. Promoter-level expression clustering identifies time development of transcriptional regulatory cascades initiated by ERBB receptors in breast cancer cells. Sci. Rep. 5, 11999 (2015).

41.

Jin, Y., Eser, U., Struhl, K. & Churchman, L. S. The ground state and evolution of promoter region directionality. Cell 170, 889–898 (2017).

42.

Scruggs, B. S. et al. Bidirectional transcription arises from two distinct hubs of transcription factor binding and active chromatin. Mol. Cell 58, 1101–1112 (2015).

43.

Chen, K. et al. Broad H3K4me3 is associated with increased transcription elongation and enhancer activity at tumor-suppressor genes. Nat. Genet. 47, 1149–1157 (2015).

44.

Pekowska, A. et al. H3K4 tri-methylation provides an epigenetic signature of active enhancers. EMBO J. 30, 4198–4210 (2011).

45.

Whyte, W. A. et al. Master transcription factors and mediator establish super-enhancers at key cell identity genes. Cell 153, 307–319 (2013).

46.

Parker, S. C. J. et al. Chromatin stretch enhancer states drive cell-specific gene regulation and harbor human disease risk variants. Proc. Natl Acad. Sci. USA 110, 17921–17926 (2013).

47.

Khan, A. & Zhang, X. dbSUPER: a database of super-enhancers in mouse and human genome. Nucleic Acids Res. 44, D164–D171 (2016).

48.

Hah, N. et al. Inflammation-sensitive super enhancers form domains of coordinately regulated enhancer RNAs. Proc. Natl Acad. Sci. USA 112, E297–E302 (2015).

49.

Tang, Z. et al. CTCF-mediated human 3D genome architecture reveals chromatin topology for transcription. Cell 163, 1611–1627 (2015).

50.

Ing-Simmons, E. et al. Spatial enhancer clustering and regulation of enhancer-proximal genes by cohesin. Genome Res. 25, 504–513 (2015).

51.

Short, P. J. et al. De novo mutations in regulatory elements in neurodevelopmental disorders. Nature 555, 611–616 (2018).

52.

Farh, K. K. et al. Genetic and epigenetic fine mapping of causal autoimmune disease variants. Nature 518, 337–343 (2015).

53.

Zhang, W. et al. A global transcriptional network connecting noncoding mutations to changes in tumor gene expression. Nat. Genet. 50, 613–620 (2018).

54.

Blinka, S. et al. Identification of transcribed enhancers by genome-wide chromatin immunoprecipitation sequencing. Methods Mol. Biol. 1468, 91–109 (2017).

55.

Finucane, H. K. et al. Partitioning heritability by functional annotation using genome-wide association summary statistics. Nat. Genet. 47, 1228–1235 (2015).

56.

Rackham, O. J. L. et al. A predictive computational framework for direct reprogramming between human cell types. Nat. Genet. 48, 331–335 (2016).

57.

Weinhold, N., Jacobsen, A., Schultz, N., Sander, C. & Lee, W. Genome-wide analysis of noncoding regulatory mutations in cancer. Nat. Genet. 46, 1160–1165 (2014).

58.

Cao, Q. et al. Reconstruction of enhancer–target networks in 935 samples of human primary cells, tissues and cell lines. Nat. Genet. 49, 1428–1436 (2017).

59.

Chen, H. et al. A pan-cancer analysis of enhancer expression in nearly 9000 patient samples. Cell 173, 386–399 (2018).

60.

Danko, C. G. et al. Identification of active transcriptional regulatory elements from GRO-Seq data. Nat. Methods 12, 433–438 (2015).

61.

Wang, Z., Chu, T., Choate, L. A. & Danko, C. G. Identification of regulatory elements from nascent transcription using dREG. Genome Res. 29, 293–303 (2019).

62.

Panigrahi, A. K. et al. SRC-3 coactivator governs dynamic estrogen-induced chromatin looping interactions during transcription. Mol. Cell 70, 679–694 (2018).

63.

Zhang, Y. et al. Chromatin connectivity maps reveal dynamic promoter–enhancer long-range associations. Nature 504, 306–310 (2013).

64.

La Manno, G. et al. RNA velocity of single cells. Nature 560, 494–498 (2018).

65.

Hasegawa, A., Daub, C., Carninci, P., Hayashizaki, Y. & Lassmann, T. MOIRAI: a compact workflow system for CAGE analysis. BMC Bioinformatics 15, 144 (2014).

66.

Bolger, A. M., Lohse, M. & Usadel, B. Trimmomatic: a flexible trimmer for Illumina sequence data. Bioinformatics 30, 2114–2120 (2014).

67.

Dobin, A. et al. STAR: ultrafast universal RNA-Seq aligner. Bioinformatics 29, 15–21 (2013).

68.

Harrow, J. et al. GENCODE: the reference human genome annotation for The ENCODE Project. Genome Res. 22, 1760–1774 (2012).

69.

Mudge, J. M. & Harrow, J. Creating reference gene annotation for the mouse C57BL6/J genome assembly. Mamm. Genome 26, 366–378 (2015).

70.

Wang, L., Wang, S. & Li, W. RSeQC: quality control of RNA-Seq experiments. Bioinformatics 28, 2184–2185 (2012).

71.

Kent, W. J. et al. The human genome browser at UCSC. Genome Res. 12, 996–1006 (2002).

72.

Quinlan, A. R. & Hall, I. M. BEDTools: a flexible suite of utilities for comparing genomic features. Bioinformatics 26, 841–842 (2010).

73.

Kent, W. J., Zweig, A. S., Barber, G., Hinrichs, A. S. & Karolchik, D. BigWig and BigBed: enabling browsing of large distributed datasets. Bioinformatics 26, 2204–2207 (2010).

74.

Robinson, M. D., McCarthy, D. J. & Smyth, G. K. edgeR: a Bioconductor package for differential expression analysis of digital gene expression data. Bioinformatics 26, 139–140 (2010).

75.

McCarthy, D. J., Chen, Y. & Smyth, G. K. Differential expression analysis of multifactor RNA-Seq experiments with respect to biological variation. Nucleic Acids Res. 40, 4288–4297 (2012).

76.

Benjamini, Y. & Hochberg, Y. Controlling the false discovery rate: a practical and powerful approach to multiple testing. J. R. Stat. Soc. 57, 289–300 (1995).

77.

Karolchik, D. et al. The UCSC Table Browser data retrieval tool. Nucleic Acids Res. 32, D493–D496 (2004).

78.

Ramirez, F., Dundar, F., Diehl, S., Gruning, B. A. & Manke, T. deepTools: a flexible platform for exploring deep-sequencing data. Nucleic Acids Res. 42, W187–W191 (2014).

79.

Kryuchkova-Mostacci, N. & Robinson-Rechavi, M. A benchmark of gene expression tissue-specificity metrics. Brief. Bioinform. 18, 205–214 (2017).

80.

Li, H. et al. The Sequence Alignment/Map format and SAMtools. Bioinformatics 25, 2078–2079 (2009).

81.

R Development Core Team R: A Language and Environment for Statistical Computing (R Foundation for Statistical Computing, 2016).

82.

Wickham, H. ggplot2: Elegant Graphics for Data Analysis (Springer, 2009).

83.

Warnes, G. R. et al. gplots Various R programming tools for plotting data. R package version 2.17.0 (2016).

84.

Pohlert, T. trend: Non-parametric trend tests and change-point detection. R package version 1.1.0 (2018).
Acknowledgements
We are grateful to all of the members of the RIKEN Genome Network Analaysis Support Facility and the K.K. DNAFORM genetic analysis department for library preparation, sequencing and primary data processing. We thank E. Arner, R. Andersson, K. Vitting-Seerup and A. Sandelin for helpful discussions. We thank I. Yamaguchi, K. Goto, M. Furuno and T. Kasukawa for assistance. We also thank M. Okada-Hatakeyama for guidance on performing the time-course experiment using MCF-7 cells. This work was supported by: JSPS Grants-in-Aid for Scientific Research (KAKENHI) (16H06153 and 18H03992) and grants from the Kanae Foundation for the Promotion of Medical Science, Ono Medical Research Foundation, Takeda Science Foundation, Japan Foundation for Applied Enzymology and Mochida Memorial Foundation for Medical and Pharmaceutical Research (to Y. Murakawa); JSPS Grants-in-Aid for Scientific Research (KAKENHI) (16H02902) (to H.K.); AMED under grant number 18ek0109282h0002 (to Y.H.); the RIKEN Junior Research Associate Program (to S.H.); the International Program Associate program and Karolinska Institutet (to S.B.); Invitational Fellowships for Research in Japan (F1606103) (to J.K. and P.C.); the Knut and Alice Wallenberg Foundation (Sweden) and The Royal Society Wolfson Research Merit Award (UK) (to J.K.).
Ethics declarations
Competing interests
Y. Matsuki, Y.T. and A.K. are employees of K.K. DNAFORM. Y. Murakawa received grant funding from K.K. DNAFORM. Japan patent number WO2017130750A1 has been awarded to K.K. DNAFORM (Y. Murakawa and Y.T.; inventors) for the NET-CAGE technology described in this paper.
Additional information
Publisher's note: Springer Nature remains neutral with regard to jurisdictional claims in published maps and institutional affiliations.
Integrated supplementary information
Supplementary information
About this article
Cite this article
Hirabayashi, S., Bhagat, S., Matsuki, Y. et al. NET-CAGE characterizes the dynamics and topology of human transcribed cis-regulatory elements. Nat Genet 51, 1369–1379 (2019). https://doi.org/10.1038/s41588-019-0485-9
Received:

Accepted:

Published:

Issue Date: