Abstract
Uveal melanoma is a clinically distinct and particularly lethal subtype of melanoma originating from melanocytes in the eye. Here, we performed multi-region DNA sequencing of primary uveal melanomas and their matched metastases from 35 patients. We observed previously unknown driver mutations and established the order in which these and known driver mutations undergo selection. Metastases had genomic alterations distinct from their primary tumors; metastatic dissemination sometimes occurred early during the development of the primary tumor. Our study offers new insights into the genetics and evolution of this melanoma subtype, providing potential biomarkers for progression and therapy.
Relevant articles
Open Access articles citing this article.
Molecular Medicine Open Access 14 September 2023

Alexander M. Frankell

,

Michelle Dietzen

…

Charles Swanton

Nature Open Access 12 April 2023

Ru Zhu

,

Yu-Ting Chen

…

Ming-Chang Zhang

BMC Cancer Open Access 11 February 2023
Access options
Access Nature and 54 other Nature Portfolio journals
Get Nature+, our best-value online-access subscription
$29.99 / 30 days
cancel any time
Subscribe to this journal
Receive 12 print issues and online access
$209.00 per year
only $17.42 per issue
Rent or buy this article
Prices vary by article type
from$1.95
to$39.95
Prices may be subject to local taxes which are calculated during checkout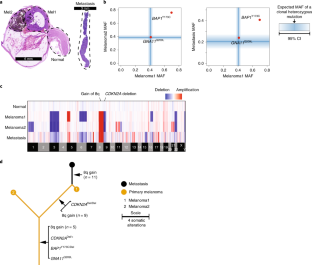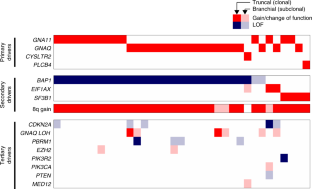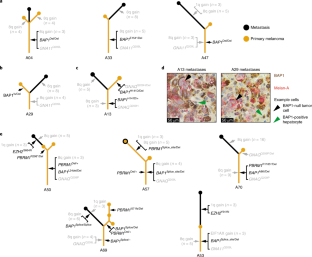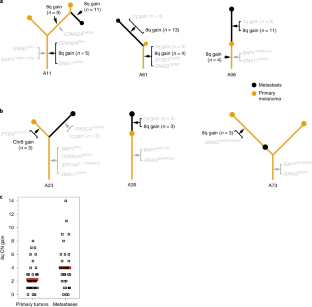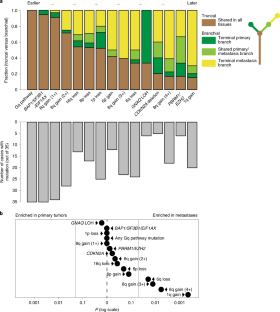 Data availability
The raw sequencing data are available at the European Genome Phenome Archive under accession no. EGAD00001004453.
References
Bastian, B. C. The molecular pathology of melanoma: an integrated taxonomy of melanocytic neoplasia. Annu. Rev. Pathol. 9, 239–271 (2014).

Singh, A. D. & Topham, A. Survival rates with uveal melanoma in the United States: 1973–1997. Ophthalmology 110, 962–965 (2003).

Singh, A. D., Turell, M. E. & Topham, A. K. Uveal melanoma: trends in incidence, treatment, and survival. Ophthalmology 118, 1881–1885 (2011).

Kujala, E., Mäkitie, T. & Kivelä, T. Very long-term prognosis of patients with malignant uveal melanoma. Invest. Ophthalmol. Vis. Sci. 44, 4651–4659 (2003).

Dogrusöz, M. et al. The prognostic value of AJCC staging in uveal melanoma is enhanced by adding chromosome 3 and 8q status. Invest. Ophthalmol. Vis. Sci. 58, 833–842 (2017).

Augsburger, J. J., Corrêa, Z. M. & Shaikh, A. H. Effectiveness of treatments for metastatic uveal melanoma. Am. J. Ophthalmol. 148, 119–127 (2009).

Robertson, A. G. et al. Integrative analysis identifies four molecular and clinical subsets in uveal melanoma. Cancer Cell 32, 204–220.e15 (2017).

Harbour, J. W. et al. Recurrent mutations at codon 625 of the splicing factor SF3B1 in uveal melanoma. Nat. Genet. 45, 133–135 (2013).

Martin, M. et al. Exome sequencing identifies recurrent somatic mutations in EIF1AX and SF3B1 in uveal melanoma with disomy 3. Nat. Genet. 45, 933–936 (2013).

Harbour, J. W. et al. Frequent mutation of BAP1 in metastasizing uveal melanomas. Science 330, 1410–1413 (2010).

Curtin, J. A. et al. Distinct sets of genetic alterations in melanoma. N. Engl. J. Med. 353, 2135–2147 (2005).

Van Raamsdonk, C. D. V. et al. Frequent somatic mutations of GNAQ in uveal melanoma and blue naevi. Nature 457, 599–602 (2009).

Van Raamsdonk, C. D. et al. Mutations in GNA11 in uveal melanoma. N. Engl. J. Med. 363, 2191–2199 (2010).

Johansson, P. et al. Deep sequencing of uveal melanoma identifies a recurrent mutation in PLCB4. Oncotarget 7, 4624–4631 (2016).

Moore, A. R. et al. Recurrent activating mutations of G-protein-coupled receptor CYSLTR2 in uveal melanoma. Nat. Genet. 48, 675–680 (2016).

Wiesner, T. et al. Germline mutations in BAP1 predispose to melanocytic tumors. Nat. Genet. 43, 1018–1021 (2011).

Royer-Bertrand, B. et al. Comprehensive genetic landscape of uveal melanoma by whole-genome sequencing. Am. J. Hum. Genet. 99, 1190–1198 (2016).

Bagger, M. et al. Long-term metastatic risk after biopsy of posterior uveal melanoma. Ophthalmology 125, 1969–1976 (2018).

Kerick, M. et al. Targeted high throughput sequencing in clinical cancer settings: formaldehyde fixed-paraffin embedded (FFPE) tumor tissues, input amount and tumor heterogeneity. BMC Med. Genomics 4, 68 (2011).

Field, M. G. et al. Punctuated evolution of canonical genomic aberrations in uveal melanoma. Nat. Commun. 9, 116 (2018).

Talevich, E., Shain, A. H., Botton, T. & Bastian, B. C. CNVkit: genome-wide copy number detection and visualization from targeted DNA sequencing. PLoS Comput. Biol. 12, e1004873 (2016).

Vader, M. J. C. et al. GNAQ and GNA11 mutations and downstream YAP activation in choroidal nevi. Br. J. Cancer 117, 884–887 (2017).

Huang, J. L.-Y., Urtatiz, O. & Van Raamsdonk, C. D. Oncogenic G protein GNAQ induces uveal melanoma and intravasation in mice. Cancer Res. 75, 3384–3397 (2015).

Callejo, S. A., Dopierala, J., Coupland, S. E. & Damato, B. Sudden growth of a choroidal melanoma and multiplex ligation-dependent probe amplification findings suggesting late transformation to monosomy 3 type. Arch. Ophthalmol. 129, 958–960 (2011).

de Lange, M. J. et al. Heterogeneity revealed by integrated genomic analysis uncovers a molecular switch in malignant uveal melanoma. Oncotarget 6, 37824–37835 (2015).

Singh, N., Singh, A. D. & Hide, W. Inferring an evolutionary tree of uveal melanoma from genomic copy number aberrations. Invest. Ophthalmol. Vis. Sci. 56, 6801–6809 (2015).

Shain, A. H. & Pollack, J. R. The spectrum of SWI/SNF mutations, ubiquitous in human cancers. PLoS ONE 8, e55119 (2013).

Zingg, D. et al. The epigenetic modifier EZH2 controls melanoma growth and metastasis through silencing of distinct tumour suppressors. Nat. Commun. 6, 6051 (2015).

LaFave, L. M. et al. Loss of BAP1 function leads to EZH2-dependent transformation. Nat. Med. 21, 1344–1349 (2015).

Wilson, B. G. et al. Epigenetic antagonism between polycomb and SWI/SNF complexes during oncogenic transformation. Cancer Cell 18, 316–328 (2010).

Cassoux, N. et al. Genome-wide profiling is a clinically relevant and affordable prognostic test in posterior uveal melanoma. Br. J. Ophthalmol. 98, 769–774 (2014).

Turajlic, S. et al. Tracking cancer evolution reveals constrained routes to metastases: TRACERx Renal. Cell 173, 581–594.e12 (2018).

Vogelstein, B. et al. Cancer genome landscapes. Science 339, 1546–1558 (2013).

Reiter, J. G. et al. Minimal functional driver gene heterogeneity among untreated metastases. Science 361, 1033–1037 (2018).

Bremner, R. & Balmain, A. Genetic changes in skin tumor progression: correlation between presence of a mutant ras gene and loss of heterozygosity on mouse chromosome 7. Cell 61, 407–417 (1990).

Shain, A. H. et al. The genetic evolution of melanoma from precursor lesions. N. Engl. J. Med. 373, 1926–1936 (2015).

Shain, A. H. et al. Exome sequencing of desmoplastic melanoma identifies recurrent NFKBIE promoter mutations and diverse activating mutations in the MAPK pathway. Nat. Genet. 47, 1194–1199 (2015).

Shain, H. Compiled genetic summary of the evolution of 35 metastatic uveal melanomas. figshare https://doi.org/10.6084/m9.figshare.6845675.v1 (2019).

Shain, A. H. et al. Genomic and transcriptomic analysis reveals incremental disruption of key signaling pathways during melanoma evolution. Cancer Cell 34, 45–55.e4 (2018).

Schouten, J. P. et al. Relative quantification of 40 nucleic acid sequences by multiplex ligation-dependent probe amplification. Nucleic Acids Res. 30, e57 (2002).
Acknowledgements
We wish to acknowledge B. Vainer, who passed away during the course of the study, and H. Ugleholdt, for the collection and preparation of tissue samples used in this study. We thank M. Tolstrup Andersen and M. Klarskov Andersen for genetic assistance. We also thank S. Mirza for help with FISH. We acknowledge funding support from the following: Melanoma Research Foundation (A.H.S.); National Cancer Institute K22 (CA217997 to A.H.S.); Melanoma Research Alliance (A.H.S.); Dermatology Foundation (A.H.S.); Fight for Sight Denmark (M.M.B.); the Danish Eye Research Foundation (M.M.B.); the Research Fund of Rigshospitalet (M.M.B.); the Danish Medical Research Grant/Højmosegård Grant (M.M.B.); Research to Prevent Blindness (B.C.B.); National Cancer Institute award no. 1R35CA220481 (B.C.B.); and the Terri Patters Foundation (B.C.B.).
Ethics declarations
Competing interests
B.C.B. is a consultant for Lilly Inc.
Additional information
Publisher's note: Springer Nature remains neutral with regard to jurisdictional claims in published maps and institutional affiliations.
Integrated supplementary information
Supplementary information
About this article
Cite this article
Shain, A.H., Bagger, M.M., Yu, R. et al. The genetic evolution of metastatic uveal melanoma. Nat Genet 51, 1123–1130 (2019). https://doi.org/10.1038/s41588-019-0440-9
Received:

Accepted:

Published:

Issue Date:

DOI: https://doi.org/10.1038/s41588-019-0440-9