Abstract
The histone acetyl reader bromodomain-containing protein 4 (BRD4) is an important regulator of chromatin structure and transcription, yet factors modulating its activity have remained elusive. Here we describe two complementary screens for genetic and physical interactors of BRD4, which converge on the folate pathway enzyme MTHFD1 (methylenetetrahydrofolate dehydrogenase, cyclohydrolase and formyltetrahydrofolate synthetase 1). We show that a fraction of MTHFD1 resides in the nucleus, where it is recruited to distinct genomic loci by direct interaction with BRD4. Inhibition of either BRD4 or MTHFD1 results in similar changes in nuclear metabolite composition and gene expression; pharmacological inhibitors of the two pathways synergize to impair cancer cell viability in vitro and in vivo. Our finding that MTHFD1 and other metabolic enzymes are chromatin associated suggests a direct role for nuclear metabolism in the control of gene expression.
Relevant articles
Open Access articles citing this article.
Zi-Yuan Zhang

,

Zhao-Yang Zuo

…

Guang-Yu Li

Inflammation and Regeneration Open Access 20 June 2023

Jianjian Yu

,

Dan Hu

…

Feng Peng

Cell Death Discovery Open Access 23 April 2022

Ruogu Pan

,

Zhiqing Yuan

…

Kewei Li

Cell Death Discovery Open Access 01 May 2021
Access options
Access Nature and 54 other Nature Portfolio journals
Get Nature+, our best-value online-access subscription
$29.99 / 30 days
cancel any time
Subscribe to this journal
Receive 12 print issues and online access
$209.00 per year
only $17.42 per issue
Rent or buy this article
Prices vary by article type
from$1.95
to$39.95
Prices may be subject to local taxes which are calculated during checkout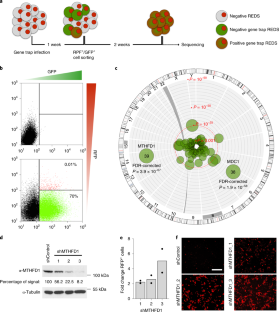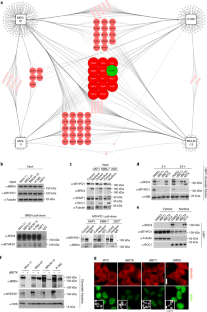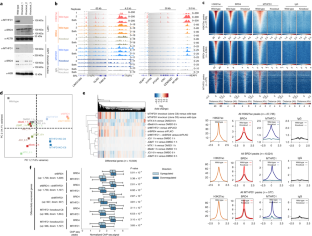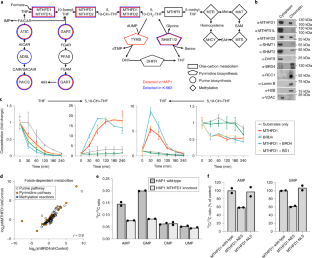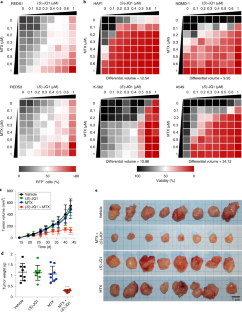 References
Filippakopoulos, P. et al. Histone recognition and large-scale structural analysis of the human bromodomain family. Cell 149, 214–231 (2012).

Floyd, S. R. et al. The bromodomain protein Brd4 insulates chromatin from DNA damage signalling. Nature 498, 246–250 (2013).

Filippakopoulos, P. et al. Selective inhibition of BET bromodomains. Nature 468, 1067–1073 (2010).

Winter, G. E. et al. BET bromodomain proteins function as master transcription elongation factors independent of CDK9 recruitment. Mol. Cell 67, 5–18.e19 (2017).

Shi, J. & Vakoc, C. R. The mechanisms behind the therapeutic activity of BET bromodomain inhibition. Mol. Cell 54, 728–736 (2014).

Zhou, Q., Li, T. & Price, D. H. RNA polymerase II elongation control. Annu. Rev. Biochem. 81, 119–143 (2012).

Asangani, I. A. et al. Therapeutic targeting of BET bromodomain proteins in castration-resistant prostate cancer. Nature 510, 278–282 (2014).

Dawson, M. A. et al. Inhibition of BET recruitment to chromatin as an effective treatment for MLL-fusion leukaemia. Nature 478, 529–533 (2011).

Delmore, J. E. et al. BET bromodomain inhibition as a therapeutic strategy to target c-Myc. Cell 146, 904–917 (2011).

Lovén, J. et al. Selective inhibition of tumor oncogenes by disruption of super-enhancers. Cell 153, 320–334 (2013).

Shu, S. et al. Response and resistance to BET bromodomain inhibitors in triple-negative breast cancer. Nature 529, 413–417 (2016).

Zuber, J. et al. RNAi screen identifies Brd4 as a therapeutic target in acute myeloid leukaemia. Nature 478, 524–528 (2011).

Filippakopoulos, P. & Knapp, S. Targeting bromodomains: epigenetic readers of lysine acetylation. Nat. Rev. Drug Discov. 13, 337–356 (2014).

Knoechel, B. et al. An epigenetic mechanism of resistance to targeted therapy in T cell acute lymphoblastic leukemia. Nat. Genet. 46, 364–370 (2014).

Rathert, P. et al. Transcriptional plasticity promotes primary and acquired resistance to BET inhibition. Nature 525, 543–547 (2015).

Fong, C. Y. et al. BET inhibitor resistance emerges from leukaemia stem cells. Nature 525, 538–542 (2015).

Sdelci, S. et al. Mapping the chemical chromatin reactivation landscape identifies BRD4-TAF1 cross-talk. Nat. Chem. Biol. 12, 504–510 (2016).

Carette, J. E. et al. Haploid genetic screens in human cells identify host factors used by pathogens. Science 326, 1231–1235 (2009).

Tchasovnikarova, I. A. et al. Epigenetic silencing by the HUSH complex mediates position-effect variegation in human cells. Science 348, 1481–1485 (2015).

Sabari, B. R. Coactivator condensation at super-enhancers links phase separation and gene control. Science 361, eaar3958 (2018).

Cho, W. K. et al. Mediator and RNA polymerase II clusters associate in transcription-dependent condensates. Science 361, 412–415 (2018).

Ducker, G. S. & Rabinowitz, J. D. One-carbon metabolism in health and disease. Cell Metab. 25, 27–42 (2017).

Field, M. S. et al. Nuclear enrichment of folate cofactors and methylenetetrahydrofolate dehydrogenase 1 (MTHFD1) protect de novo thymidylate biosynthesis during folate deficiency. J. Biol. Chem. 289, 29642–29650 (2014).

Field, M. S., Kamynina, E. & Stover, P. J. MTHFD1 regulates nuclear de novo thymidylate biosynthesis and genome stability. Biochimie 126, 27–30 (2016).

Winter, G. E. et al. Phthalimide conjugation as a strategy for in vivo target protein degradation. Science 348, 1376–1381 (2015).

Bliss, C. I. The toxicity of poisons applied jointly. Ann. Appl. Biol. 26, 585–615 (1939).

Grabner, B. et al. Disruption of STAT3 signalling promotes KRAS-induced lung tumorigenesis. Nat. Commun. 6, 6285 (2015).

Wright, R. H. et al. ADP-ribose-derived nuclear ATP synthesis by NUDIX5 is required for chromatin remodeling. Science 352, 1221–1225 (2016).

Mews, P. et al. Acetyl-CoA synthetase regulates histone acetylation and hippocampal memory. Nature 546, 381–386 (2017).

Kamynina, E. et al. Arsenic trioxide targets MTHFD1 and SUMO-dependent nuclear de novo thymidylate biosynthesis. Proc. Natl Acad. Sci. USA 114, E2319–E2326 (2017).

MacFarlane, A. J. et al. Nuclear localization of de novo thymidylate biosynthesis pathway is required to prevent uracil accumulation in DNA. J. Biol. Chem. 286, 44015–44022 (2011).

Field, M. S., Kamynina, E., Chon, J. & Stover, P. J. Nuclear folate metabolism. Annu. Rev. Nutr. 38, 219–243 (2018).

Ginno, P. A., Burger, L., Seebacher, J., Iesmantavicius, V. & Schübeler, D. Cell cycle-resolved chromatin proteomics reveals the extent of mitotic preservation of the genomic regulatory landscape. Nat. Commun. 9, 4048 (2018).

Sudhamalla, B., Dey, D., Breski, M., Nguyen, T. & Islam, K. Site-specific azide-acetyllysine photochemistry on epigenetic readers for interactome profiling. Chem. Sci. 8, 4250–4256 (2017).

Perretta, M. & Romero, A. De novo RNA biosynthesis in isolated bone marrow nuclei. Experientia 29, 39–40 (1973).

Tan, J. L. et al. Stress from nucleotide depletion activates the transcriptional regulator HEXIM1 to suppress melanoma. Mol. Cell 62, 34–46 (2016).

Sharma, U. & Rando, O. J. Metabolic inputs into the epigenome. Cell Metab. 25, 544–558 (2017).

Li, X., Egervari, G., Wang, Y., Berger, S. L. & Lu, Z. Regulation of chromatin and gene expression by metabolic enzymes and metabolites. Nat. Rev. Mol. Cell Biol. 19, 563–578 (2018).

Boukouris, A. E., Zervopoulos, S. D. & Michelakis, E. D. Metabolic enzymes moonlighting in the nucleus: metabolic regulation of gene transcription. Trends Biochem. Sci. 41, 712–730 (2016).

van der Knaap, J. A. & Verrijzer, C. P. Undercover: gene control by metabolites and metabolic enzymes. Genes Dev. 30, 2345–2369 (2016).

Anderson, A. C. & Wright, D. L. Antifolate agents: a patent review (2010–2013). Expert Opin. Ther. Pat. 24, 687–697 (2014).

Wilson, P. M., Danenberg, P. V., Johnston, P. G., Lenz, H. J. & Ladner, R. D. Standing the test of time: targeting thymidylate biosynthesis in cancer therapy. Nat. Rev. Clin. Oncol. 11, 282–298 (2014).

Bürckstümmer, T. et al. A reversible gene trap collection empowers haploid genetics in human cells. Nat. Methods 10, 965–971 (2013).

Krzywinski, M. et al. Circos: an information aesthetic for comparative genomics. Genome Res. 19, 1639–1645 (2009).

Carette, J. E. et al. Global gene disruption in human cells to assign genes to phenotypes by deep sequencing. Nat. Biotechnol. 29, 542–546 (2011).

Ran, F. A. et al. Genome engineering using the CRISPR-Cas9 system. Nat. Protoc. 8, 2281–2308 (2013).

Kim, T. H. et al. A high-resolution map of active promoters in the human genome. Nature 436, 876–880 (2005).

Jiang, H., Lei, R., Ding, S. W. & Zhu, S. Skewer: a fast and accurate adapter trimmer for next-generation sequencing paired-end reads. BMC Bioinformatics 15, 182 (2014).

Langmead, B. & Salzberg, S. L. Fast gapped-read alignment with Bowtie 2. Nat. Methods 9, 357–359 (2012).

Landt, S. G. et al. ChIP-seq guidelines and practices of the ENCODE and modENCODE consortia. Genome Res. 22, 1813–1831 (2012).

Heinz, S. et al. Simple combinations of lineage-determining transcription factors prime cis-regulatory elements required for macrophage and B cell identities. Mol. Cell 38, 576–589 (2010).

McLean, C. Y. et al. GREAT improves functional interpretation of cis-regulatory regions. Nat. Biotechnol. 28, 495–501 (2010).

Ramírez, F. et al. deepTools2: a next generation web server for deep-sequencing data analysis. Nucleic Acids Res. 44, W160–W165 (2016).

Ross-Innes, C. S. et al. Differential oestrogen receptor binding is associated with clinical outcome in breast cancer. Nature 481, 389–393 (2012).

Trapnell, C. et al. Transcript assembly and quantification by RNA-Seq reveals unannotated transcripts and isoform switching during cell differentiation. Nat. Biotechnol. 28, 511–515 (2010).
Acknowledgements
S. Sdelci is a JDRF postdoctoral fellow (no. 3-PDF-2014-206-A-N). D.L.B. is a Merck Fellow of the Damon Runyon Cancer Research Foundation (no. DRG-2196-14). Next-generation sequencing was performed by the Biomedical Sequencing Facility at the CeMM. Research in the Kubicek laboratory is supported by the Austrian Federal Ministry for Digital and Economic Affairs and the National Foundation for Research, Technology, and Development, the Austrian Science Fund (FWF; no. F4701) and the European Research Council (ERC) under the European Union's Horizon 2020 research and innovation program (no. ERC-CoG-772437). Research in the Zuber laboratory was supported by the ERC (no. ERC-StG-336860 to J.Z.), a Research Fellowship of the EU (Marie Curie Actions 329492 to P.R.) and generous institutional funding from Boehringer Ingelheim. We thank all the members of the BioOptic Facility of the Research Institute of Molecular Pathology and the Institute of Molecular Biotechnology GmbH for their help with cell sorting, P. Stover (Cornell) and S. Nijman (Oxford) for kindly providing the plasmids, and A. Terenzi (Donostia International Physics Center) for advice on in vitro metabolomics.
Ethics declarations
Competing interests
S. Sdelci and S.K. have filed patent application WO/2018/087401 based on the findings described in this manuscript. J.E.B. is now a shareholder and executive of Novartis AG, and was formerly the founder of the BET bromodomain-focused company Tensha (acquired by Roche).
Additional information
Publisher's note: Springer Nature remains neutral with regard to jurisdictional claims in published maps and institutional affiliations.
Integrated supplementary information
Supplementary information
Supplementary Figs. 1–13, Supplementary Note and Supplementary Tables 1–3
About this article
Cite this article
Sdelci, S., Rendeiro, A.F., Rathert, P. et al. MTHFD1 interaction with BRD4 links folate metabolism to transcriptional regulation. Nat Genet 51, 990–998 (2019). https://doi.org/10.1038/s41588-019-0413-z
Received:

Accepted:

Published:

Issue Date:

DOI: https://doi.org/10.1038/s41588-019-0413-z