Abstract
Chromosome segregation errors cause aneuploidy and genomic heterogeneity, which are hallmarks of cancer in humans. A persistent high frequency of these errors (chromosomal instability (CIN)) is predicted to profoundly impact tumor evolution and therapy response. It is unknown, however, how prevalent CIN is in human tumors. Using three-dimensional live-cell imaging of patient-derived tumor organoids (tumor PDOs), we show that CIN is widespread in colorectal carcinomas regardless of background genetic alterations, including microsatellite instability. Cell-fate tracking showed that, although mitotic errors are frequently followed by cell death, some tumor PDOs are largely insensitive to mitotic errors. Single-cell karyotype sequencing confirmed heterogeneity of copy number alterations in tumor PDOs and showed that monoclonal lines evolved novel karyotypes over time in vitro. We conclude that ongoing CIN is common in colorectal cancer organoids, and propose that CIN levels and the tolerance for mitotic errors shape aneuploidy landscapes and karyotype heterogeneity.
Access options
Subscribe to Journal
Get full journal access for 1 year
$209.00
only $17.42 per issue
All prices are NET prices.
VAT will be added later in the checkout.
Rent or Buy article
Get time limited or full article access on ReadCube.
from$8.99
All prices are NET prices.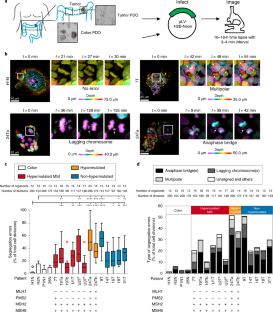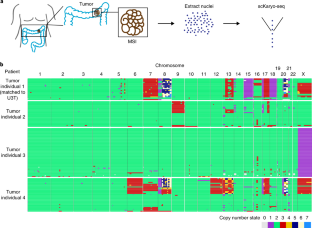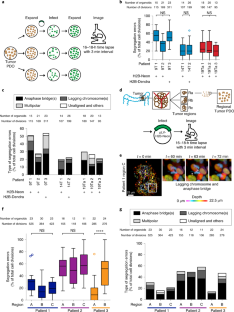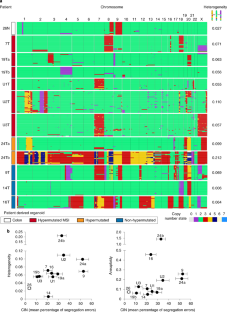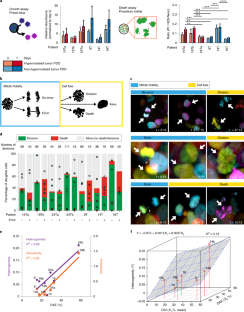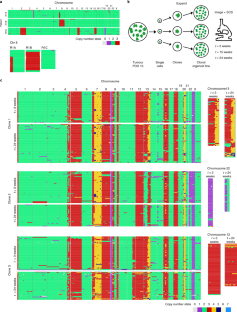 Data availability
The accession number for the single-cell and bulk whole-genome sequencing is PRJEB27084 (ENA repository).
References
1.

Greaves, M. Evolutionary determinants of cancer. Cancer Discov. 5, 806–821 (2015).

2.

Davis, A., Gao, R. & Navin, N. Tumor evolution: linear, branching, neutral or punctuated? Biochim. Biophys. Acta Rev. Cancer 1867, 151–161 (2017).

3.

Swanton, C. Intratumor heterogeneity: evolution through space and time. Cancer Res. 72, 4875–4882 (2012).

4.

Landau, D. A. et al. Mutations driving CLL and their evolution in progression and relapse. Nature 526, 525–530 (2015).

5.

Andor, N. et al. Pan-cancer analysis of the extent and consequences of intratumor heterogeneity. Nat. Med. 22, 105–113 (2016).

6.

Navin, N. E. Tumor evolution in response to chemotherapy: phenotype versus genotype. Cell Rep. 6, 417–419 (2014).

7.

Gerlinger, M. & Swanton, C. How Darwinian models inform therapeutic failure initiated by clonal heterogeneity in cancer medicine. Br. J. Cancer 103, 1139–1143 (2010).

8.

Kreso, A. et al. Variable clonal repopulation dynamics influence chemotherapy response in colorectal cancer. Science 339, 543–548 (2013).

9.

Gerlinger, M. et al. Intratumor heterogeneity and branched evolution revealed by multiregion sequencing. N. Engl. J. Med. 366, 883–892 (2012).

10.

Sottoriva, A. et al. A Big Bang model of human colorectal tumor growth. Nat. Genet. 47, 209–216 (2015).

11.

Yates, L. R. et al. Subclonal diversification of primary breast cancer revealed by multiregion sequencing. Nat. Med. 21, 751–759 (2015).

12.

Morrissy, A. S. et al. Divergent clonal selection dominates medulloblastoma at recurrence. Nature 529, 351–357 (2016).

13.

Roylance, R. et al. Expression of regulators of mitotic fidelity are associated with intercellular heterogeneity and chromosomal instability in primary breast cancer. Breast Cancer Res. Treat. 148, 221–229 (2014).

14.

Jamal-Hanjani, M. et al. Tracking the evolution of non–small-cell lung cancer. N. Engl. J. Med. 376, 2109–2121 (2017).

15.

Kim, T. M. et al. Subclonal genomic architectures of primary and metastatic colorectal cancer based on intratumoral genetic heterogeneity. Clin. Cancer Res. 21, 4461–4472 (2015).

16.

Gao, R. et al. Punctuated copy number evolution and clonal stasis in triple-negative breast cancer. Nat. Genet. 48, 1119–1130 (2016).

17.

Morrissy, A. S. et al. Spatial heterogeneity in medulloblastoma. Nat. Genet. 49, 780–788 (2017).

18.

Navin, N. E. Delineating cancer evolution with single-cell sequencing. Sci. Transl. Med. 7, 296fs29 (2015).

19.

Navin, N. et al. Tumor evolution inferred by single-cell sequencing. Nature 472, 90–94 (2011).

20.

Wang, Y. et al. Clonal evolution in breast cancer revealed by single nucleus genome sequencing. Nature 512, 155–160 (2014).

21.

van Jaarsveld, R. H. & Kops, G. J. P. L. Difference makers: chromosomal instability versus aneuploidy in cancer. Trends Cancer 2, 561–571 (2016).

22.

Duijf, P. H. G., Schultz, N. & Benezra, R. Cancer cells preferentially lose small chromosomes. Int. J. Cancer 132, 2316–2326 (2013).

23.

Mitelman, F., Johansson, B. & Mertens, F. Mitelman Database of Chromosome Aberrations and Gene Fusions in Cancer (National Cancer Institute, 2018); http://cgap.nci.nih.gov/Chromosomes/Mitelman

24.

Janssen, A., van der Burg, M., Szuhai, K., Kops, G. J. P. L. & Medema, R. H. Chromosome segregation errors as a cause of DNA damage and structural chromosome aberrations. Science 333, 1895–1898 (2011).

25.

Crasta, K. et al. DNA breaks and chromosome pulverization from errors in mitosis. Nature 482, 53–58 (2013).

26.

Zhang, C.-Z. et al. Chromothripsis from DNA damage in micronuclei. Nature 522, 179–184 (2015).

27.

Ly, P. et al. Selective Y centromere inactivation triggers chromosome shattering in micronuclei and repair by non-homologous end joining. Nat. Cell Biol. 19, 68–75 (2017).

28.

Lengauer, C., Kinzler, K. W. & Vogelstein, B. Genetic instability in colorectal cancers. Nature 386, 623–627 (1997).

29.

Shih, I. et al. Evidence that genetic instability occurs at an early stage of colorectal tumorigenesis. Cancer Res. 61, 818–822 (2001).

30.

Cho, K. R. & Vogelstein, B. Genetic alterations in the adenoma–carcinoma sequence. Cancer 70, 1727–1731 (1992).

31.

Burrell, R. A. et al. Replication stress links structural and numerical cancer chromosomal instability. Nature 494, 492–496 (2013).

32.

Solomon, D. A. et al. Mutational inactivation of STAG2 causes aneuploidy in human cancer. Science. 333, 1039–1043 (2011).

33.

Thompson, S. L. & Compton, D. A. Examining the link between chromosomal instability and aneuploidy in human cells. J. Cell Biol. 180, 665–672 (2008).

34.

Bakhoum, S. F. et al. The mitotic origin of chromosomal instability. Curr. Biol. 24, R148–R149 (2014).

35.

Thompson, S. L., Bakhoum, S. F. & Compton, D. A. Mechanisms of chromosomal instability. Curr. Biol. 20, R285–R295 (2010).

36.

Kops, G. J. P. L., Weaver, B. A. A. & Cleveland, D. W. On the road to cancer: aneuploidy and the mitotic checkpoint. Nat. Rev. Cancer 5, 773–785 (2005).

37.

Sachs, N. & Clevers, H. Organoid cultures for the analysis of cancer phenotypes. Curr. Opin. Genet. Dev. 24, 68–73 (2014).

38.

Knouse, K. A., Lopez, K. E., Bachofner, M. & Amon, A. Chromosome segregation fidelity in epithelia requires tissue architecture. Cell 175, 200–211 (2018).

39.

Sato, T. et al. Single Lgr5 stem cells build crypt-villus structures in vitro without a mesenchymal niche. Nature 459, 262–265 (2009).

40.

Sato, T. et al. Long-term expansion of epithelial organoids from human colon, adenoma, adenocarcinoma, and Barrett's epithelium. Gastroenterology 141, 1762–1772 (2011).

41.

van de Wetering, M. et al. Prospective derivation of a living organoid biobank of colorectal cancer patients. Cell 161, 933–945 (2015).

42.

Broutier, L. et al. Human primary liver cancer-derived organoid cultures for disease modeling and drug screening. Nat. Med. 23, 1424–1435 (2017).

43.

Sachs, N. et al. A living biobank of breast cancer organoids captures disease heterogeneity. Cell 172, 373–382 (2017).

44.

Fujii, M. et al. A colorectal tumor organoid library demonstrates progressive loss of niche factor requirements during tumorigenesis. Cell Stem Cell 18, 827–838 (2016).

45.

Pauli, C. et al. Personalized in vitro and in vivo cancer models to guide precision medicine. Cancer Discov. 7, 462–477 (2017).

46.

Schütte, M. et al. Molecular dissection of colorectal cancer in pre-clinical models identifies biomarkers predicting sensitivity to EGFR inhibitors. Nat. Commun. 8, 14262 (2017).

47.

Zhang, M. et al. Aneuploid embryonic stem cells exhibit impaired differentiation and increased neoplastic potential. EMBO J. 35, 2285–2300 (2016).

48.

Drost, J. et al. Sequential cancer mutations in cultured human intestinal stem cells. Nature 521, 43–47 (2015).

49.

Verissimo, C. S. et al. Targeting mutant RAS in patient-derived colorectal cancer organoids by combinatorial drug screening. eLife 5, e18489 (2016).

50.

Bakker, B. et al. Single-cell sequencing reveals karyotype heterogeneity in murine and human malignancies. Genome Biol. 17, 115 (2016).

51.

Dewhurst, S. M. et al. Tolerance of whole-genome doubling propagates chromosomal instability and accelerates cancer genome evolution. Cancer Discov. 4, 175–185 (2014).

52.

Buccitelli, C. et al. Pan-cancer analysis distinguishes transcriptional changes of aneuploidy from proliferation. Genome Res. 27, 501–511 (2017).

53.

Taylor, A. M. et al. Genomic and functional approaches to understanding cancer aneuploidy. Cancer Cell 33, 676–689 (2018).

54.

The Cancer Genome Atlas Network Comprehensive molecular characterization of human colon and rectal cancer. Nature 487, 330–337 (2012).

55.

Lengauer, C., Kinzler, K. W. & Vogelstein, B. Genetic instabilities in human cancers. Nature 396, 643–649 (1998).

56.

Lu, Y. W. et al. Colorectal cancer genetic heterogeneity delineated by multi-region sequencing. PLoS ONE 11, e0152673 (2016).

57.

Losi, L., Baisse, B., Bouzourene, H. & Benhattar, J. Evolution of intratumoral genetic heterogeneity during colorectal cancer progression. Carcinogenesis 26, 916–922 (2005).

58.

Mamlouk, S. et al. DNA copy number changes define spatial patterns of heterogeneity in colorectal cancer. Nat. Commun. 8, 14093 (2017).

59.

Roerink, S. F. et al. Intra-tumour diversification in colorectal cancer at the single-cell level. Nature 556, 457–462 (2018).

60.

Sansregret, L., Vanhaesebroeck, B. & Swanton, C. Determinants and clinical implications of chromosomal instability in cancer. Nat. Rev. Clin. Oncol. 15, 139–150 (2018).

61.

Schukken, K. M. & Foijer, F. CIN and aneuploidy: different concepts, different consequences. BioEssays 40, 1700147 (2018).

62.

Vlachogiannis, G. et al. Patient-derived organoids model treatment response of metastatic gastrointestinal cancers. Science 359, 920–926 (2018).

63.

Gregan, J., Polakova, S., Zhang, L., Tolic-Nørrelykke, I. M. & Cimini, D. Merotelic kinetochore attachment: causes and effects. Trends Cell Biol. 21, 374–381 (2011).

64.

Santaguida, S. et al. Chromosome mis-segregation generates cell-cycle-arrested cells with complex karyotypes that are eliminated by the immune system. Dev. Cell 41, 638–651 (2017).

65.

Soto, M. et al. p53 prohibits propagation of chromosome segregation errors that produce structural aneuploidies. Cell Rep. 19, 2423–2431 (2017).

66.

Bakhoum, S. F., Kabeche, L., Murnane, J. P., Zaki, B. I. & Compton, D. A. DNA-damage response during mitosis induces whole-chromosome missegregation. Cancer Discov. 4, 1281–1289 (2014).

67.

López-García, C. et al. BCL9L dysfunction impairs caspase-2 expression permitting aneuploidy tolerance in colorectal cancer. Cancer Cell 31, 79–93 (2017).

68.

Janssen, A., Kops, G. J. P. L. & Medema, R. H. Elevating the frequency of chromosome mis-segregation as a strategy to kill tumor cells. Proc. Natl Acad. Sci. USA 106, 19108–19113 (2009).

69.

Shaner, N. C. et al. A bright monomeric green fluorescent protein derived from Branchiostoma lanceolatum. Nat. Methods 10, 407–409 (2013).

70.

Muraro, M. J. et al. A single-cell transcriptome atlas of the human pancreas. Cell Syst. 3, 385–394 (2016).
Acknowledgements
We thank members of the Kops, Snippert and Clevers laboratories for reagents, suggestions and discussions; Y. Bollen and E. Stelloo for help with bulk genome sequencing; S. Sonneveld and F. Ferreira for help with R; and R. Wardenaar for the modifications on the Aneufinder algorithm. We are grateful to the Hubrecht Imaging Centre, particularly to A. Graaf, the Hubrecht Flow Cytometry facility, the USEQ Utrecht sequencing facility, and the ERIBA FACS and DNA sequencing facilities. This work is part of the Oncode Institute, which is partly financed by the Dutch Cancer Society, and was funded by the gravitation program CancerGenomiCs.nl from the Netherlands Organisation for Scientific Research (NWO), by a grant from the Dutch Cancer Society (KWF/HUBR-2015-7848), by a FP7-MSCA-ITN-2013 grant (PloidyNet, 607722), an NWO TOP grant (grant 91215003 to F.F.), an ERC starting grant (to H.J.G.S.) and by an Advanced Grant (to P.M.L.).
Ethics declarations
Competing interests
H.C. is inventor on several patents related to organoid technology. All other authors declare no competing interests.
Additional information
Publisher's note: Springer Nature remains neutral with regard to jurisdictional claims in published maps and institutional affiliations.
Integrated supplementary information
Supplementary information
About this article
Cite this article
Bolhaqueiro, A.C.F., Ponsioen, B., Bakker, B. et al. Ongoing chromosomal instability and karyotype evolution in human colorectal cancer organoids. Nat Genet 51, 824–834 (2019). https://doi.org/10.1038/s41588-019-0399-6
Received:

Accepted:

Published:

Issue Date: