Abstract
The oocyte epigenome plays critical roles in mammalian gametogenesis and embryogenesis. Yet, how it is established remains elusive. Here, we report that histone-lysine N-methyltransferase SETD2, an H3K36me3 methyltransferase, is a crucial regulator of the mouse oocyte epigenome. Deficiency in Setd2 leads to extensive alterations of the oocyte epigenome, including the loss of H3K36me3, failure in establishing the correct DNA methylome, invasion of H3K4me3 and H3K27me3 into former H3K36me3 territories and aberrant acquisition of H3K4me3 at imprinting control regions instead of DNA methylation. Importantly, maternal depletion of SETD2 results in oocyte maturation defects and subsequent one-cell arrest after fertilization. The preimplantation arrest is mainly due to a maternal cytosolic defect, since it can be largely rescued by normal oocyte cytosol. However, chromatin defects, including aberrant imprinting, persist in these embryos, leading to embryonic lethality after implantation. Thus, these data identify SETD2 as a crucial player in establishing the maternal epigenome that in turn controls embryonic development.
Access options
Subscribe to Journal
Get full journal access for 1 year
$209.00
only $17.42 per issue
All prices are NET prices.
VAT will be added later in the checkout.
Rent or Buy article
Get time limited or full article access on ReadCube.
from$8.99
All prices are NET prices.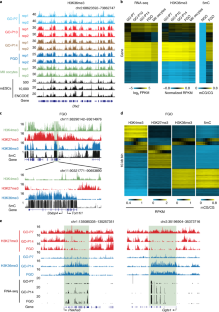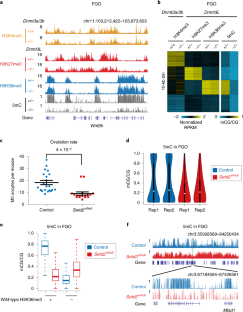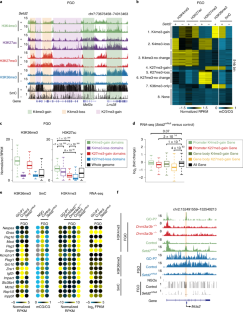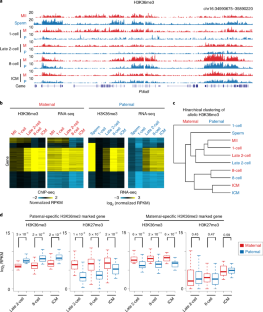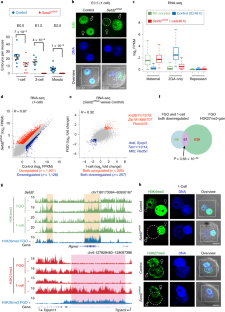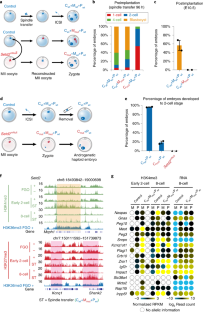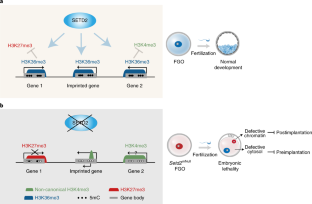 Data availability
The generated and analyzed datasets in the current study are available in the Gene Expression Omnibus with accession number GSE112835.
References
1.

Bernstein, B. E., Meissner, A. & Lander, E. S. The mammalian epigenome. Cell 128, 669–681 (2007).

2.

Margueron, R. & Reinberg, D. Chromatin structure and the inheritance of epigenetic information. Nat. Rev. Genet. 11, 285–296 (2010).

3.

Brookes, E. & Shi, Y. Diverse epigenetic mechanisms of human disease. Annu. Rev. Genet. 48, 237–268 (2014).

4.

Xu, Q. & Xie, W. Epigenome in early mammalian development: inheritance, reprogramming and establishment. Trends Cell Biol. 28, 237–253 (2018).

5.

Tadros, W. & Lipshitz, H. D. The maternal-to-zygotic transition: a play in two acts. Development 136, 3033–3042 (2009).

6.

Bartolomei, M. S. & Ferguson-Smith, A. C. Mammalian genomic imprinting. Cold Spring Harb. Perspect. Biol. 3, a002592 (2011).

7.

Arima, T. et al. Loss of the maternal imprint in Dnmt3L mat-/- mice leads to a differentiation defect in the extraembryonic tissue. Dev. Biol. 297, 361–373 (2006).

8.

Branco, M. R. et al. Maternal DNA methylation regulates early trophoblast development. Dev. Cell 36, 152–163 (2016).

9.

Inoue, A., Jiang, L., Lu, F. & Zhang, Y. Genomic imprinting of Xist by maternal H3K27me3. Genes Dev. 31, 1927–1932 (2017).

10.

Inoue, A., Jiang, L., Lu, F., Suzuki, T. & Zhang, Y. Maternal H3K27me3 controls DNA methylation-independent imprinting. Nature 547, 419–424 (2017).

11.

Kelsey, G. & Feil, R. New insights into establishment and maintenance of DNA methylation imprints in mammals. Philos. Trans. R. Soc. Lond. B 368, 20110336 (2013).

12.

Brind'Amour, J. et al. LTR retrotransposons transcribed in oocytes drive species-specific and heritable changes in DNA methylation. Nat. Commun. 9, 3331 (2018).

13.

Kobayashi, H. et al. Contribution of intragenic DNA methylation in mouse gametic DNA methylomes to establish oocyte-specific heritable marks. PLoS Genet. 8, e1002440 (2012).

14.

Shirane, K. et al. Mouse oocyte methylomes at base resolution reveal genome-wide accumulation of non-CpG methylation and role of DNA methyltransferases. PLoS Genet. 9, e1003439 (2013).

15.

Chotalia, M. et al. Transcription is required for establishment of germline methylation marks at imprinted genes. Genes Dev. 23, 105–117 (2009).

16.

Zhang, B. et al. Allelic reprogramming of the histone modification H3K4me3 in early mammalian development. Nature 537, 553–557 (2016).

17.

Dahl, J. A. et al. Broad histone H3K4me3 domains in mouse oocytes modulate maternal-to-zygotic transition. Nature 537, 548–552 (2016).

18.

Hanna, C. W. et al. MLL2 conveys transcription-independent H3K4 trimethylation in oocytes. Nat. Struct. Mol. Biol. 25, 73–82 (2018).

19.

Zheng, H. et al. Resetting epigenetic memory by reprogramming of histone modifications in mammals. Mol. Cell 63, 1066–1079 (2016).

20.

Ooi, S. K. et al. DNMT3L connects unmethylated lysine 4 of histone H3 to de novo methylation of DNA. Nature 448, 714–717 (2007).

21.

Zhang, Y. et al. Chromatin methylation activity of Dnmt3a and Dnmt3a/3L is guided by interaction of the ADD domain with the histone H3 tail. Nucleic Acids Res. 38, 4246–4253 (2010).

22.

Bartke, T. et al. Nucleosome-interacting proteins regulated by DNA and histone methylation. Cell 143, 470–484 (2010).

23.

Brinkman, A. B. et al. Sequential ChIP-bisulfite sequencing enables direct genome-scale investigation of chromatin and DNA methylation cross-talk. Genome Res. 22, 1128–1138 (2012).

24.

Reddington, J. P. et al. Redistribution of H3K27me3 upon DNA hypomethylation results in de-repression of Polycomb target genes. Genome Biol. 14, R25 (2013).

25.

Wachter, E. et al. Synthetic CpG islands reveal DNA sequence determinants of chromatin structure. eLife 3, e03397 (2014).

26.

Wozniak, G. G. & Strahl, B. D. Hitting the 'mark': interpreting lysine methylation in the context of active transcription. Biochim. Biophys. Acta 1839, 1353–1361 (2014).

27.

Hu, M. et al. Histone H3 lysine 36 methyltransferase Hypb/Setd2 is required for embryonic vascular remodeling. Proc. Natl Acad. Sci. USA 107, 2956–2961 (2010).

28.

Mukai, M. et al. H3K36 trimethylation-mediated epigenetic regulation is activated by Bam and promotes germ cell differentiation during early oogenesis in Drosophila. Biol. Open 4, 119–124 (2015).

29.

McKay, D. J. et al. Interrogating the function of metazoan histones using engineered gene clusters. Dev. Cell 32, 373–386 (2015).

30.

Aoshima, K., Inoue, E., Sawa, H. & Okada, Y. Paternal H3K4 methylation is required for minor zygotic gene activation and early mouse embryonic development. EMBO Rep. 16, 803–812 (2015).

31.

Xie, L. et al. KDM5B regulates embryonic stem cell self-renewal and represses cryptic intragenic transcription. EMBO J. 30, 1473–1484 (2011).

32.

Yuan, W. et al. H3K36 methylation antagonizes PRC2-mediated H3K27 methylation. J. Biol. Chem. 286, 7983–7989 (2011).

33.

Schmitges, F. W. et al. Histone methylation by PRC2 is inhibited by active chromatin marks. Mol. Cell 42, 330–341 (2011).

34.

Dhayalan, A. et al. The Dnmt3a PWWP domain reads histone 3 lysine 36 trimethylation and guides DNA methylation. J. Biol. Chem. 285, 26114–26120 (2010).

35.

Rondelet, G., Dal Maso, T., Willems, L. & Wouters, J. Structural basis for recognition of histone H3K36me3 nucleosome by human de novo DNA methyltransferases 3A and 3B. J. Struct. Biol. 194, 357–367 (2016).

36.

Yue, F. et al. A comparative encyclopedia of DNA elements in the mouse genome. Nature 515, 355–364 (2014).

37.

Bourc'his, D., Xu, G. L., Lin, C. S., Bollman, B. & Bestor, T. H. Dnmt3L and the establishment of maternal genomic imprints. Science 294, 2536–2539 (2001).

38.

Hata, K., Okano, M., Lei, H. & Li, E. Dnmt3L cooperates with the Dnmt3 family of de novo DNA methyltransferases to establish maternal imprints in mice. Development 129, 1983–1993 (2002).

39.

Zhang, Y. et al. Dynamic epigenomic landscapes during early lineage specification in mouse embryos. Nat. Genet. 50, 96–105 (2018).

40.

Yuan, H. et al. Histone methyltransferase SETD2 modulates alternative splicing to inhibit intestinal tumorigenesis. J. Clin. Invest. 127, 3375–3391 (2017).

41.

Zuccotti, M., Piccinelli, A., Giorgi Rossi, P., Garagna, S. & Redi, C. A. Chromatin organization during mouse oocyte growth. Mol. Reprod. Dev. 41, 479–485 (1995).

42.

Park, I. Y. et al. Dual chromatin and cytoskeletal remodeling by SETD2. Cell 166, 950–962 (2016).

43.

Du, Z. et al. Allelic reprogramming of 3D chromatin architecture during early mammalian development. Nature 547, 232–235 (2017).

44.

Stewart, K. R., Veselovska, L. & Kelsey, G. Establishment and functions of DNA methylation in the germline. Epigenomics 8, 1399–1413 (2016).

45.

Stewart, K. R. et al. Dynamic changes in histone modifications precede de novo DNA methylation in oocytes. Genes Dev. 29, 2449–2462 (2015).

46.

Bošković, A. et al. Analysis of active chromatin modifications in early mammalian embryos reveals uncoupling of H2A.Z acetylation and H3K36 trimethylation from embryonic genome activation. Epigenetics 7, 747–757 (2012).

47.

Ferreira, J. & Carmo-Fonseca, M. Genome replication in early mouse embryos follows a defined temporal and spatial order. J. Cell Sci. 110, 889–897 (1997).

48.

Bouniol, C., Nguyen, E. & Debey, P. Endogenous transcription occurs at the 1-cell stage in the mouse embryo. Exp. Cell Res. 218, 57–62 (1995).

49.

Wu, J. et al. The landscape of accessible chromatin in mammalian preimplantation embryos. Nature 534, 652–657 (2016).

50.

Paynton, B. V. & Bachvarova, R. Polyadenylation and deadenylation of maternal mRNAs during oocyte growth and maturation in the mouse. Mol. Reprod. Dev. 37, 172–180 (1994).

51.

Eckersley-Maslin, M. A., Alda-Catalinas, C. & Reik, W. Dynamics of the epigenetic landscape during the maternal-to-zygotic transition. Nat. Rev. Mol. Cell Biol. 19, 436–450 (2018).

52.

Andreu-Vieyra, C. V. MLL2 is required in oocytes for bulk histone 3 lysine 4 trimethylation and transcriptional silencing. PLoS Biol. 8, e1000453 (2010).

53.

Kishigami, S. et al. Significant improvement of mouse cloning technique by treatment with trichostatin A after somatic nuclear transfer. Biochem. Biophys. Res. Commun. 340, 183–189 (2006).

54.

Matoba, S. et al. Embryonic development following somatic cell nuclear transfer impeded by persisting histone methylation. Cell 159, 884–895 (2014).

55.

Xie, W. et al. Base-resolution analyses of sequence and parent-of-origin dependent DNA methylation in the mouse genome. Cell 148, 816–831 (2012).

56.

Lan, Z. J., Xu, X. & Cooney, A. J. Differential oocyte-specific expression of Cre recombinase activity in GDF-9-iCre, Zp3cre, and Msx2Cre transgenic mice. Biol. Reprod. 71, 1469–1474 (2004).

57.

Wang, H. et al. One-step generation of mice carrying mutations in multiple genes by CRISPR/Cas-mediated genome engineering. Cell 153, 910–918 (2013).

58.

Picelli, S. et al. Full-length RNA-seq from single cells using Smart-seq2. Nat. Protoc. 9, 171–181 (2014).

59.

Peng, X. et al. TELP, a sensitive and versatile library construction method for next-generation sequencing. Nucleic Acids Res. 43, e35 (2015).

60.

Langmead, B. & Salzberg, S. L. Fast gapped-read alignment with Bowtie 2. Nat. Methods 9, 357–359 (2012).

61.

Trapnell, C. et al. Differential gene and transcript expression analysis of RNA-seq experiments with TopHat and Cufflinks. Nat. Protoc. 7, 562–578 (2012).

62.

Guo, W. et al. BS-Seeker2: a versatile aligning pipeline for bisulfite sequencing data. BMC Genomics 14, 774 (2013).

63.

Zhang, Y. et al. Model-based analysis of ChIP-Seq (MACS). Genome Biol. 9, R137 (2008).

64.

Dennis, G. Jr. et al. DAVID: Database for Annotation, Visualization, and Integrated Discovery. Genome Biol. 4, P3 (2003).
Acknowledgements
We thank members of the Xie laboratory for their comments during the preparation of the manuscript. We thank F. Gao for providing the Gdf9-Cre mice. We are thankful for the support provided by the animal core, sequencing core and biocomputing facilities at Tsinghua University. This work was funded by the National Natural Science Foundation of China (grant nos. 31422031 and 31725018 to W.Xie; grant no. 81772938 to L.Li), National Key R&D Program of China (grant no. 2016YFC0900300 to W.Xie), the National Basic Research Program of China (grant no. 2015CB856201 to W.Xie), Beijing Municipal Science & Technology Commission (grant no. Z181100001318006 to W.Xie), Science and Technology Commission of Shanghai Municipality (grant nos. 16140902100 and 18140902700 to L.Li), the THU-PKU Center for Life Sciences (W.Xie), by the Canadian Institutes of Health Research (grant no. MOP-133417 to M.C.L. and grant no. MOP-119357 to L.Lefebvre) and by National Cancer Institute, National Institutes of Health (grant no. CA231993 and CA203012 to C.L.W.). Q.X. is supported by postdoctoral fellowships from the Tsinghua-Peking Joint Center for Life Sciences. L.Li is supported by an Innovation Research Plan from the Shanghai Municipal Education Commission (grant no. ZXGF082101) and funds from State Key Laboratory of Oncogenes and Related Genes (grant no. KF01801). W.Xie is a recipient of an HHMI International Research Scholar award.
Ethics declarations
Competing interests
The authors declare no competing interests.
Additional information
Publisher's note: Springer Nature remains neutral with regard to jurisdictional claims in published maps and institutional affiliations.
Integrated supplementary information
Supplementary information
About this article
Cite this article
Xu, Q., Xiang, Y., Wang, Q. et al. SETD2 regulates the maternal epigenome, genomic imprinting and embryonic development. Nat Genet 51, 844–856 (2019). https://doi.org/10.1038/s41588-019-0398-7
Received:

Accepted:

Published:

Issue Date: