Abstract
Perturbations to mammalian switch/sucrose non-fermentable (mSWI/SNF) chromatin remodeling complexes have been widely implicated as driving events in cancer1. One such perturbation is the dual loss of the SMARCA4 and SMARCA2 ATPase subunits in small cell carcinoma of the ovary, hypercalcemic type (SCCOHT)2,3,4,5, SMARCA4-deficient thoracic sarcomas6 and dedifferentiated endometrial carcinomas7. However, the consequences of dual ATPase subunit loss on mSWI/SNF complex subunit composition, chromatin targeting, DNA accessibility and gene expression remain unknown. Here we identify an ATPase module of subunits that is required for functional specification of the Brahma-related gene–associated factor (BAF) and polybromo-associated BAF (PBAF) mSWI/SNF family subcomplexes. Using SMARCA4/2 ATPase mutant variants, we define the catalytic activity–dependent and catalytic activity–independent contributions of the ATPase module to the targeting of BAF and PBAF complexes on chromatin genome-wide. Finally, by linking distinct mSWI/SNF complex target sites to tumor-suppressive gene expression programs, we clarify the transcriptional consequences of SMARCA4/2 dual loss in SCCOHT.
Access options
Subscribe to Journal
Get full journal access for 1 year
$225.00
only $18.75 per issue
All prices are NET prices.
VAT will be added later in the checkout.
Rent or Buy article
Get time limited or full article access on ReadCube.
from$8.99
All prices are NET prices.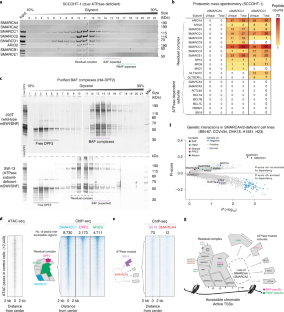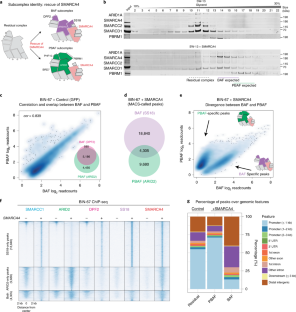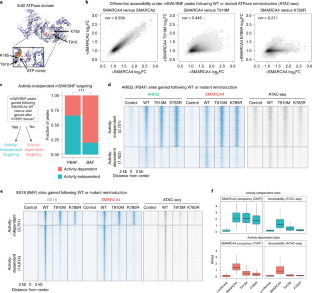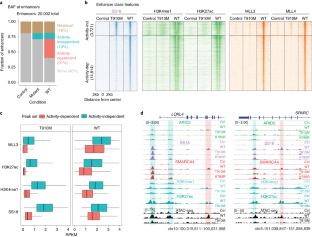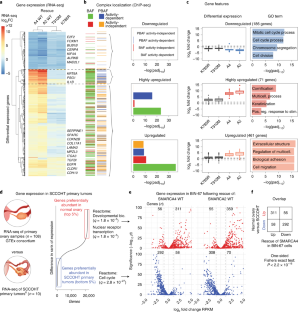 References
1.

Kadoch, C. & Crabtree, G. R. Mammalian SWI/SNF chromatin remodeling complexes and cancer: mechanistic insights gained from human genomics. Sci. Adv. 1, e1500447 (2015).

2.

Karnezis, A. N. et al. Dual loss of the SWI/SNF complex ATPases SMARCA4/BRG1 and SMARCA2/BRM is highly sensitive and specific for small cell carcinoma of the ovary, hypercalcaemic type. J. Pathol. 238, 389–400 (2016).

3.

Jelinic, P. et al. Recurrent SMARCA4 mutations in small cell carcinoma of the ovary. Nat. Genet. 46, 424–426 (2014).

4.

Ramos, P. et al. Small cell carcinoma of the ovary, hypercalcemic type, displays frequent inactivating germline and somatic mutations in SMARCA4. Nat. Genet. 46, 427–429 (2014).

5.

Witkowski, L. et al. Germline and somatic SMARCA4 mutations characterize small cell carcinoma of the ovary, hypercalcemic type. Nat. Genet. 46, 438–443 (2014).

6.

Le Loarer, F. et al. SMARCA4 inactivation defines a group of undifferentiated thoracic malignancies transcriptionally related to BAF-deficient sarcomas. Nat. Genet. 47, 1200–1205 (2015).

7.

Karnezis, A. N. et al. Loss of switch/sucrose non-fermenting complex protein expression is associated with dedifferentiation in endometrial carcinomas. Mod. Pathol. 29, 302–314 (2016).

8.

Upchurch, K. S., Parker, L. M., Scully, R. E. & Krane, S. M. Differential cyclic AMP responses to calcitonin among human ovarian carcinoma cell lines: a calcitonin‐responsive line derived from a rare tumor type. J. Bone Miner. Res. 1, 299–304 (1986).

9.

Gamwell, L. F. et al. Small cell ovarian carcinoma: genomic stability and responsiveness to therapeutics. Orphanet J. Rare Dis. 8, 33 (2013).

10.

Otte, A. et al. A tumor-derived population (SCCOHT-1) as cellular model for a small cell ovarian carcinoma of the hypercalcemic type. Int. J. Oncol. 41, 765–775 (2012).

11.

Leibovitz, A., McCombs, W. M., Johnston, D., McCoy, C. E. & Stinson, J. C. New human cancer cell culture lines. I. SW-13, small-cell carcinoma of the adrenal cortex. J. Natl Cancer Inst. 51, 691–697 (1973).

12.

Mashtalir, N. et al. Modular organization and assembly of SWI/SNF family chromatin remodeling complexes. Cell 175, 1–17 (2018).

13.

Wilson, B. G. et al. Residual complexes containing SMARCA2 (BRM) underlie the oncogenic drive of SMARCA4 (BRG1) mutation. Mol. Cell Biol. 34, 1136–1144 (2014).

14.

Hoffman, G. R. et al. Functional epigenetics approach identifies BRM/SMARCA2 as a critical synthetic lethal target in BRG1-deficient cancers. Proc. Natl Acad. Sci. USA 111, 3128–3133 (2014).

15.

Meyers, R. M. et al. Computational correction of copy-number effect improves specificity of CRISPR-Cas9 essentiality screens in cancer cells. Nat. Genet. 49, 1779–1784 (2017).

16.

Rauscher, B. et al. Toward an integrated map of genetic interactions in cancer cells. Mol. Syst. Biol. 14, e7656 (2018).

17.

Chan-Penebre, E. et al. Selective killing of SMARCA2- and SMARCA4-deficient small cell carcinoma of the ovary, hypercalcemic type cells by inhibition of EZH2: in vitro and in vivo preclinical models. Mol. Cancer Ther. 16, 850–860 (2017).

18.

Wang, Y. et al. The histone methyltransferase EZH2 is a therapeutic target in small cell carcinoma of the ovary, hypercalcaemic type. J. Pathol. 242, 371–383 (2017).

19.

Middeljans, E. et al. SS18 together with animal-specific factors defines human BAF-Type SWI/SNF complexes. PLoS ONE 7, e33834 (2012).

20.

Kadoch, C. et al. Proteomic and bioinformatic analysis of mammalian SWI/SNF complexes identifies extensive roles in human malignancy. Nat. Genet. 45, 592–601 (2013).

21.

Nakayama, R. T. et al. SMARCB1 is required for widespread BAF complex-mediated activation of enhancers and bivalent promoters. Nat. Genet. 49, 1613–1623 (2017).

22.

Raab, J. R., Resnick, S. & Magnuson, T. Genome-wide transcriptional regulation mediated by biochemically distinct SWI/SNF complexes. PLoS Genet. 11, e1005748 (2015).

23.

Hodges, H. C. et al. Dominant-negative SMARCA4 mutants alter the accessibility landscape of tissue-unrestricted enhancers. Nat. Struct. Mol. Biol. 25, 61–72 (2018).

24.

Dykhuizen, E. C. et al. BAF complexes facilitate decatenation of DNA by topoisomerase IIα. Nature 497, 624–627 (2013).

25.

Bultman, S. J., Gebuhr, T. C. & Magnuson, T. A Brg1 mutation that uncouples ATPase activity from chromatin remodeling reveals an essential role for SWI/SNF-related complexes in beta-globin expression and erythroid development. Genes Dev. 19, 2849–2861 (2005).

26.

Local, A. et al. Identification of H3K4me1-associated proteins at mammalian enhancers. Nat. Gen. 50, 73–82 (2018).

27.

Guenther, M. G., Levine, S. S., Boyer, L. A., Jaenisch, R. & Young, R. A. A chromatin landmark and transcription initiation at most promoters in human cells. Cell 130, 77–88 (2007).

28.

Dorighi, K. M. et al. Mll3 and Mll4 facilitate enhancer RNA synthesis and transcription from promoters independently of H3K4 monomethylation. Mol. Cell 66, 568–5760000 (2017).

29.

Consortium, G. Human genomics. the genotype-tissue expression (GTEx) pilot analysis: multitissue gene regulation in humans. Science 348, 648–660 (2015).

30.

Mashtalir, N. et al. Autodeubiquitination protects the tumor suppressor bap1 from cytoplasmic sequestration mediated by the atypical ubiquitin ligase UBE2O. Mol. Cell 54, 392–406 (2014).

31.

Takaku, M. et al. GATA3-dependent cellular reprogramming requires activation-domain dependent recruitment of a chromatin remodeler. Genome Biol. 17, 36 (2016).

32.

McBride, M. J. et al. The SS18-SSX fusion oncoprotein hijacks BAF complex targeting and function to drive synovial sarcoma. Cancer Cell 33, 1128–1141.e7 (2018).

33.

Wang, L. et al. Resetting the epigenetic balance of Polycomb and COMPASS function at enhancers for cancer therapy. Nat. Med. 24, 758–769 (2018).

34.

Yu, G., Wang, L.-G. & He, Q.-Y. ChIPseeker: an R/bioconductor package for ChIP peak annotation, comparison and visualization. Bioinformatics 31, 2382–2383 (2015).

35.

Buenrostro, J. D., Wu, B., Chang, H. Y. & Greenleaf, W. J. ATAC-seq: a method for assaying chromatin accessibility genome-wide. Curr. Protoc. Mol. Biol. 109, 9 (2015).

36.

Denny, S. K. et al. Nfib promotes metastasis through a widespread increase in chromatin accessibility. Cell 166, 328–342 (2016).

37.

Eden, E., Navon, R., Steinfeld, I., Lipson, D. & Yakhini, Z. GOrilla: a tool for discovery and visualization of enriched GO terms in ranked gene lists. BMC Bioinformatics 10, 48 (2009).

38.

Subramanian, A. et al. Gene set enrichment analysis: a knowledge-based approach for interpreting genome-wide expression profiles. Proc. Natl Acad. Sci. USA 102, 15545–15550 (2005).

39.

Collado-Torres, L. et al. Reproducible RNA-seq analysis using recount2. Nat. Biotechnol. 35, 319–321 (2017).
Acknowledgements
We thank members of the Kadoch Laboratory for helpful conceptual and experimental advice throughout the development of this study. We thank the DFCI Molecular Biology Core Facility, particularly Z. Herbert, for library preparation and sequencing, G. Boulay for advice regarding ChIP-seq optimization and the Taplin Mass Spectrometry Facility for mass-spectrometry analysis and data processing. We thank B. Vanderhyden (Ottawa Hospital Research Institute) and R. Hass (Hannover Medical School) for providing the BIN-67 and SCCOHT-1 cell lines, respectively. This work was supported in part by funding from the National Science Foundation Graduate Research Fellowship (No. 2015185722) and NIH T32 Training Grant in Genetics and Genomics to J.P.; the NIH DP2 New Innovator Award (No. 1DP2CA195762-01) to C.K.; the American Cancer Society Research Scholar Award (No. RSG-14-051-01-DMC) to C.K.; and the Pew–Stewart Scholars in Cancer Research Grant to C.K.
Ethics declarations
Competing interests
C.K. is a Scientific Founder, fiduciary Board of Directors member, Scientific Advisory Board member, consultant and shareholder of Foghorn Therapeutics, Inc.
Additional information
Publisher's note: Springer Nature remains neutral with regard to jurisdictional claims in published maps and institutional affiliations.
Integrated supplementary information
Supplementary information
About this article
Cite this article
Pan, J., McKenzie, Z.M., D'Avino, A.R. et al. The ATPase module of mammalian SWI/SNF family complexes mediates subcomplex identity and catalytic activity–independent genomic targeting. Nat Genet 51, 618–626 (2019). https://doi.org/10.1038/s41588-019-0363-5
Received:

Accepted:

Published:

Issue Date: