Abstract
R-loops are DNA–RNA hybrids enriched at CpG islands (CGIs) that can regulate chromatin states1,2,3,4,5,6,7,8. How R-loops are recognized and interpreted by specific epigenetic readers is unknown. Here we show that GADD45A (growth arrest and DNA damage protein 45A) binds directly to R-loops and mediates local DNA demethylation by recruiting TET1 (ten-eleven translocation 1). Studying the tumor suppressor TCF21 (ref. 9), we find that antisense long noncoding (lncRNA) TARID (TCF21 antisense RNA inducing promoter demethylation) forms an R-loop at the TCF21 promoter. Binding of GADD45A to the R-loop triggers local DNA demethylation and TCF21 expression. TARID transcription, R-loop formation, DNA demethylation, and TCF21 expression proceed sequentially during the cell cycle. Oxidized DNA demethylation intermediates are enriched at genomic R-loops and their levels increase upon RNase H1 depletion. Genomic profiling in embryonic stem cells identifies thousands of R-loop-dependent TET1 binding sites at CGIs. We propose that GADD45A is an epigenetic R-loop reader that recruits the demethylation machinery to promoter CGIs.
Access options
Subscribe to Journal
Get full journal access for 1 year
$209.00
only $17.42 per issue
All prices are NET prices.
VAT will be added later in the checkout.
Rent or Buy article
Get time limited or full article access on ReadCube.
from$8.99
All prices are NET prices.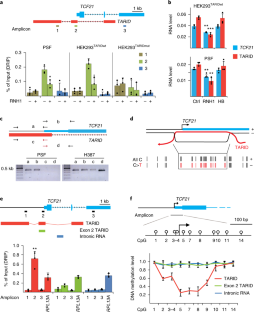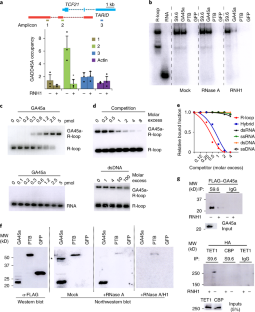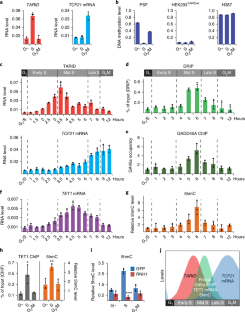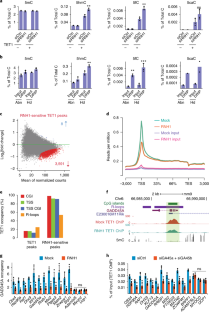 Data availability
TARID sequence information is available from GenBank under KF484512.1. The TET1 ChIP–seq data are available from GEO under accession number GSE104067.
References
1.

Castellano-Pozo, M. et al. R loops are linked to histone H3 S10 phosphorylation and chromatin condensation. Mol. Cell 52, 583–590 (2013).

2.

Nakama, M. et al. DNA-RNA hybrid formation mediates RNAi-directed heterochromatin formation. Genes Cells 17, 218–233 (2012).

3.

Groh, M., Lufino, M. M., Wade-Martins, R. & Gromak, N. R-loops associated with triplet repeat expansions promote gene silencing in Friedreich ataxia and fragile X syndrome. PLoS Genet. 10, e1004318 (2014).

4.

Sanz, L. A. et al. Prevalent, dynamic, and conserved R-loop structures associate with specific epigenomic signatures in mammals. Mol. Cell 63, 167–178 (2016).

5.

Skourti-Stathaki, K., Kamieniarz-Gdula, K. & Proudfoot, N. J. R-loops induce repressive chromatin marks over mammalian gene terminators. Nature 516, 436–439 (2014).

6.

Skourti-Stathaki, K., Proudfoot, N. J. & Gromak, N. Human senataxin resolves RNA/DNA hybrids formed at transcriptional pause sites to promote Xrn2-dependent termination. Mol. Cell 42, 794–805 (2011).

7.

Powell, W. T. et al. R-loop formation at Snord116 mediates topotecan inhibition of Ube3a-antisense and allele-specific chromatin decondensation. Proc. Natl Acad. Sci. USA 110, 13938–13943 (2013).

8.

Ginno, P. A. et al. R-loop formation is a distinctive characteristic of unmethylated human CpG island promoters. Mol. Cell 45, 814–825 (2012).

9.

Arab, K. et al. Long noncoding RNA TARID directs demethylation and activation of the tumor suppressor TCF21 via GADD45A. Mol. Cell 55, 604–614 (2014).

10.

Barreto, G. et al. Gadd45a promotes epigenetic gene activation by repair-mediated DNA demethylation. Nature 445, 671–675 (2007).

11.

Cortellino, S. et al. Thymine DNA glycosylase is essential for active DNA demethylation by linked deamination-base excision repair. Cell 146, 67–79 (2011).

12.

Schmitz, K. M. et al. TAF12 recruits Gadd45a and the nucleotide excision repair complex to the promoter of rRNA genes leading to active DNA demethylation. Mol. Cell 33, 344–353 (2009).

13.

Schäfer, A. et al. Ing1 functions in DNA demethylation by directing Gadd45a to H3K4me3. Genes Dev. 27, 261–273 (2013).

14.

Kienhöfer, S. et al. GADD45a physically and functionally interacts with TET1. Differentiation 90, 59–68 (2015).

15.

Li, Z. et al. Gadd45a promotes DNA demethylation through TDG. Nucl. Acids Res. 43, 3986–3997 (2015).

16.

Sun, Q. et al. R-loop stabilization represses antisense transcription at the Arabidopsis FLC locus. Science 340, 619 (2013).

17.

Hobson, D. J., Wei, W., Steinmetz, L. M. & Svejstrup, J. Q. RNA polymerase II collision interrupts convergent transcription. Mol. Cell 48, 365–374 (2012).

18.

Cerritelli, S. M. & Crouch, R. J. Ribonuclease H: the enzymes in eukaryotes. FEBS J. 276, 1494–1505 (2009).

19.

Wu, H. et al. Dual functions of Tet1 in transcriptional regulation in mouse embryonic stem cells. Nature 473, 389–393 (2011).

20.

Ma, D. K. Neuronal activity-induced Gadd45b promotes epigenetic DNA demethylation and adult neurogenesis. Science 323, 1074–1077 (2009).

21.

Gan, W. et al. R-loop-mediated genomic instability is caused by impairment of replication fork progression. Genes Dev. 25, 2041 (2011).

22.

Bhatia, V. et al. BRCA2 prevents R-loop accumulation and associates with TREX-2 mRNA export factor PCID2. Nature 511, 362–365 (2014).

23.

Boguslawski, S. J. et al. Characterization of monoclonal antibody to DNA·RNA and its application to immunodetection of hybrids. J. Immunol. Methods 89, 123–130 (1986).

24.

Ehrich, M. et al. Quantitative high-throughput analysis of DNA methylation patterns by base-specific cleavage and mass spectrometry. Proc. Natl Acad. Sci. USA 102, 15785–15890 (2005).

25.

Kinney, S. M. et al. Tissue-specific distribution and dynamic changes of 5-hydroxymethylcytosine in mammalian genomes. J. Biol. Chem. 286, 24685–24693 (2011).

26.

Yu, K. et al. R-loops at immunoglobulin class switch regions in the chromosomes of stimulated B cells. Nat. Immunol. 4, 442–451 (2003).

27.

Schomacher, L. et al. Neil DNA glycosylases promote substrate turnover by Tdg during DNA demethylation. Nat. Struct. Mol. Biol. 23, 116–124 (2016).

28.

Langmead, B. & Salzberg, S. L. Fast gapped-read alignment with Bowtie 2. Nat. Methods 9, 357–359 (2012).

29.

Li, H. et al. The sequence alignment/map format and samtools. Bioinformatics 25, 2078–2079 (2009).

30.

Ramirez, F. et al. deepTools2: a next generation web server for deep-sequencing data analysis. Nucleic Acids Res. 44, W160–W165 (2016).

31.

Shen, L., Shao, N., Liu, X. & Nestler, E. Ngs.plot: Quick mining and visualization of next-generation sequencing data by integrating genomic databases. BMC Genomics 15, 284 (2014).

32.

Zhang, Y. et al. Model-based analysis of ChIP-Seq (MACS). Genome. Biol. 9, R137 (2008).

33.

Quinlan, A. R. & Hall, I. M. BEDTools: a flexible suite of utilities for comparing genomic features. Bioinformatics 26, 841–842 (2010).

34.

Love, M. I., Huber, W. & Anders, S. Moderated estimation of fold change and dispersion for RNA-seq data with DESeq2. Genome. Biol. 15, 550 (2014).

35.

Ignatiadis, N., Klaus, B., Zaugg, J. B. & Huber, W. Data-driven hypothesis weighting increases detection power in genome-scale multiple testing. Nat. Methods 13, 577–580 (2016).

36.

Neri, F. et al. Single-base resolution analysis of 5-formyl and 5-carboxyl cytosine reveals promoter DNA methylation dynamics. Cell Rep. 10, 674–683 (2015).

37.

Pefanis, E. et al. RNA exosome-regulated long non-coding RNA transcription controls super-enhancer activity. Cell 161, 774–789 (2015).

38.

Heinz, S. et al. Simple combinations of lineage-determining transcription factors prime cis-regulatory elements required for macrophage and B cell identities. Mol. Cell 38, 576–589 (2010).

39.

Domcke, S. et al. Competition between DNA methylation and transcription factors determines binding of NRF1. Nature 528, 575–579 (2015).
Acknowledgements
We acknowledge the support of O. Muecke and C. Plass in DNA methylation analysis, and the support of the DKFZ FACS and the IMB Microscopy and Genomics core facilities. We thank V. Vastolo for mouse embryos. I.G. was supported by the Helmholtz Foundation and by grants from the Deutsche Forschungsgemeinschaft (GR475/22-1, SFB1036), the CellNetworks Cluster of Excellence (EcTop 5), the DKFZ-MOST programme, and the Baden-Württemberg Stiftung (NCRNA_025). C.N. was supported by the European Research Council (ERC) DNAdemethylase.
Ethics declarations
Competing interests
The authors declare no competing interests.
Additional information
Publisher's note: Springer Nature remains neutral with regard to jurisdictional claims in published maps and institutional affiliations.
Integrated supplementary information
Supplementary information
About this article
Cite this article
Arab, K., Karaulanov, E., Musheev, M. et al. GADD45A binds R-loops and recruits TET1 to CpG island promoters. Nat Genet 51, 217–223 (2019). https://doi.org/10.1038/s41588-018-0306-6
Received:

Accepted:

Published:

Issue Date: