Abstract
Here we ask the question "How much information do epigenomic datasets provide about human genomic function?" We consider nine epigenomic features across 115 cell types and measure information about function as a reduction in entropy under a probabilistic evolutionary model fitted to human and nonhuman primate genomes. Several epigenomic features yield more information in combination than they do individually. We find that the entropy in human genetic variation predominantly reflects a balance between mutation and neutral drift. Our cell-type-specific FitCons scores reveal relationships among cell types and suggest that around 8% of nucleotide sites are constrained by natural selection.
Access options
Subscribe to Journal
Get full journal access for 1 year
$209.00
only $17.42 per issue
All prices are NET prices.
VAT will be added later in the checkout.
Rent or Buy article
Get time limited or full article access on ReadCube.
from$8.99
All prices are NET prices.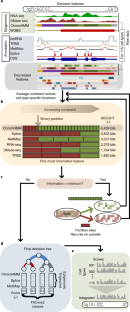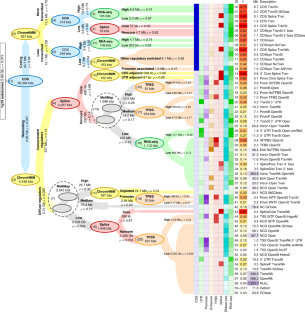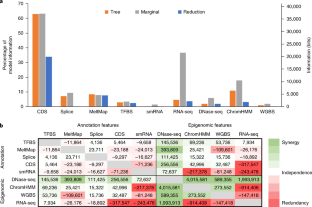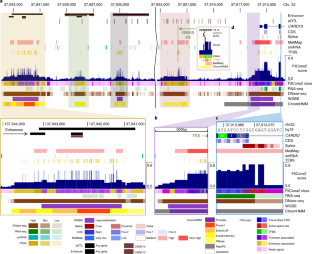 Data availability
All raw data for this study are publicly available from the sources described in the Supplementary Note. The cell-type-specific and integrated FitCons2 scores are available as UCSC genome browser tracks at http://compgen.cshl.edu/fitCons2/. Additional data generated during the course of our analyses can be obtained from the corresponding author upon reasonable request.
References
1.

The ENCODE Project Consortium. An integrated encyclopedia of DNA elements in the human genome. Nature 489, 57–74 (2012).

2.

Yue, F. et al. A comparative encyclopedia of DNA elements in the mouse genome. Nature 515, 355–364 (2014).

3.

The GTEx Consortium. The Genotype-Tissue Expression (GTEx) pilot analysis: multitissue gene regulation in humans. Science 348, 648–660 (2015).

4.

Kundaje, A. et al. Integrative analysis of 111 reference human epigenomes. Nature 518, 317–330 (2015).

5.

Doolittle, W. F. Is junk DNA bunk? A critique of ENCODE. Proc. Natl Acad. Sci. USA 110, 5294–5300 (2013).

6.

Eddy, S. R. The ENCODE project: missteps overshadowing a success. Curr. Biol. 23, R259–R261 (2013).

7.

Ernst, J. & Kellis, M. Discovery and characterization of chromatin states for systematic annotation of the human genome. Nat. Biotechnol. 28, 817–825 (2010).

8.

Hoffman, M. M. et al. Unsupervised pattern discovery in human chromatin structure through genomic segmentation. Nat. Methods 9, 473–476 (2012).

9.

Ritchie, G. R., Dunham, I., Zeggini, E. & Flicek, P. Functional annotation of noncoding sequence variants. Nat. Methods 11, 294–296 (2014).

10.

Shihab, H. A. et al. An integrative approach to predicting the functional effects of non-coding and coding sequence variation. Bioinformatics 31, 1536–1543 (2015).

11.

Alipanahi, B., Delong, A., Weirauch, M. T. & Frey, B. J. Predicting the sequence specificities of DNA- and RNA-binding proteins by deep learning. Nat. Biotechnol. 33, 831–838 (2015).

12.

Zhou, J. & Troyanskaya, O. G. Predicting effects of noncoding variants with deep learning-based sequence model. Nat. Methods 12, 931–934 (2015).

13.

Kircher, M. et al. A general framework for estimating the relative pathogenicity of human genetic variants. Nat. Genet. 46, 310–315 (2014).

14.

Fu, Y. et al. FunSeq2: a framework for prioritizing noncoding regulatory variants in cancer. Genome. Biol. 15, 480 (2014).

15.

Gronau, I., Arbiza, L., Mohammed, J. & Siepel, A. Inference of natural selection from interspersed genomic elements based on polymorphism and divergence. Mol. Biol. Evol. 30, 1159–1171 (2013).

16.

Arbiza, L. et al. Genome-wide inference of natural selection on human transcription factor binding sites. Nat. Genet. 45, 723–729 (2013).

17.

Gulko, B., Hubisz, M. J., Gronau, I. & Siepel, A. A method for calculating probabilities of fitness consequences for point mutations across the human genome. Nat. Genet. 47, 276–283 (2015).

18.

Huang, Y. F., Gulko, B. & Siepel, A. Fast, scalable prediction of deleterious noncoding variants from functional and population genomic data. Nat. Genet. 49, 618–624 (2017).

19.

Iwasa, Y. Free fitness that always increases in evolution. J. Theor. Biol. 135, 265–281 (1988).

20.

Barton, N. H. & Coe, J. B. On the application of statistical physics to evolutionary biology. J. Theor. Biol. 259, 317–324 (2009).

21.

Mouse Genome Sequencing Consortium. Initial sequencing and comparative analysis of the mouse genome. Nature 420, 520–562 (2002).

22.

Taipale, J. Informational limits of biological organisms. EMBO J. 37, e96114 (2018).

23.

Gao, T. et al. EnhancerAtlas: a resource for enhancer annotation and analysis in 105 human cell/tissue types. Bioinformatics 32, 3543–3551 (2016).

24.

Andersson, R. et al. An atlas of active enhancers across human cell types and tissues. Nature 507, 455–461 (2014).

25.

Arner, E. et al. Transcribed enhancers lead waves of coordinated transcription in transitioning mammalian cells. Science 347, 1010–1014 (2015).

26.

GTEx Consortium. Genetic effects on gene expression across human tissues. Nature 550, 204–213 (2017).

27.

Harrow, J. et al. GENCODE: the reference human genome annotation for The ENCODE Project. Genome Res. 22, 1760–1774 (2012).

28.

Liu, F. et al. The human genomic melting map. PLoS Comput. Biol. 3, e93 (2007).

29.

Zerbino, D. R. et al. Ensembl 2018. Nucleic Acids Res. 46, D754–D761 (2018).

30.

The 1000 Genomes Project Consortium. A global reference for human genetic variation. Nature 526, 68–74 (2015).

31.

The UK10K Consortium. The UK10K project identifies rare variants in health and disease. Nature 526, 82–90 (2015).

32.

Mallick, S. et al. The Simons Genome Diversity Project: 300 genomes from 142 diverse populations. Nature 538, 201–206 (2016).

33.

Telenti, A. et al. Deep sequencing of 10,000 human genomes. Proc. Natl Acad. Sci. USA 113, 11901–11906 (2016).

34.

Song, Q. et al. A reference methylome database and analysis pipeline to facilitate integrative and comparative epigenomics. PLoS ONE 8, e81148 (2013).

35.

Zerbino, D. R., Wilder, S. P., Johnson, N., Juettemann, T. & Flicek, P. R. The ensembl regulatory build. Genome. Biol. 16, 56 (2015).
Acknowledgements
We thank R. Ramani for assistance with browser track development, D. McCandlish for comments on the manuscript, N. Dukler for calculating the number of bits required to encode the reference human genome, and other members of the Siepel laboratory for helpful discussions. This research was supported by US National Institutes of Health grants R01-GM102192 and R35-GM127070 (to A.S.). The content is solely the responsibility of the authors and does not necessarily represent the official views of the US National Institutes of Health.
Ethics declarations
Competing interests
The authors declare no competing interests.
Additional information
Publisher's note: Springer Nature remains neutral with regard to jurisdictional claims in published maps and institutional affiliations.
Integrated supplementary information
Supplementary information
Supplementary Figures 1–13, Supplementary Tables 1–3 and Supplementary Note
About this article
Cite this article
Gulko, B., Siepel, A. An evolutionary framework for measuring epigenomic information and estimating cell-type-specific fitness consequences. Nat Genet 51, 335–342 (2019). https://doi.org/10.1038/s41588-018-0300-z
Received:

Accepted:

Published:

Issue Date: