Abstract
Bicuspid aortic valve (BAV) is a common congenital heart defect (population incidence, 1–2%)1,2,3 that frequently presents with ascending aortic aneurysm (AscAA)4. BAV/AscAA shows autosomal dominant inheritance with incomplete penetrance and male predominance. Causative gene mutations (for example, NOTCH1, SMAD6) are known for ≤1% of nonsyndromic BAV cases with and without AscAA5–8, impeding mechanistic insight and development of therapeutic strategies. Here, we report the identification of variants in ROBO4 (which encodes a factor known to contribute to endothelial performance) that segregate with disease in two families. Targeted sequencing of ROBO4 showed enrichment for rare variants in BAV/AscAA probands compared with controls. Targeted silencing of ROBO4 or mutant ROBO4 expression in endothelial cell lines results in impaired barrier function and a synthetic repertoire suggestive of endothelial-to-mesenchymal transition. This is consistent with BAV/AscAA-associated findings in patients and in animal models deficient for ROBO4. These data identify a novel endothelial etiology for this common human disease phenotype.
Access options
Subscribe to Journal
Get full journal access for 1 year
$59.00
only $4.92 per issue
All prices are NET prices.
VAT will be added later in the checkout.
Tax calculation will be finalised during checkout.
Rent or Buy article
Get time limited or full article access on ReadCube.
from$8.99
All prices are NET prices.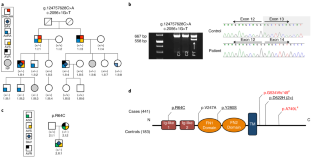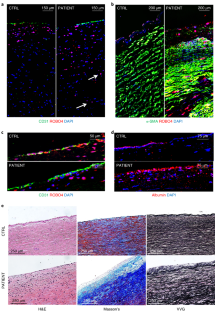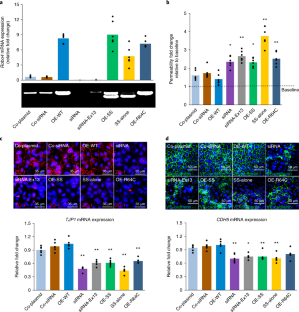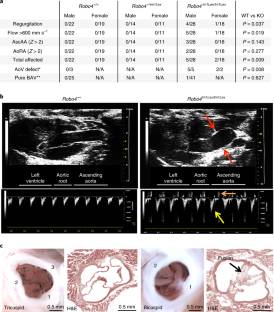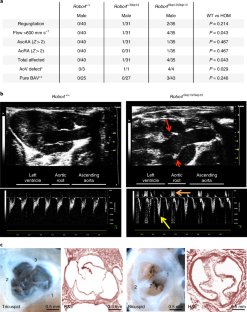 Data availability
ROBO4 variants have been submitted to ClinVar (https://www.ncbi.nlm.nih.gov/clinvar/) and have the following accession codes: SCV000804228, SCV000804229, SCV000804230, SCV000804231, SCV000804232, SCV000804233, SCV000804234, SCV000804235, SCV000804236, SCV000804237, SCV000804238, SCV000804239. Exome sequencing data are not publicly available owing to consent restrictions.
References
1.

Fedak, P. W. M. et al. Clinical and pathophysiological implications of a bicuspid aortic valve. Circulation 106, 900–904 (2002).

2.

Mack, G. & Silberbach, M. Aortic and pulmonary stenosis. Pediatr. Rev. 21, 79–85 (2000).

3.

Ward, C. Clinical significance of the bicuspid aortic valve. Heart 83, 81–85 (2000).

4.

Tadros, T. M., Klein, M. D. & Shapira, O. M. Ascending aortic dilatation associated with bicuspid aortic valve: pathophysiology, molecular biology, and clinical implications. Circulation 119, 880–890 (2009).

5.

Cripe, L., Andelfinger, G., Martin, L. J., Shooner, K. & Benson, D. W. Bicuspid aortic valve is heritable. J. Am. Coll. Cardiol. 44, 138–143 (2004).

6.

Garg, V. et al. Mutations in NOTCH1 cause aortic valve disease. Nature 437, 270–274 (2005).

7.

McKellar, S. H. et al. Novel NOTCH1 mutations in patients with bicuspid aortic valve disease and thoracic aortic aneurysms. J. Thorac. Cardiovasc. Surg. 134, 290–296 (2007).

8.

Tan, H. L. et al. Nonsynonymous variants in the SMAD6 gene predispose to congenital cardiovascular malformation. Hum. Mutat. 33, 720–727 (2012).

9.

Clementi, M., Notari, L., Borghi, A. & Tenconi, R. Familial congenital bicuspid aortic valve: a disorder of uncertain inheritance. Am. J. Med. Genet. 62, 336–338 (1996).

10.

Huntington, K., Hunter, A. G. W. & Chan, K. L. A prospective study to assess the frequency of familial clustering of congenital bicuspid aortic valve. J. Am. Coll. Cardiol. 30, 1809–1812 (1997).

11.

Mckusick, V. A., Logue, R. B. & Bahnson, H. T. Association of aortic valvular disease and cystic medial necrosis of the ascending aorta; report of four instances. Circulation 16, 188–194 (1957).

12.

Loscalzo, M. L. et al. Familial thoracic aortic dilation and bicommissural aortic valve: a prospective analysis of natural history and inheritance. Am. J. Med. Genet. A 143, 1960–1967 (2007).

13.

Isselbacher, E. M. Thoracic and abdominal aortic aneurysms. Circulation 111, 816–828 (2005).

14.

Williams, J. A. et al. Early surgical experience with Loeys-Dietz: a new syndrome of aggressive thoracic aortic aneurysm disease. Ann. Thorac. Surg. 83, S785–S790 (2007).

15.

Van Hemelrijk, C., Renard, M. & Loeys, B. The Loeys-Dietz syndrome: an update for the clinician. Curr. Opin. Cardiol. 25, 546–551 (2010).

16.

Guo, D.-C. et al. Mutations in smooth muscle alpha-actin (ACTA2) lead to thoracic aortic aneurysms and dissections. Nat. Genet. 39, 1488–1493 (2007).

17.

Pereira, L. et al. Targetting of the gene encoding fibrillin-1 recapitulates the vascular aspect of Marfan syndrome. Nat. Genet. 17, 218–222 (1997).

18.

Zhu, L. et al. Mutations in myosin heavy chain 11 cause a syndrome associating thoracic aortic aneurysm/aortic dissection and patent ductus arteriosus. Nat. Genet. 38, 343–349 (2006).

19.

Wang, L. et al. Mutations in myosin light chain kinase cause familial aortic dissections. Am. J. Hum. Genet. 87, 701–707 (2010).

20.

van de Laar, I. M. B. H. et al. Phenotypic spectrum of the SMAD3-related aneurysms-osteoarthritis syndrome. J. Med. Genet. 49, 47–57 (2012).

21.

Loeys, B. L. et al. Aneurysm syndromes caused by mutations in the TGF-β receptor. N. Engl. J. Med. 355, 788–798 (2006).

22.

Park, K. W. et al. Robo4 is a vascular-specific receptor that inhibits endothelial migration. Dev. Biol. 261, 251–267 (2003).

23.

Jones, C. A. et al. Robo4 stabilizes the vascular network by inhibiting pathologic angiogenesis and endothelial hyperpermeability. Nat. Med. 14, 448–453 (2008).

24.

Cai, H. et al. Roundabout 4 regulates blood-tumor barrier permeability through the modulation of ZO-1, occludin, and claudin-5 expression. J. Neuropathol. Exp. Neurol. 74, 25–37 (2015).

25.

Mommersteeg, M. T. M., Yeh, M. L., Parnavelas, J. G. & Andrews, W. D. Disrupted Slit-Robo signalling results in membranous ventricular septum defects and bicuspid aortic valves. Cardiovasc. Res. 106, 55–66 (2015).

26.

Bedell, V. M. et al. Roundabout4 is essential for angiogenesis in vivo. Proc. Natl Acad. Sci. USA 102, 6373–6378 (2005).

27.

Carmeliet, P. et al. Urokinase-generated plasmin activates matrix metalloproteinases during aneurysm formation. Nat. Genet. 17, 439–444 (1997).

28.

Borges, L. F. et al. Fibrinolytic activity is associated with presence of cystic medial degeneration in aneurysms of the ascending aorta. Histopathology 57, 917–932 (2010).

29.

Maleki, S. et al. Mesenchymal state of intimal cells may explain higher propensity to ascending aortic aneurysm in bicuspid aortic valves. Sci. Rep. 6, 35712 (2016).

30.

Kostina, A. S. et al. Notch-dependent EMT is attenuated in patients with aortic aneurysm and bicuspid aortic valve. Biochim. Biophys. Acta 1862, 733–740 (2016).

31.

Brooke, B. S. et al. Angiotensin II blockade and aortic-root dilation in Marfan's syndrome. N. Engl. J. Med. 358, 2787–2795 (2008).

32.

Li, H. & Durbin, R. Fast and accurate short read alignment with Burrows-Wheeler transform. Bioinformatics 25, 1754–1760 (2009).

33.

Li, H. et al. The sequence alignment/map format and SAMtools. Bioinformatics 25, 2078–2079 (2009).

34.

Wang, K., Li, M. & Hakonarson, H. ANNOVAR: functional annotation of genetic variants from high-throughput sequencing data. Nucleic Acids Res. 38, e164 (2010).

35.

McKenna, A. et al. The genome analysis toolkit: a MapReduce framework for analyzing next-generation DNA sequencing data. Genome Res. 20, 1297–1303 (2010).

36.

DePristo, M. A. et al. A framework for variation discovery and genotyping using next- generation DNA sequencing data. Nat. Genet. 43, 491–498 (2011).

37.

Robinson, J. T. et al. Integrative genomics viewer. Nat. Biotechnol. 29, 24–26 (2011).

38.

Anderl, J., Ma, J. & Armstrong, L. Improved assays for quantification of in vitro vascular permeability (https://www.nature.com/app_notes/nmeth/2012/121007/pdf/an8623.pdf).

39.

Gould, R. A. et al. Multi-scale biomechanical remodeling in aging and genetic mutant murine mitral valve leaflets: insights into Marfan syndrome. PLoS ONE 7, e44639 (2012).

40.

Chiu, Y.-N., Norris, R. A., Mahler, G., Recknagel, A. & Butcher, J. T. Transforming growth factor β, bone morphogenetic protein, and vascular endothelial growth factor mediate phenotype maturation and tissue remodeling by embryonic valve progenitor cells: relevance for heart valve tissue engineering. Tissue. Eng. Part A 16, 3375–3383 (2010).

41.

Gould, R. A. et al. Cyclic strain anisotropy regulates valvular interstitial cell phenotype and tissue remodeling in three-dimensional culture. Acta Biomater. 8, 1710–1719 (2012).

42.

Liang, C.-C. C., Park, A. Y. & Guan, J.-L. L. In vitro scratch assay: a convenient and inexpensive method for analysis of cell migration in vitro. Nat. Protoc. 2, 329–333 (2007).

43.

Westerfield, M. The Zebrafish Book. A Guide for the Laboratory Use of Zebrafish (Danio rerio). 5th edn, (Univ. Oregon Press, Eugene, 2007).

44.

Sander, J. D., Zaback, P., Joung, J. K., Voytas, D. F. & Dobbs, D. Zinc Finger Targeter (ZiFiT): an engineered zinc finger/target site design tool. Nucleic Acids Res. 35, W599–W605 (2007).

45.

Sander, J. D. et al. ZiFiT (Zinc Finger Targeter): an updated zinc finger engineering tool. Nucleic Acids Res. 38, W462–W468 (2010).

46.

Jao, L.-E., Wente, S. R. & Chen, W. Efficient multiplex biallelic zebrafish genome editing using a CRISPR nuclease system. Proc. Natl Acad. Sci. USA 110, 13904–13909 (2013).

47.

Jaskula-Ranga, V. & Zack, D. J. grID: A CRISPR-Cas9 guide RNA database and resource for genome-editing. Preprint at bioRxiv https://doi.org/10.1101/097352 (2016).

48.

Ran, F. A. et al. Genome engineering using the CRISPR-Cas9 system. Nat. Protoc. 8, 2281–2308 (2013).
Acknowledgements
We gratefully acknowledge support from the Leducq Foundation to A.S.M. and H.C.D., from the National Human Genome Research Institute (NHGRI) (1U54HG006542) to D.V. and J.L., from the National Heart, Lung, and Blood Institute (NHLBI) (HL110328, HL128745) and the NIH (S10OD012287) to J.T.B. We also thank the American Philosophical Society for support of H.A. through the Daland Fellowship. In addition, we thank Johns Hopkins University School of Medicine, McKusick Nathans Institute of Genetic Medicine Center for Functional Investigation in Zebrafish (FINZ) for their technical support and Corinne Boehm for her assistance in depositing variant information to ClinVar. B.L.L. is senior clinical investigator of the Fund for Scientific Research, Flanders, and holds a starting grant from the European Research Council (ERC-StG-2012-30972-BRAVE). A.V. is a postdoctoral researcher supported by the Fund for Scientific Research Flanders. I.L. is supported by a PhD grant from the Agency for Innovation by Science and Technology (IWT). M.E.L. is supported by the Toomey Fund for Aortic Dissection Research and the Fredman Fellowship in Aortic Disease. G.A. is a FQRS Senior Clinical Research Fellow.
Ethics declarations
Competing interests
The authors declare no competing interests.
Additional information
Publisher's note: Springer Nature remains neutral with regard to jurisdictional claims in published maps and institutional affiliations.
Integrated supplementary information
Supplementary information
Supplementary Figures 1–8 and Supplementary Tables 1–7
About this article
Cite this article
Gould, R.A., Aziz, H., Woods, C.E. et al. ROBO4 variants predispose individuals to bicuspid aortic valve and thoracic aortic aneurysm. Nat Genet 51, 42–50 (2019). https://doi.org/10.1038/s41588-018-0265-y
Received:

Accepted:

Published:

Issue Date:
Further reading
Fatemeh Javaherforoosh Zadeh

,

Tooba Akbari

,

Zeynab Deris zayeri

,

Azin Samimi

,

Nader Davari

&

Hadi Rezaeeyan

Molecular Biology Reports (2020)

Florian Wünnemann

,

Asaf Ta-Shma

,

Christoph Preuss

,

Severine Leclerc

,

Patrick Piet van Vliet

,

Andrea Oneglia

,

Maryse Thibeault

,

Emily Nordquist

,

Joy Lincoln

,

Franka Scharfenberg

,

Christoph Becker-Pauly

,

Philipp Hofmann

,

Kirstin Hoff

,

Enrique Audain

,

Hans-Heiner Kramer

,

Wojciech Makalowski

,

Amiram Nir

,

Sebastian S. Gerety

,

Matthew Hurles

,

Johanna Comes

,

Anne Fournier

,

Hanna Osinska

,

Jeffrey Robins

,

Michel Pucéat

,

Orly Elpeleg

,

Marc-Phillip Hitz

&

Gregor Andelfinger

Nature Genetics (2020)

Nature Reviews Cardiology (2019)