Abstract
Human embryonic stem cell (hESC) differentiation promises advances in regenerative medicine1,2,3, yet conversion of hESCs into transplantable cells or tissues remains poorly understood. Using our keratinocyte differentiation system, we employ a multi-dimensional genomics approach to interrogate the contributions of inductive morphogens retinoic acid and bone morphogenetic protein 4 (BMP4) and the epidermal master regulator p63 (encoded by TP63)4,5 during surface ectoderm commitment. In contrast to other master regulators6,7,8,9, p63 effects major transcriptional changes only after morphogens alter chromatin accessibility, establishing an epigenetic landscape for p63 to modify. p63 distally closes chromatin accessibility and promotes accumulation of H3K27me3 (trimethylated histone H3 lysine 27). Cohesin HiChIP10 visualizations of chromosome conformation show that p63 and the morphogens contribute to dynamic long-range chromatin interactions, as illustrated by TFAP2C regulation11. Our study demonstrates the unexpected dependency of p63 on morphogenetic signaling and provides novel insights into how a master regulator can specify diverse transcriptional programs based on the chromatin landscape induced by exposure to specific morphogens.
Relevant articles
Open Access articles citing this article.
Li-Yan Li

,

Qian Yang

…

De-Chen Lin

Nature Communications Open Access 16 July 2021

Kim Jee Goh

,

Ee Kim Tan

…

N. Ray Dunn

Scientific Reports Open Access 25 February 2021

Changbin Sun

,

Hailun Wang

…

Xi Zhang

Cell & Bioscience Open Access 23 January 2021
Access options
Subscribe to Nature+
Get immediate online access to Nature and 55 other Nature journal
Subscribe to Journal
Get full journal access for 1 year
$79.00
only $6.58 per issue
All prices are NET prices.
VAT will be added later in the checkout.
Tax calculation will be finalised during checkout.
Buy article
Get time limited or full article access on ReadCube.
$32.00
All prices are NET prices.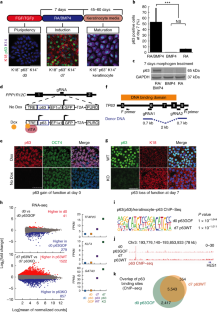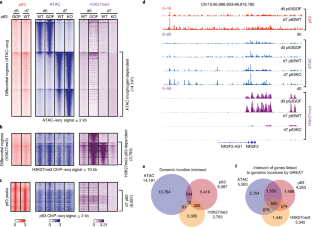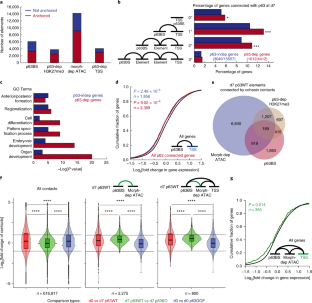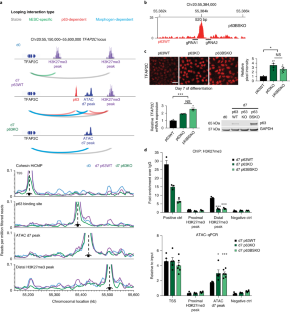 Data availability
All sequencing data are available through Gene Expression Omnibus (GEO) accession number: GSE119997.
References
Walmsley, G. G. et al. Induced pluripotent stem cells in regenerative medicine and disease modeling. Curr. Stem. Cell. Res. Ther. 9, 73–81 (2014).

Inoue, H., Nagata, N., Kurokawa, H. & Yamanaka, S. iPS cells: a game changer for future medicine. EMBO J. 33, 409–417 (2014).

Hanna, J. et al. Treatment of sickle cell anemia mouse model with iPS cells generated from autologous skin. Science 318, 1920–1923 (2007).

Umegaki-Arao, N. et al. Induced pluripotent stem cells from human revertant keratinocytes for the treatment of epidermolysis bullosa. Sci. Transl. Med. 6, 264ra164 (2014).

Sebastiano, V. et al. Human COL7A1-corrected induced pluripotent stem cells for the treatment of recessive dystrophic epidermolysis bullosa. Sci. Transl. Med. 6, 264ra163 (2014).

Zaret, K. S. & Carroll, J. S. Pioneer transcription factors: establishing competence for gene expression. Genes Dev. 25, 2227–2241 (2011).

Yang, A. et al. p63 is essential for regenerative proliferation in limb, craniofacial and epithelial development. Nature 398, 714–718 (1999).

Mills, A. A. et al. p63 is a p53 homologue required for limb and epidermal morphogenesis. Nature 398, 708–713 (1999).

Lupien, M. et al. FoxA1 translates epigenetic signatures into enhancer-driven lineage-specific transcription. Cell 132, 958–970 (2008).

Mumbach, M. R. et al. HiChIP: efficient and sensitive analysis of protein-directed genome architecture. Nat. Methods 13, 919–922 (2016).

Qiao, Y. et al. AP2γ regulates neural and epidermal development downstream of the BMP pathway at early stages of ectodermal patterning. Cell Res. 22, 1546–1561 (2012).

Metallo, C. M., Ji, L., de Pablo, J. J. & Palecek, S. P. Retinoic acid and bone morphogenetic protein signaling synergize to efficiently direct epithelial differentiation of human embryonic stem cells. Stem Cells 26, 372–380 (2008).

Itoh, M. et al. Generation of 3D skin equivalents fully reconstituted from human induced pluripotent stem cells (iPSCs). PLoS ONE 8, e77673 (2013).

Guenou, H. et al. Human embryonic stem-cell derivatives for full reconstruction of the pluristratified epidermis: a preclinical study. Lancet 374, 1745–1753 (2009).

Coraux, C. et al. Reconstituted skin from murine embryonic stem cells. Curr. Biol. 13, 849–853 (2003).

Chen, G. et al. Chemically defined conditions for human iPSC derivation and culture. Nat. Methods 8, 424–429 (2011).

Owens, D. W. & Lane, E. B. The quest for the function of simple epithelial keratins. BioEssays 25, 748–758 (2003).

Senoo, M., Pinto, F., Crum, C. P. & McKeon, F. p63 is essential for the proliferative potential of stem cells in stratified epithelia. Cell 129, 523–536 (2007).

Koster, M. I. & Roop, D. R. Mechanisms regulating epithelial stratification. Annu. Rev. Cell. Dev. Biol. 23, 93–113 (2007).

Green, H., Easley, K. & Iuchi, S. Marker succession during the development of keratinocytes from cultured human embryonic stem cells. Proc. Natl Acad. Sci. USA 100, 15625–15630 (2003).

Yang, A. et al. p63, a p53 homolog at 3q27-29, encodes multiple products with transactivating, death-inducing, and dominant-negative activities. Mol. Cell 2, 305–316 (1998).

Truong, A. B., Kretz, M., Ridky, T. W., Kimmel, R. & Khavari, P. A. p63 regulates proliferation and differentiation of developmentally mature keratinocytes. Genes Dev. 20, 3185–3197 (2006).

Romano, R. A., Ortt, K., Birkaya, B., Smalley, K. & Sinha, S. An active role of the ΔN isoform of p63 in regulating basal keratin genes K5 and K14 and directing epidermal cell fate. PLoS One 4, e5623 (2009).

LeBoeuf, M. et al. Hdac1 and Hdac2 act redundantly to control p63 and p53 functions in epidermal progenitor cells. Dev. Cell. 19, 807–818 (2010).

Nylander, K. et al. Differential expression of p63 isoforms in normal tissues and neoplastic cells. J. Pathol. 198, 417–427 (2002).

Aberdam, E. et al. A pure population of ectodermal cells derived from human embryonic stem cells. Stem Cells 26, 440–444 (2008).

Li, G. et al. c-Jun is essential for organization of the epidermal leading edge. Dev. Cell 4, 865–877 (2003).

Mehic, D., Bakiri, L., Ghannadan, M., Wagner, E. F. & Tschachler, E. Fos and jun proteins are specifically expressed during differentiation of human keratinocytes. J. Invest. Dermatol. 124, 212–220 (2005).

McLarren, K. W., Litsiou, A. & Streit, A. DLX5 positions the neural crest and preplacode region at the border of the neural plate. Dev. Biol. 259, 34–47 (2003).

Ezhkova, E. et al. Ezh2 orchestrates gene expression for the stepwise differentiation of tissue-specific stem cells. Cell 136, 1122–1135 (2009).

Rapisarda, V. et al. p63 transcription factor regulates nuclear shape and expression of nuclear envelope-associated genes in epidermal keratinocytes. J. Invest. Dermatol. 137, 2157–2167 (2017).

Wamstad, J. A. et al. Dynamic and coordinated epigenetic regulation of developmental transitions in the cardiac lineage. Cell 151, 206–220 (2012).

Ay, F., Bailey, T. L. & Noble, W. S. Statistical confidence estimation for Hi-C data reveals regulatory chromatin contacts. Genome Res. 24, 999–1011 (2014).

Barton, C. E. et al. Novel p63 target genes involved in paracrine signaling and keratinocyte differentiation. Cell Death Dis. 1, e74 (2010).

Koh, L. F., Ng, B. K., Bertrand, J. & Thierry, F. Transcriptional control of late differentiation in human keratinocytes by TAp63 and Notch. Exp. Dermatol. 24, 754–760 (2015).

Schwartzman, O. et al. UMI-4C for quantitative and targeted chromosomal contact profiling. Nat. Methods 13, 685–691 (2016).

Rinaldi, L. et al. Dnmt3a and Dnmt3b associate with enhancers to regulate human epidermal stem cell homeostasis. Cell Stem Cell 19, 491–501 (2016).

Wu, H. et al. Dnmt3a-dependent nonpromoter DNA methylation facilitates transcription of neurogenic genes. Science 329, 444–448 (2010).

Lin-Shiao, E. et al. KMT2D regulates p63 target enhancers to coordinate epithelial homeostasis. Genes Dev. 32, 181–193 (2018).

Hsu, P. D. et al. DNA targeting specificity of RNA-guided Cas9 nucleases. Nat. Biotechnol. 31, 827–832 (2013).

Mali, P., Esvelt, K. M. & Church, G. M. Cas9 as a versatile tool for engineering biology. Nat. Methods 10, 957–963 (2013).

Natsume, T., Kiyomitsu, T., Saga, Y. & Kanemaki, M. T. Rapid protein depletion in human cells by auxin-inducible degron tagging with short homology donors. Cell Rep. 15, 210–218 (2016).

Jacobi, A. M. et al. Simplified CRISPR tools for efficient genome editing and streamlined protocols for their delivery into mammalian cells and mouse zygotes. Methods 121-122, 16–28 (2017).

Liang, X., Potter, J., Kumar, S., Ravinder, N. & Chesnut, J. D. Enhanced CRISPR/Cas9-mediated precise genome editing by improved design and delivery of gRNA, Cas9 nuclease, and donor DNA. J. Biotechnol. 241, 136–146 (2017).

Buenrostro, J. D., Giresi, P. G., Zaba, L. C., Chang, H. Y. & Greenleaf, W. J. Transposition of native chromatin for fast and sensitive epigenomic profiling of open chromatin, DNA-binding proteins and nucleosome position. Nat. Methods 10, 1213–1218 (2013).

Andrews, S. FastQC (version 0.11.3); http://www.bioinformatics.babraham.ac.uk/projects/fastqc.

Hwang, S., Kim, E., Lee, I. & Marcotte, E. M. Systematic comparison of variant calling pipelines using gold standard personal exome variants. Sci. Rep. 5, 17875 (2015).

Li, H. et al. The sequence alignment/map format and SAMtools. Bioinformatics 25, 2078–2079 (2009).

Zhang, Y. et al. Model-based analysis of ChIP-Seq (MACS). Genome Biol. 9, R137 (2008).

Li, H. A statistical framework for SNP calling, mutation discovery, association mapping and population genetical parameter estimation from sequencing data. Bioinformatics 27, 2987–2993 (2011).

Quinlan, A. R. & Hall, I. M. BEDTools: a flexible suite of utilities for comparing genomic features. Bioinformatics 26, 841–842 (2010).

Heinz, S. et al. Simple combinations of lineage-determining transcription factors prime cis-regulatory elements required for macrophage and B cell identities. Mol. Cell 38, 576–589 (2010).

Love, M. I., Huber, W. & Anders, S. Moderated estimation of fold change and dispersion for RNA-seq data with DESeq2. Genome Biol. 15, 550 (2014).

Saldanha, A. J. Java Treeview–extensible visualization of microarray data. Bioinformatics 20, 3246–3248 (2004).

Huang da, W., Sherman, B. T. & Lempicki, R. A. Systematic and integrative analysis of large gene lists using DAVID bioinformatics resources. Nat. Protoc. 4, 44–57 (2009).

McLean, C. Y. et al. GREAT improves functional interpretation of cis-regulatory regions. Nat. Biotechnol. 28, 495–501 (2010).

Ernst, J. & Kellis, M. ChromHMM: automating chromatin-state discovery and characterization. Nat. Methods 9, 215–216 (2012).

Servant, N. et al. HiC-Pro: an optimized and flexible pipeline for Hi-C data processing. Genome. Biol. 16, 259 (2015).

Anders, S. et al. Count-based differential expression analysis of RNA sequencing data using R and Bioconductor. Nat. Protoc. 8, 1765–1786 (2013).

Scholz, F. & Stephens, M. K-sample Anderson-Darling tests. J. Am. Stats Assoc. 82, 918–924 (1987).
Acknowledgements
We thank members of the Oro Laboratory, P. Greenside, J. Wysocka, A. Kundaje, O. Wapinski, and D. Webster for helpful discussions and comments. This work was supported by a CIRM Tools grant RT3-07796 (A.E.O.), National Institute of Arthritis and Musculoskeletal and Skin Diseases (NIAMS)/National Institutes of Health (NIH) grant F32AR070565 (J.M.P.), NIAMS/NIH grant AR45192 (P.A.K.), NIH P50 HG007735 (H.Y.C.), and NIH K99/R00 5R00AR065490 (X.B.). H.Y.C. is an Investigator of the Howard Hughes Medical Institute.
Ethics declarations
Competing interests
The authors declare no competing interests.
Additional information
Publisher's note: Springer Nature remains neutral with regard to jurisdictional claims in published maps and institutional affiliations.
Integrated supplementary information
Supplementary information
Supplementary Figures 1–11 and Supplementary Tables 1–4
About this article
Cite this article
Pattison, J.M., Melo, S.P., Piekos, S.N. et al. Retinoic acid and BMP4 cooperate with p63 to alter chromatin dynamics during surface epithelial commitment. Nat Genet 50, 1658–1665 (2018). https://doi.org/10.1038/s41588-018-0263-0
Received:

Accepted:

Published:

Issue Date:

DOI: https://doi.org/10.1038/s41588-018-0263-0