Abstract
Straightening of the body axis is a major morphogenetic event that produces the typical head-to-tail shape of the vertebrate embryo. Defects in axial straightening can lead to debilitating disorders such as idiopathic scoliosis, characterized by three-dimensional curvatures of the spine1. Although abnormal cerebrospinal fluid (CSF) flow has been implicated in the development of idiopathic scoliosis2, the molecular mechanisms operating downstream of CSF flow remain obscure. Here we show that, in zebrafish embryos, cilia-driven CSF flow transports adrenergic signals that induce urotensin neuropeptides in CSF-contacting neurons along the spinal cord. Urotensins activate their receptor on slow-twitch muscle fibers of the dorsal somite; the contraction of these fibers likely results in straightening of the body axis. Consistent with this, mutation of the urotensin receptor resulted in severe scoliosis in adult zebrafish, closely mimicking the human disorder. These findings suggest that disruption of urotensin signaling by impaired CSF flow could be a critical etiological factor underlying the pathology of idiopathic scoliosis.
Relevant articles
Open Access articles citing this article.
Paul W. Chrystal

,

Nils J. Lambacher

…

Michel R. Leroux

Nature Communications Open Access 03 November 2022

Jasmine Chebli

,

Maryam Rahmati

…

Alexandra Abramsson

Scientific Reports Open Access 27 September 2021

Vijay Kumar

,

Zobia Umair

…

Jaebong Kim

Fluids and Barriers of the CNS Open Access 07 July 2021
Access options
Access Nature and 54 other Nature Portfolio journals
Get Nature+, our best-value online-access subscription
$29.99 per month
cancel any time
Subscribe to this journal
Receive 12 print issues and online access
$189.00 per year
only $15.75 per issue
Rent or buy this article
Get just this article for as long as you need it
$39.95
Prices may be subject to local taxes which are calculated during checkout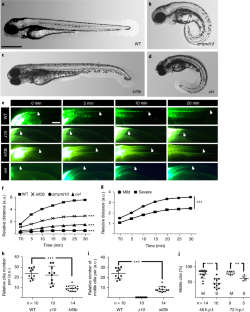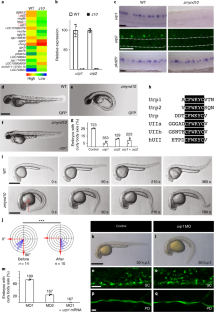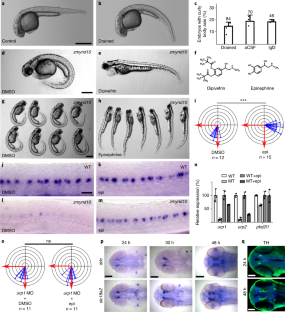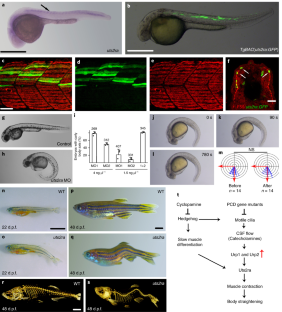 Data availability
RNA-seq data have been deposited to the Sequence Read Archive (SRA) database under accession numbers SRX4719722 and SRX4719723. All of the data that support the findings of this study are available from the corresponding author upon reasonable request.
References
Cheng, J. C. et al. Adolescent idiopathic scoliosis. Nat. Rev. Dis. Primers 1, 15030 (2015).

Grimes, D. T. et al. Zebrafish models of idiopathic scoliosis link cerebrospinal fluid flow defects to spine curvature. Science 352, 1341–1344 (2016).

Lun, M. P., Monuki, E. S. & Lehtinen, M. K. Development and functions of the choroid plexus-cerebrospinal fluid system. Nat. Rev. Neurosci. 16, 445–457 (2015).

Goetz, S. C. & Anderson, K. V. The primary cilium: a signalling centre during vertebrate development. Nat. Rev. Genet. 11, 331–344 (2010).

Song, Z., Zhang, X., Jia, S., Yelick, P. C. & Zhao, C. Zebrafish as a model for human ciliopathies. J. Genet. Genomics 43, 107–120 (2016).

Zariwala, M. A. et al. ZMYND10 is mutated in primary ciliary dyskinesia and interacts with LRRC6. Am. J. Hum. Genet. 93, 336–345 (2013).

Zhao, C., Omori, Y., Brodowska, K., Kovach, P. & Malicki, J. Kinesin-2 family in vertebrate ciliogenesis. Proc. Natl Acad. Sci. USA 109, 2388–2393 (2012).

Tsujikawa, M. & Malicki, J. Intraflagellar transport genes are essential for differentiation and survival of vertebrate sensory neurons. Neuron 42, 703–716 (2004).

Kramer-Zucker, A. G. et al. Cilia-driven fluid flow in the zebrafish pronephros, brain and Kupffer's vesicle is required for normal organogenesis. Development 132, 1907–1921 (2005).

Borovina, A., Superina, S., Voskas, D. & Ciruna, B. Vangl2 directs the posterior tilting and asymmetric localization of motile primary cilia. Nat. Cell Biol. 12, 407–412 (2010).

Ross, B., McKendy, K. & Giaid, A. Role of urotensin II in health and disease. Am. J. Physiol. Regul. Integr. Comp. Physiol. 298, R1156–R1172 (2010).

Quan, F. B. et al. Comparative distribution and in vitro activities of the urotensin II-related peptides URP1 and URP2 in zebrafish: evidence for their colocalization in spinal cerebrospinal fluid-contacting neurons. PLoS ONE 10, e0119290 (2015).

Djenoune, L. et al. Investigation of spinal cerebrospinal fluid-contacting neurons expressing PKD2L1: evidence for a conserved system from fish to primates. Front. Neuroanat. 8, 26 (2014).

van Rooijen, E. et al. LRRC50, a conserved ciliary protein implicated in polycystic kidney disease. J. Am. Soc. Nephrol. 19, 1128–1138 (2008).

Yu, X., Ng, C. P., Habacher, H. & Roy, S. Foxj1 transcription factors are master regulators of the motile ciliogenic program. Nat. Genet. 40, 1445–1453 (2008).

Panizzi, J. R. et al. CCDC103 mutations cause primary ciliary dyskinesia by disrupting assembly of ciliary dynein arms. Nat. Genet. 44, 714–719 (2012).

van Eeden, F. J. et al. Mutations affecting somite formation and patterning in the zebrafish, Danio rerio. Development 123, 153–164 (1996).

Odenthal, J., van Eeden, F. J., Haffter, P., Ingham, P. W. & Nusslein-Volhard, C. Two distinct cell populations in the floor plate of the zebrafish are induced by different pathways. Dev. Biol. 219, 350–363 (2000).

Vaudry, H. et al. Urotensin II, from fish to human. Ann. N. Y. Acad. Sci. 1200, 53–66 (2010).

Rossi, A. et al. Genetic compensation induced by deleterious mutations but not gene knockdowns. Nature 524, 230–233 (2015).

Lehtinen, M. K. & Walsh, C. A. Neurogenesis at the brain-cerebrospinal fluid interface. Annu. Rev. Cell Dev. Biol. 27, 653–679 (2011).

Xie, L. et al. Sleep drives metabolite clearance from the adult brain. Science 342, 373–377 (2013).

Lleo, A. et al. Cerebrospinal fluid biomarkers in trials for Alzheimer and Parkinson diseases. Nat. Rev. Neurol. 11, 41–55 (2015).

Ames, R. S. et al. Human urotensin-II is a potent vasoconstrictor and agonist for the orphan receptor GPR14. Nature 401, 282–286 (1999).

Wu, X., Shen, W., Zhang, B. & Meng, A. The genetic program of oocytes can be modified in vivo in the zebrafish ovary. J. Mol. Cell Biol. https://doi.org/10.1093/jmcb/mjy044 (2018).

Jackson, H. E. & Ingham, P. W. Control of muscle fibre-type diversity during embryonic development: the zebrafish paradigm. Mech. Dev. 130, 447–457 (2013).

Freund, J. B., Goetz, J. G., Hill, K. L. & Vermot, J. Fluid flows and forces in development: functions, features and biophysical principles. Development 139, 1229–1245 (2012).

Baik, J. S. et al. Scoliosis in patients with Parkinson's disease. J. Clin. Neurol. 5, 91–94 (2009).

Zeman, R. J., Zhang, Y. & Etlinger, J. D. Clenbuterol, a beta2-adrenoceptor agonist, reduces scoliosis due to partial transection of rat spinal cord. Am. J. Physiol. 272, E712–E715 (1997).

Cantaut-Belarif, Y., Sternberg, J. R., Thouvenin, O., Wyart, C. & Bardet, P. L. The Reissner fiber in the cerebrospinal fluid controls morphogenesis of the body axis. Curr. Biol. 28, 2479–2486 (2018).

Caprile, T., Hein, S., Rodriguez, S., Montecinos, H. & Rodriguez, E. Reissner fiber binds and transports away monoamines present in the cerebrospinal fluid. Brain Res. Mol. Brain Res. 110, 177–192 (2003).

Barresi, M. J., Stickney, H. L. & Devoto, S. H. The zebrafish slow-muscle-omitted gene product is required for Hedgehog signal transduction and the development of slow muscle identity. Development 127, 2189–2199 (2000).

Cermak, T. et al. Efficient design and assembly of custom TALEN and other TAL effector-based constructs for DNA targeting. Nucleic Acids Res. 39, e82 (2011).

Chang, J. T. & Sive, H. Manual drainage of the zebrafish embryonic brain ventricles. J. Vis. Exp. 70, e4243 (2012).
Acknowledgements
We thank G. Burns, J. Malicki, C. Duan, J. Zhou, X. Tan and L. Lu for reagents, constructs and zebrafish strains. We also thank H. Li for help with the assembly of TALEN constructs, Y. Li for transcriptome data analysis, and G. Ou for comments on earlier versions of the manuscript. This work was supported by grants from the National Natural Science Foundation of China (31422051 and 81301718), the AoShan Talents Program Supported by Qingdao National Laboratory for Marine Science and Technology (2015ASTP-ES13), and the Shandong Provincial Natural Science Foundation (JQ201506) to C.Z., and the Agency for Science, Technology and Research of Singapore (A*STAR) to S.R.
Ethics declarations
Competing interests
The authors declare no competing interests.
Additional information
Publisher's note: Springer Nature remains neutral with regard to jurisdictional claims in published maps and institutional affiliations.
Integrated supplementary information
Supplementary information
About this article
Cite this article
Zhang, X., Jia, S., Chen, Z. et al. Cilia-driven cerebrospinal fluid flow directs expression of urotensin neuropeptides to straighten the vertebrate body axis. Nat Genet 50, 1666–1673 (2018). https://doi.org/10.1038/s41588-018-0260-3
Received:

Accepted:

Published:

Issue Date:

DOI: https://doi.org/10.1038/s41588-018-0260-3