Abstract
Some of the most unique and compelling survival strategies in the natural world are fixed in isolated species1. To date, molecular insight into these ancient adaptations has been limited, as classic experimental genetics has focused on interfertile individuals in populations2. Here we use a new mapping approach, which screens mutants in a sterile interspecific hybrid, to identify eight housekeeping genes that underlie the growth advantage of Saccharomyces cerevisiae over its distant relative Saccharomyces paradoxus at high temperature. Pro-thermotolerance alleles at these mapped loci were required for the adaptive trait in S. cerevisiae and sufficient for its partial reconstruction in S. paradoxus. The emerging picture is one in which S. cerevisiae improved the heat resistance of multiple components of the fundamental growth machinery in response to selective pressure. Our study lays the groundwork for the mapping of genotype to phenotype in clades of sister species across Eukarya.
Relevant articles
Open Access articles citing this article.
Wenke Wang

,

Anna G. Flury

…

Rachel B. Brem

BMC Genomics Open Access 20 December 2022
Access options
Subscribe to Nature+
Get immediate online access to Nature and 55 other Nature journal
Subscribe to Journal
Get full journal access for 1 year
$79.00
only $6.58 per issue
All prices are NET prices.
VAT will be added later in the checkout.
Tax calculation will be finalised during checkout.
Buy article
Get time limited or full article access on ReadCube.
$32.00
All prices are NET prices.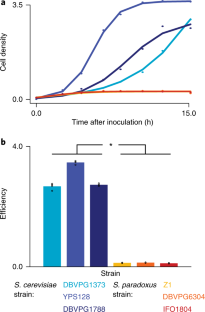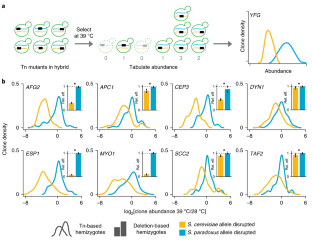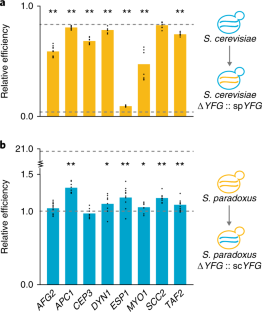 Data availability
RH-seq data have been deposited in the Sequence Read Archive (SRA) under accession SRP156210.
References
Orr, H. A. The genetics of species differences. Trends Ecol. Evol. 16, 343–350 (2001).

Flint, J. & Mott, R. Finding the molecular basis of quantitative traits: successes and pitfalls. Nat. Rev. Genet. 2, 437–445 (2001).

Good, B. H., McDonald, M. J., Barrick, J. E., Lenski, R. E. & Desai, M. M. The dynamics of molecular evolution over 60,000 generations. Nature 551, 45–50 (2017).

Savolainen, O., Lascoux, M. & Merila, J. Ecological genomics of local adaptation. Nat. Rev. Genet. 14, 807–820 (2013).

Nadeau, N. J. & Jiggins, C. D. A golden age for evolutionary genetics? Genomic studies of adaptation in natural populations. Trends Genet. 26, 484–492 (2010).

Wray, G. A. Genomics and the evolution of phenotypic traits. Annu. Rev. Ecol. Evol. Syst. 44, 51–72 (2013).

Masly, J. P. & Presgraves, D. C. High-resolution genome-wide dissection of the two rules of speciation in Drosophila. PLoS Biol. 5, e243 (2007).

Greig, D. A screen for recessive speciation genes expressed in the gametes of F1 hybrid yeast. PLoS Genet. 3, e21 (2007).

Eshed, Y. & Zamir, D. An introgression line population of Lycopersicon pennellii in the cultivated tomato enables the identification and fine mapping of yield-associated QTL. Genetics 141, 1147–1162 (1995).

Lazzarano, S. et al. Genetic mapping of species differences via in vitro crosses in mouse embryonic stem cells. Proc. Natl Acad. Sci. USA 115, 3680–3685 (2018).

Roop, J. I., Chang, K. C. & Brem, R. B. Polygenic evolution of a sugar specialization trade-off in yeast. Nature 530, 336–339 (2016).

Steinmetz, L. M. et al. Dissecting the architecture of a quantitative trait locus in yeast. Nature 416, 326–330 (2002).

Stern, D. L. Identification of loci that cause phenotypic variation in diverse species with the reciprocal hemizygosity test. Trends Genet. 30, 547–554 (2014).

Goncalves, P., Valerio, E., Correia, C., de Almeida, J. M. & Sampaio, J. P. Evidence for divergent evolution of growth temperature preference in sympatric Saccharomyces species. PLoS ONE 6, e20739 (2011).

Salvado, Z. et al. Temperature adaptation markedly determines evolution within the genus Saccharomyces. Appl. Environ. Microbiol. 77, 2292–2302 (2011).

Sweeney, J. Y., Kuehne, H. A. & Sniegowski, P. D. Sympatric natural Saccharomyces cerevisiae and S. paradoxus populations have different thermal growth profiles. FEMS Yeast Res. 4, 521–525 (2004).

Scannell, D. R. et al. The awesome power of yeast evolutionary genetics: new genome sequences and strain resources for the Saccharomyces sensu stricto genus. Genes Genomes Genet. 1, 11–25 (2011).

Hartwell, L. H. Saccharomyces cerevisiae cell cycle. Bacteriol. Rev. 38, 164–198 (1974).

Mitra, R., Fain-Thornton, J. & Craig, N. L. PiggyBac can bypass DNA synthesis during cut and paste transposition. EMBO J. 27, 1097–1109 (2008).

van Opijnen, T., Lazinski, D. W. & Camilli, A. Genome-wide fitness and genetic interactions determined by Tn-seq, a high-throughput massively parallel sequencing method for microorganisms. Curr. Protoc. Mol. Biol. 106, 7.16.11–7.16.24 (2014).

Parts, L. et al. Revealing the genetic structure of a trait by sequencing a population under selection. Genome Res. 21, 1131–1138 (2011).

Winzeler, E. A. et al. Functional characterization of the S. cerevisiae genome by gene deletion and parallel analysis. Science 285, 901–906 (1999).

Leuenberger, P. et al. Cell-wide analysis of protein thermal unfolding reveals determinants of thermostability. Science 355, eaai7825 (2017).

Wilkening, S. et al. An evaluation of high-throughput approaches to QTL mapping in Saccharomyces cerevisiae. Genetics 196, 853–865 (2014).

Kim, H.S., Huh, J., Riles, L., Reyes, A. & Fay, J.C. A noncomplementation screen for quantitative trait alleles in Saccharomyces cerevisiae. G3 (Bethesda) 2, 753–760 (2012).

Sinha, H., Nicholson, B. P., Steinmetz, L. M. & McCusker, J. H. Complex genetic interactions in a quantitative trait locus. PLoS Genet. 2, e13 (2006).

Guldener, U., Heck, S., Fielder, T., Beinhauer, J. & Hegemann, J. H. A new efficient gene disruption cassette for repeated use in budding yeast. Nucleic Acids Res. 24, 2519–2524 (1996).

Wetmore, K. M. et al. Rapid quantification of mutant fitness in diverse bacteria by sequencing randomly bar-coded transposons. mBio 6, e00306–e00315 (2015).

Skelly, D. A. et al. Integrative phenomics reveals insight into the structure of phenotypic diversity in budding yeast. Genome Res. 23, 1496–1504 (2013).

Langmead, B. & Salzberg, S. L. Fast gapped-read alignment with Bowtie 2. Nat. Methods 9, 357–359 (2012).

Liti, G. et al. Population genomics of domestic and wild yeasts. Nature 458, 337–341 (2009).

Li, H. et al. The Sequence Alignment/Map format and SAMtools. Bioinformatics 25, 2078–2079 (2009).

Nei, M. Molecular Evolutionary Genetics New York, (Columbia Univ. Press, 1987).

Katoh, K. & Standley, D. M. MAFFT multiple sequence alignment software version 7: improvements in performance and usability. Mol. Biol. Evol. 30, 772–780 (2013).

Loytynoja, A. & Goldman, N. webPRANK: a phylogeny-aware multiple sequence aligner with interactive alignment browser. BMC Bioinformatics 11, 579 (2010).

Yang, Z. PAML 4: phylogenetic analysis by maximum likelihood. Mol. Biol. Evol. 24, 1586–1591 (2007).
Acknowledgements
The authors thank F. AlZaben, A. Flury, G. Geiselman, J. Hong, J. Kim, M. Maurer, and L. Oltrogge for technical assistance; D. Savage for his generosity with microscopy resources; and B. Blackman, S. Coradetti, A. Flamholz, V. Guacci, D. Koshland, C. Nelson, and A. Sasikumar for discussions. We also thank J. Dueber (Department of Bioengineering, University of California, Berkeley) for the piggyBac cassette. This work was supported by R01 GM120430-A1 and by Community Sequencing Project 1460 to R.B.B. at the US Department of Energy (DOE) Joint Genome Institute, a DOE Office of Science User Facility. The work conducted by the latter was supported by the Office of Science of the US DOE under Contract No. DE-AC02-05CH11231.
Ethics declarations
Competing interests
The authors declare no competing interests.
Additional information
Publisher's note: Springer Nature remains neutral with regard to jurisdictional claims in published maps and institutional affiliations.
Integrated supplementary information
Supplementary information
About this article
Cite this article
Weiss, C.V., Roop, J.I., Hackley, R.K. et al. Genetic dissection of interspecific differences in yeast thermotolerance. Nat Genet 50, 1501–1504 (2018). https://doi.org/10.1038/s41588-018-0243-4
Received:

Accepted:

Published:

Issue Date:

DOI: https://doi.org/10.1038/s41588-018-0243-4
This article is cited by
Wenke Wang
Anna G. Flury
Rachel B. Brem

BMC Genomics (2022)