Access options
Subscribe to Journal
Get full journal access for 1 year
$59.00
only $4.92 per issue
All prices are NET prices.
VAT will be added later in the checkout.
Tax calculation will be finalised during checkout.
Rent or Buy article
Get time limited or full article access on ReadCube.
from$8.99
All prices are NET prices.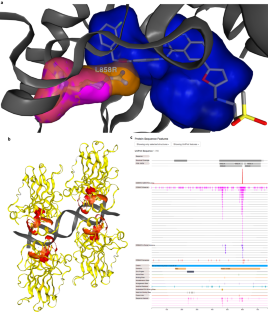 References
1.

Forbes, S. A. et al. Nucleic Acids Res. 45 (D1), D777–D783 (2017).

2.

Berman, H. M. et al. Curr. Opin. Struct. Biol. 40, 17–22 (2016).

3.

Velankar, S. et al. Nucleic Acids Res. 41, D483–D489 (2013).

4.

Futreal, P. A. et al. Nat. Rev. Cancer 4, 177–183 (2004).

5.

Rose, A. S. & Hildebrand, P. W. Nucleic Acids Res. 43 (W1), W576–W579 (2015).

6.

UniProt Consortium. Nucleic Acids Res. 45, D158–D169 (2017).

7.

Le Guilloux, V., Schmidtke, P. & Tuffery, P. BMC Bioinformatics 10, 168 (2009).

8.

Gilmer, T. M. et al. Cancer Res. 68, 571–579 (2008).

9.

Gazdar, A. F. Oncogene 28 (Suppl. 1), S24–S31 (2009).
Acknowledgements
We thank colleagues at the Wellcome Sanger Institute and Astex Pharmaceuticals for helpful comments. This work was funded by a postdoctoral fellowship awarded to H.C.J. under the Sustaining Innovation Postdoctoral Training Program at Astex Pharmaceuticals (H.C.J., H.K.S., M.L.V., S.A.F.). This work was supported by a Wellcome Trust grant (206194) (H.C.J., S.A.F.).
Ethics declarations
Competing interests
COSMIC-3D uses data and systems infrastructure from the COSMIC database group, which is partly funded from Wellcome Trust charitable funds together with sales of licenses to for-profit enterprises. H.K.S. and M.L.V. are employed by Astex Pharmaceuticals.
Supplementary information
About this article
Cite this article
Jubb, H.C., Saini, H.K., Verdonk, M.L. et al. COSMIC-3D provides structural perspectives on cancer genetics for drug discovery. Nat Genet 50, 1200–1202 (2018). https://doi.org/10.1038/s41588-018-0214-9