Abstract
Childhood high-risk neuroblastomas with MYCN gene amplification are difficult to treat effectively1. This has focused attention on tumor-specific gene dependencies that underlie tumorigenesis and thus provide valuable targets for the development of novel therapeutics. Using unbiased genome-scale CRISPR–Cas9 approaches to detect genes involved in tumor cell growth and survival2,3,4,5,6, we identified 147 candidate gene dependencies selective for MYCN-amplified neuroblastoma cell lines, compared to over 300 other human cancer cell lines. We then used genome-wide chromatin-immunoprecipitation coupled to high-throughput sequencing analysis to demonstrate that a small number of essential transcription factors—MYCN, HAND2, ISL1, PHOX2B, GATA3, and TBX2—are members of the transcriptional core regulatory circuitry (CRC) that maintains cell state in MYCN-amplified neuroblastoma. To disable the CRC, we tested a combination of BRD4 and CDK7 inhibitors, which act synergistically, in vitro and in vivo, with rapid downregulation of CRC transcription factor gene expression. This study defines a set of critical dependency genes in MYCN-amplified neuroblastoma that are essential for cell state and survival in this tumor.
Access options
Access Nature and 54 other Nature Portfolio journals
Get Nature+, our best-value online-access subscription
$29.99 / 30 days
cancel any time
Subscribe to this journal
Receive 12 print issues and online access
$209.00 per year
only $17.42 per issue
Rent or buy this article
Prices vary by article type
from$1.95
to$39.95
Prices may be subject to local taxes which are calculated during checkout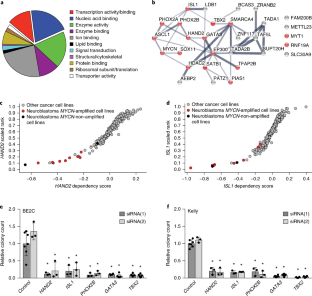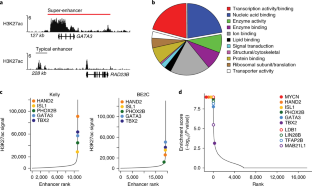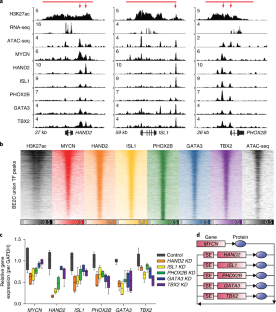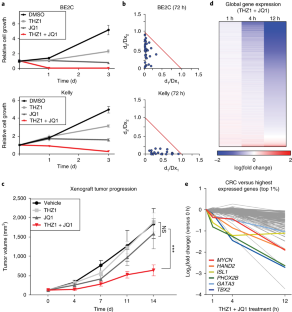 Similar content being viewed by others
References
Matthay, K. K. et al. Neuroblastoma. Nat. Rev. Dis. Primers 10, 16078 (2016).

Shalem, O. et al. Genome-scale CRISPR–Cas9 knockout screening in human cells. Science 343, 84–87 (2014).

Wang, T., Wei, J. J., Sabatini, D. M. & Lander, E. S. Genetic screens in human cells using the CRISPR–Cas9 system. Science 343, 80–84 (2014).

Evers, B. et al. CRISPR knockout screening outperforms shRNA and CRISPRi in identifying essential genes. Nat. Biotechnol. 34, 631–633 (2016).

Morgens, D. W., Deans, R. M., Li, A. & Bassik, M. C. Systematic comparison of CRISPR/Cas9 and RNAi screens for essential genes. Nat. Biotechnol. 34, 634–636 (2016).

Tzelepis, K. et al. A CRISPR dropout screen identifies genetic vulnerabilities and therapeutic targets in acute myeloid leukemia. Cell Rep. 17, 1193–1205 (2016).

Meyers, R.M. et al. Computational correction of copy number effect improves specificity of CRISPR-Cas9 essentiality screens in cancer cells. Nat. Genet. 49, 1779–1784 (2017).

Zimmerman, M. W. et al. MYC drives a subset of high-risk pediatric neuroblastomas and is activated through mechanisms including enhancer hijacking and focal enhancer amplification. Cancer Discov. 8, 320–335 (2018).

Ashburner, M. et al. Gene ontology: Tool for the unification of biology. The Gene Ontology Consortium. Nat. Genet. 25, 25–29 (2000).

Gene Ontology Consortium. Gene Ontology Consortium: Going forward. Nucleic Acids Res. 43, D1049–D1056 (2015).

Chen, L. et al. Pre-clinical evaluation of the MDM2-p53 antagonist RG7388 alone and in combination with chemotherapy in neuroblastoma. Oncotarget 6, 10207–10221 (2015).

Rader, J. et al. Dual CDK4/CDK6 inhibition induces cell-cycle arrest and senescence in neuroblastoma. Clin. Cancer Res. 19, 6173–6182 (2013).

Frumm, S. M. et al. Selective HDAC1/HDAC2 inhibitors induce neuroblastoma differentiation. Chem. Biol. 20, 713–725 (2013).

Jubierre, L. et al. BRG1/SMARCA4 is essential for neuroblastoma cell viability through modulation of cell death and survival pathways. Oncogene 35, 5179–5190 (2016).

Kim, B. & Feldman, E. L. Insulin receptor substrate (IRS)-2, not IRS-1, protects human neuroblastoma cells against apoptosis. Apoptosis 14, 665–673 (2009).

Richter, M. et al. WIP1 phosphatase as a potential therapeutic target in neuroblastoma. PLoS ONE 10, e0115635 (2015).

Bhatt, S., Diaz, R. & Trainor, P.A. Signals and switches in mammalian neural crest cell differentiation. Cold Spring Harb. Perspect. Biol 5, pii: a008326 (2013).

Mosse, Y. P. et al. Germline PHOX2B mutation in hereditary neuroblastoma. Am. J. Hum. Genet. 75, 727–730 (2004).

Molenaar, J. J. et al. Cyclin D1 is a direct transcriptional target of GATA3 in neuroblastoma tumor cells. Oncogene 29, 2739–2745 (2010).

Hirase, S. et al. Early detection of tumor relapse/regrowth by consecutive minimal residual disease monitoring in high-risk neuroblastoma patients. Oncol. Lett. 12, 1119–1123 (2016).

Szklarczyk, D. et al. STRINGv10: Protein–protein interaction networks, integrated over the tree of life. Nucleic Acids Res. 43, D447–D452 (2015).

Sanda, T. et al. Core transcriptional regulatory circuit controlled by the TAL1 complex in human T cell acute lymphoblastic leukemia. Cancer Cell 22, 209–221 (2012).

Mansour, M. R. et al. Oncogene regulation. An oncogenic super-enhancer formed through somatic mutation of a noncoding intergenic element. Science 346, 1373–1377 (2014).

Saint-André, V. et al. Models of human core transcriptional regulatory circuitries. Genome Res. 26, 385–396 (2016).

Boyer, L. A. et al. Core transcriptional regulatory circuitry in human embryonic stem cells. Cell 122, 947–956 (2005).

Whyte, W. A. et al. Master transcription factors and mediator establish super-enhancers at key cell identity genes. Cell 153, 307–319 (2013).

Hnisz, D. et al. Super-enhancers in the control of cell identity and disease. Cell 155, 934–947 (2013).

Boeva, V. et al. Heterogeneity of neuroblastoma cell identity defined by transcriptional circuitries. Nat. Genet. 49, 1408–1413 (2017).

van Groningen, T. et al. Neuroblastoma is composed of two super-enhancer-associated differentiation states. Nat. Genet. 49, 1261–1266 (2017).

Adam, R. C. et al. Pioneer factors govern super-enhancer dynamics in stem cell plasticity and lineage choice. Nature 521, 366–370 (2015).

Panne, D. The enhanceosome. Curr. Opin. Struct. Biol. 18, 236–242 (2008).

Lin, C. Y. et al. Transcriptional amplification in tumor cells with elevated c-Myc. Cell 151, 56–67 (2012).

Nie, Z. et al. c-Myc is a universal amplifier of expressed genes in lymphocytes and embryonic stem cells. Cell 151, 68–79 (2012).

Zeid, R. et al. Enhancer invasion shapes MYCN-dependent transcriptional amplification in neuroblastoma. Nat. Genet. 50, 515–523 (2018).

Chipumuro, E. et al. CDK7 inhibition suppresses super-enhancer-linked oncogenic transcription in MYCN-driven cancer. Cell 159, 1126–1139 (2014).

Puissant, A. et al. Targeting MYCN in neuroblastoma by BET bromodomain inhibition. Cancer Discov. 3, 308–323 (2013).

Gessner, P. K. Isobolographic analysis of interactions: An update on applications and utility. Toxicology 105, 161–179 (1995).

Chou, T. C. Drug combination studies and their synergy quantification using the Chou–Talalay method. Cancer Res. 70, 440–446 (2010).

Berenbaum, M. C. Criteria for analyzing interactions between biologically active agents. Adv. Cancer Res. 35, 269–335 (1981).

Barretina, J. et al. The Cancer Cell Line Encyclopedia enables predictive modelling of anticancer drug sensitivity. Nature 483, 603–607 (2012).

Kwiatkowski, N. et al. Targeting transcription regulation in cancer with a covalent CDK7 inhibitor. Nature 511, 616–620 (2014).

Oldridge, D. A. et al. Genetic predisposition to neuroblastoma mediated by a LMO1 super-enhancer polymorphism. Nature 528, 418–421 (2015).

Buenrostro, J. D., Giresi, P. G., Zaba, L. C., Chang, H. Y. & Greenleaf, W. J. Transposition of native chromatin for fast and sensitive epigenomic profiling of open chromatin, DNA-binding proteins and nucleosome position. Nat. Methods 10, 1213–1218 (2013).

Cancer Data Science. Broad Institute Cancer Dependency Map, CRISPR Avana Dataset 17Q4 (2017).
Acknowledgements
This work was supported by National Institutes of Health (NIH) grants R35-CA210064 (A.T.L.), R01-CA180692 (A.T.L.), R35-CA210030 (K.S.), R01-NS088355 (K.S.), R01-GM123511 (R.A.Y.), and U01-CA176058 (W.C.H.). A.T.L. is supported by an Alex's Lemonade Stand Foundation Innovation Award. K.S. is supported by a Hyundai Hope Grant, Cookies for Kids Cancer, and Friends for Life Fellowship. A.D.D., M.W.Z. and A.B.I. are Damon Runyon–Sohn Pediatric Fellows supported by the Damon Runyon Cancer Research Foundation, DRG-24-18 (A.D.D.), DRSG-9-14 (M.W.Z.) and DRSG-12-15 (A.B.I.). A.D.D. and M.W.Z are recipients of Alex's Lemonade Stand Foundation Young Investigator Awards. N.V.D. is supported by NIH grant T32-CA136432. B.J.A. is the Hope Funds for Cancer Research Grillo-Marxuach Family Fellow. We also acknowledge the Jake Wetchler Foundation for their support of this work.
Ethics declarations
Competing interests
R.A.Y. is a founder and shareholder of Syros Pharmaceuticals, which is discovering and developing therapeutics directed at transcriptional pathways in cancer. K.S. and W.C.H. consulted for Novartis Pharmaceuticals as part of the Dana–Farber Cancer Institute/Novartis Drug Discovery Program. B.J.A. is a shareholder of Syros Pharmaceuticals. No other potential conflicts of interest are declared.
Additional information
Publisher's note: Springer Nature remains neutral with regard to jurisdictional claims in published maps and institutional affiliations.
Integrated supplementary information
Supplementary information
Supplementary Figures 1–15, Supplementary Note, and Supplementary Tables 1–6
About this article
Cite this article
Durbin, A.D., Zimmerman, M.W., Dharia, N.V. et al. Selective gene dependencies in MYCN-amplified neuroblastoma include the core transcriptional regulatory circuitry. Nat Genet 50, 1240–1246 (2018). https://doi.org/10.1038/s41588-018-0191-z
Received:

Accepted:

Published:

Issue Date:

DOI: https://doi.org/10.1038/s41588-018-0191-z