Abstract
CRISPR–Cas genome editing creates targeted DNA double-strand breaks (DSBs) that are processed by cellular repair pathways, including the incorporation of exogenous DNA via single-strand template repair (SSTR). To determine the genetic basis of SSTR in human cells, we developed a coupled inhibition-cutting system capable of interrogating multiple editing outcomes in the context of thousands of individual gene knockdowns. We found that human Cas9-induced SSTR requires the Fanconi anemia (FA) pathway, which is normally implicated in interstrand cross-link repair. The FA pathway does not directly impact error-prone, non-homologous end joining, but instead diverts repair toward SSTR. Furthermore, FANCD2 protein localizes to Cas9-induced DSBs, indicating a direct role in regulating genome editing. Since FA is itself a genetic disease, these data imply that patient genotype and/or transcriptome may impact the effectiveness of gene editing treatments and that treatments biased toward FA repair pathways could have therapeutic value.
Relevant articles
Open Access articles citing this article.
Roger S. Zou

,

Alberto Marin-Gonzalez

…

Taekjip Ha

Nature Cell Biology Open Access 05 September 2022

J. Ferreira da Silva

,

G. P. Oliveira

…

J. I. Loizou

Nature Communications Open Access 09 February 2022

Aron Ferenczi

,

Yen Peng Chew

…

Attila Molnar

Nature Communications Open Access 19 November 2021
Access options
Subscribe to Nature+
Get immediate online access to Nature and 55 other Nature journal
Subscribe to Journal
Get full journal access for 1 year
$79.00
only $6.58 per issue
All prices are NET prices.
VAT will be added later in the checkout.
Tax calculation will be finalised during checkout.
Buy article
Get time limited or full article access on ReadCube.
$32.00
All prices are NET prices.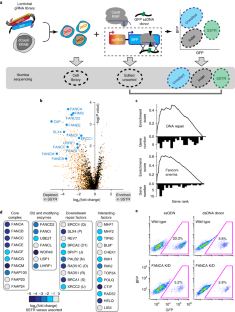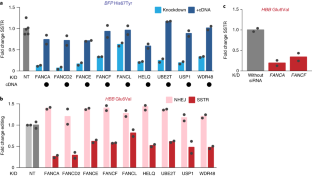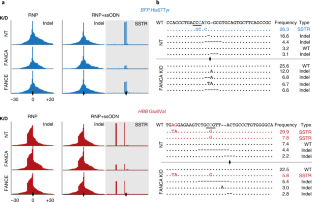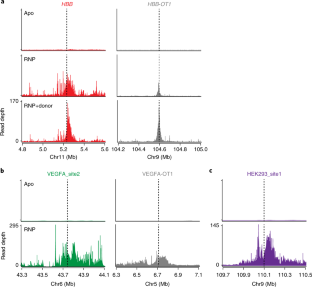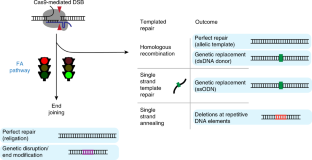 References
Sternberg, S. H. & Doudna, J. A. Expanding the biologist's toolkit with CRISPR-Cas9. Mol. Cell 58, 568–574 (2015).

DeWitt, M. A. et al. Selection-free genome editing of the sickle mutation in human adult hematopoietic stem/progenitor cells. Sci. Transl. Med. 8, 360ra134 (2016).

Cox, D. B., Platt, R. J. & Zhang, F. Therapeutic genome editing: prospects and challenges. Nat. Med. 21, 121–131 (2015).

Maggio, I. & Gonçalves, M. A. Genome editing at the crossroads of delivery, specificity, and fidelity. Trends Biotechnol. 33, 280–291 (2015).

Chen, F. et al. High-frequency genome editing using ssDNA oligonucleotides with zinc-finger nucleases. Nat. Methods 8, 753–755 (2011).

Jasin, M. Genetic manipulation of genomes with rare-cutting endonucleases. Trends Genet. 12, 224–228 (1996).

Richardson, C. D., Ray, G. J., DeWitt, M. A., Curie, G. L. & Corn, J. E. Enhancing homology-directed genome editing by catalytically active and inactive CRISPR-Cas9 using asymmetric donor DNA. Nat. Biotechnol. 34, 339–344 (2016).

Sander, J. D. & Joung, J. K. CRISPR-Cas systems for editing, regulating and targeting genomes. Nat. Biotechnol. 32, 347–355 (2014).

Wright, A. V. et al. Rational design of a split-Cas9 enzyme complex. Proc. Natl Acad. Sci. USA 112, 2984–2989 (2015).

Kim, S., Kim, D., Cho, S. W., Kim, J. & Kim, J.-S. Highly efficient RNA-guided genome editing in human cells via delivery of purified Cas9 ribonucleoproteins. Genome Res. 24, 1012–1019 (2014).

Horlbeck, M. A. et al. Compact and highly active next-generation libraries for CRISPR-mediated gene repression and activation. eLife 5, e19760 (2016).

Huang, daW., Sherman, B. T. & Lempicki, R. A. Systematic and integrative analysis of large gene lists using DAVID bioinformatics resources. Nat. Protoc. 4, 44–57 (2009).

George, B. et al. Regulation and function of Myb-binding protein 1A (MYBBP1A) in cellular senescence and pathogenesis of head and neck cancer. Cancer Lett. 358, 191–199 (2015).

Subramanian, A. et al. Gene set enrichment analysis: a knowledge-based approach for interpreting genome-wide expression profiles. Proc. Natl Acad. Sci. USA 102, 15545–15550 (2005).

Lin, S., Staahl, B. T., Alla, R. K. & Doudna, J. A. Enhanced homology-directed human genome engineering by controlled timing of CRISPR/Cas9 delivery. eLife 3, e04766 (2014).

Bothmer, A. et al. Characterization of the interplay between DNA repair and CRISPR/Cas9-induced DNA lesions at an endogenous locus. Nat. Commun. 8, 13905 (2017).

Nakanishi, K. et al. Human Fanconi anemia monoubiquitination pathway promotes homologous DNA repair. Proc. Natl Acad. Sci. USA 102, 1110–1115 (2005).

Davis, L. & Maizels, N. Homology-directed repair of DNA nicks via pathways distinct from canonical double-strand break repair. Proc. Natl Acad. Sci. USA 111, E924–E932 (2014).

Hustedt, N. & Durocher, D. The control of DNA repair by the cell cycle. Nat. Cell Biol. 19, 1–9 (2016).

Walden, H. & Deans, A. J. The Fanconi anemia DNA repair pathway: structural and functional insights into a complex disorder. Annu. Rev. Biophys. 43, 257–278 (2014).

Moldovan, G.-L. & D'Andrea, A. D. How the Fanconi anemia pathway guards the genome. Annu. Rev. Genet. 43, 223–249 (2009).

Palovcak, A., Liu, W., Yuan, F. & Zhang, Y. Maintenance of genome stability by Fanconi anemia proteins. Cell Biosci. 7, 8 (2017).

Kim, J. M. et al. Inactivation of murine Usp1 results in genomic instability and a Fanconi anemia phenotype. Dev. Cell 16, 314–320 (2009).

Kee, Y. & D'Andrea, A. D. Molecular pathogenesis and clinical management of Fanconi anemia. J. Clin. Invest. 122, 3799–3806 (2012).

Adamo, A. et al. Preventing nonhomologous end joining suppresses DNA repair defects of Fanconi anemia. Mol. Cell 39, 25–35 (2010).

Renaud, E., Barascu, A. & Rosselli, F. Impaired TIP60-mediated H4K16 acetylation accounts for the aberrant chromatin accumulation of 53BP1 and RAP80 in Fanconi anemia pathway-deficient cells. Nucleic Acids Res. 44, 648–656 (2016).

Howard, S. M., Yanez, D. A. & Stark, J. M. DNA damage response factors from diverse pathways, including DNA crosslink repair, mediate alternative end joining. PLoS Genet. 11, e1004943 (2015).

van Overbeek, M. et al. DNA repair profiling reveals nonrandom outcomes at Cas9-mediated breaks. Mol. Cell 63, 633–646 (2016).

Ellis, N. A. et al. The Bloom's syndrome gene product is homologous to RecQ helicases. Cell 83, 655–666 (1995).

Adelman, C. A. et al. HELQ promotes RAD51 paralogue-dependent repair to avert germ cell loss and tumorigenesis. Nature 502, 381–384 (2013).

Takata, K., Reh, S., Tomida, J., Person, M. D. & Wood, R. D. Human DNA helicase HELQ participates in DNA interstrand crosslink tolerance with ATR and RAD51 paralogs. Nat. Commun. 4, 2338 (2013).

Chun, J., Buechelmaier, E. S. & Powell, S. N. Rad51 paralog complexes BCDX2 and CX3 act at different stages in the BRCA1-BRCA2-dependent homologous recombination pathway. Mol. Cell. Biol. 33, 387–395 (2013).

Knipscheer, P. et al. The Fanconi anemia pathway promotes replication-dependent DNA interstrand cross-link repair. Science 326, 1698–1701 (2009).

Liang, C.-C. et al. The FANCD2–FANCI complex is recruited to DNA interstrand crosslinks before monoubiquitination of FANCD2. Nat. Commun. 7, 12124 (2016).

Federico, M. B. et al. Chromosomal integrity after UV irradiation requires FANCD2-mediated repair of double strand breaks. PLoS Genet. 12, e1005792 (2016).

Tsai, S. Q. et al. GUIDE-seq enables genome-wide profiling of off-target cleavage by CRISPR-Cas nucleases. Nat. Biotechnol. 33, 187–197 (2015).

Nakanishi, K. et al. Interaction of FANCD2 and NBS1 in the DNA damage response. Nat. Cell Biol. 4, 913–920 (2002).

Roques, C. et al. MRE11–RAD50–NBS1 is a critical regulator of FANCD2 stability and function during DNA double-strand break repair. EMBO J. 28, 2400–2413 (2009).

Song, J. et al. RS-1 enhances CRISPR/Cas9- and TALEN-mediated knock-in efficiency. Nat. Commun. 7, 10548 (2016).

Orthwein, A. et al. A mechanism for the suppression of homologous recombination in G1 cells. Nature 528, 422–426 (2015).

Osborn, M. J. et al. Fanconi anemia gene editing by the CRISPR/Cas9 system. Hum. Gene Ther. 26, 114–126 (2015).

Skvarova Kramarzova, K. et al. CRISPR/Cas9-mediated correction of the FANCD1 gene in primary patient cells. Int. J. Mol. Sci. 18, E1269 (2017).

Thul, P. J. et al. A subcellular map of the human proteome. Science 356, eaal3321 (2017).

Knight, S. C. et al. Dynamics of CRISPR-Cas9 genome interrogation in living cells. Science 350, 823–826 (2015).

Petermann, E., Orta, M. L., Issaeva, N., Schultz, N. & Helleday, T. Hydroxyurea-stalled replication forks become progressively inactivated and require two different RAD51-mediated pathways for restart and repair. Mol. Cell 37, 492–502 (2010).

Jinek, M. et al. A programmable dual-RNA-guided DNA endonuclease in adaptive bacterial immunity. Science 337, 816–821 (2012).

Gilbert, L. A. Genome-scale CRISPR-mediated control of gene repression and activation. Cell 159, 647–661 (2014).

Kampmann, M., Bassik, M. C. & Weissman, J. S. Nat. Protoc. 9, 1825–1847 (2014).

Livak, K. J. & Schmittgen, T. D. Analysis of relative gene expression data using real-time quantitative PCR and the 2(-Delta Delta C(T)) method. Methods 25, 402–408 (2001).

Zhang, Y. et al. Model-based analysis of ChIP-Seq (MACS). Genome Biol. 9, R137 (2008).
Acknowledgements
This work used the Vincent J. Coates Genomics Sequencing Laboratory at UC Berkeley, supported by NIH S10 OD018174 Instrumentation Grant. We thank the Berkeley Macrolab for support with protein expression and purification. This work was supported by grants from the Li Ka Shing Foundation, the Heritage Medical Research Institute and the Fanconi Anemia Research Foundation. S.N.F. is an HHMI fellow of the Helen Hay Whitney Foundation. S.J.F. is a recipient of the SURF Rose Hills Fellowship and the Regents' and Chancellor's Fellowship. C.D.R. and J.E.C. are listed as inventors on a patent application based on this work.
Ethics declarations
Competing interests
C.D.R. and J.E.C are inventors on a patent application related to this work.
Additional information
Publisher's note: Springer Nature remains neutral with regard to jurisdictional claims in published maps and institutional affiliations.
Integrated supplementary information
Supplementary information
About this article
Cite this article
Richardson, C.D., Kazane, K.R., Feng, S.J. et al. CRISPR–Cas9 genome editing in human cells occurs via the Fanconi anemia pathway. Nat Genet 50, 1132–1139 (2018). https://doi.org/10.1038/s41588-018-0174-0
Received:

Accepted:

Published:

Issue Date:

DOI: https://doi.org/10.1038/s41588-018-0174-0