Abstract
Neuronal migration defects, including pachygyria, are among the most severe developmental brain defects in humans. Here, we identify biallelic truncating mutations in CTNNA2, encoding αN-catenin, in patients with a distinct recessive form of pachygyria. CTNNA2 was expressed in human cerebral cortex, and its loss in neurons led to defects in neurite stability and migration. The αN-catenin paralog, αE-catenin, acts as a switch regulating the balance between β-catenin and Arp2/3 actin filament activities1. Loss of αN-catenin did not affect β-catenin signaling, but recombinant αN-catenin interacted with purified actin and repressed ARP2/3 actin-branching activity. The actin-binding domain of αN-catenin or ARP2/3 inhibitors rescued the neuronal phenotype associated with CTNNA2 loss, suggesting ARP2/3 de-repression as a potential disease mechanism. Our findings identify CTNNA2 as the first catenin family member with biallelic mutations in humans, causing a new pachygyria syndrome linked to actin regulation, and uncover a key factor involved in ARP2/3 repression in neurons.
Your institute does not have access to this article
Relevant articles
Open Access articles citing this article.
Emily Drzymalla

,

Nicole Gladish

…

Anke Hüls

Translational Psychiatry Open Access 08 November 2021

Feng Xiong

,

Ruoyu Wang

…

Wenbo Li

Cell Research Open Access 09 June 2021

Andrew S. Fox

,

Ronald A. Harris

…

Jeffrey Rogers

Molecular Psychiatry Open Access 25 May 2021
Access options
Subscribe to Nature+
Get immediate online access to the entire Nature family of 50+ journals
Subscribe to Journal
Get full journal access for 1 year
$59.00
only $4.92 per issue
All prices are NET prices.
VAT will be added later in the checkout.
Tax calculation will be finalised during checkout.
Buy article
Get time limited or full article access on ReadCube.
$32.00
All prices are NET prices.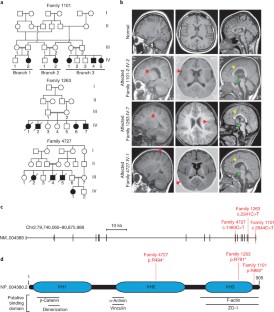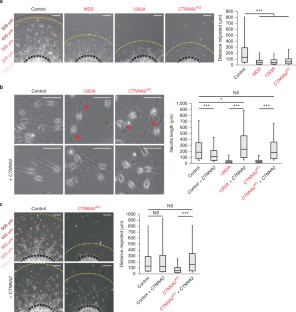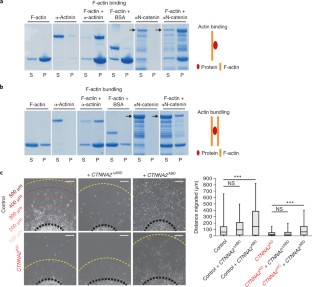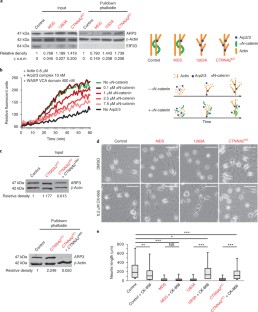 References
Drees, F., Pokutta, S., Yamada, S., Nelson, W. J. & Weis, W. I. α-Catenin is a molecular switch that binds E-cadherin-β-catenin and regulates actin-filament assembly. Cell 123, 903–915 (2005).

Leventer, R. J., Guerrini, R. & Dobyns, W. B. Malformations of cortical development and epilepsy. Dialogues Clin. Neurosci. 10, 47–62 (2008).

Ayala, R., Shu, T. & Tsai, L.-H. Trekking across the brain: the journey of neuronal migration. Cell 128, 29–43 (2007).

Meyer, G. & Feldman, E. L. Signaling mechanisms that regulate actin-based motility processes in the nervous system. J. Neurochem. 83, 490–503 (2002).

Luo, L. Actin cytoskeleton regulation in neuronal morphogenesis and structural plasticity. Annu. Rev. Cell Dev. Biol. 18, 601–635 (2002).

Rocca, D. L., Martin, S. P., Jenkins, E. L. & Hanley, J. G. Inhibition of Arp2/3-mediated actin polymerization by PICK1 regulates neuronal morphology and AMPA receptor endocytosis. Nat. Cell Biol. 10, 259–271 (2008).

Choi, M. et al. Genetic diagnosis by whole exome capture and massively parallel DNA sequencing. Proc. Natl. Acad. Sci. USA 106, 19096–19101 (2009).

DePristo, M. A. et al. A framework for variation discovery and genotyping using next-generation DNA sequencing data. Nat. Genet. 43, 491–498 (2011).

Magi, A. et al. H3M2: detection of runs of homozygosity from whole-exome sequencing data. Bioinformatics 30, 2852–2859 (2014).

Seelow, D., Schuelke, M., Hildebrandt, F. & Nurnberg, P. HomozygosityMapper—an interactive approach to homozygosity mapping. Nucleic Acids Res. 37, W593–W599 (2009).

Ajioka, I. & Nakajima, K. Switching of alpha-catenin from alphaE-catenin in the cortical ventricular zone to alphaN-catenin II in the intermediate zone. Brain Res. Dev. Brain Res. 160, 106–111 (2005).

Stocker, A. M. & Chenn, A. Differential expression of alpha-E-catenin and alpha-N-catenin in the developing cerebral cortex. Brain Res. 1073–1074, 151–158 (2006).

Park, C., Falls, W., Finger, J. H., Longo-Guess, C. M. & Ackerman, S. L. Deletion in Catna2, encoding αN-catenin, causes cerebellar and hippocampal lamination defects and impaired startle modulation. Nat. Genet. 31, 279–284 (2002).

Park, C., Longo, C. M. & Ackerman, S. L. Genetic and physical mapping of the cerebellar deficient folia (cdf) locus on mouse chromosome 6. Genomics 69, 135–138 (2000).

Park, C., Finger, J. H., Cooper, J. A. & Ackerman, S. L. The cerebellar deficient folia (cdf) gene acts intrinsically in Purkinje cell migrations. Genesis 32, 32–41 (2002).

Togashi, H. et al. Cadherin regulates dendritic spine morphogenesis. Neuron 35, 77–89 (2002).

Abe, K., Chisaka, O., van Roy, F. & Takeichi, M. Stability of dendritic spines and synaptic contacts is controlled by alpha N-catenin. Nat. Neurosci. 7, 357–363 (2004).

Uemura, M. & Takeichi, M. αN-catenin deficiency causes defects in axon migration and nuclear organization in restricted regions of the mouse brain. Dev. Dyn. 235, 2559–2566 (2006).

Chambers, S. M. et al. Highly efficient neural conversion of human ES and iPS cells by dual inhibition of SMAD signaling. Nat. Biotechnol. 27, 275–280 (2009).

Katakowski, M., Zhang, Z., deCarvalho, A. C. & Chopp, M. EphB2 induces proliferation and promotes a neuronal fate in adult subventricular neural precursor cells. Neurosci. Lett. 385, 204–209 (2005).

Bershteyn, M. et al. Human iPSC-derived cerebral organoids model cellular features of lissencephaly and reveal prolonged mitosis of outer radial glia. Cell Stem Cell 20, 435–449.e4 (2017).

Torres, M. et al. An α-E-catenin gene trap mutation defines its function in preimplantation development. Proc. Natl. Acad. Sci. USA 94, 901–906 (1997).

Lein, W.-H., Klezovitch, O., Fernandez, T. E., Delrow, J. & Vasioukhin, V. αE-catenin controls cerebral cortical size by regulating the hedgehog signaling pathway. Science 311, 1609–1612 (2006).

Pokutta, S. & Weis, W. I. Structure of the dimerization and β-catenin-binding region of α-catenin. Mol. Cell 5, 533–543 (2000).

Hansen, S. D. et al. αE-catenin actin-binding domain alters actin filament conformation and regulates binding of nucleation and disassembly factors. Mol. Biol. Cell 24, 3710–3720 (2013).

Wang, P.-S. et al. Crucial roles of the Arp2/3 complex during mammalian corticogenesis. Development 143, 2741–2752 (2016).

Rouiller, I. et al. The structural basis of actin filament branching by the Arp2/3 complex. J. Cell Biol. 180, 887–895 (2008).

Hetrick, B., Han, M. S., Helgeson, L. A. & Nolen, B. J. Small molecules CK-666 and CK-869 inhibit actin-related protein 2/3 complex by blocking an activating conformational change. Chem. Biol. 20, 701–712 (2013).

Wynshaw-Boris, A., Pramparo, T., Youn, Y. H. & Hirotsune, S. Lissencephaly: mechanistic insights from animal models and potential therapeutic strategies. Semin. Cell Dev. Biol. 21, 823–830 (2010).

Moon, H. M. & Wynshaw-Boris, A. Cytoskeleton in action: lissencephaly, a neuronal migration disorder. Wiley Interdiscip. Rev. Dev. Biol. 2, 229–245 (2013).

Solecki, D. J., Model, L., Gaetz, J., Kapoor, T. M. & Hatten, M. E. Par6α signaling controls glial-guided neuronal migration. Nat. Neurosci. 7, 1195–1203 (2004).

Strasser, G. A., Rahim, N. A., VanderWaal, K. E., Gertler, F. B. & Lanier, L. M. Arp2/3 is a negative regulator of growth cone translocation. Neuron 43, 81–94 (2004).

Kholmanskikh, S. S., Dobrin, J. S., Wynshaw-Boris, A., Letourneau, P. C. & Ross, E. M. Disregulated RhoGTPases and actin cytoskeleton contribute to the migration defect in Lis1-deficient neurons. J. Neurosci. 23, 8673–8681 (2003).

Chai, X., Forster, E., Zhao, S., Bock, H. H. & Frotscher, M. Reelin stabilizes the actin cytoskeleton of neuronal processes by inducing n-cofilin phosphorylation at serine3. J. Neurosci. 29, 288–299 (2009).

Zhou, F.-Q., Waterman-Storer, C. M. & Cohan, C. S. Focal loss of actin bundles causes microtubule redistribution and growth cone turning. J. Cell Biol. 157, 839–849 (2002).

Winkelman, J. D. et al. Fascin- and α-actinin-bundled networks contain intrinsic structural features that drive protein sorting. Curr. Biol. 26, 2697–2706 (2016).

Hoffmann, K. & Lindner, T. H. easyLINKAGE-Plus—automated linkage analyses using large-scale SNP data. Bioinformatics 21, 3565–3567 (2005).

Lardelli, R. M. et al. Bi-allelic mutations in the 3′ exonuclease TOE1 cause pontocerebellar hypoplasia and uncover a role in snRNA processing. Nat. Genet. 49, 457–464 (2017).

Okita, K. et al. A more efficient method to generate integration-free human iPS cells. Nat. Methods 8, 409–412 (2011).

Marchetto, M. C. N. et al. A model for neural development and treatment of Rett syndrome using human induced pluripotent stem cells. Cell 143, 527–539 (2010).

Ran, F. A. et al. Genome engineering using the CRISPR–Cas9 system. Nat. Protoc. 8, 2281–2308 (2013).

Youn, Y. H., Pramparo, T., Hirotsune, S. & Wynshaw-Boris, A. Distinct dose-dependent cortical neuronal migration and neurite extension defects in Lis1 and Ndel1 mutant mice. J. Neurosci. 29, 15520–15530 (2009).

Yeung, Y. G., Wang, Y., Einstein, D. B., Lee, P. S. & Stanley, E. R. Colony-stimulating factor-1 stimulates the formation of multimeric cytosolic complexes of signaling proteins and cytoskeletal components in macrophages. J. Biol. Chem. 273, 17128–17137 (1998).

Gleeson, J. G., Lin, P. T., Flanagan, L. A. & Walsh, C. A. Doublecortin is a microtubule-associated protein and is expressed widely by migrating neurons. Neuron 23, 257–271 (1999).
Acknowledgements
We thank the patients and their families for participation. We thank A. Wynshaw-Boris for generous scientific and editorial input. The research was supported by NIH R01NS041537, R01NS048453, R01NS052455, P01HD070494, P30NS047101, Qatar National Research Fund number 6-1463-351, the Simons Foundation Autism Research Initiative, and the Howard Hughes Medical Institute (to J.G.G). A.E.S. is a recipient of an A.P. Giannini Fellowship and an NIH Pathway to Independence Award, R00HD082337. S.T.B. is supported by a 2014 NARSAD Young Investigator Grant from the Brain and Behavior Research Foundation. We thank the Broad Institute and Yale Center for Mendelian Disorders (UMIHG008900 to D. MacArthur and H. Rehm, and UMIHG006504 to R. Lifton and M.G.), and the Gregory M. Kiez and Mehmet Kutman Foundation (to M.G). We acknowledge M. Gerstein, S. Mane, A. B. Ekici, and S. Uebe for sequencing support and analysis, the Yale Biomedical High Performance Computing Center for data analysis and storage, the Yale Program on Neurogenetics, and the Yale Center for Human Genetics and Genomics. Exome data have been deposited into the database of Genotypes and Phenotypes (phs000288).
Ethics declarations
Competing interests
The authors declare no competing interests.
Additional information
Publisher's note: Springer Nature remains neutral with regard to jurisdictional claims in published maps and institutional affiliations.
Integrated supplementary information
Supplementary information
About this article
Cite this article
Schaffer, A.E., Breuss, M.W., Caglayan, A.O. et al. Biallelic loss of human CTNNA2, encoding αN-catenin, leads to ARP2/3 complex overactivity and disordered cortical neuronal migration. Nat Genet 50, 1093–1101 (2018). https://doi.org/10.1038/s41588-018-0166-0
Received:

Accepted:

Published:

Issue Date:

DOI: https://doi.org/10.1038/s41588-018-0166-0