This is a preview of subscription content
Access options
Subscribe to Journal
Get full journal access for 1 year
$59.00
only $4.92 per issue
All prices are NET prices.
VAT will be added later in the checkout.
Tax calculation will be finalised during checkout.
Rent or Buy article
Get time limited or full article access on ReadCube.
from$8.99
All prices are NET prices.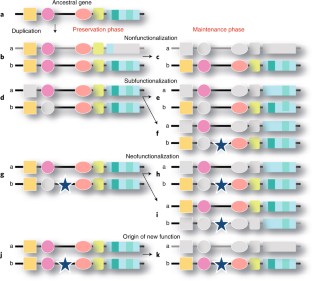 References
1.

Sandve, S. R., Rohlfs, R. & Hvidsten, T. R. Nat. Genet. https://doi.org/10.1038/s41588-018-0162-4 (2018).

2.

Braasch, I. et al. Nat. Genet. 48, 427–437 (2016).

3.

Lien, S. et al. Nature 533, 200–205 (2016).

4.

Force, A. et al. Genetics 151, 1531–1545 (1999).

5.

Ohno, S. Evolution by Gene Duplication (Springer, Berlin, 1970) .

6.

Inoue, J., Sato, Y., Sinclair, R., Tsukamoto, K. & Nishida, M. Proc. Natl. Acad. Sci. USA 112, 14918–14923 (2015).

7.

Blanc, G. & Wolfe, K. H. Plant Cell 16, 1679–1691 (2004).

8.

Moore, R. C. & Purugganan, M. D. Curr. Opin. Plant Biol. 8, 122–128 (2005).

9.

Brunet, F. G. et al. Mol. Biol. Evol. 23, 1808–1816 (2006).
Acknowledgements
This work was supported by US National Institutes of Health grants R01 OD011116 (alias R01 RR020833) and R24 OD01119004 (J.H.P.); a Feodor Lynen Fellowship from the Alexander von Humboldt Foundation and the Volkswagen Foundation Initiative Evolutionary Biology, grant I/84 815 (I.B.); and Agence Nationale de la Recherche (ANR) grant ANR-10-GENM-017 (PhyloFish; J.B. and Y.G.).
Ethics declarations
Competing interests
The authors declare no competing interests.
About this article
Cite this article
Braasch, I., Bobe, J., Guiguen, Y. et al. Reply to: 'Subfunctionalization versus neofunctionalization after whole-genome duplication' . Nat Genet 50, 910–911 (2018). https://doi.org/10.1038/s41588-018-0163-3
Further reading
Fabricio Almeida-Silva
Kanhu C. Moharana
Thiago M. Venancio

Planta (2020)

Peng Xu
Jian Xu
Xiaowen Sun

Nature Communications (2019)