Abstract
Functional redundancy shared by paralog genes may afford protection against genetic perturbations, but it can also result in genetic vulnerabilities due to mutual interdependency1,2,3,4,5. Here, we surveyed genome-scale short hairpin RNA and CRISPR screening data on hundreds of cancer cell lines and identified MAGOH and MAGOHB, core members of the splicing-dependent exon junction complex, as top-ranked paralog dependencies6,7,8. MAGOHB is the top gene dependency in cells with hemizygous MAGOH deletion, a pervasive genetic event that frequently occurs due to chromosome 1p loss. Inhibition of MAGOHB in a MAGOH-deleted context compromises viability by globally perturbing alternative splicing and RNA surveillance. Dependency on IPO13, an importin-β receptor that mediates nuclear import of the MAGOH/B-Y14 heterodimer9, is highly correlated with dependency on both MAGOH and MAGOHB. Both MAGOHB and IPO13 represent dependencies in murine xenografts with hemizygous MAGOH deletion. Our results identify MAGOH and MAGOHB as reciprocal paralog dependencies across cancer types and suggest a rationale for targeting the MAGOHB-IPO13 axis in cancers with chromosome 1p deletion.
Access options
Subscribe to Journal
Get full journal access for 1 year
$209.00
only $17.42 per issue
All prices are NET prices.
VAT will be added later in the checkout.
Rent or Buy article
Get time limited or full article access on ReadCube.
from$8.99
All prices are NET prices.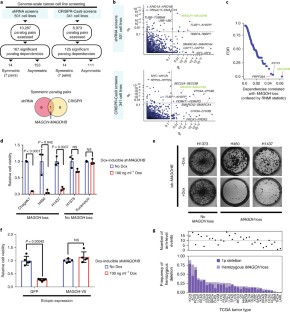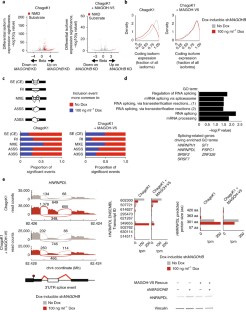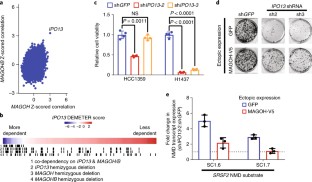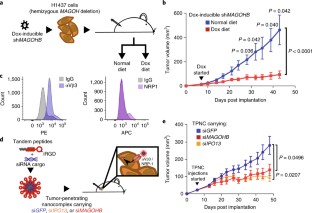 References
1.

Diss, G. et al. Gene duplication can impart fragility, not robustness, in the yeast protein interaction network. Science 355, 630–634 (2017).

2.

Muller, F. L., Aquilanti, E. A. & DePinho, R. A. Collateral lethality: a new therapeutic strategy in oncology. Trends Cancer 1, 161–173 (2015).

3.

Frei, E. Gene deletion: a new target for cancer chemotherapy. Lancet 342, 662–664 (1993).

4.

McDonald, E. R. 3rd. et al. Project DRIVE: A compendium of cancer dependencies and synthetic lethal relationships uncovered by large-scale, deep RNAi screening. Cell 170, 577–592.e10 (2017).

5.

Tsherniak, A. et al. Defining a cancer dependency map. Cell 170, 564–576.e16 (2017).

6.

Boehm, V. & Gehring, N. H. Exon junction complexes: supervising the gene expression assembly line. Trends Genet. 32, 724–735 (2016).

7.

Chang, Y.-F., Imam, J. S. & Wilkinson, M. F. The nonsense-mediated decay RNA surveillance pathway. Annu. Rev. Biochem. 76, 51–74 (2007).

8.

Singh, K. K., Wachsmuth, L., Kulozik, A. E. & Gehring, N. H. Two mammalian MAGOH genes contribute to exon junction complex composition and nonsense-mediated decay. RNA Biol. 10, 1291–1298 (2013).

9.

Mingot, J.-M., Kostka, S., Kraft, R., Hartmann, E. & Görlich, D. Importin 13: a novel mediator of nuclear import and export. EMBO J. 20, 3685–3694 (2001).

10.

Helming, K. C. et al. ARID1B is a specific vulnerability in ARID1A-mutant cancers. Nat. Med. 20, 251–254 (2014).

11.

Hoffman, G. R. et al. Functional epigenetics approach identifies BRM/SMARCA2 as a critical synthetic lethal target in BRG1-deficient cancers. Proc. Natl Acad. Sci. USA 111, 3128–3133 (2014).

12.

D'Antonio, M. et al. Recessive cancer genes engage in negative genetic interactions with their functional paralogs. Cell Rep. 5, 1519–1526 (2013).

13.

Dey, P. et al. Genomic deletion of malic enzyme 2 confers collateral lethality in pancreatic cancer. Nature 542, 119–123 (2017).

14.

Cowley, G. S. et al. Parallel genome-scale loss of function screens in 216 cancer cell lines for the identification of context-specific genetic dependencies. Sci. Data 1, 140035 (2014).

15.

Meyers, R. Computational correction of copy-number effect improves specificity of CRISPR-Cas9 essentiality screens in cancer cells. Nat. Genet. 49, 1779–1784 (2017).

16.

Veitia, R. A. Gene duplicates: agents of robustness or fragility? Trends Genet. 33, 377–379 (2017).

17.

Bono, F. & Gehring, N. H. Assembly, disassembly and recycling. RNA Biol. 8, 24–29 (2011).

18.

Caron, H. et al. Allelic loss of chromosome 1p as a predictor of unfavorable outcome in patients with neuroblastoma. N. Engl. J. Med. 334, 225–230 (1996).

19.

Bray, N. L., Pimentel, H., Melsted, P. & Pachter, L. Near-optimal probabilistic RNA-seq quantification. Nat. Biotechnol. 34, 525–527 (2016).

20.

Ni, J. Z. et al. Ultraconserved elements are associated with homeostatic control of splicing regulators by alternative splicing and nonsense-mediated decay. Genes Dev. 21, 708–718 (2007).

21.

Lareau, L. F., Inada, M., Green, R. E., Wengrod, J. C. & Brenner, S. E. Unproductive splicing of SR genes associated with highly conserved and ultraconserved DNA elements. Nature 446, 926–929 (2007).

22.

Lau, C.-K., Diem, M. D., Dreyfuss, G. & Van Duyne, G. D. Structure of the Y14-Magoh core of the exon junction complex. Curr. Biol. 13, 933–941 (2003).

23.

Ren, Y. et al. Targeted tumor-penetrating siRNA nanocomplexes for credentialing the ovarian cancer oncogene ID4. Sci. Transl. Med. 4, 147ra112 (2012).

24.

Beroukhim, R. et al. The landscape of somatic copy-number alteration across human cancers. Nature 463, 899–905 (2010).

25.

Baudis, M. Genomic imbalances in 5918 malignant epithelial tumors: an explorative meta-analysis of chromosomal CGH data. BMC Cancer 7, 226 (2007).

26.

Nijhawan, D. et al. Cancer vulnerabilities unveiled by genomic loss. Cell 150, 842–854 (2012).

27.

Paolella, B. R. et al. Copy-number and gene dependency analysis reveals partial copy loss of wild-type SF3B1 as a novel cancer vulnerability. eLife 6, e23268 (2017).

28.

Lee, S. C.-W. et al. Modulation of splicing catalysis for therapeutic targeting of leukemia with mutations in genes encoding spliceosomal proteins. Nat. Med. 22, 672–678 (2016).

29.

Obeng, E. A. et al. Physiologic expression of Sf3b1(K700E) causes impaired erythropoiesis, aberrant splicing, and sensitivity to therapeutic spliceosome modulation. Cancer Cell 30, 404–417 (2016).

30.

Lu, G. et al. The myeloma drug lenalidomide promotes the cereblon-dependent destruction of Ikaros proteins. Science 343, 305–309 (2014).

31.

Krönke, J. et al. Lenalidomide causes selective degradation of IKZF1 and IKZF3 in multiple myeloma cells. Science 343, 301–305 (2014).

32.

Hwang, S.-Y. et al. Direct targeting of β-catenin by a small molecule stimulates proteasomal degradation and suppresses oncogenic Wnt/β-catenin signaling. Cell Rep. 16, 28–36 (2016).

33.

Kerres, N. et al. Chemically induced degradation of the oncogenic transcription factor BCL6. Cell Rep. 20, 2860–2875 (2017).

34.

Han, T. et al. Anticancer sulfonamides target splicing by inducing RBM39 degradation via recruitment to DCAF15. Science 356, eaal3755 (2017).

35.

Soderholm, J. F. et al. Importazole, a small molecule inhibitor of the transport receptor importin-β. ACS Chem. Biol. 6, 700–708 (2011).

36.

Hintersteiner, M. et al. Identification of a small molecule inhibitor of importin beta mediated nuclear import by confocal on-bead screening of tagged one-bead one-compound libraries. ACS Chem. Biol. 5, 967–979 (2010).

37.

Wagstaff, K. M., Sivakumaran, H., Heaton, S. M., Harrich, D. & Jans, D. A. Ivermectin is a specific inhibitor of importin α/β-mediated nuclear import able to inhibit replication of HIV-1 and dengue virus. Biochem. J. 443, 851–856 (2012).

38.

Yang, X. et al. A public genome-scale lentiviral expression library of human ORFs. Nat. Methods 8, 659–661 (2011).

39.

Lippa, M. S. et al. Expression of anti-apoptotic factors modulates Apo2L/TRAIL resistance in colon carcinoma cells. Apoptosis 12, 1465–1478 (2007).

40.

Brown, C. Y. et al. Robust, reversible gene knockdown using a single lentiviral short hairpin RNA vector. Hum. Gene Ther. 21, 1005–1017 (2010).

41.

Root, D. E., Hacohen, N., Hahn, W. C., Lander, E. S. & Sabatini, D. M. Genome-scale loss-of-function screening with a lentiviral RNAi library. Nat. Methods 3, 715–719 (2006).

42.

Kwon, E. J., Dudani, J. S. & Bhatia, S. N. Ultrasensitive tumour-penetrating nanosensors of protease activity. Nat. Biomed. Eng. 1, 0054 (2017).

43.

McLachlan, G. J. & Krishnan, T. The EM Algorithm and Extensions 2nd edn (Wiley-Interscience, Hoboken, NJ, 2008).

44.

The UniProt Consortium. UniProt: the universal protein knowledgebase. Nucleic Acids Res. 45, D158–D169 (2017)..

45.

Ritchie, M. E. et al. limma powers differential expression analyses for RNA-sequencing and microarray studies. Nucleic Acids Res. 43, e47 (2015).

46.

Wickham, H. ggplot2 https://doi.org/10.1007/978-0-387-98141-3 (Springer, New York, 2009).

47.

Taylor, A. M. et al. Genomic and functional approaches to understanding cancer aneuploidy. Cancer Cell 33, 676–689 (2018).

48.

Carter, S. L. et al. Absolute quantification of somatic DNA alterations in human cancer. Nat. Biotechnol. 30, 413–421 (2012).

49.

Pedregosa, F. et al. Scikit-learn: machine learning in Python. JMLR 12, 2825–2830 (2011).

50.

Barretina, J. et al. The Cancer Cell Line Encyclopedia enables predictive modelling of anticancer drug sensitivity. Nature 483, 603–607 (2012).

51.

Vilella, A. J. et al. EnsemblCompara GeneTrees: complete, duplication-aware phylogenetic trees in vertebrates. Genome Res. 19, 327–335 (2008).

52.

Durinck, S., Spellman, P. T., Birney, E. & Huber, W. Mapping identifiers for the integration of genomic datasets with the R/Bioconductor package biomaRt. Nat. Protoc. 4, 1184–1191 (2009).

53.

Subramanian, A. et al. Gene set enrichment analysis: A knowledge-based approach for interpreting genome-wide expression profiles. Proc. Natl Acad. Sci. USA 102, 15545–15550 (2005).

54.

Aken, B. L. et al. Ensembl 2017. Nucleic Acids Res. 45, D635–D642 (2017).

55.

Pimentel, H. J., Bray, N., Puente, S., Melsted, P. & Pachter, L. Differential analysis of RNA-seq incorporating quantification uncertainty. Nat. Methods 14, 687–690 (2016).

56.

The Gene Ontology Consortium. Gene Ontology Consortium: going forward. Nucleic Acids Res. 43, D1049–D1056 (2015).

57.

Mi, H., Muruganujan, A., Casagrande, J. T. & Thomas, P. D. Large-scale gene function analysis with the PANTHER classification system. Nat. Protoc. 8, 1551–1566 (2013).

58.

Kim, D., Langmead, B. & Salzberg, S. L. HISAT: a fast spliced aligner with low memory requirements. Nat. Methods 12, 357–360 (2015).

59.

Shen, S. et al. rMATS: robust and flexible detection of differential alternative splicing from replicate RNA-seq data. Proc. Natl Acad. Sci. USA 111, E5593–E5601 (2014).

60.

Durinck, S. et al. BioMart and Bioconductor: a powerful link between biological databases and microarray data analysis. Bioinformatics 21, 3439–3440 (2005).

61.

Kim, J. W. et al. Characterizing genomic alterations in cancer by complementary functional associations. Nat. Biotechnol. 34, 539–546 (2016).

62.

Sveen, A., Kilpinen, S., Ruusulehto, A., Lothe, R. A., & Skotheim, R. I. Aberrant RNA splicing in cancer; expression changes and driver mutations of splicing factor genes. Oncogene 35, 2413–2427 (2015).
Acknowledgements
S.R.V. was supported by a Young Investigator Award from the American Society of Clinical Oncology. This work was supported by a National Cancer Institute grant 1R35CA197568 and an American Cancer Society Research Professorship to M.M. P.T. was supported by NIH grants U01CA217885 and R01HG009285. W.C.H. was supported by U01CA176058. C.G.B. and S.N.B. were supported by a Koch Institute Support Grant (P30-CA14051) from the National Cancer Institute (Swanson Biotechnology Center) and a Core Center Grant (P30-ES002109) from the National Institute of Environmental Health Sciences, and the Ludwig Center for Molecular Oncology. C.G.B. was supported by the National Science Foundation Graduate Research Fellowship Program. S.N.B. is a Howard Hughes Medical Institute Investigator. P.S.C. was supported by an NIH Pathway to Independence Award (K99 CA208028). E.M. would like to thank H. Horn for help with the expectation maximization algorithm. The authors thank the Koch Institute Swanson Biotechnology Center for technical support, specifically K. Cormier in the Hope Babette Tang Histology Facility.
Ethics declarations
Competing interests
A.C.B., A.D.C., C.A.S., and M.M. receive research support from Bayer Pharmaceuticals. M.M. is a scientific advisory board member of, consultant for, and holds equity in OrigiMed. The content of this manuscript is the subject of a pending patent application (S.V., M.M.).
Additional information
Publisher's note: Springer Nature remains neutral with regard to jurisdictional claims in published maps and institutional affiliations.
Integrated supplementary information
Supplementary information
About this article
Cite this article
Viswanathan, S.R., Nogueira, M.F., Buss, C.G. et al. Genome-scale analysis identifies paralog lethality as a vulnerability of chromosome 1p loss in cancer. Nat Genet 50, 937–943 (2018). https://doi.org/10.1038/s41588-018-0155-3
Received:

Accepted:

Published:

Issue Date: