Abstract
We introduce and validate a new precision oncology framework for the systematic prioritization of drugs targeting mechanistic tumor dependencies in individual patients. Compounds are prioritized on the basis of their ability to invert the concerted activity of master regulator proteins that mechanistically regulate tumor cell state, as assessed from systematic drug perturbation assays. We validated the approach on a cohort of 212 gastroenteropancreatic neuroendocrine tumors (GEP-NETs), a rare malignancy originating in the pancreas and gastrointestinal tract. The analysis identified several master regulator proteins, including key regulators of neuroendocrine lineage progenitor state and immunoevasion, whose role as critical tumor dependencies was experimentally confirmed. Transcriptome analysis of GEP-NET-derived cells, perturbed with a library of 107 compounds, identified the HDAC class I inhibitor entinostat as a potent inhibitor of master regulator activity for 42% of metastatic GEP-NET patients, abrogating tumor growth in vivo. This approach may thus complement current efforts in precision oncology.
Access options
Subscribe to Journal
Get full journal access for 1 year
$209.00
only $17.42 per issue
All prices are NET prices.
VAT will be added later in the checkout.
Rent or Buy article
Get time limited or full article access on ReadCube.
from$8.99
All prices are NET prices.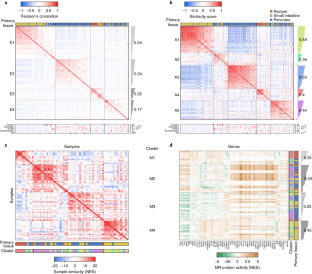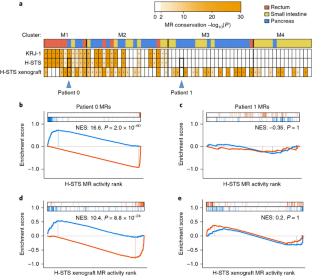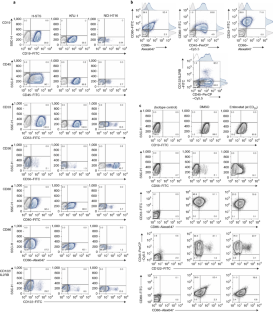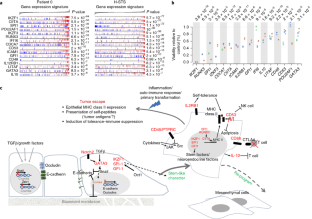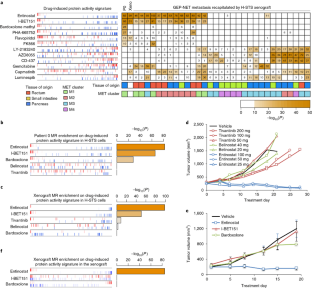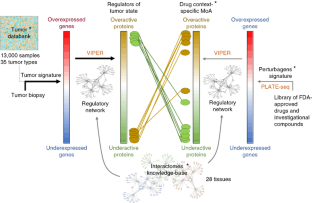 References
1.

Weinstein, I. B. Addiction to oncogenes–the Achilles heal of cancer. Science 297, 63–64 (2002).

2.

Tannock, I. F. & Hickman, J. A. Limits to personalized cancer medicine. N. Engl. J. Med. 375, 1289–1294 (2016).

3.

Commo, F. et al. Impact of centralization on aCGH-based genomic profiles for precision medicine in oncology. Ann. Oncol. 26, 582–588 (2015).

4.

MacConaill, L. E. et al. Prospective enterprise-level molecular genotyping of a cohort of cancer patients. J. Mol. Diagn. 16, 660–672 (2014).

5.

Jang, S. & Atkins, M. Which drug, and when, for patients with BRAF-mutant melanoma? Lancet Oncol. 14, e60–e69 (2013).

6.

Davoli, A., Hocevar, B. A. & Brown, T. L. Progression and treatment of HER2-positive breast cancer. Cancer Chemother. Pharmacol. 65, 611–623 (2010).

7.

Basu, A. et al. An interactive resource to identify cancer genetic and lineage dependencies targeted by small molecules. Cell 154, 1151–1161 (2013).

8.

Califano, A. & Alvarez, M. J. The recurrent architecture of tumour initiation, progression and drug sensitivity. Nat. Rev. Cancer 17, 116–130 (2017).

9.

Piovan, E. et al. Direct reversal of glucocorticoid resistance by AKT inhibition in acute lymphoblastic leukemia. Cancer Cell 24, 766–776 (2013).

10.

Compagno, M. et al. Mutations of multiple genes cause deregulation of NF-kappaB in diffuse large B-cell lymphoma. Nature 459, 717–721 (2009).

11.

Bisikirska, B. et al. Elucidation and pharmacological targeting of novel molecular drivers of follicular lymphoma progression. Cancer Res. 76, 664–674 (2016).

12.

Carro, M. S. et al. The transcriptional network for mesenchymal transformation of brain tumours. Nature 463, 318–325 (2010).

13.

Aytes, A. et al. Cross-species regulatory network analysis identifies a synergistic interaction between FOXM1 and CENPF that drives prostate cancer malignancy. Cancer Cell 25, 638–651 (2014).

14.

Mitrofanova, A., Aytes, A., Shen, C., Abate-Shen, C. & Califano, A. A systems biology approach to predict drug response for human prostate cancer based on in vivo preclinical analyses of mouse models. Cell Rep. 12, 1–12 (2015).

15.

Rajbhandari, P. et al. Cross-cohort analysis identifies a TEAD4-MYCN positive-feedback loop as the core regulatory element of high-risk neuroblastoma. Cancer Discov. 8, 582–599 (2018).

16.

Rodriguez-Barrueco, R. et al. Inhibition of the autocrine IL-6-JAK2-STAT3-calprotectin axis as targeted therapy for HR−/HER2+ breast cancers. Genes Dev. 29, 1631–1648 (2015).

17.

Luo, J., Solimini, N. L. & Elledge, S. J. Principles of cancer therapy: oncogene and non-oncogene addiction. Cell 136, 823–837 (2009).

18.

Schreiber, S. L. et al. Towards patient-based cancer therapeutics. Nat. Biotechnol. 28, 904–906 (2010).

19.

Lefebvre, C. et al. A human B-cell interactome identifies MYB and FOXM1 as master regulators of proliferation in germinal centers. Mol. Syst. Biol. 6, 377 (2010).

20.

Alvarez, M. J. et al. Functional characterization of somatic mutations in cancer using network-based inference of protein activity. Nat. Genet. 48, 838–847 (2016).

21.

Walsh, L. A. et al. An integrated systems biology approach identifies TRIM25 as a key determinant of breast cancer metastasis. Cell Rep. 20, 1623–1640 (2017).

22.

Oberg, K. & Eriksson, B. Endocrine tumours of the pancreas. Best Pract. Res. Clin. Gastroenterol. 19, 753–781 (2005).

23.

Francis, J. M. et al. Somatic mutation of CDKN1B in small intestine neuroendocrine tumors. Nat. Genet. 45, 1483–1486 (2013).

24.

Konishi, T. et al. Prognosis and risk factors of metastasis in colorectal carcinoids: results of a nationwide registry over 15 years. Gut 56, 863–868 (2007).

25.

Diez, M., Teule, A. & Salazar, R. Gastroenteropancreatic neuroendocrine tumors: diagnosis and treatment. Ann. Gastroenterol. 26, 29–36 (2013).

26.

Basso, K. et al. Reverse engineering of regulatory networks in human B cells. Nat. Genet. 37, 382–390 (2005).

27.

Margolin, A. A. et al. ARACNE: an algorithm for the reconstruction of gene regulatory networks in a mammalian cellular context. BMC Bioinformatics 7, S7 (2006).

28.

Basso, K. et al. Integrated biochemical and computational approach identifies BCL6 direct target genes controlling multiple pathways in normal germinal center B cells. Blood 115, 975–984 (2010).

29.

Faith, J. J. et al. Large-scale mapping and validation of Escherichia coli transcriptional regulation from a compendium of expression profiles. PLoS Biol. 5, e8 (2007).

30.

Cahan, P. et al. CellNet: network biology applied to stem cell engineering. Cell 158, 903–915 (2014).

31.

Rosai, J. The origin of neuroendocrine tumors and the neural crest saga. Mod. Pathol. 24, S53–S57 (2011).

32.

Barretina, J. et al. The Cancer Cell Line Encyclopedia enables predictive modelling of anticancer drug sensitivity. Nature 483, 603–607 (2012).

33.

Pfragner, R. et al. Establishment and characterization of three novel cell lines - P-STS, L-STS, H-STS - derived from a human metastatic midgut carcinoid. Anticancer Res. 29, 1951–1961 (2009).

34.

Pfragner, R. et al. Establishment of a continuous cell line from a human carcinoid of the small intestine (KRJ-I). Int. J. Oncol. 8, 513–520 (1996).

35.

Vijayvergia, N. et al. Molecular profiling of neuroendocrine malignancies to identify prognostic and therapeutic markers: a Fox Chase Cancer Center pilot study. Br. J. Cancer 115, 564–570 (2016).

36.

Oberg, K. et al. A Delphic consensus assessment: imaging and biomarkers in gastroenteropancreatic neuroendocrine tumor disease management. Endocr. Connect. 5, 174–187 (2016).

37.

Jiao, Y. et al. DAXX/ATRX, MEN1, and mTOR pathway genes are frequently altered in pancreatic neuroendocrine tumors. Science 331, 1199–1203 (2011).

38.

Ezzat, K. et al. PepFect 14, a novel cell-penetrating peptide for oligonucleotide delivery in solution and as solid formulation. Nucleic Acids Res. 39, 5284–5298 (2011).

39.

Langmead, B., Trapnell, C., Pop, M. & Salzberg, S. L. Ultrafast and memory-efficient alignment of short DNA sequences to the human genome. Genome Biol. 10, R25 (2009).

40.

Gentleman, R. C. et al. Bioconductor: open software development for computational biology and bioinformatics. Genome Biol. 5, R80 (2004).

41.

Ashburner, M. et al. Gene Ontology: tool for the unification of biology. Nat. Genet. 25, 25–29 (2000).

42.

Kaufman, L. & Rousseeuw, P. Partition Around Medoids (Program Pam) 68-125 (Wiley Online Library, 1990).

43.

Ritchie, M. E. et al. limma powers differential expression analyses for RNA-sequencing and microarray studies. Nucleic Acids Res. 43, e47 (2015).
Acknowledgements
We acknowledge the Falconwood Foundation for its generous support of research on neuroendocrine tumors, and the molecular pathology shared resources of the Herbert Irving Medical Center for tumor banking management/processing and histology support. This work was also supported by the National Cancer Institute (NCI) Cancer Target Discovery and Development Program (U01CA217858), an NCI Outstanding Investigator Award (R35CA197745) for A.C., the NCI Research Centers for Cancer Systems Biology Consortium (1U54CA209997), NIH instrumentation grants (S10OD012351 and S10OD021764), the NIH grant for the Biobank and Translational Research Core Facility at Cedars-Sinai (G20 RR030860), NCI 3P50 CA095103 and SPORE in GI cancer for K.W. and C.S., and support from the Swedish Cancer Foundation for J.R. and U.L.
Ethics declarations
Competing interests
M.J.A. is Chief Scientific Officer and equity holder at DarwinHealth, Inc., a company that has licensed some of the algorithms used in this manuscript from Columbia University. A.C. is founder and equity holder of DarwinHealth Inc. Columbia University is also an equity holder in DarwinHealth Inc.
Additional information
Publisher's note: Springer Nature remains neutral with regard to jurisdictional claims in published maps and institutional affiliations.
Integrated supplementary information
Supplementary information
About this article
Cite this article
Alvarez, M.J., Subramaniam, P.S., Tang, L.H. et al. A precision oncology approach to the pharmacological targeting of mechanistic dependencies in neuroendocrine tumors. Nat Genet 50, 979–989 (2018). https://doi.org/10.1038/s41588-018-0138-4
Received:

Accepted:

Published:

Issue Date: