Abstact
Polycomb-mediated repression of gene expression is essential for development, with a pivotal role played by trimethylation of histone H3 lysine 27 (H3K27me3), which is deposited by Polycomb Repressive Complex 2 (PRC2). The mechanism by which PRC2 is recruited to target genes has remained largely elusive, particularly in vertebrates. Here we demonstrate that MTF2, one of the three vertebrate homologs of Drosophila melanogaster Polycomblike, is a DNA-binding, methylation-sensitive PRC2 recruiter in mouse embryonic stem cells. MTF2 directly binds to DNA and is essential for recruitment of PRC2 both in vitro and in vivo. Genome-wide recruitment of the PRC2 catalytic subunit EZH2 is abrogated in Mtf2 knockout cells, resulting in greatly reduced H3K27me3 deposition. MTF2 selectively binds regions with a high density of unmethylated CpGs in a context of reduced helix twist, which distinguishes target from non-target CpG islands. These results demonstrate instructive recruitment of PRC2 to genomic targets by MTF2.
Relevant articles
Open Access articles citing this article.
Eva Galle

,

Chee-Wai Wong

…

Ferdinand von Meyenn

Genome Biology Open Access 03 October 2022

Sabrina Fischer

,

Lisa Marie Weber

&

Robert Liefke

Epigenetics & Chromatin Open Access 22 February 2022

Victoria Parreno

,

Anne-Marie Martinez

&

Giacomo Cavalli

Cell Research Open Access 19 January 2022
Access options
Access Nature and 54 other Nature Portfolio journals
Get Nature+, our best-value online-access subscription
$29.99 / 30 days
cancel any time
Subscribe to this journal
Receive 12 print issues and online access
$209.00 per year
only $17.42 per issue
Rent or buy this article
Prices vary by article type
from$1.95
to$39.95
Prices may be subject to local taxes which are calculated during checkout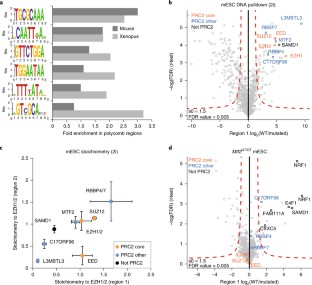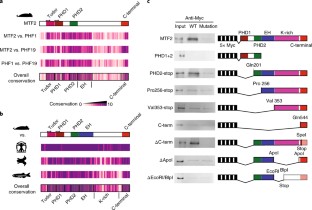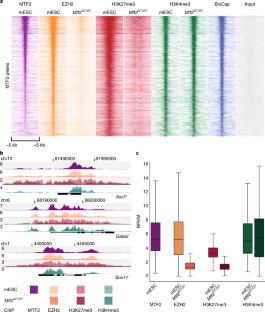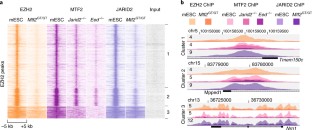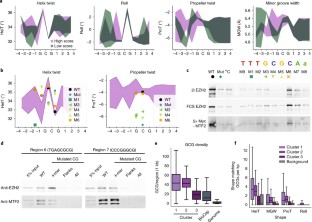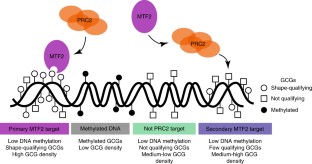 References
Hauri, S. et al. A high-density map for navigating the human Polycomb complexome. Cell Rep. 17, 583–595 (2016).

Di Croce, L. & Helin, K. Transcriptional regulation by Polycomb group proteins. Nat. Struct. Mol. Biol. 20, 1147–1155 (2013).

Margueron, R. & Reinberg, D. The Polycomb complex PRC2 and its mark in life. Nature 469, 343–349 (2011).

Comet, I., Riising, E. M., Leblanc, B. & Helin, K. Maintaining cell identity: PRC2-mediated regulation of transcription and cancer. Nat. Rev. Cancer 16, 803–810 (2016).

Simon, J. A. & Kingston, R. E. Occupying chromatin: Polycomb mechanisms for getting to genomic targets, stopping transcriptional traffic, and staying put. Mol. Cell 49, 808–824 (2013).

Blackledge, N. P., Rose, N. R. & Klose, R. J. Targeting Polycomb systems to regulate gene expression: modifications to a complex story. Nat. Rev. Mol. Cell Biol. 16, 643–649 (2015).

Brockdorff, N. Noncoding RNA and Polycomb recruitment. RNA 19, 429–442 (2013).

Bauer, M., Trupke, J. & Ringrose, L. The quest for mammalian Polycomb response elements: are we there yet? Chromosoma 125, 471–496 (2016).

Kassis, J. A. & Brown, J. L. Polycomb group response elements in Drosophila and vertebrates. Adv. Genet. 81, 83–118 (2013).

Ringrose, L., Rehmsmeier, M., Dura, J. M. & Paro, R. Genome-wide prediction of Polycomb/Trithorax response elements in Drosophila melanogaster. Dev. Cell 5, 759–771 (2003).

Grijzenhout, A. et al. Functional analysis of AEBP2, a PRC2 Polycomb protein, reveals a Trithorax phenotype in embryonic development and in ESCs. Development 143, 2716–2723 (2016).

Cao, R. et al. Role of hPHF1 in H3K27 methylation and Hox gene silencing. Mol. Cell. Biol. 28, 1862–1872 (2008).

Sarma, K., Margueron, R., Ivanov, A., Pirrotta, V. & Reinberg, D. Ezh2 requires PHF1 to efficiently catalyze H3 lysine 27 trimethylation in vivo. Mol. Cell. Biol. 28, 2718–2731 (2008).

Inouye, C., Remondelli, P., Karin, M. & Elledge, S. Isolation of a cDNA encoding a metal response element binding protein using a novel expression cloning procedure: the one hybrid system. DNA Cell Biol. 13, 731–742 (1994).

Li, X. et al. Mammalian polycomb-like Pcl2/Mtf2 is a novel regulatory component of PRC2 that can differentially modulate polycomb activity both at the Hox gene cluster and at Cdkn2a genes. Mol. Cell. Biol. 31, 351–364 (2011).

Casanova, M. et al. Polycomblike 2 facilitates the recruitment of PRC2 Polycomb group complexes to the inactive X chromosome and to target loci in embryonic stem cells. Development 138, 1471–1482 (2011).

Walker, E., Manias, J. L., Chang, W. Y. & Stanford, W. L. PCL2 modulates gene regulatory networks controlling self-renewal and commitment in embryonic stem cells. Cell Cycle 10, 45–51 (2011).

Cai, L. et al. An H3K36 methylation-engaging Tudor motif of polycomb-like proteins mediates PRC2 complex targeting. Mol. Cell 49, 571–582 (2013).

Musselman, C. A. et al. Molecular basis for H3K36me3 recognition by the Tudor domain of PHF1. Nat. Struct. Mol. Biol. 19, 1266–1272 (2012).

Brien, G. L. et al. Polycomb PHF19 binds H3K36me3 and recruits PRC2 and demethylase NO66 to embryonic stem cell genes during differentiation. Nat. Struct. Mol. Biol. 19, 1273–1281 (2012).

Ballaré, C. et al. Phf19 links methylated Lys36 of histone H3 to regulation of Polycomb activity. Nat. Struct. Mol. Biol. 19, 1257–1265 (2012).

Hunkapiller, J. et al. Polycomb-like 3 promotes polycomb repressive complex 2 binding to CpG islands and embryonic stem cell self-renewal. PLoS Genet. 8, e1002576 (2012).

Mendenhall, E. M. et al. GC-rich sequence elements recruit PRC2 in mammalian ES cells. PLoS Genet. 6, e1001244 (2010).

Li, H. et al. Polycomb-like proteins link the PRC2 complex to CpG islands. Nature 549, 287–291 (2017).

Choi, J. et al. DNA binding by PHF1 prolongs PRC2 residence time on chromatin and thereby promotes H3K27 methylation. Nat. Struct. Mol. Biol. 24, 1039–1047 (2017).

van Heeringen, S. J. et al. Principles of nucleation of H3K27 methylation during embryonic development. Genome Res. 24, 401–410 (2014).

Lee, D., Karchin, R. & Beer, M. A. Discriminative prediction of mammalian enhancers from DNA sequence. Genome Res. 21, 2167–2180 (2011).

Marks, H. et al. The transcriptional and epigenomic foundations of ground state pluripotency. Cell 149, 590–604 (2012).

Ying, Q. L. et al. The ground state of embryonic stem cell self-renewal. Nature 453, 519–523 (2008).

Liu, X. et al. Distinct features of H3K4me3 and H3K27me3 chromatin domains in pre-implantation embryos. Nature 537, 558–562 (2016).

Kloet, S. L. et al. The dynamic interactome and genomic targets of Polycomb complexes during stem-cell differentiation. Nat. Struct. Mol. Biol. 23, 682–690 (2016).

Coulson, M., Robert, S., Eyre, H. J. & Saint, R. The identification and localization of a human gene with sequence similarity to Polycomblike of Drosophila melanogaster. Genomics 48, 381–383 (1998).

O'Connell, S. et al. Polycomblike PHD fingers mediate conserved interaction with enhancer of zeste protein. J. Biol. Chem. 276, 43065–43073 (2001).

Long, H. K. et al. Epigenetic conservation at gene regulatory elements revealed by non-methylated DNA profiling in seven vertebrates. Elife 2, e00348 (2013).

Landeira, D. et al. Jarid2 is a PRC2 component in embryonic stem cells required for multi-lineage differentiation and recruitment of PRC1 and RNA Polymerase II to developmental regulators. Nat. Cell Biol. 12, 618–624 (2010).

Schoeftner, S. et al. Recruitment of PRC1 function at the initiation of X inactivation independent of PRC2 and silencing. EMBO J. 25, 3110–3122 (2006).

van der Heijden, T., van Vugt, J. J., Logie, C. & van Noort, J. Sequence-based prediction of single nucleosome positioning and genome-wide nucleosome occupancy. Proc. Natl Acad. Sci. USA 109, E2514–E2522 (2012).

Mathelier, A. et al. DNA shape features improve transcription factor binding site predictions in vivo. Cell Syst. 3, 278–286.e274 (2016).

Yang, L. et al. Transcription factor family-specific DNA shape readout revealed by quantitative specificity models. Mol. Syst. Biol. 13, 910 (2017).

Vizán, P., Beringer, M., Ballaré, C. & Di Croce, L. Role of PRC2-associated factors in stem cells and disease. FEBS J. 282, 1723–1735 (2015).

Savla, U., Benes, J., Zhang, J. & Jones, R. S. Recruitment of Drosophila Polycomb-group proteins by Polycomblike, a component of a novel protein complex in larvae. Development 135, 813–817 (2008).

Simossis, V. A. & Heringa, J. The PRALINE online server: optimising progressive multiple alignment on the web. Comput. Biol. Chem. 27, 511–519 (2003).

Wiśniewski, J. R., Zougman, A., Nagaraj, N. & Mann, M. Universal sample preparation method for proteome analysis. Nat. Methods 6, 359–362 (2009).

Rappsilber, J., Mann, M. & Ishihama, Y. Protocol for micro-purification, enrichment, pre-fractionation and storage of peptides for proteomics using StageTips. Nat. Protoc. 2, 1896–1906 (2007).

Bogdanović, O. et al. Active DNA demethylation at enhancers during the vertebrate phylotypic period. Nat. Genet. 48, 417–426 (2016).

Cox, J. & Mann, M. MaxQuant enables high peptide identification rates, individualized p.p.b.-range mass accuracies and proteome-wide protein quantification. Nat. Biotechnol. 26, 1367–1372 (2008).

Smits, A. H., Jansen, P. W., Poser, I., Hyman, A. A. & Vermeulen, M. Stoichiometry of chromatin-associated protein complexes revealed by label-free quantitative mass spectrometry-based proteomics. Nucleic Acids Res. 41, e28 (2013).

Zhang, Y. et al. Model-based analysis of ChIP-Seq (MACS). Genome Biol. 9, R137 (2008).

Shao, Z., Zhang, Y., Yuan, G. C., Orkin, S. H. & Waxman, D. J. MAnorm: a robust model for quantitative comparison of ChIP-Seq data sets. Genome Biol. 13, R16 (2012).

Georgiou, G. & van Heeringen, S. J. fluff: exploratory analysis and visualization of high-throughput sequencing data. PeerJ 4, e2209 (2016).

van Heeringen, S. J. & Veenstra, G. J. GimmeMotifs: a de novo motif prediction pipeline for ChIP-sequencing experiments. Bioinformatics 27, 270–271 (2011).

Chiu, T. P. et al. DNAshapeR: an R/Bioconductor package for DNA shape prediction and feature encoding. Bioinformatics 32, 1211–1213 (2016).

Zhou, T. et al. DNAshape: a method for the high-throughput prediction of DNA structural features on a genomic scale. Nucleic Acids Res. 41, W56–W62 (2013).

Fabian Pedregosa, G.V. et al. Scikit-learn: machine learning in Python. J. Mach. Learn. Res. 12, 2825–2830 (2011).

Vizcaíno, J. A. et al. 2016 update of the PRIDE database and its related tools. Nucleic Acids Res. 44 D1, D447–D456 (2016).
Acknowledgements
We thank H. Koseki (RIKEN Research Center for Allergy and Immunology, Japan) for sharing the Mtf2GT/GT and Mtf2Δ/Δ mESC lines and C. Fisher (MRC Clinical Sciences Centre, Imperial College School of Medicine, UK) for sharing the Jarid2−/− mESCs. We are grateful to M. Makowski for help and discussion. We thank P. Jansen, S. Kloet, A. H. Smits and L. N. Nguyen for advice and technical support with mass spectrometry, E. Janssen-Megens for help with Illumina sequencing, S. Wardle for help with ChIP and G. Georgiou for help with Python scripting. This work has been financially supported by the People Program (Marie Curie Actions) of the European Union's Seventh Framework Program FP7 under grant agreement number 607142 (DevCom). Research in the group of H.M. is supported by a grant from the Netherlands Organization for Scientific Research (NWO-VIDI 864.12.007).
Ethics declarations
Competing interests
The authors declare no competing financial interests.
Additional information
Publisher's note: Springer Nature remains neutral with regard to jurisdictional claims in published maps and institutional affiliations.
Integrated Supplementary Information
Supplementary information
About this article
Cite this article
Perino, M., van Mierlo, G., Karemaker, I.D. et al. MTF2 recruits Polycomb Repressive Complex 2 by helical-shape-selective DNA binding. Nat Genet 50, 1002–1010 (2018). https://doi.org/10.1038/s41588-018-0134-8
Received:

Accepted:

Published:

Issue Date:

DOI: https://doi.org/10.1038/s41588-018-0134-8