Abstract
Determining the pathogenicity of genetic variants is a critical challenge, and functional assessment is often the only option. Experimentally characterizing millions of possible missense variants in thousands of clinically important genes requires generalizable, scalable assays. We describe variant abundance by massively parallel sequencing (VAMP-seq), which measures the effects of thousands of missense variants of a protein on intracellular abundance simultaneously. We apply VAMP-seq to quantify the abundance of 7,801 single-amino-acid variants of PTEN and TPMT, proteins in which functional variants are clinically actionable. We identify 1,138 PTEN and 777 TPMT variants that result in low protein abundance, and may be pathogenic or alter drug metabolism, respectively. We observe selection for low-abundance PTEN variants in cancer, and show that p.Pro38Ser, which accounts for ~10% of PTEN missense variants in melanoma, functions via a dominant-negative mechanism. Finally, we demonstrate that VAMP-seq is applicable to other genes, highlighting its generalizability.
Access options
Subscribe to Journal
Get full journal access for 1 year
$209.00
only $17.42 per issue
All prices are NET prices.
VAT will be added later in the checkout.
Rent or Buy article
Get time limited or full article access on ReadCube.
from$8.99
All prices are NET prices.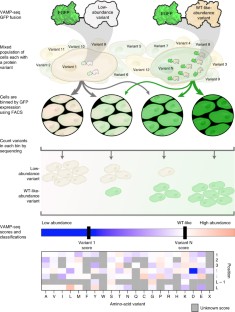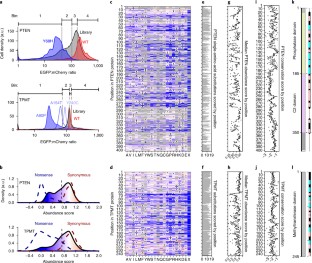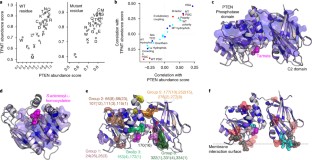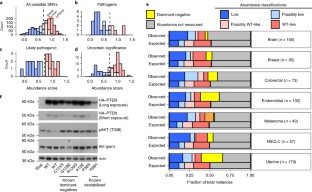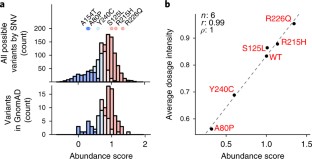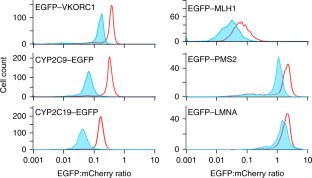 References
1.

Shirts, B. H., Pritchard, C. C. & Walsh, T. Family-specific variants and the limits of human genetics. Trends Mol. Med. 22, 925–934 (2016).

2.

Lek, M. et al. Analysis of protein-coding genetic variation in 60,706 humans. Nature 536, 285–291 (2016).

3.

Landrum, M. J. et al. ClinVar: public archive of relationships among sequence variation and human phenotype. Nucleic Acids Res. 42, 980–985 (2014).

4.

Fowler, D. M., Stephany, J. J. & Fields, S. Measuring the activity of protein variants on a large scale using deep mutational scanning. Nat. Protoc. 9, 2267–2284 (2014).

5.

Gasperini, M., Starita, L. & Shendure, J. The power of multiplexed functional analysis of genetic variants. Nat. Protoc. 11, 1782–1787 (2016).

6.

Manolio, T. A. et al. Bedside back to bench: building bridges between basic and clinical genomic research. Cell 169, 6–12 (2017).

7.

Starita, L. M. et al. Massively parallel functional analysis of BRCA1 RING domain variants. Genetics 200, 413–422 (2015).

8.

Majithia, A. R. et al. Prospective functional classification of all possible missense variants in PPARG. Nat. Genet. 48, 1570–1575 (2016).

9.

Yue, P., Li, Z. & Moult, J. Loss of protein structure stability as a major causative factor in monogenic disease. J. Mol. Biol. 353, 459–473 (2005).

10.

Redler, R. L., Das, J., Diaz, J. R. & Dokholyan, N. V. Protein destabilization as a common factor in diverse inherited disorders. J. Mol. Evol. 82, 11–16 (2016).

11.

Berger, A. H., Knudson, A. G. & Pandolfi, P. P. A continuum model for tumour suppression. Nature 476, 163–169 (2011).

12.

Lee, M. S. et al. Comprehensive analysis of missense variations in the BRCT domain of BRCA1 by structural and functional assays. Cancer Res. 70, 4880–4890 (2010).

13.

Tai, H. L., Krynetski, E. Y., Schuetz, E. G., Yanishevski, Y. & Evans, W. E. Enhanced proteolysis of thiopurine S-methyltransferase (TPMT) encoded by mutant alleles in humans (TPMT*3A, TPMT*2): mechanisms for the genetic polymorphism of TPMT activity. Proc. Natl Acad. Sci. USA 94, 6444–6449 (1997).

14.

Kim, I., Miller, C. R., Young, D. L. & Fields, S. High-throughput analysis of in vivo protein stability. Mol. Cell. Proteomics 12, 3370–3378 (2013).

15.

Klesmith, J. R., Bacik, J.-P., Wrenbeck, E. E., Michalczyk, R. & Whitehead, T. A. Trade-offs between enzyme fitness and solubility illuminated by deep mutational scanning. Proc. Natl Acad. Sci. USA 114, 2265–2270 (2017).

16.

Yen, H.-C. S., Xu, Q., Chou, D. M., Zhao, Z. & Elledge, S. J. Global protein stability profiling in mammalian cells. Science 322, 918–923 (2008).

17.

Matreyek, K. A., Stephany, J. J. & Fowler, D. M. A platform for functional assessment of large variant libraries in mammalian cells. Nucleic Acids Res. 45, e102 (2017).

18.

Jain, P. C. & Varadarajan, R. A rapid, efficient, and economical inverse polymerase chain reaction-based method for generating a site saturation mutant library. Anal. Biochem. 449, 90–98 (2014).

19.

Cabantous, S., Terwilliger, T. C. & Waldo, G. S. Protein tagging and detection with engineered self-assembling fragments of green fluorescent protein. Nat. Biotechnol. 23, 102–107 (2005).

20.

Johnston, S. B. & Raines, R. T. Conformational stability and catalytic activity of PTEN variants linked to cancers and autism spectrum disorders. Biochemistry 54, 1576–1582 (2015).

21.

Wu, H. et al. Structural basis of allele variation of human thiopurine-S-methyltransferase. Proteins 67, 198–208 (2007).

22.

Ward, W. W., Prentice, H. J., Roth, A. F., Cody, C. W. & Reeves, S. C. Spectral perturbations of the Aequorea green-fluorescent protein. Photochem. Photobiol. 35, 803–808 (1982).

23.

Sarkisyan, K. S. et al. Local fitness landscape of the green fluorescent protein. Nature 533, 397–401 (2016).

24.

Zhou, H. & Zhou, Y. Quantifying the effect of burial of amino acid residues on protein stability. Proteins 322, 315–322 (2004).

25.

Kauzmann, W. Some factors in the interpretation of protein denaturation. Adv. Protein Chem. 14, 1–63 (1959).

26.

Rocklin, G. J. et al. Global analysis of protein folding using massively parallel design, synthesis, and testing. Science 357, 168–175 (2017).

27.

Lee, J. O. et al. Crystal structure of the PTEN tumor suppressor: implications for its phosphoinositide phosphatase activity and membrane association. Cell 99, 323–334 (1999).

28.

Song, M. S., Salmena, L. & Pandolfi, P. P. The functions and regulation of the PTEN tumour suppressor. Nat. Rev. Mol. Cell Biol. 13, 283–296 (2012).

29.

Nguyen, H.-N. et al. A new class of cancer-associated PTEN mutations defined by membrane translocation defects. Oncogene 34, 3737–3743 (2015).

30.

Walker, S. M., Leslie, N. R., Perera, N. M., Batty, I. H. & Downes, C. P. The tumour-suppressor function of PTEN requires an N-terminal lipid-binding motif. Biochem. J. 379, 301–307 (2004).

31.

Das, S., Dixon, J. E. & Cho, W. Membrane-binding and activation mechanism of PTEN. Proc. Natl Acad. Sci. USA 100, 7491–7496 (2003).

32.

Vazquez, F., Ramaswamy, S., Nakamura, N. & Sellers, W. R. Phosphorylation of the PTEN tail regulates protein stability and function. Mol. Cell. Biol. 20, 5010–5018 (2000).

33.

Wei, Y., Stec, B., Redfield, A. G., Weerapana, E. & Roberts, M. F. Phospholipid-binding sites of phosphatase and tensin homolog (PTEN): Exploring the mechanism of phosphatidylinositol 4,5-bisphosphate activation. J. Biol. Chem. 290, 1592–1606 (2015).

34.

Naguib, A. et al. PTEN functions by recruitment to cytoplasmic vesicles. Mol. Cell 58, 255–268 (2015).

35.

Hobert, J. A. & Eng, C. PTEN hamartoma tumor syndrome: an overview. Genet. Med. 11, 687–694 (2009).

36.

Melbārde-Gorkuša, I. et al. Challenges in the management of a patient with Cowden syndrome: case report and literature review. Hered. Cancer Clin. Pract. 10, 5 (2012).

37.

Staal, F. J. T. et al. A novel germline mutation of PTEN associated with brain tumours of multiple lineages. Br. J. Cancer 86, 1586–1591 (2002).

38.

Nelen, M. R. et al. Novel PTEN mutations in patients with Cowden disease: Absence of clear genotype–phenotype correlations. Eur. J. Hum. Genet. 7, 267–273 (1999).

39.

Whiffin, N. et al. Using high-resolution variant frequencies to empower clinical genome interpretation. Genet. Med. 19, 1151–1158 (2017).

40.

Richards, S. et al. Standards and guidelines for the interpretation of sequence variants: a joint consensus recommendation of the American College of Medical Genetics and Genomics and the Association for Molecular Pathology. Genet. Med. 17, 405–423 (2015).

41.

Hollander, M. C., Blumenthal, G. M. & Dennis, P. A. PTEN loss in the continuum of common cancers, rare syndromes and mouse models. Nat. Rev. Cancer 11, 289–301 (2011).

42.

Kandoth, C. et al. Mutational landscape and significance across 12 major cancer types. Nature 502, 333–339 (2013).

43.

AACR Project GENIE Consortium. AACR Project GENIE: Powering Precision Medicine through an International Consortium. Cancer Discov. 7, 818–831 (2017).

44.

Papa, A. et al. Cancer-associated PTEN mutants act in a dominant-negative manner to suppress PTEN protein function. Cell 157, 595–610 (2014).

45.

Leslie, N. R. & Longy, M. Inherited PTEN mutations and the prediction of phenotype. Semin. Cell Dev. Biol. 52, 30–38 (2016).

46.

Wang, H. et al. Allele-specific tumor spectrum in Pten knockin mice. Proc. Natl Acad. Sci. USA 107, 5142–5147 (2010).

47.

Bonneau, D. & Longy, M. Mutations of the human PTEN gene. Hum. Mutat. 16, 109–122 (2000).

48.

Aguissa-Touré, A.-H. & Li, G. Genetic alterations of PTEN in human melanoma. Cell. Mol. Life Sci. 69, 1475–1491 (2012).

49.

Hodges, L. M. et al. Very important pharmacogene summary. Pharmacogenet. Genomics 21, 152–161 (2011).

50.

Relling, M. V. et al. Clinical pharmacogenetics implementation consortium guidelines for thiopurine methyltransferase genotype and thiopurine dosing: 2013 update. Clin. Pharmacol. Ther. 93, 324–325 (2013).

51.

Liu, C. et al. Genomewide approach validates thiopurine methyltransferase activity is a monogenic pharmacogenomic trait. Clin. Pharmacol. Ther. 101, 373–381 (2017).

52.

Appell, M. L. et al. Nomenclature for alleles of the thiopurine methyltransferase gene. Pharmacogenet. Genomics 23, 242–248 (2013).

53.

Hamdan-Khalil, R. et al. In vitro characterization of four novel non-functional variants of the thiopurine S-methyltransferase. Biochem. Biophys. Res. Commun. 309, 1005–1010 (2003).

54.

Kalia, S. S. et al. Recommendations for reporting of secondary findings in clinical exome and genome sequencing, 2016 update (ACMG SFv2.0): a policy statement of the American College of Medical Genetics and Genomics. Genet. Med. 19, 1–7 (2016).

55.

Relling, M. et al. New Pharmacogenomics Research network: an open community catalyzing research and translation in precision medicine. Clin. Pharmacol. Ther. 102, 897–902 (2017).

56.

Dillon, L. M. & Miller, T. W. Therapeutic targeting of cancers with loss of PTEN function. Curr. Drug Targets 15, 65–79 (2014).

57.

Gibson, D. G. et al. Enzymatic assembly of DNA molecules up to several hundred kilobases. Nat. Methods 6, 343–345 (2009).

58.

Rubin, A. F. et al. A statistical framework for analyzing deep mutational scanning data. Genome Biol. 18, 1–15 (2017).

59.

Krauthammer, M. et al. Exome sequencing identifies recurrent somatic RAC1 mutations in melanoma. Nat. Genet. 44, 1006–1014 (2012).

60.

Kellogg, E. H., Leaver-Fay, A. & Baker, D. Role of conformational sampling in computing mutation-induced changes in protein structure and stability. Proteins 79, 830–838 (2011).
Acknowledgements
We thank J. Underwood and K. Munson of the UW PacBio Sequencing Services for assistance with long-read sequencing; A. Leith of the UW Foege Flow Lab and L. Gitari and D. Prunkard of the UW Pathology Flow Cytometry Core Facility for assistance with cell sorting; and B. Shirts and C. Pritchard in the UW Department of Lab Medicine for advice. The authors would like to acknowledge the American Association for Cancer Research and its financial and material support in the development of the AACR Project GENIE registry, as well as members of the consortium for their commitment to data sharing. Interpretations are the responsibility of study authors. This work was supported by the National Institute of General Medical Sciences (1R01GM109110 and 5R24GM115277 to D.M.F., P50GM115279 to M.V.R. and W.E.E., National Cancer Institute R01CA096670 to S.B. and P30CA21765 to M.V.R.) and an NIH Director's Pioneer Award (DP1HG007811 to J.S.). K.A.M. is an American Cancer Society Fellow (PF-15-221-01), and was supported by a National Cancer Institute Interdisciplinary Training Grant in Cancer (2T32CA080416). M.A.C. and V.E.G. are supported by the National Science Foundation Graduate Research Fellowship. J.N.D. is supported by a National Institute of General Medical Sciences Training Grant (T32GM007454). J.S. is an Investigator of the Howard Hughes Medical Institute. D.M.F. is a Canadian Institute for Advanced Research Azrieli Global Scholar.
Ethics declarations
Competing interests
The authors declare that the variant functional data presented herein are copyrighted, and may be freely used for non-commercial purposes. Licensing for commercial use may benefit the authors. The authors declare no additional competing interests.
Additional information
Publisher's note: Springer Nature remains neutral with regard to jurisdictional claims in published maps and institutional affiliations.
Integrated supplementary information
Supplementary information
About this article
Cite this article
Matreyek, K.A., Starita, L.M., Stephany, J.J. et al. Multiplex assessment of protein variant abundance by massively parallel sequencing. Nat Genet 50, 874–882 (2018). https://doi.org/10.1038/s41588-018-0122-z
Received:

Accepted:

Published:

Issue Date: